Rating the Manchester United Players Against CFR Cluj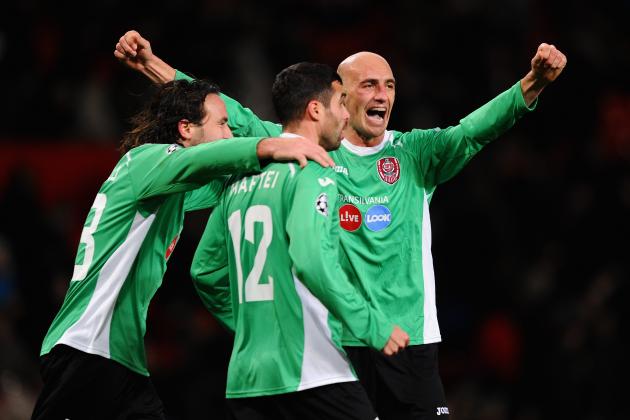 Laurence Griffiths/Getty Images
FC Cluj
You have to ask how much longer Manchester United season ticket holders will accept being held to ransom for Champions League tickets at £50 and have to watch a mediocre performance like tonight's 1-0 loss to CFR Cluj.
The biggest response of the night came when the crowd was announced as 71,500. Supporters gazed dumbfounded at rows and rows of empty seats, probably wishing that they too had stayed at home and wasted their ticket price.
(To explain, when you get a United season ticket you have to sign up also for as many home Champions League and FA Cup matches as United play. This means you get an extra fee debited from your card every time.)
On a freezing night like tonight, watching a patched-up team who look like they also wished they were elsewhere, treating it like a training match, it begins to feel like extortion.
Obviously the United hierarchy are concerned that there would be hardly any crowd for a dead rubber like this match. And who could blame them?
OK, so there is a curiosity value in seeing how reserve players can perform on the big stage, but if supporters are going to be held to ransom they should at least get a decent performance out of the players.
Frankly, however, this was outrageously bad. It would have been little surprise if the chant "what a load of rubbish" had started toward the end. Maybe that would have shocked one or two of those senior players on show who say they are competing for a first-team place.
On tonight's showing, hardly any of them would even make the bench for Sunday's derby match. And if these players are the future of the club (with the exception of Paul Scholes and Ryan Giggs, of course) then United will soon be heading the same way as Liverpool and Arsenal.
What is most worrying is that in the past Sir Alex has usually been able to get a response from his players.
Instead, and presumably despite the manager's warnings about not conceding the first goal ringing in their ears, United started slow and produced an early pantomime this festive season.
It was an insult to the 71,500 who actually had to pay for this farce, whether or not they actually turned up. A long drive home in five degrees of frost made it even more of a regret.
So very few of the players on show did themselves much good. This is becoming a bad habit, and it surely can't be long before Sir Alex decides that the future is more bleak than he keeps telling us.
Could be a good time to retire?
Begin Slideshow

»
Jamie McDonald/Getty Images
David De Gea
David De Gea—7
At least De Gea couldn't be blamed for the defeat. He could do nothing about the perfect strike that produced the goal. In some ways it was just as much of a fluke as the number of United chances that ricocheted around like a pinball in the Cluj penalty area.
Once again he produced reflex saves and he looked in command of his penalty area.
Some people seem to have concluded that his appearance tonight means he won't feature on Sunday. After Lindegaard's shambles against Reading, De Gea must be installed as No. 1 immediately.
Laurence Griffiths/Getty Images
Alexander Buttner
Right-back: Jones—6
Phil Jones needs matches. He looked rusty against Reading and in the first half tonight.
He did get better however and worked well in tandem with Rooney down the right. If anything, his final ball was better than Rooney's but he didn't produce anything of note.
No doubt he'll be on the bench on Sunday.
Centre-back: Smalling—5
Also needs matches. Was fairly competent at the back, with one or two wobbles, including a poor header that could have gifted a breakaway goal.
He looks dangerous in the opposition penalty area and will surely score a few this season, but he missed two straightforward chances tonight that would have left United coasting.
Centre-back: Wootton—5
Did little wrong and made one excellent saving tackle. Beaten in the air far too easily.
He looks better with every game and is one for the future, but he'll have better games than this.
It was all very well this business of getting him into a rhythm at the start of the match, but the tedious, plodding ping pong between him and Smalling set the tone for the match and once again United started too slowly.
Left-back: Buttner—6
He also got better and bolder as the game went on, turning his opposite number inside out a few times in the second half.
He is a better tackler than Evra, but is nowhere near the Frenchman for heading the ball and this will be a concern when he retires.
On this showing Buttner is one for the future, but probably as number two again to Fabio (or Baines if he arrives) next season.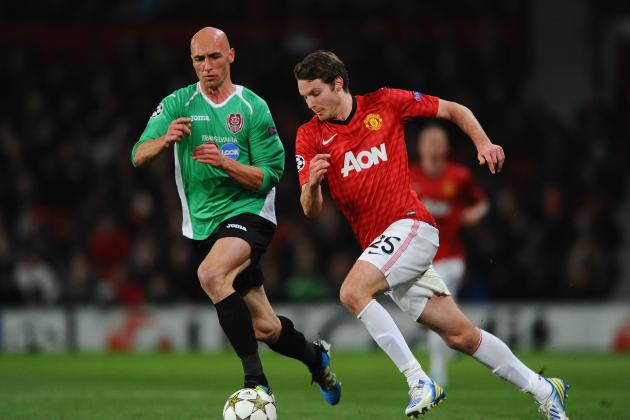 Laurence Griffiths/Getty Images
Nick Powell
Rooney—6
Probably just shaved Powell for United's man of the match.
Although his crossing got worse and worse, he gets the vote for all the other selfless things he did.
He played wide right because the manager is saving Valencia and Young for the weekend. He was very disciplined in that role, but still managed to cover every blade of grass.
Three times in the first half he was the last man in defence and was much more aware of the dangers than even his own defenders.
He led like a captain but doesn't get a higher mark, because he didn't do well on the things he was supposed to do, like crossing the ball and shooting. One farcical effort in the second half was so easy but so poor that it looked like a back pass to the Cluj keeper.
He'd better find a vein of form soon, or United will be in trouble. Work rate doesn't cover the obvious deficiencies.
Powell—6
This young man is a future United star. Yes, he got pushed off the ball a couple of times, one of which was a blatant foul that winded him but was not given. He will learn from those.
He plays and runs with a swagger. We know he has a rocket shot in both feet. An exquisite left foot volley with no back lift was blocked unfortunately.
He is a smart and intelligent player with excellent technical skill and no little pace. He did the covering back as well as the attacking bit. He'll be a fixture in the match day squad before this season is out.
His passing and tackling have also improved to the point of drawing comparisons with Carrick and Fletcher.
Cleverley—3
Where has last season's star of the future gone? On tonight's showing you can see why Sir Alex hasn't been playing him.
He looked utterly lost for most of the time he was on the pitch. We don't of course know how early he picked up his calf injury, but like Anderson he is beginning to look injury prone. That is a worry for Sir Alex because they should be United's midfield of the future.
Giggs—3
Woeful. Cluj were a poor, poor side who should have been there for the taking by the Carling Cup sides that put out Newcastle and took Chelsea to the wire.
Giggs was captain and should be shot for utterly failing to inspire his team. Once again he was the best on the pitch at giving the ball away. Yes, he chipped and bent a few crosses and was responsible enough to play the holding role when needed.
On this showing it's time to hang up your boots Ryan.
Scholes (replaced Cleverley in the first half)—4
And based on tonight it's time for Scholes to be pensioned off also.
Yes of course he hit loads of pretty passes, finding his man every time, but so what?
He can no longer keep his speculative shots down.
His tackling is dangerously embarrassing. He was initially to blame for the Cluj goal, having lost the ball, made a lunging tackle, failed and left the middle of the park exposed for Alberto to run into and score.
To be fair, he played further up the park than he has done recently, but his legs are gone and he can't get back if an attack breaks down. With Giggs as his sidekick that was always going to be a source of danger.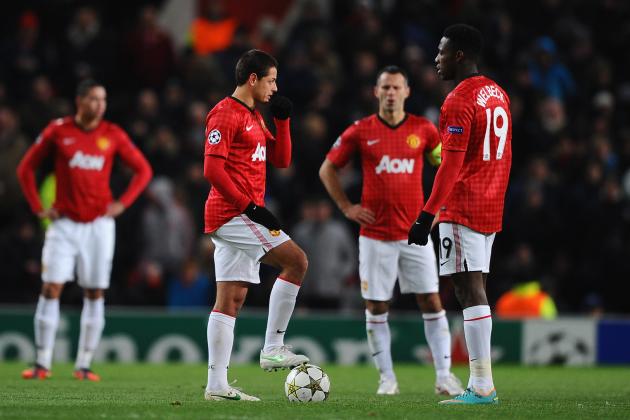 Laurence Griffiths/Getty Images
Hernandez, Giggs, Welbeck
Welbeck—4
In the pre-match conference Welbeck paid tribute to Van Persie and how much he has learned from him. None of that was on show tonight.
He did his pretty flicks and tricks a couple of times, which woke up the crowd momentarily, but he would have been better utilising those skills to actually put the ball in the net.
Got caught in possession too much. Had chances to score.
Frankly he's gone backwards ever since he got his new contract. Let's hope Will Keane is fit soon or Lewandowski is signed.
Hernandez—5
Gets an extra notch simply for work rate. In truth he was very unlucky because his good chances were blocked or hit a defender.
He ran around all over the place and. like Rooney, De Gea, Buttner and Powell, didn't deserve to be on the losing side.
But he seems to score more goals coming off the bench than when he starts.
A thoroughly professional performance with no end product.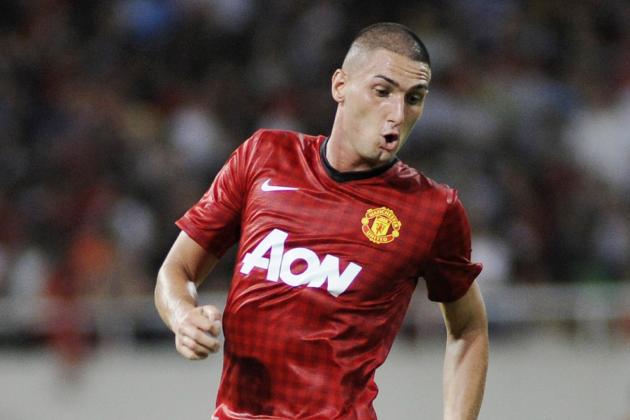 Hong Wu/Getty Images
Federicho Macheda
Apart from Scholes, the substitutes were:
Macheda—2
One can only presume that Macheda is in the shop window. He huffs and puffs to no great effect. He has been at United for four years now and everybody remembers his goal against Aston Villa, coming on as a 17-year-old.
Frankly that's all he'll ever be remembered for at this rate. He missed several chances for the Reserves on Monday, despite eventually scoring.
Pretty anonymous tonight and still seems to think he can wander back when an attack breaks down. Surely he'll be gone in January?
Fletcher—3
Not on long enough to make an impact, but always gives 100 percent