Before I continue, I must say that I, just like many Chicago area citizens, are extremely proud of the 2012 Northern Illinois Huskies football program.
They are the first Mid-American Conference team to reach a BCS bowl game. They are also only the second Illinois institution to get into the BCS.
The last team to do so was the Illinois Fighting Illini in both 2001 and 2007. The NIU football program had plenty of glory days during the 30's, 40's, 50's and 60's.
They struggled greatly during the 70's and 80's with the exception of a conference championship in 1983.
The 90's was a rebuilding era for NIU football, and by the turn of the century, the program was finally headed in the right direction.
The Huskies have played in 12 bowl games during the program's history. But none of them have come close to the stature of the game that they will play in on New Year's Day.
NIU will face ACC Champion Florida State in the Orange Bowl in Miami. Northern Illinois comes in with a 12-1 record and the 2012 Mid-American Conference Championship.
Despite those credentials, there are many who feel the Huskies do not deserve to be in a BCS bowl game.
Ever since the BCS selections were announced last weekend, there has been an onslaught of negativity towards the Huskies.
The reason for the negative vibes is the modest schedule that NIU played this year.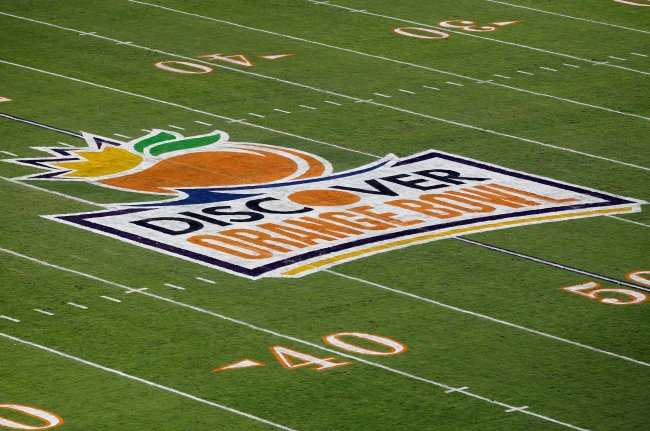 J. Meric/Getty Images
The Huskies have been known for stacking their non-conference schedule with BCS opponents in recent years.
This year they only played two, a win over Kansas and a loss to Iowa. Both of those schools finished with a combined record of 5-19.
They also played FCS Tennessee-Martin and a struggling 2-10 Army program.
On top of that, six of their conference opponents had losing records. They may not have had the greatest schedule, but they did impress in other categories.
Out of the seven conference champions in this year's Bowl Championship Series, NIU is one of only three championship teams with one loss.
The Huskies are also one of only five conference champions that are ranked in the BCS top 15.
Big East champion Louisville is ranked in the bottom five of the BCS rankings. Big Ten champion Wisconsin didn't even make it into the final BCS poll.
NIU also ranks higher than Louisville and Wisconsin in the human polls. It also average 35 points game, with a top-20 defense.
When you put all of these stats together, you end up with one big stalemate. If the FBS had a playoff system, this stalemate would not exist.
Even though there will be a four-team playoff starting in 2014, that system will not work. There will be too many teams left out.
The best system would be a 12-team playoff consisting of the 11 conference champions and the best independent team.
If there was a playoff system in place this year, the NIU Huskies would get a little more praise.
I am part of the majority that feels that the Bowl Championship Series has been a failure more often than not.
Most of that same majority feels that Northern Illinois' Orange Bowl bid is a perfect example of that failure.
Hopefully a true playoff system will come to fruition one day, and all previous wrongs will be righted.
Until then, I hope that the Huskies use the hatred as motivation to drive themselves towards victory on January 1.