Through eight games of the 2012-2013 season, coach Billy Kennedy has the Aggies at 7-1 going into the All-College Classic on December 15 against Oklahoma.
Though fans are generally pleased with where the team stands record wise, something still seems missing.
Things haven't quite clicked.
To say that Texas A&M has been impressive so far would be a stretch. To be fair, the Aggies have won some close, hard-fought games. One came on the road against Houston, and another against Washington State—where Elston Turner hit a three-pointer with two seconds left.
But these games were all against teams in which the Aggies were favored.
Their lone loss came against a competitive Saint Louis team in a contest in which A&M never really seemed to get going.
One factor contributing to the absence of fluidity in the Aggies game could be the number of new faces seeing significant time on the court.
Freshmen J'Mychal Reese and Alex Caruso have played larger roles early on in the season than most people predicted.
Throw in junior college transfers Fabyon Harris and Andrew Young, and you have a lot of new guys that need to get on the same page—offensively and defensively.
Billy Kennedy's fast-paced, guard-heavy offense also has room for improvement, and many questions still to be answered. Mainly, how to incorporate A&M's two big guys, Ray Turner and Kourtney Roberson.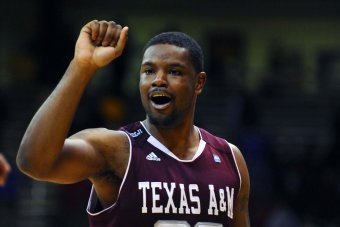 Ron Chenoy-USA TODAY Sports
The two players lead the team in rebounds and score most of their points from the boards they bring down. Neither have found their spot in the offensive scheme as of yet. Roberson and Turner are strong, athletic big men who have the ability to overpower their opponent down low.
That is, if the ball makes it down low.
What has also yet to be seen is how the team performs against quality opponents.
So far, the school with the highest RPI the Aggies have a victory against is Stephen F. Austin. As conference play looms closer, the Aggies will have to up their play in preparation for teams the likes of Florida, Mississippi State, Missouri and Kentucky.
What Texas A&M is doing successfully is winning the games it should win.
Seeing schools like Baylor and UCLA losing to teams like Charleston and Cal-Poly, respectively, shows college basketball fans that no team is safe from being upset, and that any victory should be considered a gift.
But for the Aggies to be in any sort of conversation come March, they will need to play a tighter game than what has been seen on the court.
And also, they need to find that missing something. Whatever it may be.