UEFA Champions League: Power Ranking the Last 16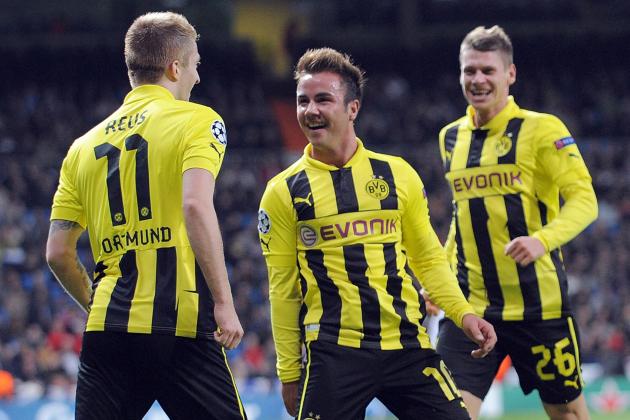 Denis Doyle/Getty Images

The UEFA Champions League group stage has finished, and where 32 teams began, only 16 remain.
Eight group winners and eight runners-up have advanced to the knockout phase, which will begin when the Champions League resumes in February. From this point, it's win or go home as we count down the final in May.
The draw is scheduled for Dec. 20. While we wait, check out our updated power rankings of the 16 teams still alive in Europe's premier club competition.
Rankings were based on performance in the group stage, past history in the competition, potential for progress and overall talent in each squad.
Begin Slideshow

»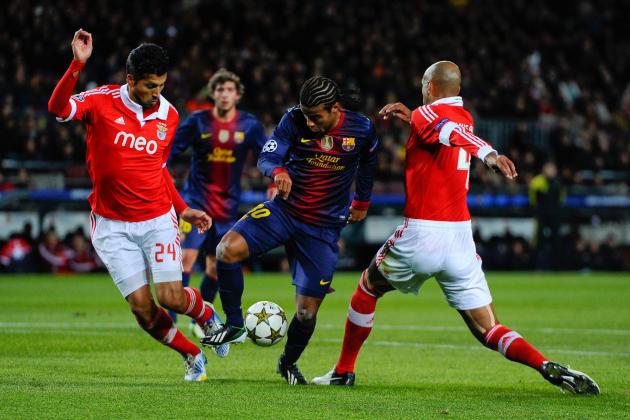 David Ramos/Getty Images

1. Borussia Dortmund
2. Barcelona
3. Bayern Munich
4. Real Madrid
5. Manchester United
6. Juventus
7. Paris Saint-Germain
8. Shakhtar Donetsk
9. Málaga
10. Schalke 04
11. AC Milan
12. Porto
13. Valencia
14. Arsenal
15. Celtic
16. Galatasaray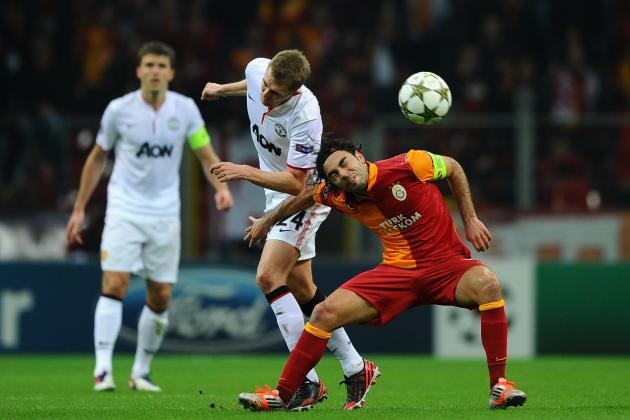 Laurence Griffiths/Getty Images

Seeding: Second place, Group H
Turkish champions Galatasaray narrowly qualified for the knockout stage after coming from behind to defeat Braga 2-1 in an error-strewn affair on Matchday 6.
Think of it this way: Without Aydin Yilmaz's second-half winner, Gala would have finished behind CFR Cluj in Group H.
Who? Exactly.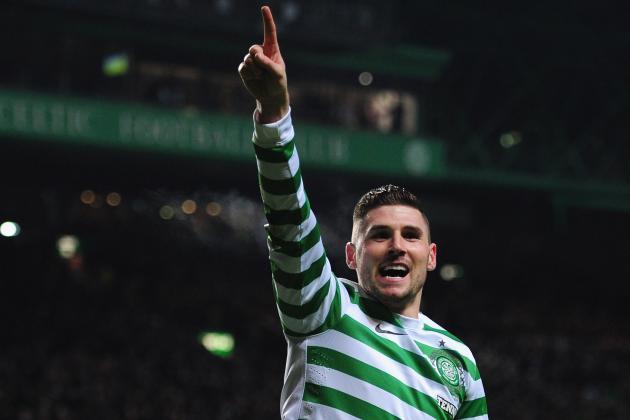 Stu Forster/Getty Images

Seeding: Second place, Group G
Look, we get it. This is a feel-good story. Celtic are the plucky underdogs. Kris Commons is our hero and truly a man among men. Really, we hopped on the bandwagon long ago.
Here's the thing: This team has already overachieved, and—besides Barcelona—the competition was just Benfica and Spartak Moscow. The task only becomes tougher from here.
Beating Barcelona impressed everyone, but Celtic made things hard on itself with two poor results against Benfica and a nailbiting win over Spartak Moscow on Matchday 6.
We'd love to see the ride continue. We're just not sure how long it can last.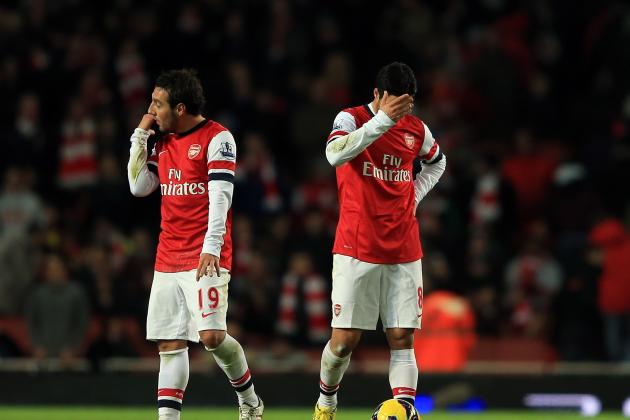 Richard Heathcote/Getty Images

Seeding: Second place, Group B
We're not hating. Yes, the Gunners have a solid history in this competition. Yes, the squad has talent. This simply is not a vintage Arsenal side.
Let's just ask ourselves a simple question: Does anyone fancy Arsenal's chances? Anyone at all?
Nor does Arsene Wenger, it would seem (via The Independent).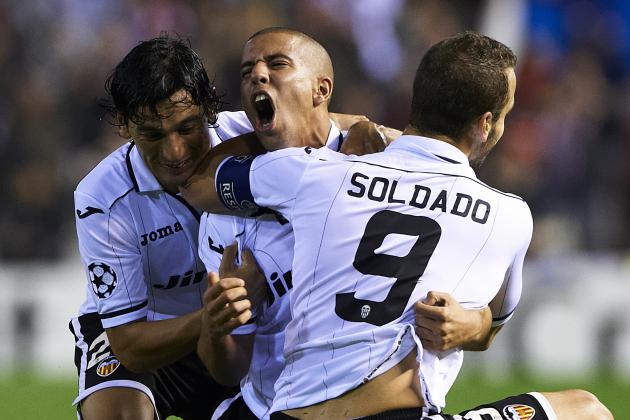 Manuel Queimadelos Alonso/Getty Images

Seeding: Second place, Group F
It all looked so promising early in the season. Even now, Valencia can rightly point to the fact that they finished level on points with Group F winners Bayern Munich. Admittedly, the team has its strong points and has demonstrated an ability to play top football.
Valencia's league form, though, has been poor. After falling to 12th place in La Liga, the club parted ways with manager Mauricio Pellegrino over the weekend. Pellegrino, to say the least, was not pleased (via ESPN FC).
In other words, this team is in disarray. It's true that Chelsea sacked its manager during the Champions League last season before winning the whole thing a few months later.
Simply put, however, Valencia doesn't have Chelsea's squad or spending power. And if it wasn't a fluke, Chelsea's run was certainly fortuitous.
With the club in disarray, it's hard to see Valencia progressing far.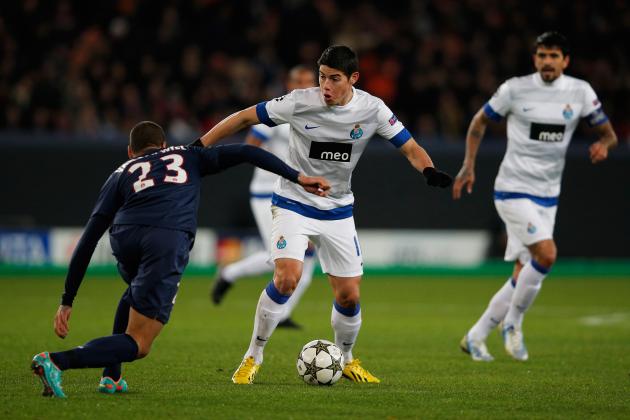 Dean Mouhtaropoulos/Getty Images

Seeding: Second place, Group A
Porto's record in Group A looks impressive, but Group A was anything but.
We remain unconvinced.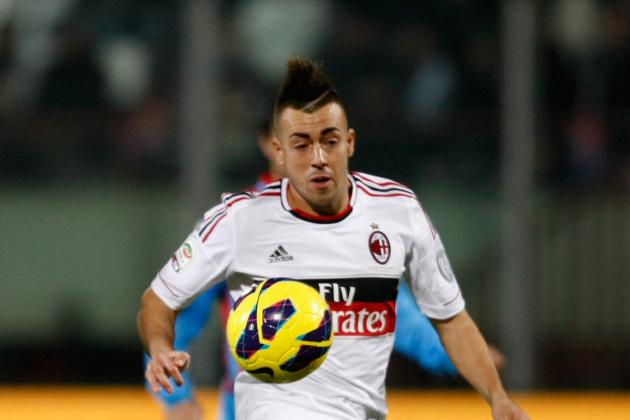 Maurizio Lagana/Getty Images

Seeding: Second place, Group C
After PSG raided the squad for talent over the summer, AC Milan endured an awful start to the season. Results have started to level off, and young striker Stephan El Shaarawy is quickly making himself into a big star.
So, can the Pharaoh lead Milan back to the promised land? Remember, this is a club that, like George Costanza, always seems to stick around the Champions League.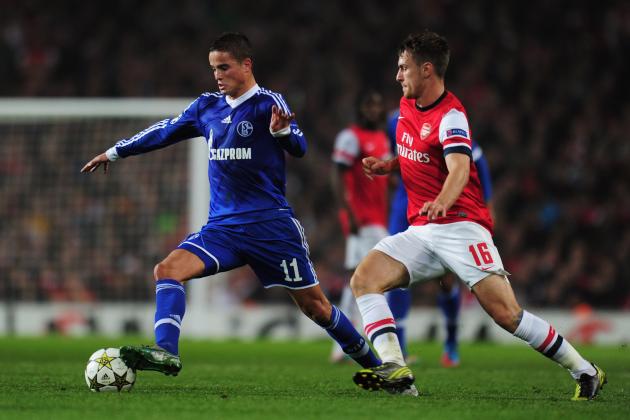 Shaun Botterill/Getty Images

Seeding: Group B winners
Schalke won Group B ahead of Arsenal, but with the Gunners looking out of sorts, Group B wasn't anything special.
The Germans topped the group largely on the strength of their 2-0 away win in London, but they failed to impress either time they played overmatched Montpellier (even Arsenal handled the French champions twice).
The performance in London impressed, but most of the runners-up will be hoping to draw Schalke for the round of 16.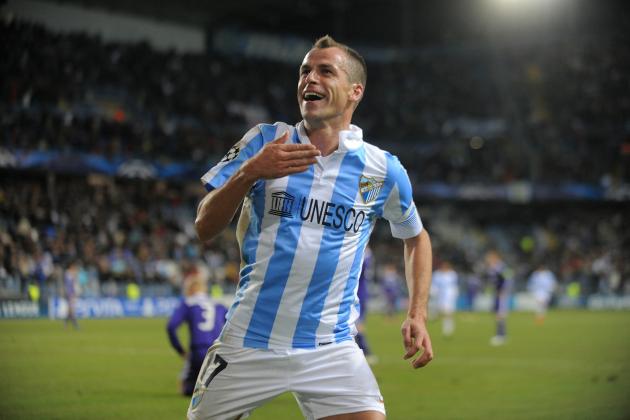 Denis Doyle/Getty Images

Seeding: Group C winners
Like Schalke, Málaga unexpectedly topped a group that turned out to be weaker than anticipated. And like Schalke, many runners-up will see Málaga as a favorable draw for the round of 16.
None of that is Málaga's fault. This exciting team, led by the hot attacking talent Isco, stunned Europe with some outstanding performances in the group stage.
Remember, though: This is Málaga's first season in the Champions League, and they've already exceeded expectations. Will the lack of experience take its toll in the knockout phase?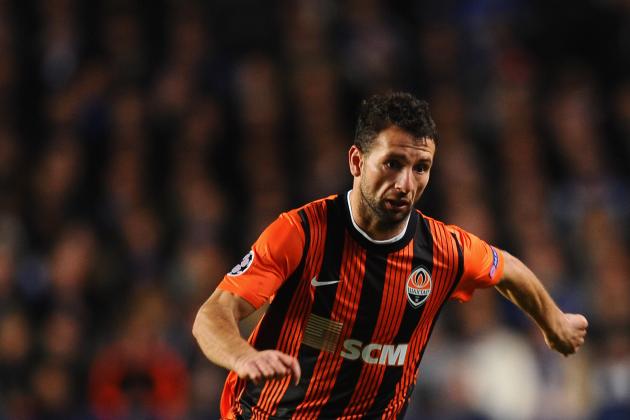 Mike Hewitt/Getty Images

Seeding: Second place, Group E
Shakhtar turned heads by becoming the first team to qualify from Group E, which also included defending European champions Chelsea and Italian champs Juventus. Few would have predicted that.
Meanwhile, Shakhtar has set an unprecedented pace domestically, thanks in part to the attacking exploits of talents like Henrikh Mkhitaryan, Willian and Luiz Adriano (poor sport though he may be).
Shakhtar wasn't a heralded side coming into the group stage. Heading into the knockout stage, they're one of the teams the group winners want to avoid.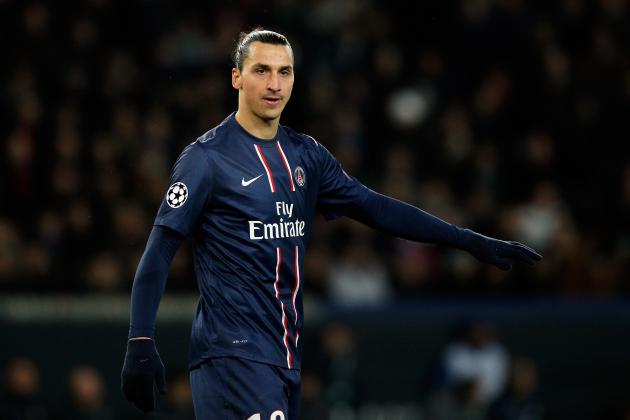 Dean Mouhtaropoulos/Getty Images

Seeding: Group A winners
Like with fellow Group A qualifiers Porto, we remain unconvinced by PSG. The squad is packed with talent, thanks to the club's mega-rich backers, and Zlatan Ibrahimovic is a beast.
In cases like PSG's, though, expensively assembled teams generally take some time to reach their peak. Depending on the draw, PSG could either be shoo-in semifinalists or knockout-phase flops.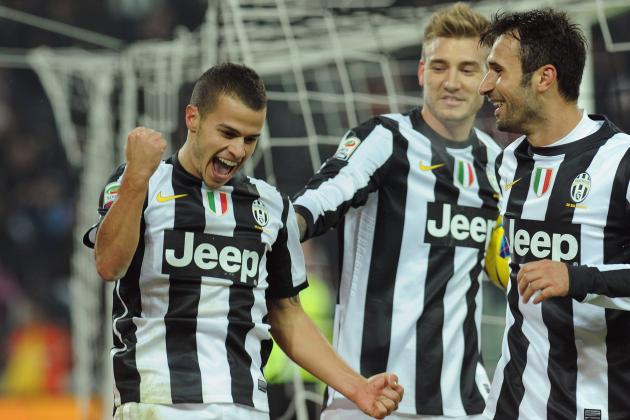 Valerio Pennicino/Getty Images

Seeding: Winners, Group E
Never doubt the power of Pirlo's beard.
Kidding aside, Juventus improved steadily over the course of Group E and eventually won it by beating Shakhtar Donetsk away on Matchday 6.
The Bianconeri flexed their muscles in a 3-0 whipping of defending champions Chelsea on Matchday 5. Increasingly, this is a team nobody wants to face.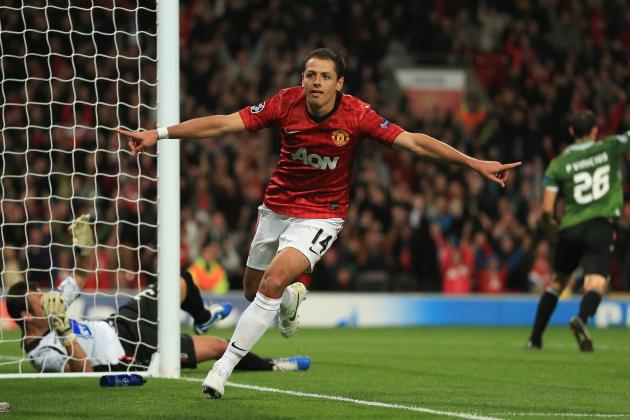 Richard Heathcote/Getty Images

Seeding: Group H winners
United won its first four matches and cruised through the final two matchdays as Sir Alex Ferguson experimented with younger players and rested experienced stars.
Almost shockingly, the Red Devils allowed "only" six goals in the group phase. In the Premier League, they've already allowed 21 (in 15 matches).
If United are to make another deep run in this competition, the defense will have to improve. With Wayne Rooney and Robin van Persie leading the attack, we know the goals will be there.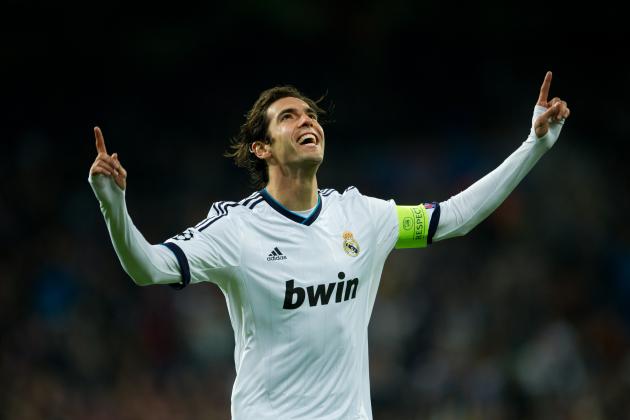 Jasper Juinen/Getty Images

Seeding: Second place, Group D
Surviving the Group of Death was no small feat. It doesn't take a genius to realize this team has absurd amounts of talent.
Even so, both Jose Mourinho and his team have been erratic this season. Already 11 points behind Barcelona in La Liga, Real has struggled to perform at its best consistently.
But when they're at their best…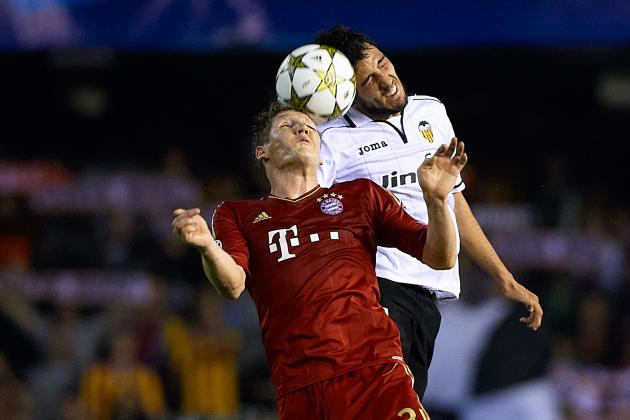 Manuel Queimadelos Alonso/Getty Images

Seeding: Group F winners
Yes, Bayern lost to BATE Borisov. By two goals. Yes, in the end they needed maximum points on Matchday 6 to win the group.
But that first BATE match is looking more like a fluke, and after a record-setting start in the Bundesliga, Bayern is looking formidable.
Xherdan Shaqiri and Javi Martínez look to be a solid additions to a team that reached the Champions League final last season. And with names like Schweinsteiger, Gomez, Robben, Lahm, Müller and Kroos, the roster was already loaded.
So is this the year?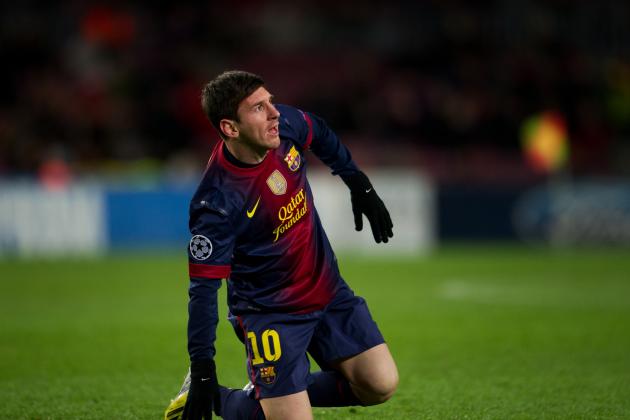 Jasper Juinen/Getty Images

Seeding: Group G winners
Europe collectively held its breath as Lionel Messi lay on the pitch Wednesday night. As Messi left the field on a stretcher, Barcelona's prospects looked bleak.
Messi, who did not start Wednesday's match against Benfica, suffered what the club is calling a "knee contusion" in the second half. He is reportedly scheduled for further tests (via FCBarcelona.com). The club's Twitter account reported merely a "bruise."
With Messi, Barcelona surely ranks among the favorites to win the Champions League. Without him, well, they would still rank among the competition's best teams.
But let's not kid ourselves. Messi's status will have an immense effect on Barcelona's quest for silverware.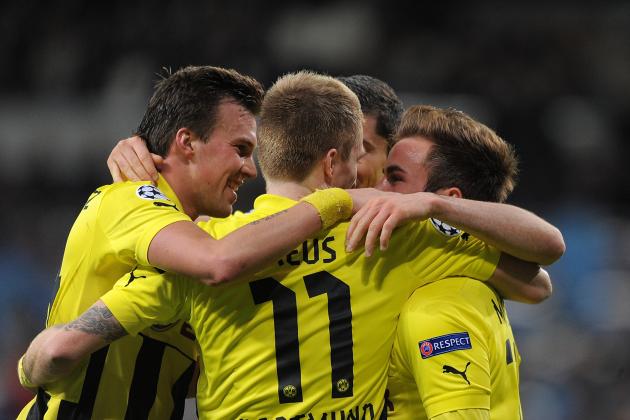 Denis Doyle/Getty Images

Seeding: Group D winners
Borussia Dortmund didn't just survive the Group of Death. Borussia Dortmund won it without losing a match, playing outstanding football in the process.
If that's not worth the top spot in these power rankings, we don't know what is.
Jurgen Klopp's team oozes class all across the field, from Hummels to Gotze to Reus to Lewandowski. After beating out Real Madrid, Ajax and Manchester City, Die Schwarzgelben should be considered the favorites for the title.