Maryland Basketball: Ranking the Terps' All-Time Greatest NBA Players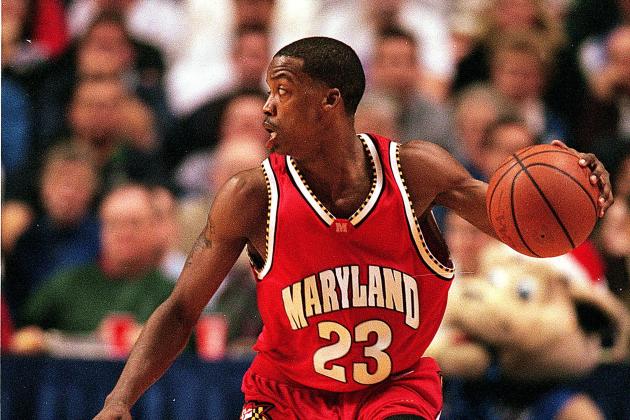 Andy Lyons/Getty Images
Steve Francis
There may not be a more disheartening, unfortunate concept in the world of sports than the idea that Maryland great Len Bias never was able to showcase his talents in the NBA.
Of course, tragedy struck in the 1986, when Bias died from a cocaine overdose. After winning the ACC Player of the Year trophy in 1985-86 and being selected with the second pick in the 1986 NBA Draft, the Maryland native was primed to be the most successful Terp at the next level.
We never did see Bias in a professional uniform, but we have seen nearly two dozen Maryland alumni play in the NBA.
That rich Maryland tradition of producing NBA mainstays should continue with Greivis Vasquez, who is having a wildly successful third season, and current center Alex Len, who is poised to be a lottery pick next June.
Here are the top ten NBA players from the University of Maryland.
Begin Slideshow

»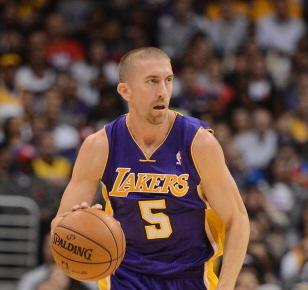 Harry How/Getty Images

Blake, who is now playing for the Los Angeles Lakers in his 10th season in the NBA, has been a dependable backup point guard for quite some time now.
The former National Champion has accumulated over 4,000 points and 2,500 assists throughout the past decade. He peaked in 2008-09 while playing for the Portland Trailblazers, where he averaged eleven points and five assists per night.
His commendable three-point shooting ability has allowed him to maintain his long career as a pro. Blake has hit 39 percent of his three-point attempts in his career.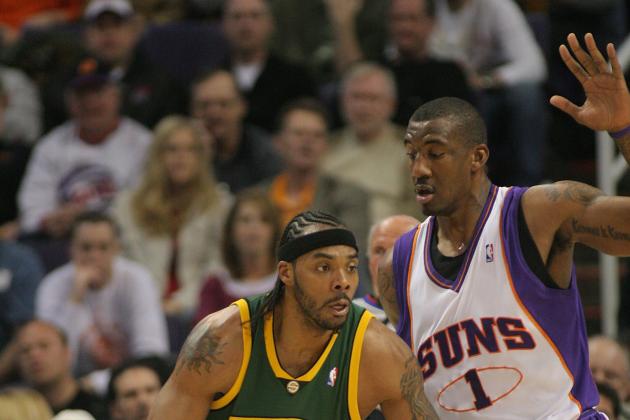 Domenic Centofanti/Getty Images

Our second and final member of the 2002 National Champion squad, Chris Wilcox's physical interior play translated nicely from Maryland to the NBA, where he hit his prime playing for the Seattle Supersonics during the waning years of their existence.
The current Boston Celtic averaged at least 13 points and seven rebounds for two straight seasons while playing in Seattle, which helped him reach his total of nearly 5,000 career points and 3,000 career boards.
Wilcox has been a bit of a journeyman, having stopped in Los Angeles, Seattle/Oklahoma City, Detroit, New York and Boston, but he's always been a reliable power forward. During his eleven year career, he's made 54 percent of his field goal attempts.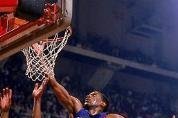 Image Source: fanbase.com
Former collegiate All-American Albert King didn't exactly enjoy the same professional success as his older brother and ex-New York Knick Bernard King, but his first five seasons in the NBA were nothing to be ashamed of.
The 6'6" guard averaged over 14 points and nearly five rebounds per game during his first five seasons in the league while playing for the New Jersey Nets.
King exited his prime fairly quickly, but his five years as a relentless scorer for the Nets and his 6,470 career points are enough for slide comfortably into the top ten.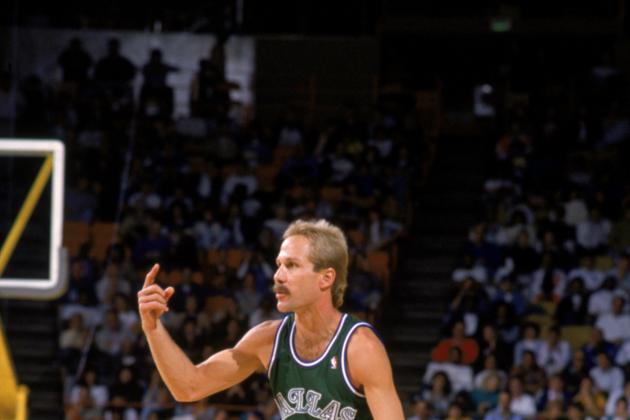 Mike Powell/Getty Images

Pass-first point guard Brad Davis wouldn't even be considered for a top ten list regarding Maryland's top collegiate players, but the Pennsylvania native had himself a nice career in the NBA.
Davis's career was jumpstarted when he joined the Dallas Mavericks in his fourth season in the league. He averaged eleven points and seven assists over his first five seasons in Dallas.
Davis played 12 seasons for the Mavericks, finishing his career with almost 8,000 points and 5,000 assists, while nailing a tremendous 83 percent of his free throws. His assist total of 4,709 is good for 64th all time.
In 45 playoff games with Dallas, Davis averaged 13 points and six assists per contest. His longevity and overall contributions as an outstanding point guard led to him become the first ever Dallas Maverick to have his jersey retired by the club.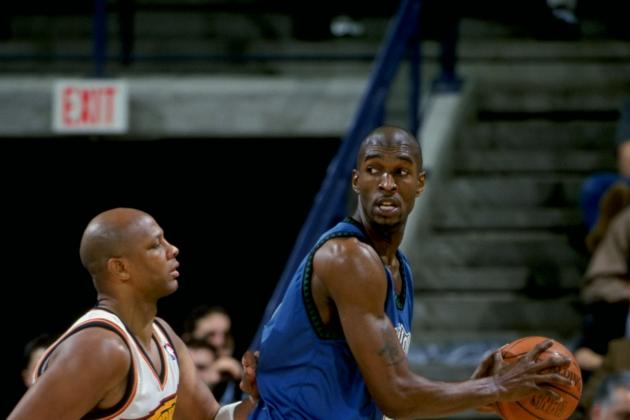 Todd Warshaw/Getty Images

The name Joe Smith is often synonymous with the dreaded term "bust," but just because Smith never performed up to his first overall NBA draft selection doesn't mean he didn't have a productive pro career.
The 6'11", former Naismith Player of the Year is our first career 10,000-plus point scorer, totaling 11,208 points over 16 NBA seasons. In addition, Smith hauled in over 6,500 rebounds, which was good for 6.4 per night.
Smith began his career hot, averaging in double figures in points for the first seven seasons of his career. He finished his sophomore campaign with the Golden State Warriors, where he put up 18.2 points and 8.5 rebounds per game.
Despite having the potential to be one of the better players of his era and failing to do so, Smith still completed his career, statistically, as one of the 50 best offensive rebounders of all time.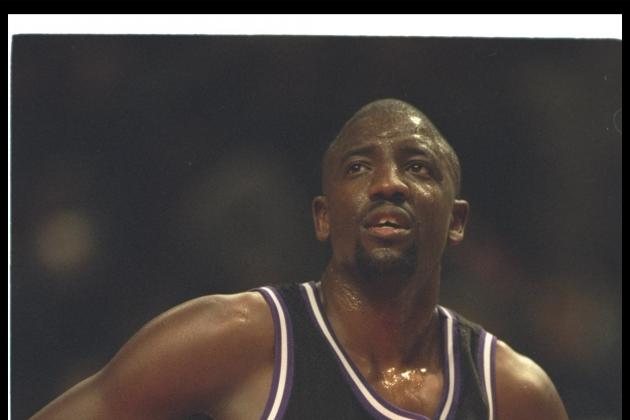 Jonathan Daniel/Getty Images

A 6'8'' small forward, Walt Williams was one of the most prolific outside shooters of the 1990s. He primarily suited up for the Sacramento Kings and the Toronto Raptors.
Williams was always a consistent offensive player, totaling at least 10 points per game for seven NBA seasons. He scored over 8,300 career points—one-third of which came from beyond the arc.
His tally of 976 three-point field goals slots him at 74th all-time, and his three-point percentage of 38 places him inside the top 100.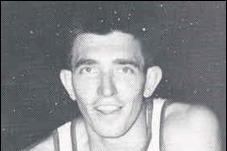 Image Source: nba.com
It was a brutally tough decision to only rank Gene Shue at fourth. Shue and the next two players really could be shuffled around, but I settled with placing the 1950s NBA superstar at this spot.
Shue is our second 10,000 point scorer, eclipsing the barrier by just 68 points. But his prime, not his longevity, is what makes Shue one of the top pro Maryland alums. He averaged over 22 points per game during both the 1959-60 and 1960-61 seasons playing for the Detroit Pistons.
Shue participated in more NBA All-Star games than any other Maryland player with five selections. He made the first-team All-NBA roster in 1959-60.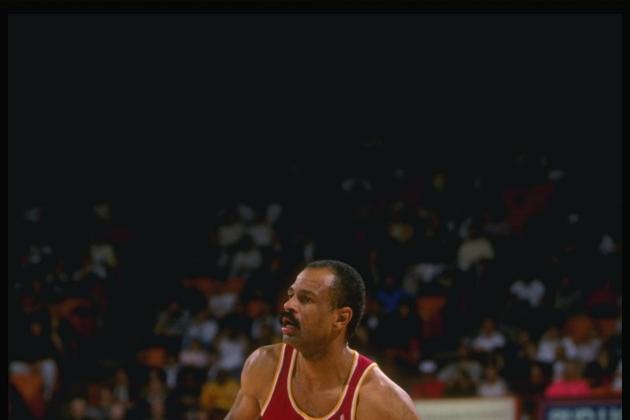 Ken Levine/Getty Images

A former teammate of Terps greats Len Elmore and Tom McMillen, John Lucas was one of the NBA's top pass-first point guards in the late 1970s and 1980s.
Lucas, who just missed the 10,000-point barrier, jumped from team to team, making stops in Houston, Golden State, Washington, San Antonio, Milwaukee and Seattle. But regardless of his team, Lucas remained a tremendous distributor.
The 6'3'' point guard finished his career 22nd all-time in career assists with almost 6,500. He averaged over eight assists per contest four times, including a season where he averaged a double-double playing for the Spurs in 1983-84.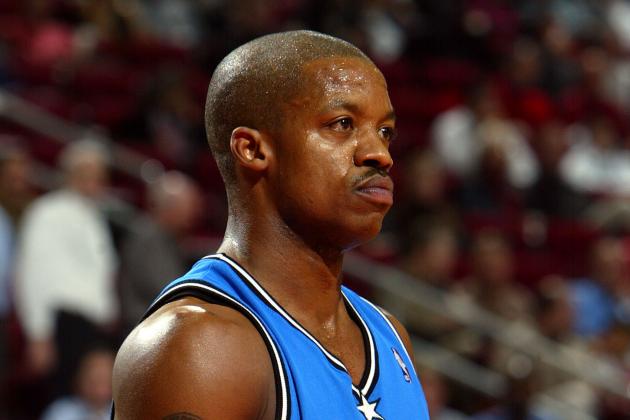 Ronald Martinez/Getty Images

Love him or hate him, Stevie Franchise was one of the most dynamic, exciting and talented players of the current generation. Francis began his career in Houston before he was shipped to Orlando as part of the blockbuster deal that sent Tracy McGrady to the Rockets.
After his first five seasons in a Houston uniform, the 6'3'' Francis was averaging over 19 points, six rebounds and six assists per game while constantly reminding fans of his unique dunking and ballhandling abilities.
Francis continued his dominance in Orlando, averaging over 21 points, six rebounds and seven assists in his first season with the Magic. He finished his career just crossing the 10,000-point threshold, and also averaged at least six assists per game in six different seasons.
The explosive two-guard loved the spotlight, and he received it, playing in three NBA All-Star games. Francis also amassed five seasons where he averaged at least 18 points per night, and took home the 1999-00 Rookie of the Year award.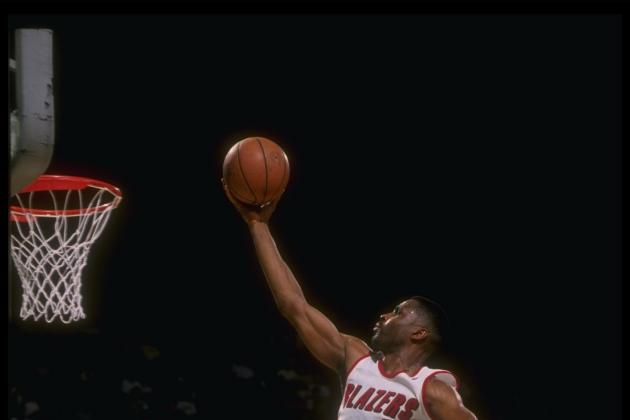 Otto Greule Jr/Getty Images

He was dominant in College Park, and he was dominant in the NBA. There's no other choice for the top slot than Terps' fan-favorite Buck Williams.
Certainly one of the league's all-time elite rebounders, Williams reeled in the 13th-most boards in NBA history with 13,017. His career average for rebounds is exactly 10.0, but he went for at least twelve per game during his first seven seasons in the NBA, while playing for the New Jersey Nets.
Aside from rebounding, Williams was a superb interior scorer. He finished his career with a total of 16,784 points, having three seasons with at least 18 points per night early in his career. Over 10,000 of those points came while playing for the Nets, placing him as the franchise's all-time leading scorer.
Williams's accolades are endless. Some of his top honors include the 1981-82 Rookie of the Year, two-time All-Defensive first-team member, three-time all-star, and a participant in 108 career playoff games.
The goggle-wearing phenom was a forceful presence for over a decade in the NBA, and his immense productivity earns Buck Williams the number one spot on this list.