Marquez and the 5 Best Mexican Fighters of This Era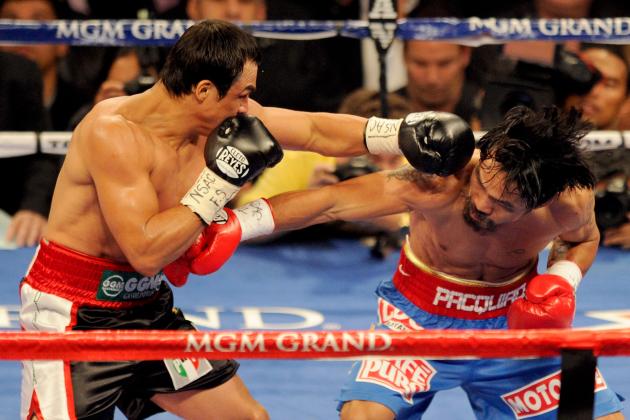 Ethan Miller/Getty Images
Marquez may never beat Pacquiao but his legacy is secure.
Mexico is a nation with a proud fighting tradition and a warrior code that all great fighters understand.
The names of fighters it has produced are legendary:
Julio Cesar Chavez, Ruben Olivares, Salvador Sanchez, Carlos Zarate.
You could go on and on for hours.
Julio Cesar Chavez is widely considered to be the greatest of all time to come out of Mexico, and he dominated an era in the sport that produced many great champions and great fights.
The following fighters had the honor, or curse, of having to follow in his footsteps and try to live up to his legacy as both a fighter and a Mexican warrior.
With that, we present Juan Manuel Marquez and the five best Mexican fighters of this era.
(For clarity, the fighters on this list made themselves household names in the post-Chavez era.)
Begin Slideshow

»
When you think of great, all-action, blood-and-guts rivalries in boxing, one that is often overlooked is the four-fight series between Mexican warriors Israel Vazquez and Rafael Marquez.
The two men first met in 2007 with Marquez taking Vazquez's WBC super-bantamweight title. Vazquez had scored a knockdown in Round 3 but could not continue after Round 7 due to breathing problems from a broken nose.
The next two fights between the men, in 2007 and in 2008, would BOTH secure The Ring Magazine's Fight of the Year award. Vazquez won both of those fights, once by knockout and once by razor-thin split decision.
Marquez would win the final bout between the two in 2010 by knockout in Round 3.
You can't go wrong with either guy taking this spot in the list.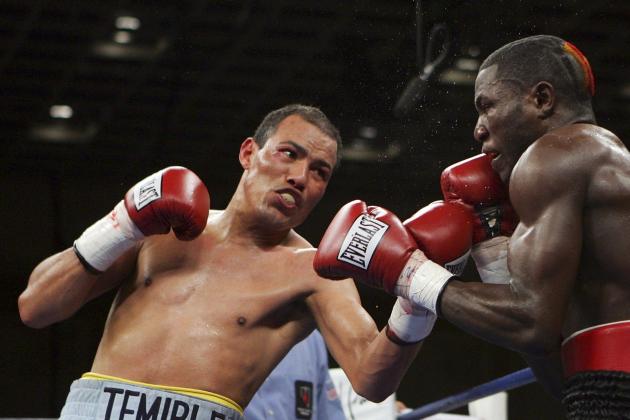 Ethan Miller/Getty Images

There was a time, not too long ago, when Jose Luis Castillo was one of the most feared men in boxing.
He was a tough-as-nails fighter, crafted in the true Mexican warrior mold, with a devastating body attack and pressure style that few fighters could handle.
Castillo is widely considered to be one of the best lightweight fighters of his era, having twice captured the WBC lightweight title and also The Ring Magazine championship.
In his career, he holds victories over notables including Stevie Johnston, Joel Casamayor, Julio Diaz and the late Diego Corrales.
He met Corrales twice, with the first fight universally recognized as one of the most exciting, if brutal, matches in the history of boxing. It would also be named by The Ring Magazine as the fight of the year, a much deserved honor.
Castillo is also well-known for a fight—and a victory—he never got. He became the first man to push Floyd Mayweather Jr. to his limit, losing a unanimous decision to the future Hall of Famer in 2002.
The fight was extremely close and competitive, and to this day several observers feel the Mexican warrior deserved the nod on the scorecards.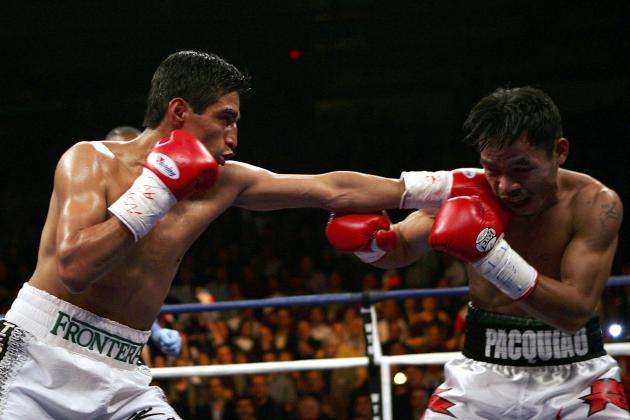 Jed Jacobsohn/Getty Images

This is the point where the rankings get tricky, and you could legitimately make an argument for any of the top three being anywhere from first to third.
Erik Morales is the first Mexican fighter to win world championships in four weight divisions and holds victories over 15 fellow champions.
He is probably best known for his trilogies with fellow Mexican warrior Marco Antonio Barrera and Manny Pacquiao.
The problem for Morales, and why he finds himself third on this list, is that he ended up 2-4 in those six fights against the best of his contemporaries.
Unlike Juan Manuel Marquez, he holds a victory over Manny Pacquiao but was dominated in their next two fights, losing both by stoppage.
Despite the losses, Morales' list of victories is indeed impressive and includes Pacquiao, Barrera, Daniel Zaragoza, Junior Jones and Kevin Kelly.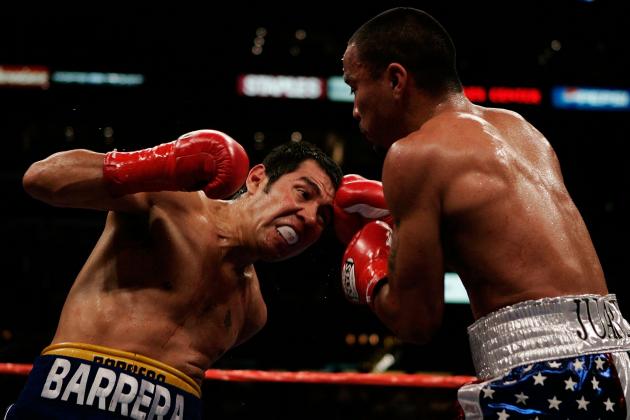 Robert Laberge/Getty Images

Marco Antonio Barrera spent his early career as a warrior in the ring and accumulated a 43-0 record. But then he met Junior Jones and lost back-to-back fights.
Barrera briefly retired after losing to Jones but soon came back. He became one of the few fighters in history to successfully change his style in a dramatic way and become better.
He met his rival Morales for the first time in 2000, engaging in a back-and-forth war that legitimately could have been scored for either fighter. Morales would get the win before dropping the second and third fights of the series to Barrera.
Barrera is also known for exposing and destroying much-hyped British sensation Prince Naseem Hamed in 2001.
In his career, he has won multiple world championships in three weight classes.
Ethan Miller/Getty Images

Juan Manuel Marquez may not have the pedigree, resume or even list of accomplishments of some of his counterparts on this list.
But that largely has to do with the fact that in his prime he couldn't get anyone, including Barrera and Morales, to face him.
Marquez finally lured Barrera into a match in 2007 when Barrera was on the decline and won an easy unanimous decision.
He also has the distinction of taking Manny Pacquiao to three hair-thin decisions. Many observers feel that Marquez won all three of those fights regardless of what the official scorecards said.
"Dinamita" will have a chance to right that situation and drastically enhance his overall legacy on Saturday night when he meets Pacquiao for a fourth time.
It's also worth noting that while both Barrera and Morales also fought Pacquiao—and Morales even holds a win—the version they faced wasn't the world-beating pound-for-pound contender that Marquez faced.
Unlike Morales and Barrera, Marquez was able to extend his career. He is pushing 40 years old and still fights at an elite, Top Five, pound-for-pound level. His longevity is a large part of the reason he tops this list.
A win over Pacquiao on Saturday would solidify his standing not just amongst the best of this era—but the best of any era.