Ranking the Top 7 Free Agents the Cleveland Browns Should Look at in 2013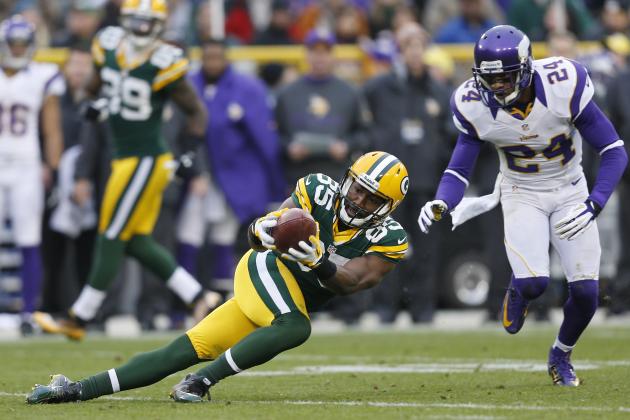 Joe Robbins/Getty Images

The Cleveland Browns still have some work to do, but they're finally playing like a team on the verge of serious and lasting improvement.
But there are still a few pieces missing, and free agency could help to fill the gaps. The Browns front office is notorious for emphasizing the importance of the draft over free agency, and there are a few players the team must keep before it concentrates on new acquisitions. However, this young team could benefit from some veteran leadership.
In the short term, the Browns need to concentrate on re-signing Phil Dawson, Ben Watson, Josh Cribbs and Sheldon Brown. Beyond that, there are plenty of options to strengthen an already steadily improving roster.
Immediate needs on offense: blocking, right-side pass protection and a veteran receiver. Immediate needs on defense: preventing big gains on the ground and getting to the opposing quarterback. Immediate needs in my tummy: hot chocolate.
While I take care of that situation, here are the lucky seven free agents the Browns should consider to supplement this talented young squad.
Begin Slideshow

»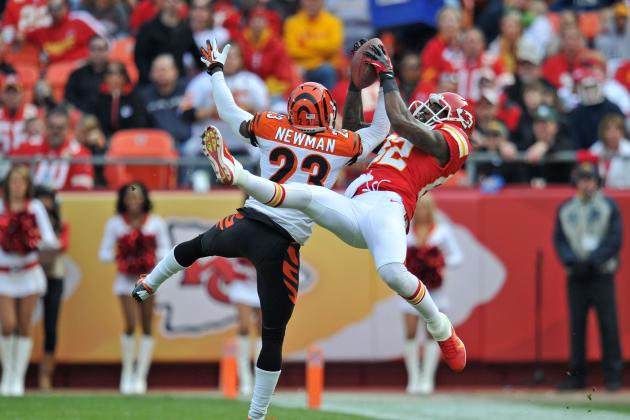 Peter Aiken/Getty Images

For five years, Dwayne Bowe has been a great pair of hands with no one to find them.
According to CBSSports.com (and Bowe himself), the Kansas City receiver has caught passes from nine different quarterbacks in his career. This long and not-so-glamorous list includes Brady Quinn, Kyle Orton, Tyler Palko and several others who have since faded into obscurity.
Although he's publicly stated that he has no intention of leaving the Chiefs, Bowe could perhaps be lured by a big price tag and a talented quarterback. His raw talent and league experience could provide a great complement to Cleveland's young receiving corps.
He knows his own potential. With a versatile young quarterback and a group of younger players to mentor, Bowe could have a long and impressive second half of his career. Let's just hope it's in Cleveland.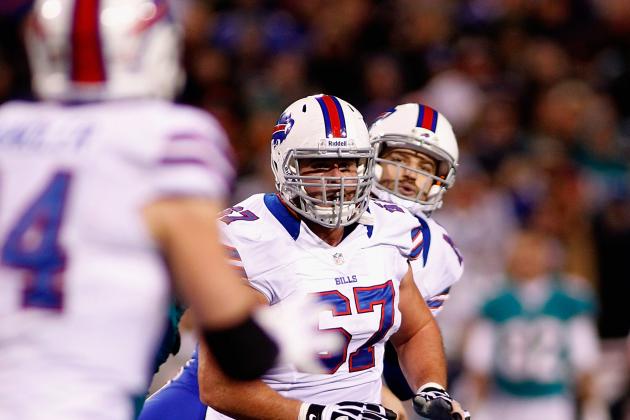 Rick Stewart/Getty Images

With Jason Pinkston out indefinitely, the Cleveland Browns faced a sudden issue on the left side of the offensive line.
Greco's been standing in reasonably well, and it seems Brandon Weeden is much more worried about abuse coming from the other side. However, any team would benefit from a humble and versatile player like Andy Levitre.
He's the kind of player who draws praise from his teammates and frustration from his opponents. He's like the football version of the Shake Weight; I never knew I needed it, but once I laid eyes on it, it immediately went on my Christmas list.
There are very few positional units more important than the offensive line for this particular Browns squad. They would be well-advised to make positive changes wherever possible.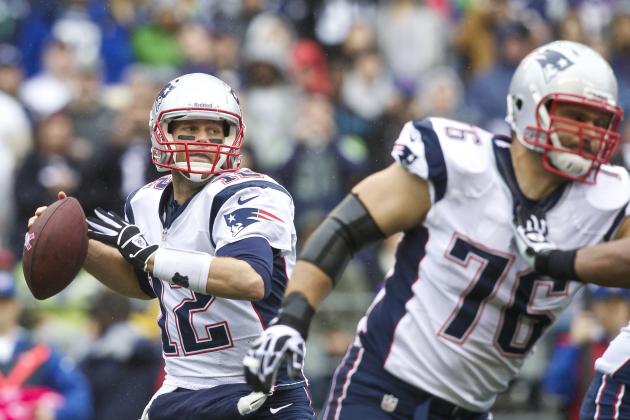 Stephen Brashear/Getty Images

Mitchell Schwartz has played a solid rookie season for the Browns, but that right side still needs a lot of help.
When he's healthy, Sebastian Vollmer is a force on the line. Tom Brady has been kept fairly intact this year and, perhaps even more importantly, Stevan Ridley's been given the opportunity to have his breakout year ahead of schedule. Vollmer deserves a measure of credit for that.
The more volatile parts of this Browns offense are relying on the less flashy guys to let them do their jobs. Vollmer has the size, experience and youth to become a necessary building block, a mentor for Schwarz and a source of relief for Weeden and Trent Richardson.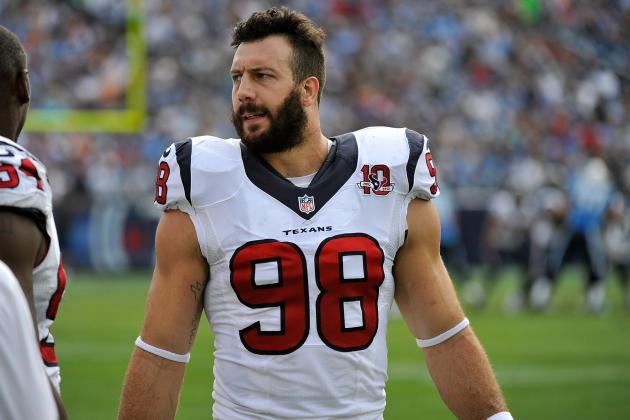 Frederick Breedon/Getty Images

Connor Barwin declined to sign an extension with the Texans before the season started. While this may not necessarily signal his departure, it should perk the ears of the Browns front office.
Barwin's sacks are down from last season, but he still has the potential to pressure the quarterback and provide a nice complement to D'Qwell Jackson. Plus, he's only 26 and had a lot of room for growth and development on a new team.
He's also versatile, switching positions midseason to cover for a recovering Brooks Reed. As a particular segment of a strong Houston defensive unit, Barwin is used to striking collective fear into the hearts of opponents. This Browns defense is right on the verge of doing the same.
I'll be looking for that beard to be sticking out of my stocking this Christmas, Santa.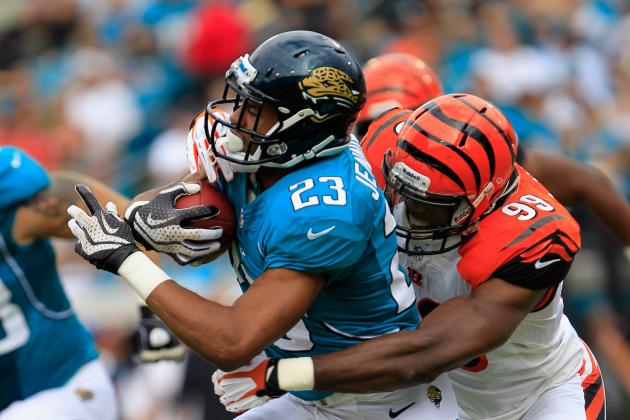 Chris Trotman/Getty Images

While the Browns continue to develop a young secondary, it might help to reduce the amount of work they have in the first place. That's where Manny Lawson comes in.
He's done a respectable job of establishing himself as a threatening pass-rusher on a strong Bengals defense. Lawson has forced a fumble and recorded two sacks on the season, making him a solid, if not flashy, contributor.
He made $2.1 million this year. If the Browns can utilize their considerable cap space and get him for relatively cheap, he could be yet another steadfast piece of the defensive puzzle.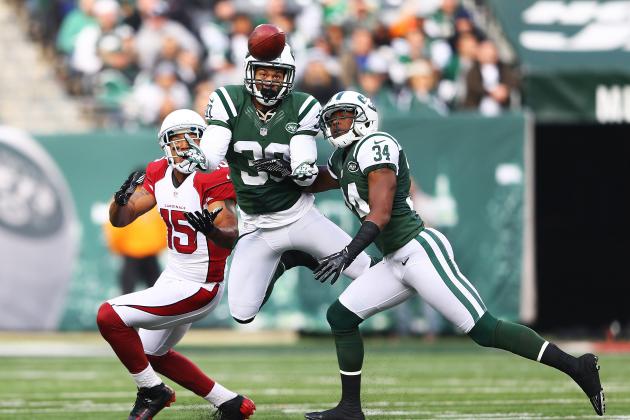 Al Bello/Getty Images

I really went back and forth on this one. LaRon Landry and Yeremiah Bell will both be entering free agency this year. They have recorded 79 and 70 tackles on the season, respectively.
Landry's younger, but Bell's cheaper. Landry's injury-prone, but Bell may be slowing down due to his age. It's like choosing between a barbecue chicken pizza and a Hawaiian: same culinary category, both potentially delicious, a little risky in their own unique ways.
It's a tough call, until you reach that unassuming afterthought of a statistic: forced fumbles.
Landry has four. That kind of scrappiness works beautifully in this particular Browns defense.They often play preventatively, which can range from prudent to infuriating (ahem, Cowboys). They'll bend and not break, conceding to steady ball movement and allowing the opposing team to rack up time of possession rather than putting quick points on the board.
In that scheme, a defender who can force a turnover can be worth his weight in pizza.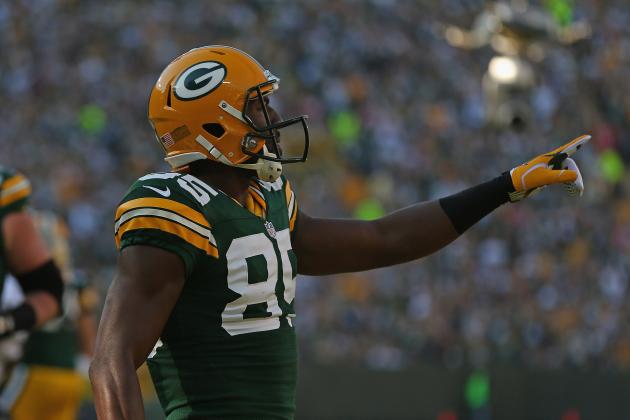 Jonathan Daniel/Getty Images

Greg Jennings has been a hot name on the lips of anyone discussing Browns' free-agency needs.
I like to be the voice of dissent; in this case, however, the masses have a point. Jennings is a solid threat behind a gunslinging quarterback, and he could come in and make an immediate difference for the Browns. With Josh Gordon catching more balls every week and Greg Little finally finding a way to contribute in his own way, a Jennings addition could be a game-changer.
He's 29 years old and coming off a disappointing season, but the past speaks for itself. He recorded three consecutive 1,000-plus yard seasons from 2008-2010, including a monster showing in the latter with 12 touchdowns.
Jennings is an elite talent hampered only by injury. It's a risk Cleveland should take, and I hope to see him in brown and orange in 2013.