10 Positive Lessons the Minnesota Vikings Can Take out of the 2012 Season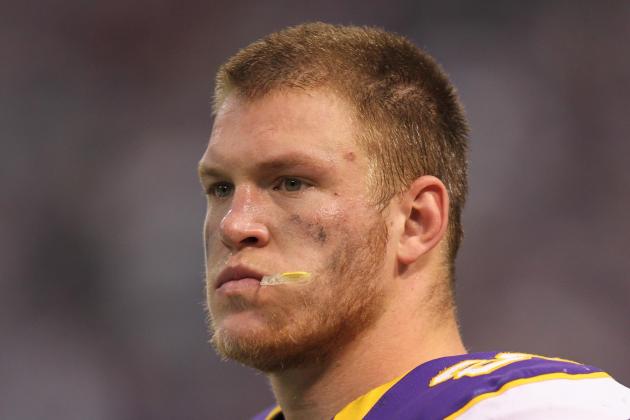 Brace Hemmelgarn-USA TODAY Sports
Kyle Rudolph has taken a big step forward in 2012. Is there any doubt he makes this list?
It's been one hell of a roller coaster ride for the Minnesota Vikings in 2012.
They started out 5-2 and appeared ready to compete with the NFC's best. Then, over the last six weeks they've gone 1-4 and are on the outside looking in for the 2012 postseason.
But they are still alive. An improbable 3-1 or 4-0 could put them back in.
This has been a much better season than many expected, and that likely isn't to change over the final four games.
With the season winding down, these are my 10 positives Minnesota can take out of its 2012 campaign.
Begin Slideshow

»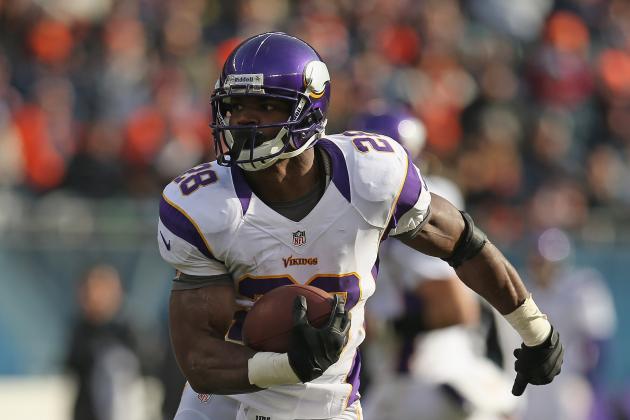 Jonathan Daniel/Getty Images
After suffering ACL and MCL tears last December, Adrian Peterson is on pace to have the best year of his career in 2012.
This story line is pretty simple: Adrian Peterson was injured, he's back and now he's better than ever.
Coming off of a torn ACL and MCL, Peterson is on pace for the greatest rushing total of his career. Through 12 games he has 1,446 yards, which puts him on pace for 1928 yards. His current career-best is 1,760 in 2008, his second year in the league.
His speed is as fast as ever. His strength is as powerful as ever. And he's more motivated than ever.
Peterson is 27 years old and will turn 28 in March. He likely has two to three years left at the top of his game.
Enjoy it while it lasts.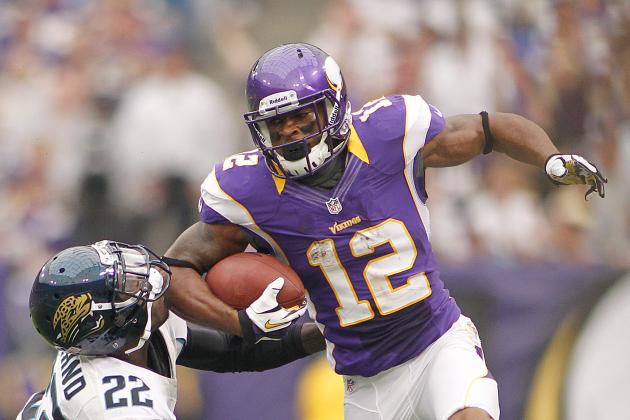 Andy King/Getty Images
In nine games Percy Harvin has caught 62 passes for 677 yards with three touchdowns.
Percy Harvin had shown the potential. There were glimpses. He teased his teammates and his fans.
But this season he put it all together. And the league took notice.
When the opposition discussed preparations for playing Minnesota, they mentioned Harvin and Adrian Peterson in the same breath. That's when you know you've made it.
Prior to battling a left ankle injury, Harvin had caught 62 passes for 677 yards and three touchdowns in nine games.
He was on pace to eclipse the 1,000-yard mark in receiving yards and the 100-catch plateau for receptions.
Now we're just waiting to hear if he'll play again this season.
Harvin's likely to demand a new contract in the offseason. If the Vikings are smart, then they'll pay up. They have no one else.
Greg Smith-USA TODAY Sports
Matt Kalil and Harrison Smith are proving themselves very capable NFL players.
If for nothing other than the first round, the 2012 NFL draft will go down as one of the best in recent memory.
The Vikings entered the draft with a top-three pick and left having selected two players in the first round, both of whom are playing up to that first-round billing.
Matt Kalil, the No. 4 pick, has set himself up to be Minnesota's left tackle for the next 10 years (should he choose to remain a Viking). He's not the game's most powerful tackle, but he makes up for his lack of power with enhanced quickness. He's a gem.
Harrison Smith has proven to be a center fielder at the safety position who isn't afraid to knock the snot out of the opposition. He has 74 tackles with two interceptions. He's on pace to be Minnesota's best play-making safety since Robert Griffith or Darren Sharper.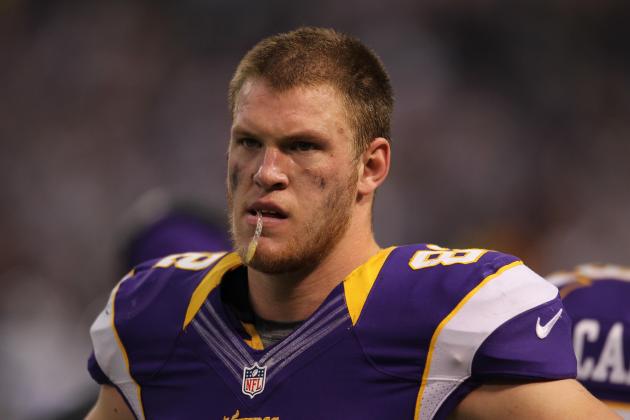 Brace Hemmelgarn-USA TODAY Sports
After an underwhelming rookie campaign Kyle Rudolph has caught 45 passes for 412 yards and eight touchdowns.
As a rookie, Kyle Rudolph didn't show us much. He had that phenomenal catch against the Denver Broncos, but that was about it.
At 6'6" and 258 pounds, the physical tools were always there. Last season he looked lost as he battled playing with a rookie quarterback. He didn't look ready to go. He finished with 26 catches for 249 yards and three touchdowns.
This year he's burst out with 45 catches for 412 yards and eight touchdowns through 12 games. He's on pace for just over 10 touchdowns.
With Percy Harvin as the only legitimate NFL wide receiver on the roster, the Vikings wouldn't be close to .500 without Rudolph's breakout year. And by no means is he done growing. He's still got a ways to go. There's a lot of talent there.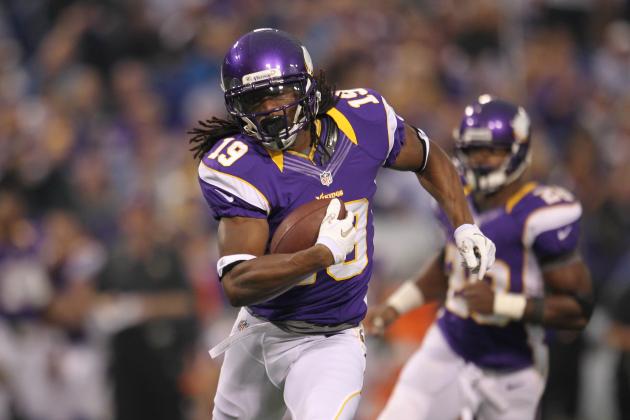 Brace Hemmelgarn-USA TODAY Sports
Devin Aromashodu has caught 11 passes for 182 yards this season.
On the surface you scratch your head and think to yourself, "Why the heck is this on this slideshow? Shouldn't this be a negative?"
Well, yes and no.
With regards to the on-field product, this fact destroys the Vikings. It's partially why Minnesota struggled so mightily against the Green Bay Packers on Sunday. The receivers couldn't get separation. It didn't help that their quarterback couldn't have gotten them the ball if his life depended on it.
But what this means for the Vikings is that Devin Aromashodu is without a doubt not in purple and gold next season, Jerome Simpson is unlikely to sport a Vikings uniform and Michael Jenkins would only be brought back in a reduced role.
It means the Vikings should clean house at the position of their greatest need.
It hurts the franchise in the short term, but benefits it in the long term.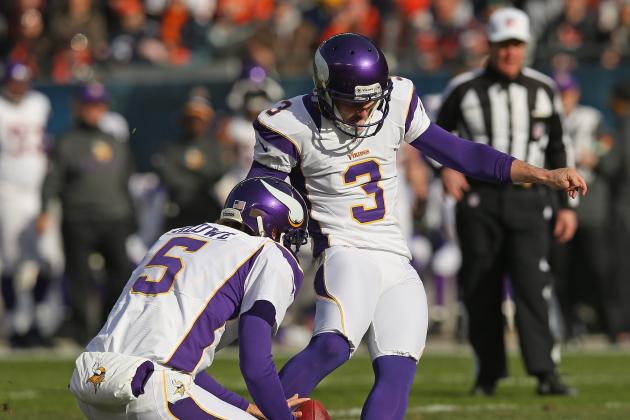 Jonathan Daniel/Getty Images
In his rookie campaign Blair Walsh has missed just three field goals (24 of 27).
Many people, including this guy, were WAY off on Blair Walsh.
The sixth-round pick has proven himself a reliable NFL kicker with the accuracy to back up his strength.
Walsh is 24 of 27 on field goal attempts on the year and hasn't missed from 50 yards or beyond.
In addition to his surprise field goal accuracy, Walsh has done what was expected of him when Minnesota snagged him in the sixth round: He consistently boots the ball out of the end zone on kickoffs.
Some said injuries his senior year at Georgia are what did him in (he missed 14 field goals that season).
The Vikings had faith that Walsh was due for a recovery and have been proven right.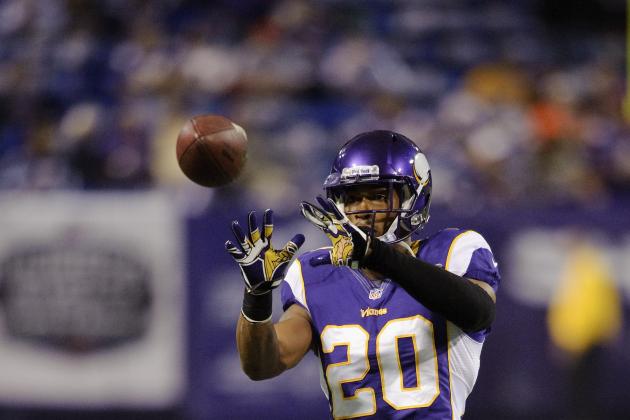 Hannah Foslien/Getty Images
If Chris Cook can ever stay on the field, then he appears ready to be a top cornerback.
Tragically, for the Minnesota Vikings, Chris Cook was suspended for the latter half of the 2011 season. In his sophomore year, the 2010 second-round pick appeared ready to take the next step to becoming an elite cornerback.
Then, this season he broke his wrist against the Tampa Bay Buccaneers in Week 8 and his 2012 campaign ended earlier than Minnesota had wanted.
Cook is a physical specimen for a cornerback. He's 6'2" and 212 pounds. He doesn't possess elite speed but can be very physical.
He has shown the ability to match up very well with the likes of Calvin Johnson (6'5" and 236 pounds), which is someone Minnesota needs to shut down twice a year. And with Chicago adding Brandon Marshall (6'4" and 230 pounds) and Green Bay having a strong assortment of receivers, it's vital that the Minnesota secondary prove able to slow down these talented groups of receivers.
Look for Cook to progress further next year and compete for a Pro Bowl spot.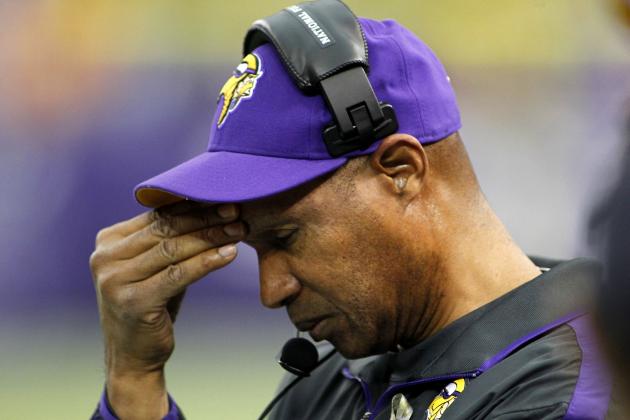 Andy King/Getty Images
Leslie Frazier was under fire last season for his inability to maintain halftime leads.
To open the 2011 season, the Minnesota Vikings gave their fans the dirtiest strip tease ever: They led at halftime in each of their first three games only to see those leads evaporate in the second half.
Fans and media members alike called out head coach Leslie Frazier for his inability to make adjustments for the second half.
There are plenty of things to be critical of relative to the 2012 Vikings, but blowing halftime leads isn't one of them. Heck, the Vikings have even mounted second-half comebacks this season.
In Week 1, Christian Ponder led the Vikings offense into field goal range to allow Blair Walsh to kick a 55-yard field goal to send the game to overtime. In Week 2, he led the offense to a game-tying touchdown before Andrew Luck orchestrated the game-winning drive.
The Vikings have coughed up just one halftime lead this season, which was in Week 13.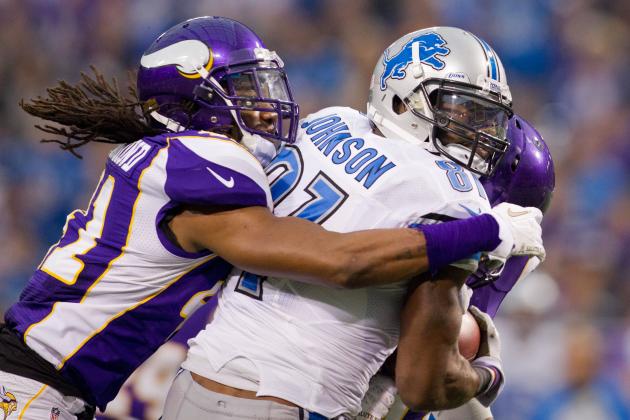 Bruce Kluckhohn-USA TODAY Sports
After going 0-6 in the division last season the Vikings secured at least two wins this season.
Regardless of what happens in Week 14 vs. the Bears or Week 17 vs. the Packers, the Minnesota Vikings have improved within the division.
Last season, the Vikings went winless against their rivals. In 2012, they recorded two wins, which both came against Detroit.
Now, it is the Lions. And the Lions are having a down 2012 campaign. But wins are wins unless they're wins.
The Vikings nearly defeated the Packers at Lambeau in Week 13, and if they had possessed an aerial attack that day, they would have.
In Week 12 against the Bears, they just didn't show up. It's that simple.
But Minnesota was blown out in Green Bay last season, 45-7. The Vikings lost 23-14 in Week 13.
Kirby Lee-USA TODAY Sports
Even at 6-6 the Minnesota Vikings are still in the hunt for a postseason berth.
Although the hopes are fading fast, the Vikings are still a legitimate playoff contender. If they win out, they're 10-6.
And before that, the Vikings opened the season 5-2. That's more than even the most optimistic Vikings fan could have hoped for.
This is good experience for what is, for the most part, a young team with a young head coach.
This was supposed to be a rebuilding season. The Vikings weren't supposed to sniff the postseason. But they have and will continue to do so until at least this Sunday.