City Are an Embarrassment: What We Learned from Dortmund vs. Manchester City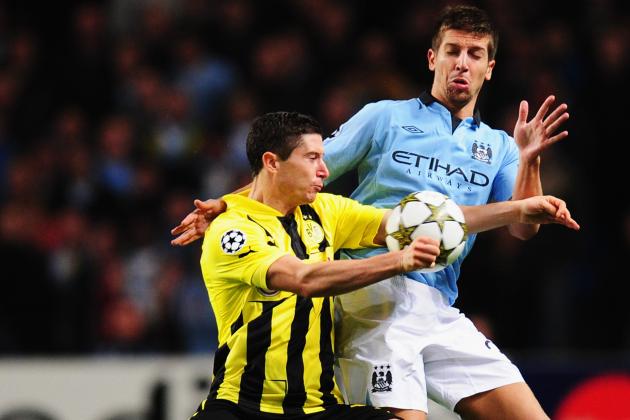 Stu Forster/Getty Images

Dortmund and Manchester City completed their respective Champions League Group D campaigns in fitting manner on Tuesday, with the German side winning 1-0 to send them on to the Round of 16 as undefeated group leaders.
The English champions, by contrast, finished last, having failed to win a single game in the so-called "Group of Death."
Neither side had much to play for on the day, and both coaches opted to use several reserves from the start while many stars watched the game from the stands.
Even without all the urgency and star power expected from the two sides, the game heated up in the second half after the hosts scored. And as always, there were some important narratives to take from the game. Read on for a full analysis...
Begin Slideshow

»
Clive Brunskill/Getty Images

Manchester City have no shortage of attacking players, but somehow, Roberto Mancini's squad is thin on the flanks. The trainer only has one quality winger: David Silva. And without Silva on the squad on Tuesday, City were toothless between the midfield and attack.
For depth, City have Samir Nasri and Mario Balotelli, but neither is a natural winger.
James Milner may be a true No. 7, but despite the €22 million spent to secure his services, he still is just James Milner, a decent but limited footballer.
As for Scott Sinclair: Following his performance on Tuesday, the less said about him the better.
Behind the wingers, Mancini is also short of depth. Gael Clichy and Aleksandar Kolarov are good options at left-back, but Pablo Zabaleta was never a world beater, and Maicon was finished long before he left Inter.
Mancini seemed to really want at least a draw on Tuesday, especially after bringing on Balotelli and Sergio Aguero in the second half. Had he brought in a winger, it would have been easy to isolate Dortmund right-back Oliver Kirch, who played most of his career as a midfielder in the German second division and usually plies his trade with the BVB reserves in the 3. Liga.
Ironically, the depth City are so renowned for is mostly an illusion. They have many strong players, but far too many are center forwards, central midfielders and central defenders.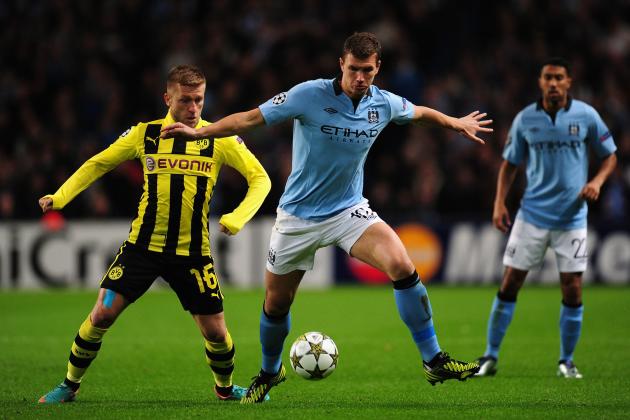 Stu Forster/Getty Images

Marco Reus may be the deadliest weapon in Dortmund's arsenal, but Jakub Blaszczykowski is its motor. And on Tuesday, it was energy that BVB needed.
It might have been easy to write off Dortmund's chances of scoring when Reus made way for Kuba at the start of the second half. Mario Goetze wasn't on the squad, Robert Lewandowski was on the bench and Julian Schieber, who had scored just once since arriving in the summer, led the attack.
Kuba's introduction was a game-changer, however. He added energy to an otherwise-lethargic game and was always first to the ball. He pressed, challenged defenders to make tackles and set up more chances in 45 minutes than almost any other player did in the full 90. One chance, of course, was Schieber's all-important opener.
A fringe player just 12 months ago, Kuba took a gamble by signing a contract extension in July. Since then, he has come up with aces for Dortmund time and time again.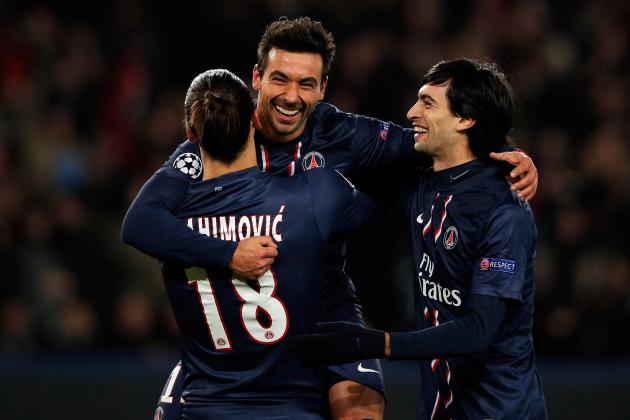 Dean Mouhtaropoulos/Getty Images

Fans paid top dollar for tickets to Tuesday's match but were met with two sides largely consisting of reserves. Jurgen Klopp started with just five of his strongest XI players, while Roberto Mancini used just about the same number from his best lineup.
Among the Dortmund stars, Marco Reus was used for only the first 45 minutes, while Mario Goetze was omitted from the matchday squad altogether.
For City, Sergio Aguero came on for the final half hour, and Mario Balotelli for the last 25 minutes.
Dortmund had nothing to play for, having won the group after matchday five. And City had only the Europa League as a possible consolation prize, but Europe's lesser tournament is hardly an incentive.
Around Europe, not much happened on Tuesday. Schalke and Arsenal both fielded reserve lineups, neither particularly interested in finishing atop Group B. The only clubs to really go for it were PSG and Porto, and they produced a highly entertaining game.
If only the other clubs had followed suit...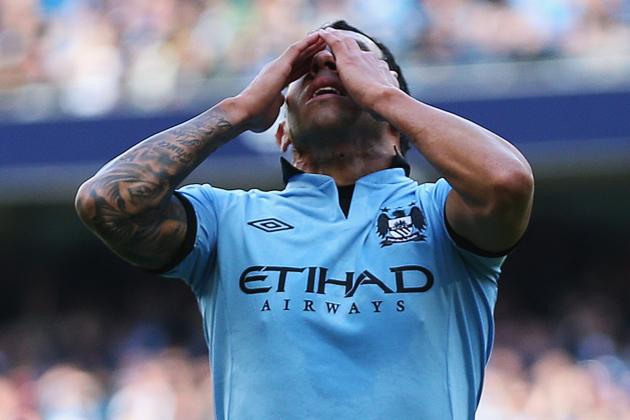 Clive Brunskill/Getty Images

When Sheikh Mansour took over Manchester City in 2008, it was a game-changer in English football.
No longer would Manchester United be runaway favorites for the derby. The Citizens were instantly a powerhouse club and promised to take the Premier League and Europe by storm within the coming years.
Since Mansour's takeover, the Citizens have spent unthinkable amounts of money. Their offer of well over €100 million for Kaka in 2009 was pure madness. The princely sums spent on mediocre players like Joleon Lescott (€27.5m) and Jo (€24m) were unreal. Since the summer of 2007, City have spent €721.84 million on transfers. Never before in the history of sports has a club had anywhere near the financial resources that City have.
And yet, they can't win a game in the Champions League. What a joke.
City may have won the 2011-12 Premier League, but what was exposed on the continental stage both a year ago and in the last few months is that, in truth, they are nothing but a team of individuals devoid of chemistry and passion.
Sure, they can beat poor teams on a week-in, week-out basis. But when it comes time to show their class, they come up wanting. Their cost-to-results ratio is so distorted from reality that it's hard to tell whether it's more loathsome, comical or embarrassing.
Their few fans will insist that City will be back next year with new stars and new hopes, but even the most ardent supporter will have doubts. Fresh faces can help, but they aren't enough. Mancini has a band of mercenaries, not a team—refugees from La Liga who were tired of finishing 30 points behind Real Madrid and Barcelona and modest Premier League talents who were over-hyped even before they signed €200,000-per-week contracts, to name a few.
None grew up in the stands at the Etihad Stadium, and none would bleed for the shirt.
It is generally bad practice to bash a team down on their luck, but in this case, an exception can be made. This City side represents everything that is wrong in modern football: a club being snatched from its fans to become the plaything of a despot, one who looks to buy success at the cost of the organization's identity.
That they were humiliated on Tuesday by the reserves from a club that turned a profit in each of the last two years is so fitting. City's claiming the Premier League title last season was damning of a league that is decidedly for sale. The fact that Real Madrid, Ajax and Dortmund all beat the same City side is vindication for European football.
Sheikh Mansour had his chance, but now his City are poised to pay a hefty penalty for their deliberate and unabashed flouting of Financial Fair Play. Their sponsorship deal with Etihad Airways may well be deemed not only scandalous, but fraudulent by UEFA.
And if so, the Citizens face expulsion from the Champions League, should they qualify. It would be a shame, though, if City were not to participate; they've been a good laugh.