Philadelphia Flyers: 5 Reasons Why Ilya Bryzgalov Is Not the Long-Term Answer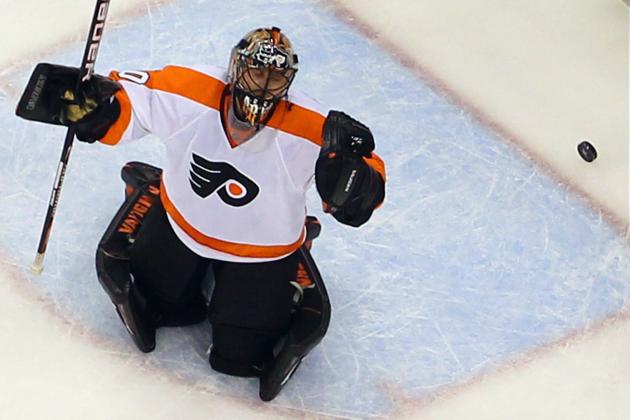 Bruce Bennett/Getty Images

Once they start playing hockey again in the NHL, many questions will have to be answered in Philadelphia.
One of the most familiar questions involves the goaltending position. Some might say the Flyers have not had the kind of goaltending you want since Bernie Parent won back-to-back Stanley Cups in 1974 and '75.
Perhaps you don't want to go back that far and you will say that Ron Hextall (1986-92; 94-99) did an adequate job in net for the Flyers. If that's the case, the Flyers' goaltending issues have been going on for 13 years.
The Flyers had hoped that the acquisition of Ilya Bryzgalov prior to the start of the 2011-12 season might turn their goaltending fortunes around.
While one season in Philadelphia is not enough to come to a final conclusion on his ability to man the No. 1 goaltending role, he did not steady the ship in that first year.
Begin Slideshow

»
Ilya Bryzgalov set a Philadelphia Flyers record when he shut out opponents for 249:43 last season. It was the kind of hot streak that gave Flyers fans hope that Bryzgalov was the man.
However, when Bryzgalov was not shutting out opponents, he was not stringing together a lot of games in which he gave up one or two goals per game.
Throughout the season, Bryzgalov had a 2.48 goals against average with a .909 save percentage. That's a decent number, but not quite what general manager Paul Holmgren and coach Peter Laviolette were expecting.
When you realize he dominated with the kind of streak he had last year, it means he was just not good enough to take the Flyers where they wanted to go.
Bryzgalov takes everything personally. In the course of the season, there will be good moments and bad moments. It's important for a goaltender to handle both the good and the bad and keep moving forward.
However, when Bryzgalov did not get the start in the Winter Classic vs. the New York Rangers, he let his emotions come to the surface when he spoke with reporters prior to the game.
His sarcasm demonstrated his disdain for Laviolette's decision to bench him for that game, and that's an issue. The goaltender has to be on the same page as the head coach and that may not be the case in Philadelphia.
If a team is going to win in the playoffs, it regularly comes down to a goaltender's performance. That's why the Flyers acquired Bryzgalov. They thought he would be good enough in the postseason to give them a legitimate chance to win the Stanley Cup.
His first playoff performance with the Flyers was awful. Bryzgalov was 5-6 for the Flyers as they beat the Penguins in the first round and lost to the Devils in the second round. He had a 3.46 goals against average and an unspeakable .887 save percentage.
Bryzgalov's 2012 playoff performance was simply unacceptable.
Goaltenders can be quirky. Odd behavior by netminders is quite understandable, considering they are in the firing line of shooters who can fire a hard piece of vulcanized rubber at speeds approaching or exceeding 100 miles per hour.
However, when does quirky behavior give way to a lack of concern? In HBO's 24/7 series last year prior to the Flyers' Winter Classic game against the Rangers, Bryzgalov seemed a lot more concerned with the vagaries of the universe (see video above) than he was about his technique or consistency.
Bryzgalov needs to show his employers and Flyers fans that he is more concerned with his job than he is about outside interests.
Is Bryzgalov good enough to become an elite NHL goaltender?
If you look at Bryzgalov's performance last year, it really was not much different from his career numbers.
Bryzgalov has been competing in the NHL since the 2001-02 season and his career goals against average is 2.52 and he has a .915 save percentage.
It may not be within his capabilities to have Tim Thomas-like or Ryan Miller-like season.
He needs to show the Flyers that he can be better and more consistent once the lockout ends and the games begin again.