Boston Red Sox Facts That Are Truly Fascinating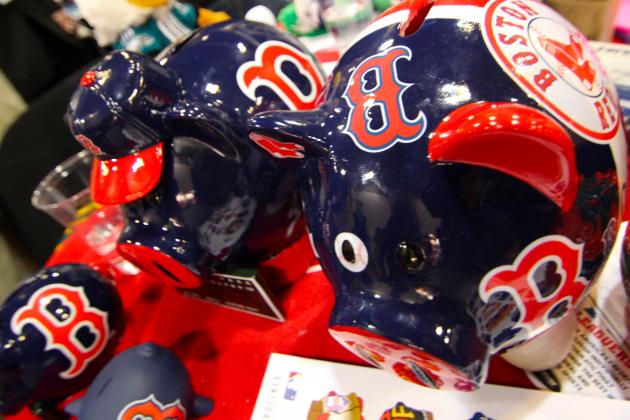 Red Sox Nation Rocks! - Photography by Robert Bluestein
After visiting every major league baseball stadium over the last 15 years and despite being a lifelong Houston fan, the Boston Red Sox just feel like a wonderfully historic franchise. For those who have yet to make the pilgrimage to Boston's Fenway Park, it is an experience like no other. The entire neighborhood around Fenway is full of Red Sox lore.
Boston Beer Works has been serving customers their famous Blueberry Beer. The beverage is unique in that the blueberries ride the bubbles up and down in a most mesmerizing manner. All along the walls are images of Red Sox players all the way back to 1916. The connection that Boston inhabitants have with their beloved Red Sox is passionate and wonderfully loyal.
No other fans in baseball are as knowledgeable as Red Sox Nation. I have sat in Fenway Park over the years, and without a doubt the fans in Boston are as passionate and opinionated as any of the fans in the entire game.
So rather than the usual Red Sox historical lore, I reach deep into the depths of baseball treasure troves everywhere and come up with interesting facts that even many in Red Sox nation don't know! If you have an unusual fact or personal experience regarding Red Sox Nation, please do share in the comments below.
Begin Slideshow

»
The 1975 World Series was one of the greatest ever played. Game 6, of course, ended with an epic home run by Hall of Famer Carlton Fisk in the 12th inning off of pitcher Pat Darcy. Most people didn't see where the ball went after it bounded off the foul pole. But watch carefully and you will see that George Foster catches it.
From there, no one knew where the ball went. Seemingly lost through time, the baseball was never found. That was true until 1999. Foster brought the ball back to the public eye put it up for auction. The slugging left fielder of the Big Red machine sold the ball for $113,273.
As for that epic Game 6, many people consider it the greatest game ever played. It would be hard to judge that against Game 6 of the 2011 World Series or even Game 6 of the 1986 Series that is remembered for Bill Buckner's error. After the ball went through Buckner's legs, it was picked up by right field umpire Ed Montague, who put a tiny "x" near a seam to mark it. Montague then gave the ball to Mets executive Arthur Richman. Wilson signed it to Richman, writing: "To Arthur, the ball won it for us, Mookie Wilson, 10/25/86." As the ball made its way around the clubhouse, someone kissed it, leaving a tobacco stain.
It was bought by Charlie Sheen at one time, who sold the ball along the way. Eventually it was sold for $412,000 by Heritage Auctions in May of 2012. That would have been a fun ball to keep!
You can read more at this story on NESN.com.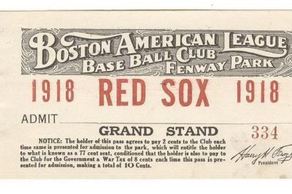 Ticket Stub from 1918 Red Sox Season - Note the 'War Tax'
The Forgotten War and Pro Baseball
The 1918 World Series was played under symbolic and foreshadowing dark clouds. For starters, the Red Sox and Cubs would play in a series that for each club would embark them on an incredible era of futility and frustration. The Series was held early in September because of the WWI "Work or Fight" order that forced the premature end of the regular season on September 1, and remains the only World Series to be played entirely in September.
The final game was played on September 11. The atmosphere was thick with bitterness and the realization that many of the players would be off to fight in a war rather than being ready for the upcoming 1919 season. The Cubs had already lost star pitcher Grover Cleveland Alexander to the war and would lose more before the war ended.
Secondly, sudden changes to the venues of the games in Chicago—moving the games from the Cubs ballpark to Comiskey for instance, and raising ticket prices created unrest among the Chicago faithful. With all of this swirling in the background, it is no wonder that the Series was marred by players threatening to strike due to low payouts because of gate receipts. Furthermore, the dissatisfaction of the players caused suspicion that the Cubs were throwing the series, but there has been no evidence to support this claim.
The patriotism of America was very high in America in World War I and this series marks the first time the Star Spangled Banner would be played in a baseball stadium. (Although it was in Chicago) It was actually played during the seventh inning stretch but would soon become a staple at the beginning of games. When the Series returned to Boston, the tradition continued.
The 1918 Series was known as the last one of the "Deadball Era" before the great fix of the 1919 Series. Changes to the game were needed and within the next three seasons, the balls were made more lively and the game resumed its popularity. Babe Ruth won two games in excellent fashion and set a record for the lowest ERA ever recorded in World Series games. Ruth was indeed a big-money pitcher and the greatest draw the game had ever known. Yet he defied the rules and was known to hang out with known gamblers—something that beyond the 1919 Season was a real worry for any baseball team. The Yankees were tired of getting beat by Ruth and emerged as the top contenders for his services and as mentioned previously, the Sox would ultimately sell him away.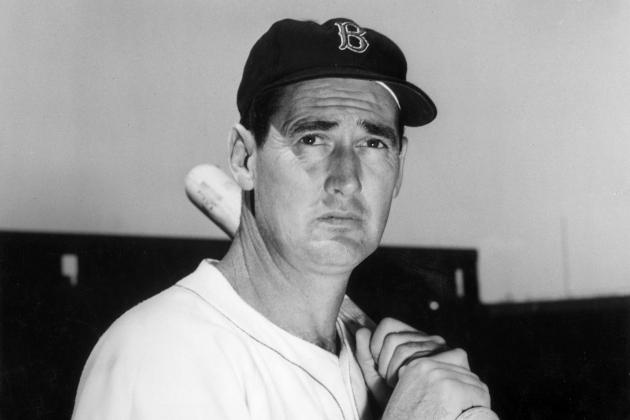 Getty Images/Getty Images
The Greatest Pure Hitter Who Ever Played
What a Lineup!
A game in 1941 between the Red Sox and Yankees featured more future Hall of Famers than any other regular-season game in history. The Yankees were managed by Hall of Famer Joe McCarthy. The first base coach was none other than Earle Combs, another Hall of Famer. Of course, Jolting Joe DiMaggio was gracefully manning center field. Phil Rizzuto and Joe Gordon were the middle infield of the Bombers as well. Behind the plate was the great Bill Dickey.
Lefty Gomez won 189 games in route to his Hall of Fame induction—which when compared to Ron Guidry with 171 wins makes it a wonder that he isn't in the Hall of Fame alongside Gomez. Red Ruffing won almost 100 games more than Gomez and for a decade he dominated other American League hitters during this era.
The Red Sox were managed by Joe Cronin. In a career that extended 20 seasons, Cronin took his expertise to the clubhouse as the Red Sox player-manager and was partially responsible for being so patient with a young Ted Williams. Also on that Red Sox team were second baseman Bobby Doerr and huge slugger Jimmy Foxx. Lefty Grove was in his final season with the Red Sox and was inducted to the Hall of Hame with over 70 percent of the vote.
With Ted Williams added to the lineup, these two teams combined for 13 future Hall of Famers!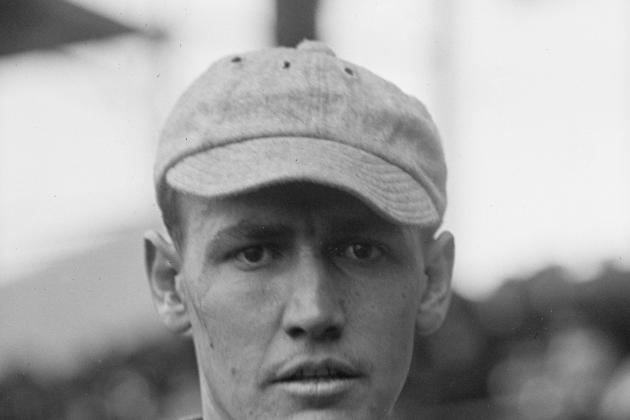 Smokey Joe Wood - The Greatest Season in Red Sox Pitching History-Courtesty of WikiCommons
"My friend, No one can throw a ball harder than Smokey Joe Wood." — Walter Johnson, The Glory of Their Times by Lawrence Ritter
Imagine if you had Smokey Joe Wood on a fantasy baseball team in 1912. Had such a league even existed back then, you would have had a pitcher who could quite literally have carried your team almost single-handedly. Check out this stat line:
34-5, 1.91, 258 strikeouts. He had 38 complete games, 10 shutouts and a WAR rating of an astonishing 10.1.
He also tied Walter Johnson's record for consecutive victories with 16.
The season highlight for Wood was his pitching duel against Walter Johnson in September of 1912. Johnson was already recognized as one of the great pitchers of the game and Wood was a little in awe, as described in Lawrence Ritter's book, The Glory of Their Times. About 29,000 standing-room-only fans crowded the field in such a manner that neither pitcher could warm up without the crowd pressing in on them. The game lived up to its billing.
In an absolute masterpiece, Wood and Johnson would each throw complete-games in a scoreless duel that was hyped in the newspapers like a prize fight. Smokey Joe's Red Sox would take the lead in the sixth inning on a Duffy Lewis double that scored Tris Speaker. It marked perhaps the finest moment of one of the very finest seasons EVER by a pitcher.
After injuring his arm the following spring, Wood's career began a steep decline and he would make a comeback as an outfielder. From here, he began his second career, and it was a good one, hitting .283 over the next five seasons with Cleveland.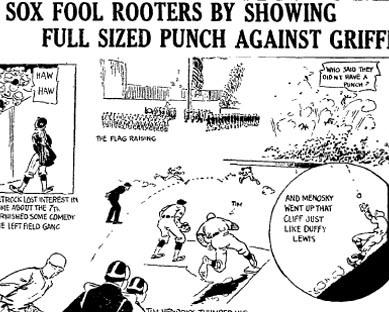 Good ol' Red Sox
The Decade that The Red Sox Forgot
Starting in 1922, the Red Sox finished in last place for eight of the next 11 seasons, and of the other three seasons they never finished higher than sixth place out of eight teams. The emergence of the Yankees certainly had something to do with this bad stretch, but even then the Red Sox can be thanked for that.
Besides Babe Ruth, the Red Sox traded Sam Jones and Herb Pennock to the Yankees as well. Both went to the Hall of Fame. Waite Hoyt went to the Hall wearing a Yankees cap after beginning his promising 21-year career in Boston. Carl Mays, perhaps best known for throwing the pitch that killed Ray Chapman, won a league-leading 27 games for the Yankees in 1921 after winning 23 the year before.
The Red Sox could have used those players, but alas, they traded them to the Yankees as well. Bullet Joe Bush was dealt to the Bronx Bombers as well. Solid position player Everett Scott was also sent packing to New York, where he enjoyed a fine career. In fact, before Lou Gehrig's amazing streak of consecutive games, there was Everett Scott—who played in 1,307 straight games.
But the Bambino was the marvel that was the centerpiece of those great New York teams. Yankee Stadium may well have been the ''House that Ruth Built,'' but it was certainly financed by the Boston Red Sox.
But the years that the Red Sox were mired in last place weren't all for naught. Those players which graced the rosters of those teams were at least colorful in nicknames. Where else were you going to find players like ''Boob" Fowler and ''Dud'' Lee? There was also a ''Buster,'' an ''Ira'' and a ''Topper'' as well. (Buster Ross, Ira Flagstaff and Topper Rigney.) Here is a list of other memorable players of those lean Red Sox years:
Rabbit Warstler, Urbane Pickering, Ivy Andrews, Muddy Ruel, Arley Tarbert, Casper Asbjornson, Red Ruffing, Mose Eggert, Baby Doll Jacobson (My Favorite), Val Picinich, Roxy Walters, Nemo Leibold, Camp Skinner (Wow there's a name for you), Pinky Pittenger and Rip Collins were among the more colorful names to show up in Red Sox box scores during an era of incredible futility.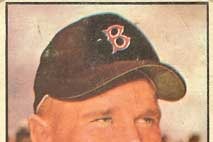 Ted Williams, Carl Yastrzemski and Roger Maris were all Pinch-Hit for by Carroll Hardy
One of the Great Trivia Questions of All...
Carroll Hardy had a rather unremarkable career with a few remarkable moments. For various reasons, Hardy became the only man to pinch-hit for BOTH Ted Williams and Carl Yastrzemski. For good measure, he was also asked to pinch hit for Roger Maris earlier in his career.
Hardy rarely struck out and was a smart hitter, which made him a natural choice for managers to select to pinch hit in a tight spot—in Williams' case, though, a foul ball off the Splendid Splinter's foot spurred the need for Hardy.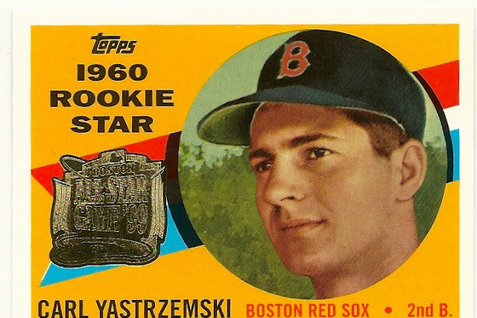 Carl Yastrzemski - Smiling for the Rookie Card
Yaz was no Rickey Henderson, but...
Who has more stolen bases in Red Sox History?
A. Johnny Damon
B. Dave Roberts
C.. Dusty Pedroia
D. Darren Lewis
E. Carl Yastrzemski
Answer: Carl Yastrzemski could actually steal a bag throughout his career. In fact, he is the fourth-most prolific base stealer in Red Sox history. With 168 stolen bases, Yaz not only won a triple crown but added the dimension of speed to his game. He was also the last out in that memorable 1978 playoff game against the Yankees.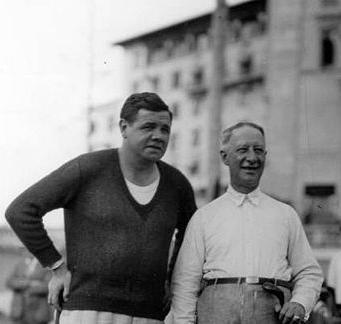 Babe Ruth sporting some checkered knickers. (Photo courtesy of Wiki-Commons)
No, No, Nanette!
One of the most repeated myths about Harry Frazee's sale of Babe Ruth to the Yankees was that it was done so that he could fund a play called No, No, Nanette. I became curious about this and with relative ease was able to determine that this could not have been true.
The sale of Babe Ruth in 1919 had many reasons that today make a certain amount of forgivable sense. For starters, Ruth was aware of his prowess as a hitter and didn't care to pitch anymore. He decided to hold out for an additional $20,000 which was unheard of at the time, and with Ruth's growing reputation as a beer-guzzling party fanatic with ties to organized crime, the risk became greater and greater. Widely regarded as a trouble-maker, Ruth was frequently known to skip games and meetings. The Red Sox had had more than enough.
But what about the story concerning No, No, Nanette? Even the best of baseball historians have continued to repeat that story, but the fact is this Broadway production never was created until 1925—a full six years after the sale of Babe Ruth. Frazee had many reasons to sell Ruth, but it's unlikely one was directly to create a fund to make Harry Frazee's stage productions possible. The price tag seemed fair at the time, although he might have gotten some players in return.
One of the Yankees outfielders who realized his career was not in baseball once Ruth came over to the team was none other than George Halas, who retired to play pro football and begin a long career with the Chicago Bears! Bet you didn't know THAT!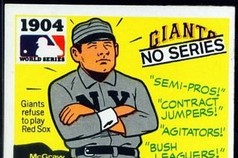 1904- The Red Sox and Giants refuse to Meet in the World Series
The Fans Get Robbed and Jobbed
The Boston Americans, as they were known then, had finished first in the 1904 season while the Giants finished first in the National League. Due to a bitter dispute between the National and American League owners over the splitting of gate receipts, they decided to cancel the postseason. It is worth noting that the World Series was a voluntary event, not mandated by the league whatsoever. Seeing the spectacle it created in 1903, the two league presidents began to put together a plan to make it a part of baseball forever.
Unfortunately, the rivalry and disagreement over how it would be settled resulted in the cancellation of the 1904 Series. Cy Young would have had one more chance to throw in a critical game, but alas, it wasn't to be.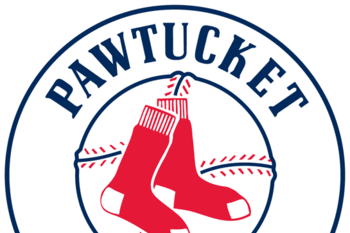 Don't Miss the Local Minor Leagues in Your Area!
The Value of the Minor Leagues!
Don't begrudge your local minor league teams. Had you been living in Pawtucket in 1981, you would have seen the following players in just that one season...
With the PawSox, you had Wade Boggs and Marty Barrett.
The Yankees' Triple-A Columbia Clippers roster had a young Buck Showalter and Dave Righetti.
The Orioles' Triple-A team had Cal Ripken and Mike Boddicker.
The Atlanta Braves' Triple-A team in Richmond boasted a stud outfielder with 44 stolen bases named Brett Butler.
Check out the New York Mets' Rochester Red Wings. Not only did they put out great players but also quite a large number of coaches or managers. The list includes Bruce Bochy, Wally Backman, Ron Gardenhire, coaches Greg Davis and Sam Perlozzo, slugger Brian Giles and pitcher Jesse Orosco.
The Toronto Blue Jays' Triple-A team, the Syracuse Chiefs, had a young shortstop named Tony Fernandez.
The Toledo Mud Hens finished last, but don't mention that to Ron Washington, among the most highly regarded coaches and managers in the game today with Texas.
The season featured baseball's longest game. Both Cal Ripken and Wade Boggs played in a 33-inning marathon.