Notre Dame Football 101: How to Beat Bama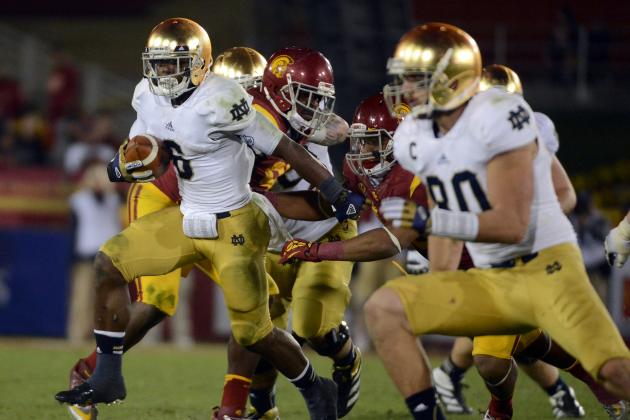 Harry How/Getty Images
There are ways to roll the Tide.
Whilst I sat quaffing a fine ale and watching Alabama play Georgia for the right to face the Irish in the BCS Championship game, a funny thing happened.
The standard horde of Michigan State and UM fans shut up and watched. To my knowledge, this has never happened in the history of college football. Even the most rabid white wine spritzer -sipping Wolverine alumni could only hold hands with the bleary-eyed toga-wearing Spartan and silently spectate without the standard running commentary on how ND football is irrelevant, overrated, and undeserving.
Remember, UM came into this season ranked 8th, with Sparty 13th, while the Irish got a bright yellow participation ribbon. Notre Dame got no love from nobody besides me, my mom, and the Saturday nite crowd at O'Shea's Irish Pub whom, admittedly, think that when I talk about the "Fighting Irish" I am referring to their family.
Three short months ago my Michigan-bred brethren let me know in no uncertain terms just how good they are and, more importantly, how bad ND really is.
As the more sober among us knows, a 6-6 Sparty team flat out stank in 2012. The Wolverines got beer-can-like crushed by Alabama before dropping three more games, including a 13-6 turnoverfest to the Irish, essentially making deer season bigger than the football season for the rust-belt locals in 2012.
Meanwhile, Notre Dame defeated two AQ-conference champions (No. 8 Stanford, No. 11 Oklahoma) a division co-champion (Miami), the consensus preseason No. 1 (USC), and everyone else that had the balls to play them.
For the mathematically challenged among us, that means the Irish won a veritable boatload of games.
More impressive is how they did it. In a year where offenses set more records than there are records, the Fighting Irish went undefeated by defending the goal line, and being the best in the country at doing it.
Believe it or not, under purported offensive guru Brian Kelly, ND's offense got by spoon-feeding a freshman QB while its defense body-punched 12 teams into submission.
Yet, despite it all, there is still a grumbling army of talking heads salivating for ND to lose the BCS championship so their season-long predictions of the Irish's demise will finally be proven fact. Yes, that includes you Mark May and Rick Reilly.
And though the Irish don't have to apologize to anyone, to cap an outstanding season, the Irish sorely need to finish the brawl that they started.
Standing between Notre Dame and another national championship is the dreaded SEC, which has won the last six national titles, and more particularly, the Alabama Crimson Tide, that has won two of the last three.
Bama is big, bad, and experienced on both sides of the ball. Most of their athletes are NFL caliber, many at a higher salary. And their coaching staff knows how to use them.
No one questions that Bama is a complete football team, and to be the best, the Irish have to beat them.
The question is how.
Begin Slideshow

»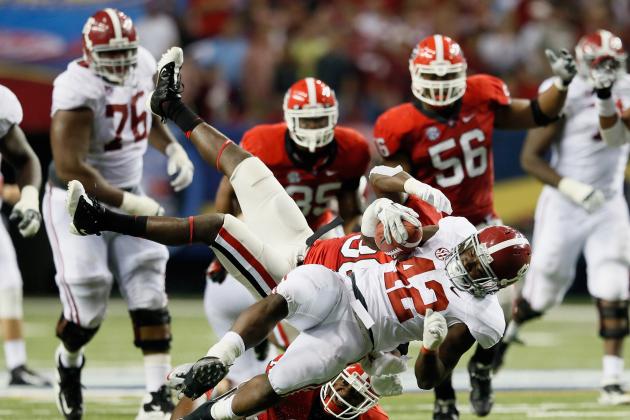 Kevin C. Cox/Getty Images
Alabama ran wild, Georgia walked home.
While the formula for beating Alabama is less than obvious, if you want to lose, the recipe is easy. The Tide is 49-0 over the last five years when they run for 150 yards or more, ipso facto, lose the line of scrimmage, lose the game.
The Tide wants to roll you, and when they do, it's sweet potato pie and mint julep chasers for everyone wearing red.
Case in point, Bama has lost five games in the last three years, and in every loss they've rushed for 122 yards or less. Its worst loss was to South Carolina in 2010.
The line in that game? Bama had 29 rushes for 36 yards, so the Tide took to the air, where senior QB Greg McElroy was a very efficient 27-for-35 for 315 yards passing. The Tide lost by two touchdowns.
Unfortunately, stopping Bama's oversized road graders is not easy. Grounding the Tide's running game is worse than pulling my mom away from a bar stool after her fifth glass of Wild Turkey: There is a lot of violence and bloodshed involved, and sorry few succeed.
RBs Eddie Lacy and T.J. Yeldon run fast and hard, and they do it behind a line that is bigger and stronger than most of their campus buildings. Bama's O-line averages 6'5" and 315 pounds each. The one guy under 320 benches over 500, and four of the five starters are 21 years old or older.
They're massive, all like to brawl and they've been in plenty of fights.
In Notre Dame's favor, the Irish finished fourth in the country in rushing defense at 92 yards per game—they slammed the door on a lot of very good running teams.
Only one team (Michigan) rushed for more than 150 yards (161), and it took 41 carries to do it.
Pitt's line averaged 6'5" and 324 cheeseburgers each, and although All-American RB Ray Graham had a big day, his team came out with 144 yards rushing and a loss.
If it takes eight men in the box, three on four in the secondary and a baseball bat or two, the Irish must successfully battle Bama's running game, or they will lose the war.
Five teams in three years have held Alabama to less than 122 yards and won.
It can be done.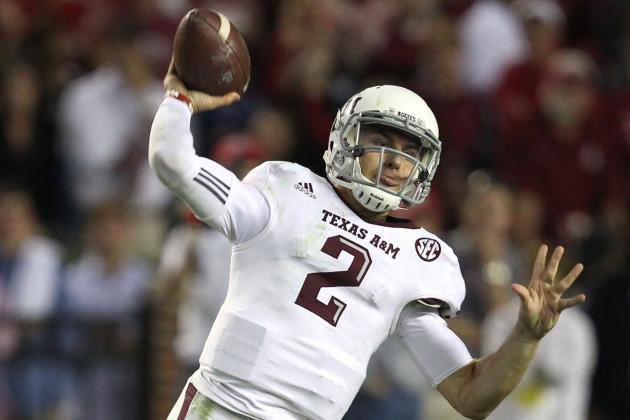 Mike Zarrilli/Getty Images
Take your shots and you might hit something.
While by no means vulnerable in the usual sense of college football, this is not last year's Bama defense. That defense had five NFL draft picks this April and 20 more tackles for loss. They simply crushed the pocket like a paper cup and sorted out who was in there later.
This year's Bama is solid, but not impenetrable. This year's Tide defense is sound and disciplined, and too good to trick, but you can keep them honest. Most importantly, you must attack downfield, or they will crush you like a Wolverine.
Those of you who saw the Michigan vs. Alabama debacle to open the season saw what happens when you can't attack Bama vertically with quick slants and deep balls.
Bama pursues relentlessly, they shed blocks like water on a big, angry duck and they take away the sideline, rarely giving the edge.
If you dink and dunk them in the passing game, your receivers and running backs will all be hospitalized by halftime, and sooner or later, a ball will bounce in the air or out of a receiver's hands.
Michigan tried to run to the corners and got pulverized for trying. Denard Robinson threw his usual ground balls on the slants and pseudo-punts downfield, and the Tide thanked him for the many gifts.
Throwing underneath against the Tide only works if the deep ball gets the DB to back off and not jump every third route—there are less people out there, and it keeps a man honest.
Case in point, QB Johnny Football for Texas A & M threw downfield for 42, 32 and 24 yards. When Bama put more men back, he burned them for 92 yards scrambling, and the running game also found an occasional seam to total 165 yards rushing.
The result? Texas A&M 29, Alabama 24.
An athletic QB with an accurate arm can keep Bama's defense on the defensive. If Alabama steps back an inch or two, you can't run around them, but you can run at them for a few yards and keep the linebackers out of the throwing lanes in the process.
It can be done.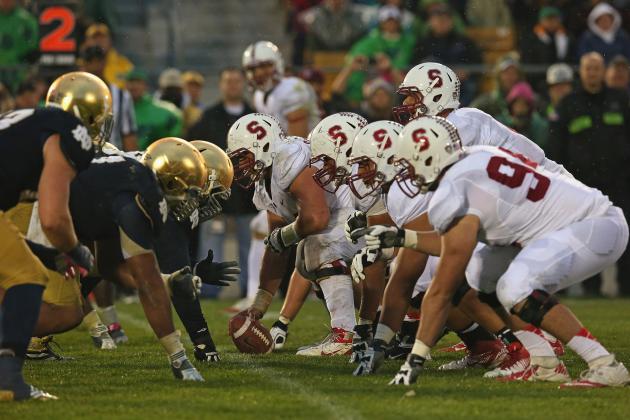 Jonathan Daniel/Getty Images
ND cannot get pushed around and win football games.
One of the championship-game teams passed for 218.8 yards per game and rushed for 214 yards an outing. That team is Alabama.
The other championship-game team passed for an identical 218.8 yards per game and had only 11 yards less rushing per game at 203 yards per contest. That team is Notre Dame.
With practically identical stats, Bama averaged 39 points a game, good for 15th in the country, while ND averaged 27 points a game, good for 77th in the nation.
The difference you ask?
The Tide was 10th in the country in red zone efficiency, scoring 90.6 percent of the time when they got inside the opponents' 20, converting a TD 74 percent of the time.
More often than not, ND floundered inside the 20, scoring only 79 percent of the time and converting a TD on only 47% of their chances.
Alabama finished drives with lots of high fives, while ND generally got a lot of kicking practice or nothing at all.
Notre Dame will have to keep the Tide out of the end zone and figure out how to get in when the field shortens. With a rookie QB, the play-calling often got very conservative inside the 20, and when in doubt, Golson tossed it into the 10th row and let Bryndza take care of the mess.
And there was lots of doubt.
ND has a month to get Golson some practice running the red-zone offense, using his legs and reads to score in tight quarters. As for stopping the Tide from rolling, the Irish dug in and stopped Stanford and USC at the goal line in big situations.
Two stats to keep in mind: Alabama scored 35 rushing touchdowns. Notre Dame allowed two.
It can be done.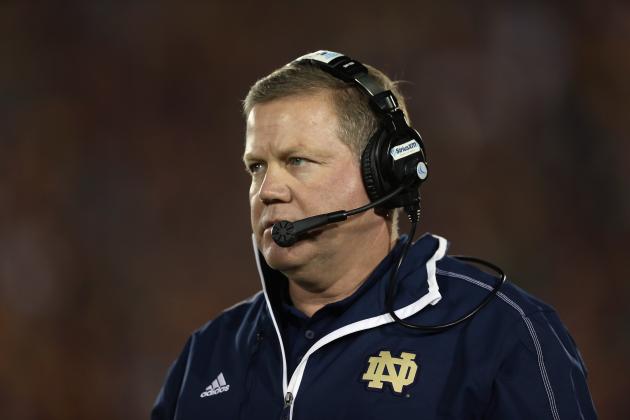 Jeff Gross/Getty Images
Kelly knows what must be done.
Las Vegas likes Alabama in a big way for a big reason—they are the toughest, most experienced team in the country. They are well coached, and they have no real weaknesses.
As much as Saban is a complete jerk, he's a really good football coach.
Bama's entire offensive line could play in the NFL tomorrow and hold their own. There is a ton of very productive talent in the backfield and at receiver.
A.J. McCarron is not Johnny Manziel, but he completes 67 percent of his passes and has three interceptions against 27 touchdowns. He's been in a national championship game, and he knows how to punish teams that sneak extra guys into the box to stop the run.
The offense is balanced and the most physical group the Irish has seen all year.
Bama's D is big, fast and disciplined, and they don't like Catholics either. There is no weak point to attack on D, so you just have to attack everything and keep fighting until you hear something break.
As with all things SEC, Bama has athletes, athletes and a few more athletes.
But Notre Dame has athletes too, and they aren't going down without a fight. Beating Bama is not easy, but A&M did it a month ago with less defense, a similar roster and a rookie QB.
ND has the tools to defend the run, attack downfield and win the red zone. While they're at it, they need to win a 60-minute fistfight against college football's biggest bully. They do those things, and Our Lady gets some new crystal.
It can be done.