Red Sox Trade Talk: 7 Reasons Giancarlo Stanton Is a Perfect Fit for Boston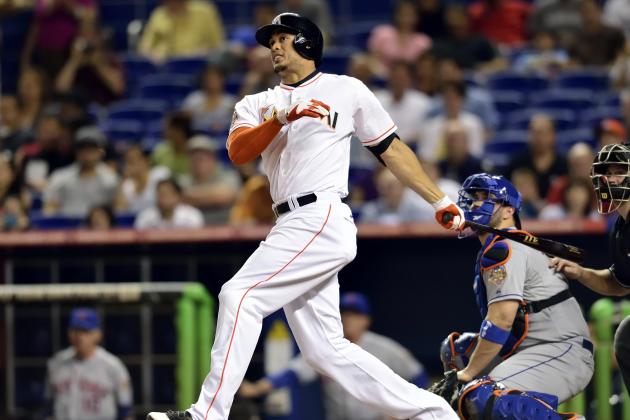 Steve Mitchell-USA TODAY Sports

Young Miami Marlins slugger Giancarlo Stanton would look awfully good in a Boston Red Sox uniform, don't you think?
You should if you're a Red Sox fan. Even the Red Sox themselves seem to be enthused about the idea of Stanton in a Boston uniform, as Nick Cafardo of the Boston Globe recently reported that they're one of many teams that have inquired about Stanton in recent weeks.
The obvious caveat is that the Marlins don't have to trade Stanton. Nor do they want to, according to Jon Heyman of CBSSports.com. They'd much rather build around Stanton than jettison him for young players to aid their rebuilding process.
In saying they don't want to trade Stanton, however, the Marlins could just be posturing. Plus, Stanton himself may soon request a trade out of Miami anyway. He may have already done so, as his agent declined to comment about a possible trade request when he spoke to Heyman on Monday.
Let's go ahead and continue to take the idea of Stanton being traded in the near future seriously, in which case we can also go ahead and continue to count the Red Sox as a perfect fit for him.
Yes, a "perfect fit." Here's why.
Note: Stats courtesy of Baseball-Reference.com unless otherwise noted. Salary and payroll information courtesy of Cot's Baseball Contracts.
Begin Slideshow

»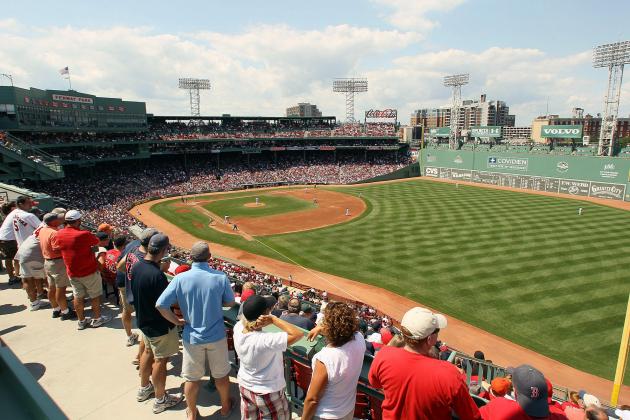 Elsa/Getty Images

The first and most obvious reason that Stanton is a fit for the Red Sox is because he's a right fielder, and the Red Sox have a serious need for a right fielder.
Cody Ross did a fine work in holding the job down in 2012, hitting 22 homers and posting an .807 OPS. But he's a free agent, and the Red Sox don't have a ton of incentive to give him the kind of contract he's seeking after agreeing to terms with Jonny Gomes, whose offensive skill set is very similar to that of Ross.
The best right field option on the free-agent market is Nick Swisher, and Jon Heyman of CBSSports.com has noted that the Red Sox are talking with him after agreeing to terms with Mike Napoli on Monday.
Swisher would bring experience and versatility to the Red Sox, but one of the question marks where he's concerned is whether he might be better off playing first base, and sooner rather than later. As it is, the Red Sox could turn him into a hybrid right fielder/first baseman right away if they do sign him, so he isn't necessarily a slam-dunk answer to the club's need in right field.
Stanton, on the other hand, would be. With the exception of a single inning in center field in 2011, he's only ever played right field in the majors. He's one of the best in the business to boot, as he finished second among everyday right fielders in WAR this past season, according to FanGraphs.
The main attraction where Stanton is concerned is his bat. And as far as that goes, there's a lot for the Red Sox to like.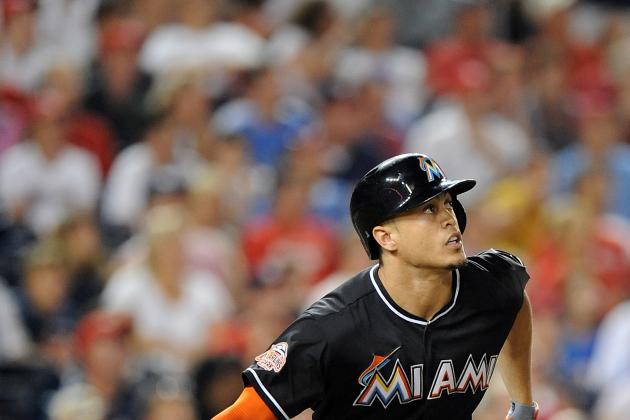 Greg Fiume/Getty Images

For his career, Stanton owns a .270/.350/.553 slash line, and he's racked up 93 home runs and 732 total bases in just three seasons.
He's still only 23 years old. In the realm of young sluggers, Stanton is king.
The Red Sox are short on sluggers of any kind these days. The only true power hitter they have in the mix for 2013 is David Ortiz, and he just turned 37 in November. The Red Sox signed him for two more years earlier this offseason, and they can only hope that Ortiz is capable of replicating the .611 slugging percentage he posted in 2012.
As far as young sluggers go, the only player the Red Sox have who comes even remotely close to fitting the bill is Will Middlebrooks, who is a year older than Stanton. Even he may not be a "slugger" in the true sense of the word, as his ceiling may be the 25-30 homer range rather than 40 or above.
That's where's Stanton's ceiling is. He hasn't hit 40 homers in a season yet, but he likely would have in 2012 had he not missed a few weeks recovering from knee surgery.
Since he hit 37 homers in 123 games, it's conceivable that Stanton actually could have hit as many as 45 or even 50 had he stayed healthy enough to play in 150 games or so.
Again, this guy is only 23 years old. As his .290/.361/.608 slash line from 2012 goes to show, he's only getting better.
Virtually every team in the majors would love to bring Stanton aboard, including the Red Sox. They'd be a particularly good fit for him, though, because of their home ballpark.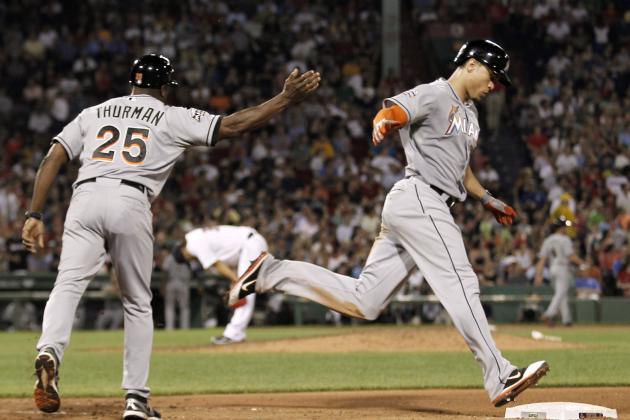 Winslow Townson/Getty Images

Right-handed hitters with power to left field tend to do well at Fenway Park. Just ask Cody Ross, Mike Lowell, Kevin Millar and any other right-handed former Red Sox star you happen to come across.
Stanton could easily follow in their footsteps. He also swings from the right side of the plate and the power he has to left field is legitimately unparalleled.
While I hesitate to label Stanton as a classic pull hitter, the numbers suggest that hitting the ball to left field is by far his biggest strength. Per FanGraphs, he's a .466 hitter with a 1.052 slugging percentage (yes, slugging percentage) when he hits the ball to left field.
Of Stanton's 93 career homers, 60 have gone to right field.
A move to Fenway Park would most likely boost Stanton's power numbers, as it wouldn't take much for him to get the ball up and over the Green Monster. He proved that when he launched a home run at Fenway Park in June, as he barely got a ball to clear the wall after hitting a Daisuke Matsuzaka slider off the end of his bat.
Cheapie home runs like that one could become commonplace for Stanton if he were to play half his games at Fenway Park. So could line drives off the Green Monster, and the Red Sox would take those just as gladly as they would take his home runs.
Stanton already has the potential to be a 50-homer hitter. A trade to the Red Sox could easily help him realize that.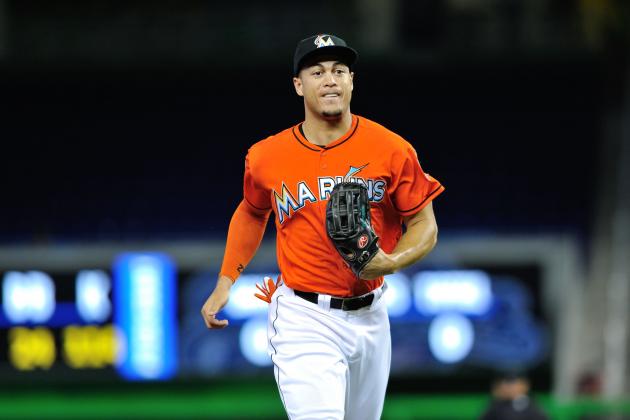 Steve Mitchell-USA TODAY Sports

Not all outfields are created equal, and Fenway Park's is a glaring reminder of that. No other outfield in the majors can match Fenway's in terms of sheer weirdness.
Neither left field nor center field at Fenway is any easy place to play, but right field may be the most difficult of the three slots. It's bigger than most right fields, and the Pesky Pole and the bullpens combine to create some difficult angles for right fielders.
While Stanton would surely have no trouble adapting to hitting at Fenway Park, playing the field would be another matter. It would be a legit challenge.
Stanton could handle it, though. As much as fans want to drool over his hitting, Stanton is one of the more underrated defensive players in the game.
In his three years in the majors, Stanton has yet to post a negative UZR or DRS, according to FanGraphs. In 2012, he posted a 9.3 UZR and a DRS of plus-10, numbers that ranked him among the league's five best defensive right fielders.
He has the tools to handle right field at Fenway Park, and having played right field at Marlins Park would surely serve as good preparation. Miami's home park contains a very spacious outfield and its right field features some tricky angles reminiscent of the tricky angles at Fenway Park.
Of course, the Red Sox wouldn't have to remain committed to Stanton in right field forever.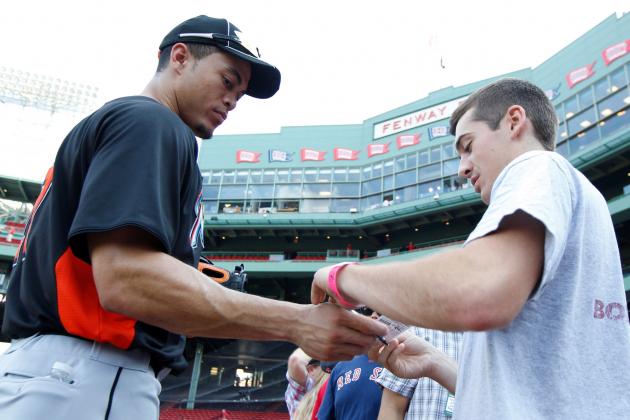 David Butler II-USA TODAY Sports

From Ted Williams to Carl Yastrzemski to Jim Rice to Manny Ramirez, the Red Sox have a tradition of elite left fielders.
Alas, they don't have one right now. Jonny Gomes would likely be the club's starting left fielder if the season started today. He's well short of being an elite left fielder (or an elite anything, for that matter).
The story could change if the Red Sox were to trade for Stanton. He's obviously a right fielder by trade, but it's not hard to imagine him one day playing in front of the Green Monster if the Red Sox were to bring him aboard.
Priority No. 1 for the Red Sox if they were to trade for Stanton would be to make sure he stays on the field. Due to his size, the Red Sox could figure down the line that Stanton would stand a better chance of staying healthy if he were to be moved to left field, where he'd have less ground to cover.
There would be a learning curve for Stanton if he transitioned to left field, and having to learn how to play balls off the Monster would only make said curve steeper.
But since even Manny Ramirez learned to play the Monster effectively over time, I'm guessing Stanton would be able to as well.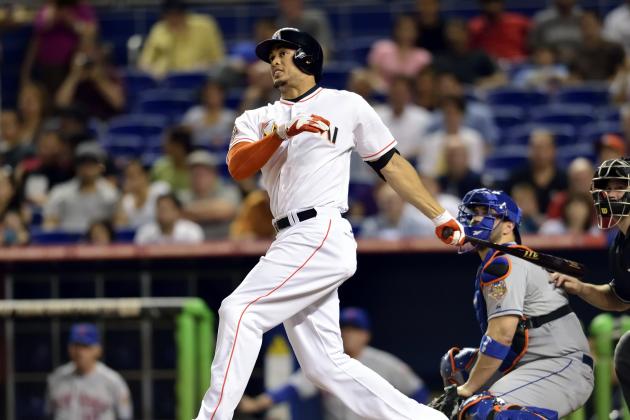 Steve Mitchell-USA TODAY Sports

Why does everyone and their uncle want to trade for Stanton this winter?
It's mainly due to his talent, but his youth and his controllability are just as appealing to interested buyers. Stanton is at a stage in his career where he's still very cheap with years to go still before he reaches free agency.
Stanton hasn't even hit arbitration eligibility yet, as he won't cross that bridge until 2014. As such, he's going to remain relatively cheap for a few more years until he hits free agency in 2017.
Not that the Red Sox really need to go cheap at this point in their history. They have a ton of payroll space to work with thanks to their August salary dump, and they're being very careful about not sacrificing it with their spending so far this winter.
The Red Sox would have no issues squeezing Stanton onto their payroll right away. The way things are set up now, they'd also have no trouble fitting him into their payroll even after he becomes eligible for arbitration in 2014. The Red Sox only have $54 million in salaries committed for 2014, and less than $13 million committed for 2015.
Regarding 2017, the year in which Stanton is due to hit free agency, the Red Sox have exactly zero contracts still on the books for that year and beyond. It would thus be fairly easy for them to extend Stanton when the time came.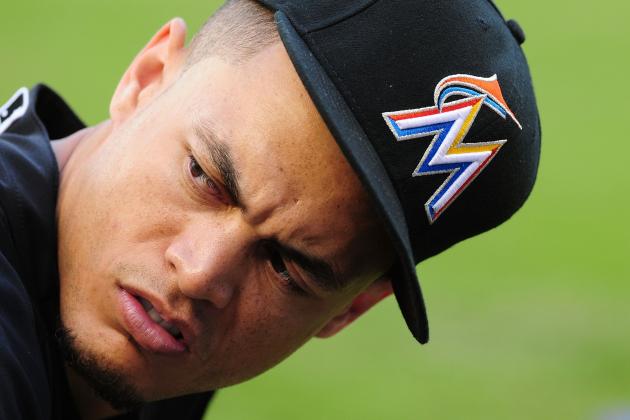 Jason Arnold/Getty Images

It takes more than just talent for a player to be successful with the Red Sox. As the 2011 and 2012 clubs go to show, it takes a certain amount of psychological fortitude as well.
Above all, Red Sox players and would-be Red Sox players have to want to win just as much as the team's ravenous fan base wants to win. Ideally, every Red Sox player would have the competitive fire exuded by guys like Dustin Pedroia and Curt Schilling.
It's apparent that Stanton has that kind of competitive fire. In fact, it's a major part of the reason everyone is waiting for the Marlins to trade him, as his desire to win was what led him to tweet that he was "pissed off" after the Marlins pulled off their massive trade with the Toronto Blue Jays in November.
"I do not like this at all," he elaborated to Peter Gammons of MLB.com. "This is the 'winning philosophy?' Then to say it's not about money? What is the motivation? There comes a breaking point. I know how I feel. I can't imagine how the city and the fans feel."
Stanton's agent indicated to Heyman that his client hasn't calmed down in the weeks since the trade:
Agent joel wolfe says giancarlo feels "same" since unhappy tweet after trade. "It wasn't a reaction, it's a state of mind."

— Jon Heyman (@JonHeymanCBS) December 3, 2012
If this is true, then it may be just a matter of time before Stanton requests a trade—if he hasn't already, of course.
Also, this is as good a sign as any that Stanton has the both the physical and mental goods to enjoy a long, successful career in Boston.
If you want to talk baseball, hit me up on Twitter.