UFC on FOX 5: Keys to Victory for Each Main Card Fighter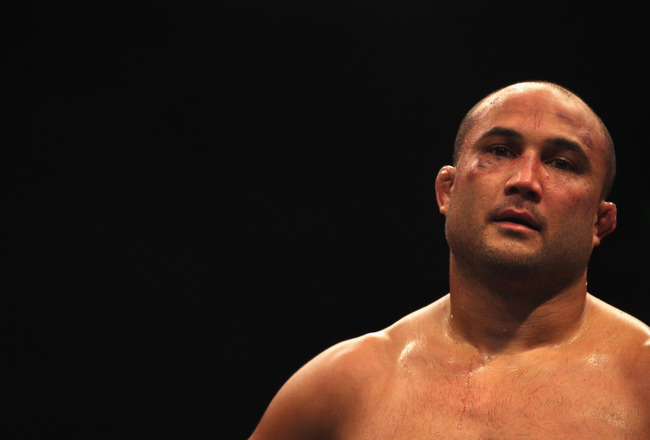 Mark Kolbe/Getty Images
This Saturday will mark the single biggest main card that the UFC has ever broadcast on national television.
From B.J. Penn making his long-awaited return to Nate Diaz getting a chance to dethrone the lightweight king Benson Henderson, UFC on FOX 5 has the potential to produce some of the most memorable fights of 2012.
Each and every one of the eight fighters set to compete in front of millions of people are prying for their own shot at greatness.
With that said, it's going to be interesting to see how various game plans are executed and which fighters will be carrying a win into the new year.
Here's what each main carder needs to do in order to secure a December victory.
Matt Brown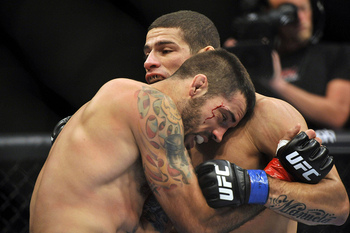 Joe Camporeale-US PRESSWIRE
Key to Victory: Stay Patient
The longer a fight lasts the better Matt Brown is.
With well-rounded offensive skills and top-level conditioning, Brown is capable of doing damage from any position at any point.
If he wants to pull off the upset over a hungry veteran like Mike Swick, who is known for his punching speed and finishing ability, "The Immortal" will have to stay patient, pick his shots and grind out a victory on the ground.
It may not fully compliment Brown's usual comfort zone considering he often opts to stand and bang, but it would be extremely wise to control the fight and maintain a close proximity to Swick instead of trying to beat him at his own game.
Mike Swick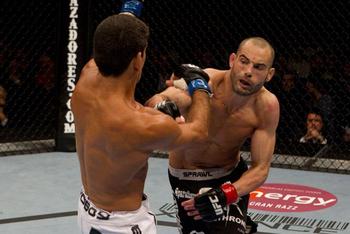 stek.org
Key to Victory: Attack Early and Often
Matt Brown is no joke.
He can strike, wrestle, secure prominent transitions and control fights by utilizing solid clinch work. If Mike Swick wants to avoid a three-round war of attrition, he has to hit Brown early and often.
This may not be a hard thing to do considering Brown's elusiveness isn't world-class and Swick's boxing skills rank alongside the division's best.
However, there's one problem. Swick's intentions are going to be known. Brown is going to be looking to close the distance and use his stronger frame to control the pace.
Swick must land significant strikes early in the first round to set the tone.
Rory MacDonald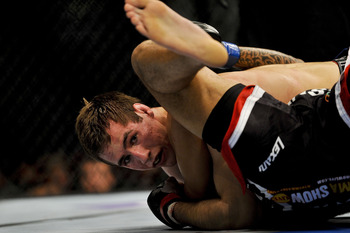 Paul Abell-USA TODAY Sports
Key to Victory: Follow GSP's Lead
Currently the most prolific prospect in mixed martial arts, 23-year-old Rory MacDonald is as well-rounded as they come.
The Canadian sports consistent boxing, excellent takedowns, budding submissions and a chin that has survived Carlos Condit's best shots.
His looming battle with B.J. Penn, one of the greatest UFC champions ever, is going to be his toughest fight to date.
In order for MacDonald to secure a victory over a guy like Penn, he's going to have to take a page out of UFC welterweight champion Georges St-Pierre's book.
MacDonald and St-Pierre currently train with one another at Tristar Gym in Montreal, Quebec, Canada. The similarity between the two is uncanny. Each guy possesses unique physical abilities and rare Octagon tendencies.
That similarity is going to help MacDonald beat Penn, who St-Pierre dismantled back in 2009 by utilizing quick takedowns and an overwhelming ground game.
If "Ares" can mimic the movements of one of the best fighters of all time, he should have no problem winning this fight. Unfortunately, that's easier said than done.
B.J. Penn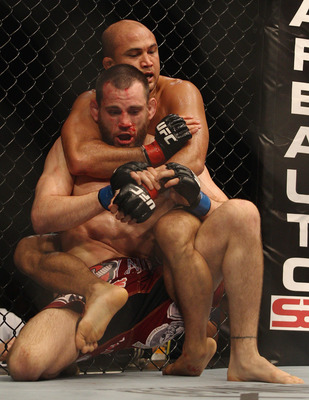 Mark Kolbe/Getty Images
Key to Victory: Stay Off His Back
B.J. Penn will be one step closer to making a prominent return to the UFC when he steps inside the Octagon this Saturday at UFC on FOX 5 in Seattle, Washington.
Unfortunately, the rapidly evolving Rory MacDonald stands in his way.
MacDonald represents the new class of top athletes in the sport today. One that encompasses all facets of mixed martial arts to beat opponents by any means necessary.
For Penn, stopping MacDonald in his tracks isn't going to be easy. The young phenom has the confidence and innate ability to take Penn down at any moment. And quite honestly, that should scare "The Prodigy."
The 33-year-old ultimately needs to stay off his back. Sure he possesses an elite submission game, but MacDonald isn't too shabby himself.
If Penn can't keep this fight standing or in MacDonald's guard, he may experience a result resembling his defeat to Georges St-Pierre at UFC 94.
Alexander Gustafsson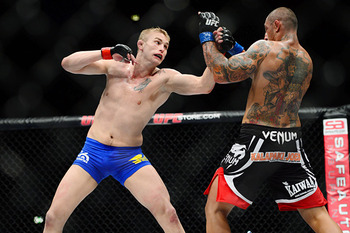 espn.go.com
Key to Victory: Utilize His Reach
It's no secret that Alexander Gustafsson is going to try to stand and bang with Mauricio Shogun Rua this Saturday.
It should also be no secret that Rua will look to return the favor.
The bottom line is that both guys love to strike. The only difference between them is that Rua often flourishes in an all out war while "The Mauler" secures victories by technically picking his shots.
In order for Gustafsson to do this, he's going to have to use his reach from beginning to end. If he lets Rua get inside and launch some nasty uppercuts like he did to Dan Henderson, the Swedish prodigy could be in for a long night.
His 6'5" frame isn't just for show.
Mauricio Shogun Rua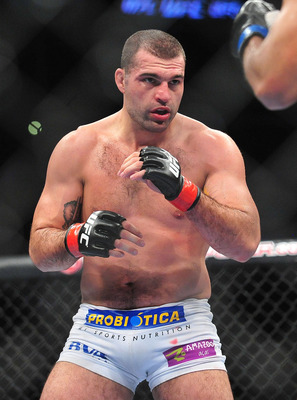 Gary A. Vasquez-USA TODAY Sports
Key to Victory: Close The Distance
Mauricio Shogun Rua's stand-up game plan entering Saturday should be the exact opposite of Alexander Gustafsson's.
If Rua gets sucked into a striking chess match with a fighter much taller and more rangy than him, the outcome could be similar to that of his fight with UFC light heavyweight champion Jon Jones.
Gustafsson may not possess the overall technical ability of Jones, but the Swede is pretty darn close.
For Rua, whose last two fights have been absolute barn burners, closing the distance on Gustafsson is going to do him wonders.
If he can get inside, implement some dirty boxing and maybe secure a takedown or two, he could stifle the 25-year-old's rising stock.
Nate Diaz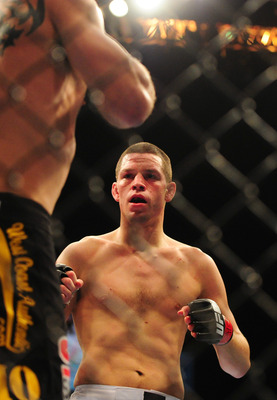 Mark J. Rebilas-USA TODAY Sports
Key to Victory: Score Points
Nate Diaz is the last fighter in the world that would ever play to the judge's scorecard. His hard-nosed mentality and overall finishing ability often leaves him incapable of doing so.
However, in this sole instance, against an elite lightweight champion like Benson Henderson, Diaz may want to think about playing the point system.
It's obviously not the most popular approach in the eyes of fans tuning in across the country, but it's going to be very tough for Diaz to fight Henderson like he does other opponents.
Henderson is arguably the last lightweight Diaz would ever want to rush and corner. He can throw dangerous and unorthodox kicks, launch speedy takedowns and overpower almost anybody at 155 pounds.
He's more or less the complete package.
With that said, Diaz does possess the remedy to outscore Henderson for all five rounds. His monotonous approach to throwing punches in bunches, from head to body or body to head, should suit him well in the stand-up department.
He just can't get carried away. Playing that overly confident tough guy routine could easily leave him belt-less come Sunday morning.
Benson Henderson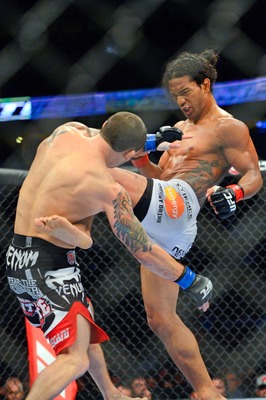 Ron Chenoy-USA TODAY Sports
Key to Victory: Circle, Punch, Kick
Nate Diaz is going to be Benson Henderson's toughest UFC challenge to date.
The two are literally meeting at the pinnacle of their careers and could easily turn in one of the greatest title fights in lightweight history.
But beyond all that, what does Henderson need to do to keep his gold?
It's easy. He simply needs to keep his back off the cage, circle away from Diaz's consistent barrage of punches and throw some nasty head kicks.
Basically everything Carlos Condit did against Nick Diaz at UFC 143 to win the interim welterweight title.
The fact of the matter is that Henderson's discipline, confidence and defensive prowess should help him keep Diaz at bay and the belt around his waist.
For more UFC/UFC on FOX news and coverage, Follow @DHiergesell
Keep Reading