The potential fight between Manny Pacquiao and Floyd Mayweather is no longer about just pitting the two best in the sport against each other. It is now necessary to save boxing.
Even though Pacquiao was knocked out by Juan Manuel Marquez, he still showed during the bout that he is one of the best fighters in the sport. He has the best opportunity to give Mayweather a good fight, and his popularity worldwide still makes him a big draw.
The two sides almost came to an agreement for a 2010 bout that called for a 50-50 revenue split. According to Kevin Iole of Yahoo!, there was a complete contract drawn up and almost signed:
The eight-page agreement is so detailed that it indicates which of the two fighters would step onto the scale first at the weigh-in (Pacquiao), who would walk to the ring first (Pacquiao), who would be introduced first (Mayweather) and who had first choice of the locker room (Mayweather).
Iole continues to explain, "Pacquiao's side declined the 2009 contract offer because Pacquiao objected to Mayweather's request for the drug testing."
Of course, now it is the Pacman who says to put the blame on the other side for this stalemate.
In an interview before Pacquiao's last match, ESPN's Jeremy Schaap asked him about the likelihood of a fight with Mayweather. His response was somewhat surprising:
I hope that fight will happen by next year. ... I'm 100 percent willing to fight him. I already announced that on ESPN. I can agree with the sharing 45/55 for him. Whatever he wants -- the drug testing, he can suggest the rules and regulations. It's up to him.
So neither side has an argument about the principles, but a deal is still yet to be made.
Kurt Badenhausen of Forbes estimates that this fight could generate over $250 million from pay-per-view sales alone.
It is amazing that this kind of money can just be left on the table.
The sport of boxing has gotten stale in recent years. While hardcore fans will remain excited for any bout that comes their way, there has not been enough to convert casual fans.
In the biggest match of the year, Pacquiao faced his rival Marquez for the fourth time. While all of the contests in the rivalry have been incredibly close, the final installment was pretty much a meaningless match with nothing on the line except pride.
Marquez solidified his legacy as one of the top fighters of this generation, but Pacquiao has still put together a better career. Either way, it did not affect the fans who watched.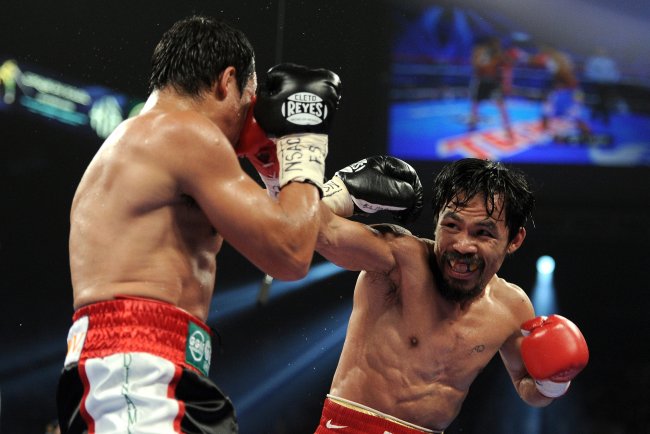 Harry How/Getty Images
Things are even worse in the heavyweight division, which used to feature the biggest names in the sport. Wladimir and Vitali Klitschko have stayed on top of the rankings for years but refuse to fight each other. Meanwhile, there has not been a single worthy challenger for the brothers.
What is needed is a big match that no one wants to miss, something that everyone will be discussing at work the next day.
Do you think a fight between Floyd Mayweather and Manny Pacquiao will ever take place?
Mayweather and Pacquiao are not only two of the best pound-for-pound boxers in the world, but also the most recognizable. Pitting the two against each other would make millions not only from true boxing fans, but also anyone who ever was interested in seeing what the sport is all about.
The problem is that both competitors are getting up there in age. It is unknown how much longer either will continue to compete, which makes the window of opportunity smaller.
In addition, the sport's young fighters are not recognizable enough yet to take over the main events once Mayweather and Pacquiao are gone. This means that the sport's popularity could fall dramatically in a few years.
While the superfight would not help other boxers gain notoriety, it would bring a new crowd of boxing fans over to the sport. A great bout in this one would hook them for life.
If these two all-time greats care at all about the future of the sport that they love, they will do whatever it takes to finally get this fight together. If they do not, there is at least plenty of money available to change their minds.