LSU Football: 5 Reasons the Tigers Are Better Than Every BCS At-Large Team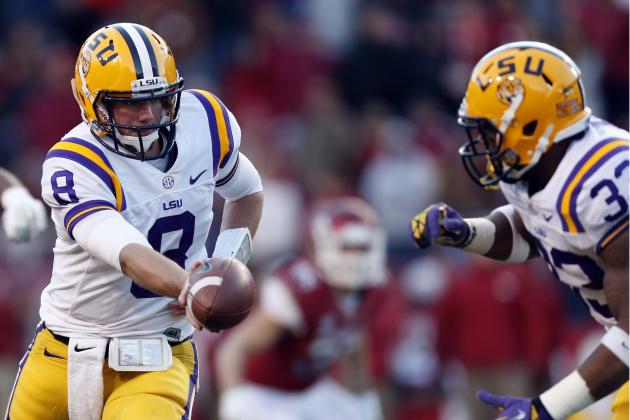 Wesley Hitt/Getty Images

The fact that Northern Illinois is in a BCS bowl game and teams like the LSU Tigers, Texas A&M Aggies and Georgia Bulldogs are not is downright comical.
We get it, the BCS won't allow more than two teams from the same conference to go to a bowl game and it has these qualifications that allowed Northern Illinois to make a BCS berth, but man, this should be considered a crime by all college football fans.
With Northern Illinois being accepted in the Orange Bowl to face Florida State, the Oklahoma Sooners were bounced from the Sugar Bowl as a direct result.
So given LSU's athleticism and the BCS bowls presenting some of the weakest teams in recent memory, LSU could beat every BCS at-large team. This is why.
Begin Slideshow

»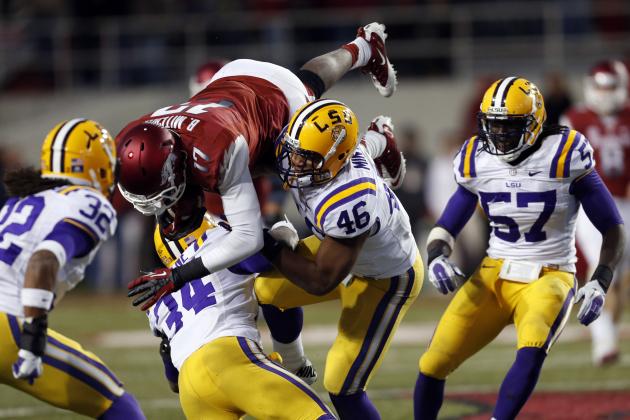 Wesley Hitt/Getty Images

First of all, LSU is one of the best teams in the nation.
This team has two losses on its schedule, with one coming by a last-minute drive by Alabama and the other at the hands of Florida in The Swamp.
And that loss to Florida was before Zach Mettenberger started to get this whole quarterbacking thing down pat.
With depth on defense and athleticism at every position, these Tigers can adjust to playing finesse teams such as Oregon and tighten up to play grown man football against teams such as Kansas State and Stanford.
Add in LSU's vicious rushing game and improved passing game, and there's no reason why this LSU team couldn't beat any of the BCS bowl teams.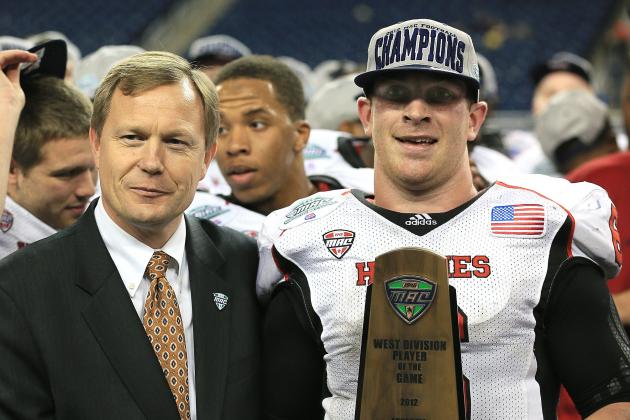 Dave Reginek/Getty Images

To be honest with you—this is the biggest reason of them all.
ESPN's Kirk Herbstreit said it best when he called the Northern Illinois' selection a "joke."
Because that's what it is. You put this Northern Illinois team against an elite SEC team, and the game will be over by halftime. Bet.
With Florida State, Northern Illinois and Louisville all making BCS appearances, the BCS is offering the No. 12, 15 and 21 teams in the country a spot in the limelight.
Give LSU a month to prepare for any of these teams, and the Tigers would turn the game into a cakewalk.
Stacy Revere/Getty Images

Enough can't be said about the growth of Zach Mettenberger.
At the beginning of the season, he was horrid. His inaccurate throws, lack of awareness in the pocket and carelessness with the football made fans miss Jordan Jefferson. Yeah, it was that bad.
But then something magical happened in the Alabama game. It all started to click, and ever since Mettenberger has been going through his reads and making accurate throws to open receivers.
In his last four SEC games, Mettenberger has thrown for 1,070 yards, four touchdowns and two interceptions. Quite an improvement from his previous 572 yards, one touchdown and two interceptions in the first four conference games.
The growth of Mettenberger gives LSU that added element of play-action pass to go along with its vicious running game, and that's something that the Tigers missed sorely against Florida earlier this season. That extra element would give the Tigers a chance to beat any and every BCS team out there.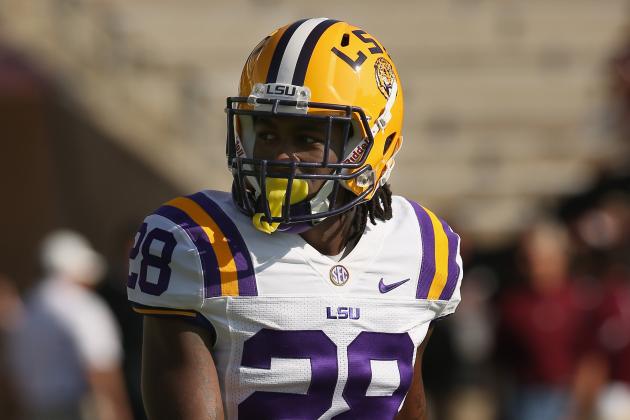 Ronald Martinez/Getty Images

As you know, LSU plays a lot of young players.
It's what the Tigers do, especially on defense. By now, at the end of the season, those young players have had a full year of experience.
Freshmen such as Jalen Mills, Jalen Collins, Ronald Martin, Micah Eugene, Jeremy Hill and Trai Turner should have all grown throughout the year and will be a huge reason why LSU will be a favorite for the national title next season.
But that's next year, this is now, and these players were ready to dominate the game yesterday. Heck, they've been doing it all year.
Give these young players and extra month of learning and preparation, and they should be that much better by the bowl game.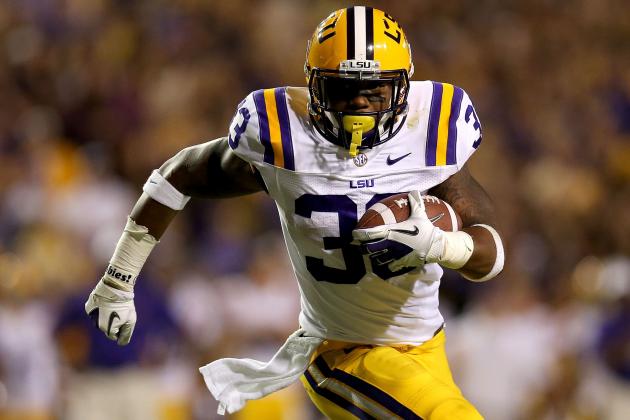 Matthew Stockman/Getty Images

Alabama is the best team in the nation, wouldn't you agree?
Sure, Notre Dame deserves to be No. 1, but the overall perception is that the Crimson Tide are the favorites in the national championship game. Just look at the odds.
OK, now that we have that established, let me remind you of Nov. 3. You know, the night LSU battered Alabama and had the defending national champions on the ropes? In the words of Dennis Green, the Tigers "let 'em off the hook."
Just look at the stats. LSU dominated. LSU gained more first downs than Alabama, and the Tigers out-gained the Tide 435 to 331 in total yards.
If LSU can do this to the perceived best team in the nation, couldn't the Tigers do it to any team in the country?