Ranking the 10 Men's Golfers Who Are Overdue for a Win on the PGA Tour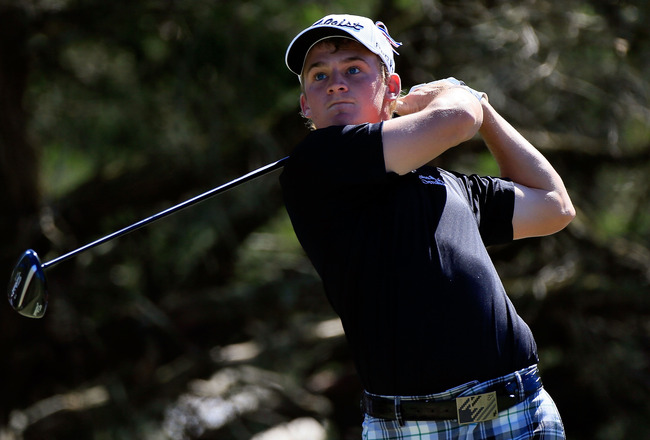 Sam Greenwood/Getty Images
Entering 2012, the player most overdue for his first PGA Tour win was Rickie Fowler. Fortunately, Fowler got his first taste of victory at the Wells Fargo Championship.
There's an informal shortlist of players who we expect to win PGA Tour events. For example, players like Tiger Woods, Phil Mickelson, Luke Donald and Rory McIlroy are expected to win with regularity. Beyond this, though, there are a number of players who, for different reasons, should have won by now.
A few tour journeymen have amassed a small fortune in winnings but haven't set foot in the winners circle. Additionally, there are dynamic young players who, based on the efforts of similar players, should have won by now.
Here are the top 10.
No. 10: Brian Davis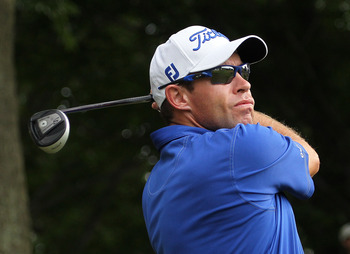 Jim Rogash/Getty Images
Davis, a native Englishman, has won twice internationally and grossed over $10 million since joining the PGA Tour in 2005. Ranked only 130th in the OWGR, Davis has made the cut on the PGA Tour 160 times without a victory and has finished second five times.

As Davis has won internationally and carded several second-place finishes, there's no reason why someone capable of solid play across several years shouldn't be able to put it all together for a week to secure a victory.
No. 9: Charlie Wi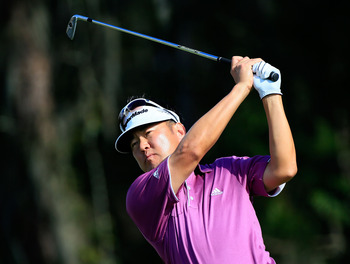 Sam Greenwood/Getty Images
One of the top PGA Tour money winners to never win a Tour event, Charlie Wi has nine international victories. He held the lead earlier this year after the third-round of the Pebble Beach National Pro-Am, but was unable to finish the job on Sunday, shooting 72. Wi has five career second-place finishes and four top 10s this year.

The second-youngest winner of the California State Amateur and a stellar college player, Wi certainly would have been expected to have secured a PGA Tour victory by his 40th birthday, which came earlier this year.

Wi, one of the most notable Stack and Tilt players, is long overdue for a tour win.
No. 8: Steve Marino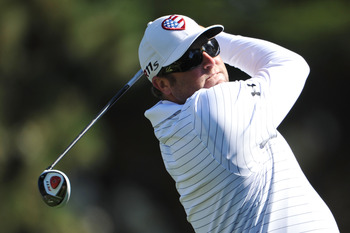 Stuart Franklin/Getty Images
Medical issues hampered Steve Marino's 2012 performance, but the University of Virginia graduate had two top 10s last year. In his career, Marino has won nearly nine million and has 21 top 10 finishes in 147 starts.

Marino has the dubious distinction of being one of the top-earning PGA Tour players without a victory. He has been close to victory a few times, most notably holding the lead at the halfway point of the 2009 Open Championship.

Assuming he comes back from injury successfully in 2013, Marino is due for a win.
No. 7: Brett Quigley
Stuart Franklin/Getty Images
Unfortunately, Brett Quigley has been out of commission most of this season because of a leg injury that has doctors stumped, according to the PGA Tour's Media Guide. Quigley has played 402 events on the PGA Tour without a victory. He does, however, have 34 top 10 finishes across 15 years on tour.

I am not at all sure that Quigley will rebound from this injury. Likewise, as his play has declined in recent years (only one top 10 since 2010), I don't think it's likely he'll get a PGA Tour victory. However, with the number of years he has been on tour and his number of starts, a win is long overdue.
No. 6: Briny Baird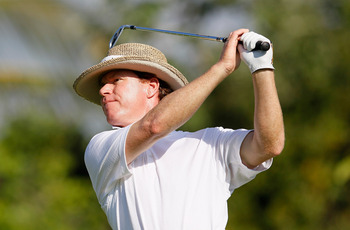 Kevin C. Cox/Getty Images
According to the Boston Globe, Briny Baird has earned the most money earned in PGA Tour history ($12.6 million) without a victory. Baird missed most of the 2012 season after having surgery on both shoulders. With three top 10s last year, though, it seems that, at age 40, he hasn't totally lost his game. Indeed, last year he was within a sudden death playoff victory of his first win at the Frys.com Open.

It would be nice to see Baird remembered as a tour winner rather than as the guy in the weird P.F. Chang's hat with the even weirder putting stance.
No. 5: Bud Cauley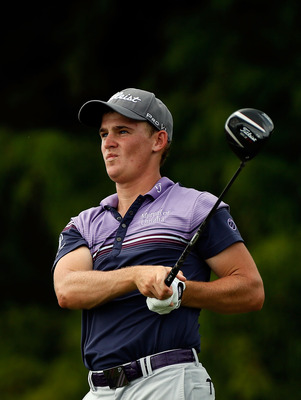 Sam Greenwood/Getty Images
Shortlisted for the PGA Tour Rookie of the Year Award, Bud Cauley was the only one of the five players nominated without a victory this year. Jonas Blixt, John Huh, Charlie Beljan and Ted Potter Jr. all recorded wins this year. Arguably, none were as heralded as Cauley, who joined the tour after distinguished amateur and collegiate careers.

It may be unfair to call a rookie overdue for a win; however, given Cauley's pedigree and the performance of other top rookies, I believe it's warranted.
No. 4: Peter Hanson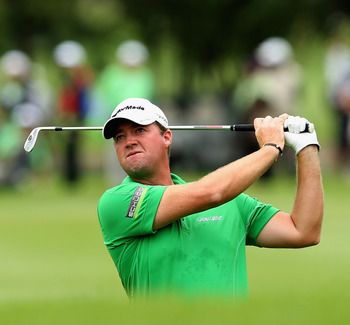 Warren Little/Getty Images
Ranked 17th in the Official World Golf Ranking, Peter Hanson led the Masters after the third round this year. Were it not for a final round 73 at Augusta, he could easily have been both a Tour winner and a major champion.

Hanson has won seven times internationally. As a virtue of the fact that he finished in the top 125 on the non-member money list, Hanson is now exempt on the PGA Tour and will surely play more tour events in 2013. With four top 10s in 11 PGA Tour starts this year and having played 45 tour events in his career, Hanson is poised for a victory.
No. 3: Robert Karlsson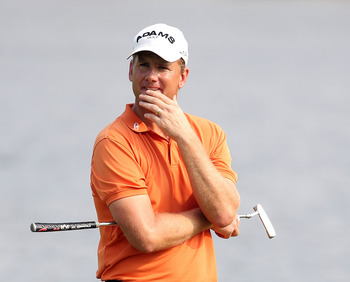 Ross Kinnaird/Getty Images
Karlsson has won 11 (yes, 11) times worldwide, but he hasn't managed to raise a trophy in over 100 starts on the PGA Tour. The 6'5'' Swede had a lackluster year, with only two top 25s in 17 starts and doesn't appear any closer to bringing his winning ways to the PGA Tour.

His last international victory was in 2010 at the Qatar Masters. He earned over one million on the PGA Tour in 2011, but at 43, his window of opportunity is closing. Still, it's baffling that a man who won the European Tour's Order of Merit (2008) can't get a win on the PGA Tour.
No. 2: Ryo Ishikawa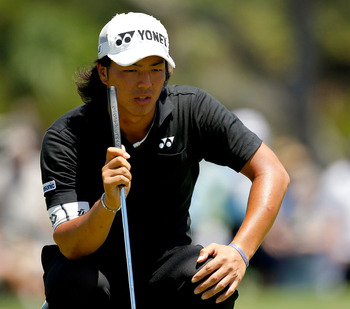 Jonathan Ferrey/Getty Images
Twenty-one-year-old Ryo Ishikawa has started 44 PGA Tour events without a victory. The international phenomenon has 11 wins worldwide, but has managed only four top 10 finishes on the PGA Tour. In contrast, Rory McIlroy, who arrived on the world golf stage concurrently with Ishikawa and with similar expectations, won in relatively short order at the age of 20.

Great things are expected from the "Bashful Prince," who hasn't improved greatly upon his 2011 performance. Given his prodigious talent and the way in which he manhandled the Japanese Tour (leading the tour in winnings in 2009), the fact that he hasn't won a PGA Tour event after nearly 50 starts is surprising.
No. 1: Jeff Overton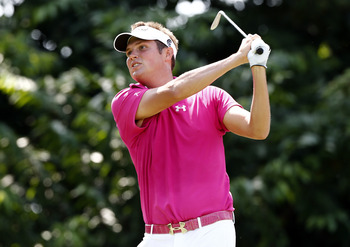 Stanley Chou/Getty Images
With four career second-place finishes, three career third-place finishes and 25 top 10s in 189 career starts, Jeff Overton has come close to victory on the PGA Tour. The Indiana University alumnus finished 12th on the 2010 PGA Tour money list.

As Michael Whitmer of the Boston Globe writes, Overton is "the only player to ever make a US Ryder Cup team on points without a victory."
It's astonishing that he has played well enough to make a Ryder Cup team—no small feat—but is unable to win.

Additionally, he has won nearly $10 million since joining the tour in 2006. Overton is accumulating earnings at an impressive rate, and he came close to victory in 2012, finishing one stroke out of a playoff at the Transitions Championship.

Overton is overdue for a win, and I believe he will get one shortly.
Keep Reading