Chicago Bulls Player Power Rankings Based on November Performances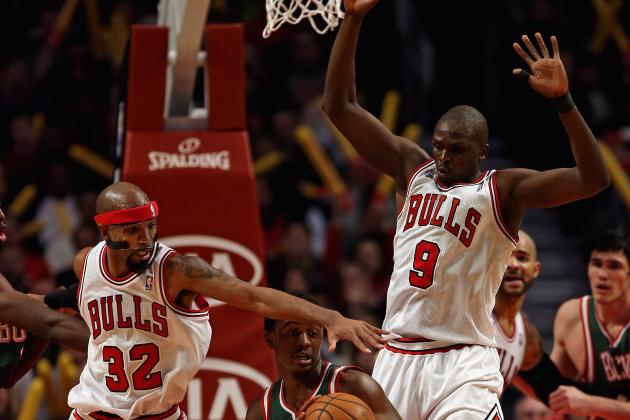 Jonathan Daniel/Getty Images

Which Chicago Bulls player is No. 1 in the team's November power rankings? The Bulls' top player is up for debate between Luol Deng and Joakim Noah.
As for the remaining 10 spots, there are a few surprises.
Each player's statistics were considered while these rankings were compiled, but they were not the only factors. A player's playing time and salary were also considered.
For example, if Player "X" was on the trading block at one point or another, his power ranking may not be very high. It does not matter if he is playing well or not. The fact that the team has been opened to trade Player "X" would suggest that he is expendable.
In contrast, Player "Y" could be playing on a minimum contract and playing well. Because of his importance to the team, he will get a higher ranking.
Without further ado, here are November's power rankings for the Chicago Bulls.
All statistics taken from NBA.com and are accurate as of 12-02-12.
Begin Slideshow

»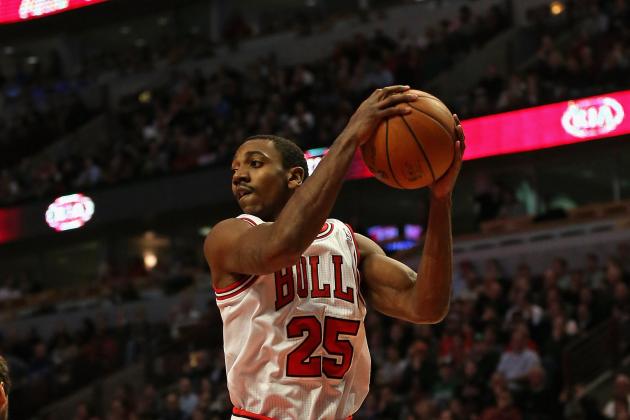 Jonathan Daniel/Getty Images

12. Vladimir Radmanovic, PF
Vladimir Radmanovic has not played in enough games (five games played) to warrant a higher place in the Bulls' power rankings. The stretch power forward could provide the Bulls perimeter shooting and floor spacing. The fact that he has not played much only magnifies his expected impact, which is little to none.
11. Nazr Mohammed, C
One player who many expected to be higher on the Bulls' power rankings is backup center Nazr Mohammed. Bulls head coach Tom Thibodeau has played him sparingly (11 games averaging 6.8 MPG) thus far. There is little Mohammed can do while playing behind both Joakim Noah and Taj Gibson.
10. Marco Belinelli, SG
Marco Belinelli is supposed to make Bulls fans forget about Kyle Korver. Instead of matching Korver's output, Belinelli has struggled. Much of Belinelli's problems are due to inconsistent playing time (14.7 MPG). It is hard for him (Belinelli) to make positive waves when he does not know how much he will play from game to game.
9. Marquis Teague, PG
Who would have thought that Bulls rookie point guard Marquis Teague would be ranked this high? The former University of Kentucky Wildcat has shown promise. In his limited time on the basketball court, we have learned that Teague has good court vision for a rookie. He has averaged 1.2 APG in 5.7 MPG, which is 7.4 APG over 36 MPG. If only coach Thibodeau would play him more and develop him.
8. Kirk Hinrich, PG
Am I the only who is down on Kirk Hinrich? He has not played aggressively on the offensive end. In fact, Taj Gibson took one more shot (91 shot attempts) than Hinrich did in the month of November. Hinrich has to remember that he is the starting point guard and shoot the basketball. Until he does, Hinrich is a liability on offense.
7. Richard Hamilton, SG
According to the Chicago Tribune in July, the Bulls tried to find a trade partner for Richard Hamilton during the offseason, but they failed in their efforts. Hamilton has played exceptionally well this season by providing a much-needed scoring punch for the team. His shot has fallen, and he still looks good running off screens. Unfortunately, Hamilton has been exposed on defense against quicker shooting guards.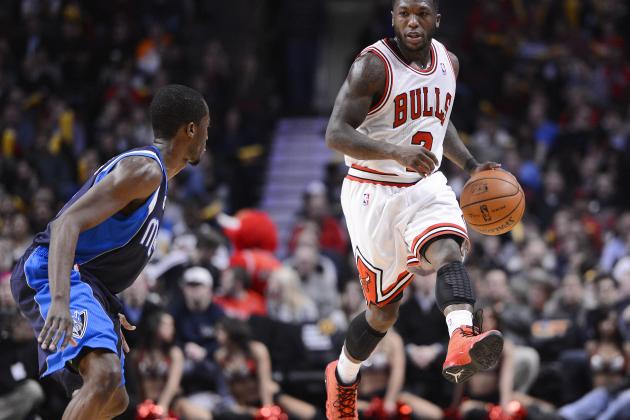 Mike DiNovo-US PRESSWIRE

In the month of November, Nate Robinson was a revelation. He has led the Bulls' second unit in scoring, averaging 11.8 PPG in November. He has proven that he can run an offense effectively, averaging 3.9 APG also. The Bulls lose little ground when he is in the game.
Robinson is still learning the tendencies of his teammates but that will come in time. Thus far, he has outplayed Hinrich on offense. However, he has the opposite effect on defense.
Robinson's 5'9" listed height makes him a target for bigger guards to shoot over him. Although he makes up for his lack of height with superior athleticism, Robinson is not a shot blocker.
Because the Bulls signed him for his scoring, it would be a huge plus if Robinson can add anything on defense.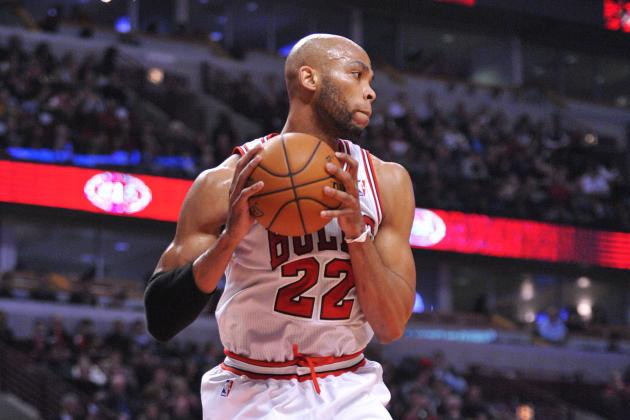 Rob Grabowski-US PRESSWIRE

Now that Taj Gibson has signed his four-year extension worth $36 million, it is widely assumed that he will be in a Bulls uniform for the long haul. Gibson has struggled to live up to his new contract, but it is still early. He will have a significant role this season despite a subpar month of November.
He is arguably the Bulls' best low post defender. By playing minutes as both the backup center and power forward spot, Gibson is proving his versatility. What has seemingly hurt Gibson is the departure of Omer Asik.
Gibson and Asik were one of the NBA's best frontcourt tandems on defensive in the past two seasons. Together, they blocked shots (1.2 BPG in November), challenged other shots and battled for rebounds (4.7 RPG). The Bulls, especially Gibson, have missed Asik's presence in the paint.
Gibson's offense is slowly improving, but his 7.0 PPG is below where it needs to be. He should be scoring 10-12 points a game. However, the Bulls' guards have done a better job of getting him the ball where he needs it.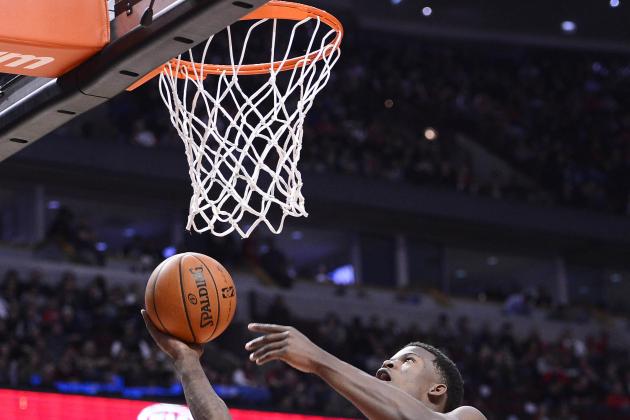 Mike DiNovo-US PRESSWIRE

Jimmy Butler is earning coach Thibodeau's trust every time that he is inserted into a game. No returning Bulls player has improved as much as Butler has.
In the limited minutes Butler played in his rookie season, his defense was NBA-ready, but his problem appeared to be confidence.
Fast forward to this season: Butler has stepped up his defensive play with a newfound understanding of using footwork. He is staying in front of his man more which only allows the player he is guarding to get by when there is a post defender present.
If there is a knock on Butler, it is his reluctance to shoot. He must have more faith in his scoring (5.7 PPG). It would help if the Bulls' coaching staff ran a few plays for him when he is in the game.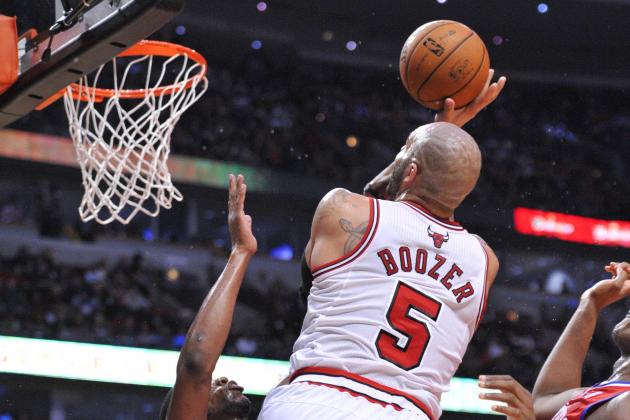 Rob Grabowski-US PRESSWIRE

It should not be surprising to see Carlos Boozer this high in the power rankings. First, you have to dismiss the idea that he should be amnestied after the season. You also have to understand that Taj Gibson should not be starting ahead of him. If either scenario were to happen, it would be considered diminished returns.
Boozer makes too much money. According to hoopdata.com, he is owed $32.1 million over the next two seasons. The Bulls were hesitant to spend over the luxury tax this season, what possible incentive would they have to pay Boozer over $32 million to go away.
Have you seen enough of Gibson this season to say that he has outplayed Boozer?
Gibson is a better defensive player, while Boozer is a better offensive player, averaging 13.5 PPG in the month of November. The Bulls are a team who need scoring. No Bulls player can get points more easily than Boozer can in the low post.
Keep in mind that Boozer is tied with Joakim Noah with seven double-doubles this season.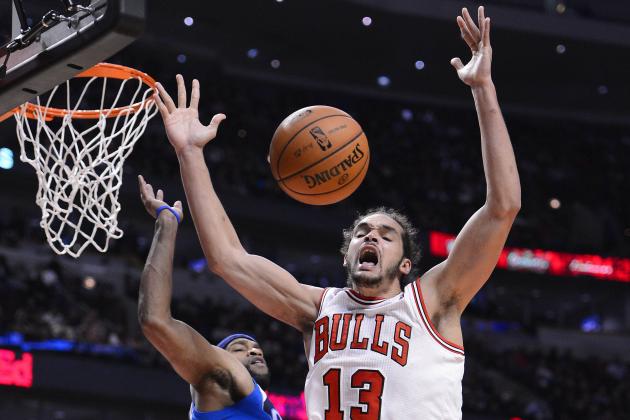 Mike DiNovo-US PRESSWIRE

Joakim Noah deserves to be a NBA All-Star with the season he is having so far. His averages include 13.3 PPG, 9.9 RPG and 2.2 BPG. Those are good statistics for him, but they do not tell the full story of Noah's impact on the Bulls.
Noah has been the Bulls' emotional leader this season. Every time he shouts after a dunk, to when he cools off his weapons after making a jump shot, he is always energetic. His infectious energy affects the entire team. When Noah gets excited, the team usually will go on a 7-0 run.
This has been Noah's best season as a pro so far, and it is possible that it could get better.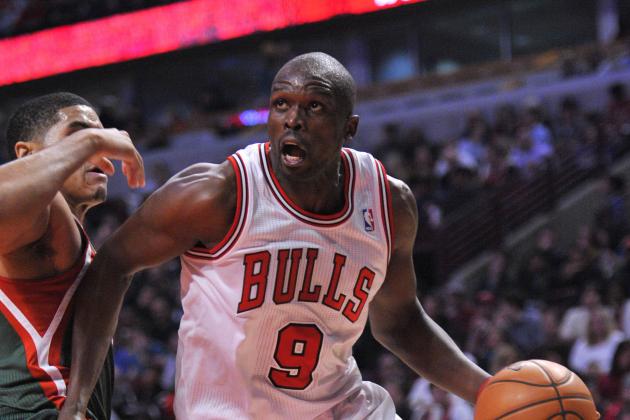 Rob Grabowski-US PRESSWIRE

Is it possible that the Bulls could have two representatives at the NBA All-Star game? Luol Deng played some of the best basketball of his career this past November. His play, 18.4 PPG, 7.1 RPG and 2.5 APG in November is making him an untouchable player on the Bulls' roster.
His defense has improved and so has his shot selection.
In the first two weeks of the season, Deng would constantly settle for the three-point shot. There has been a different Luol Deng as of late. He is taking the basketball more, something he did not do after injuring his wrist last season. Now he is playing with more aggression, trusting his wrist in the process.
Deng is rounding into a good lead option for the Bulls. This is great for a team that is in need of a go-to-player.