New York Mets: 5 Players Who Will Have a Breakout Season in 2013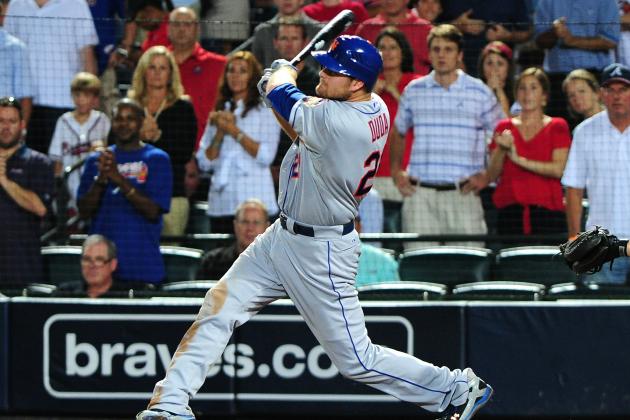 Scott Cunningham/Getty Images

With the recent news that they have extended their franchise player, David Wright, to an eight-year deal worth $138 million, the New York Mets are ready to contend.
Well, that is if the other 24 players on the roster decide to contribute as well.
While the list of underachieving players is longer, the Mets were able to see positive results from a number of unlikely sources in 2012 such as R.A. Dickey, Jon Niese and Scott Hairston.
Here are five players that are prime for a breakout season in 2013.
Begin Slideshow

»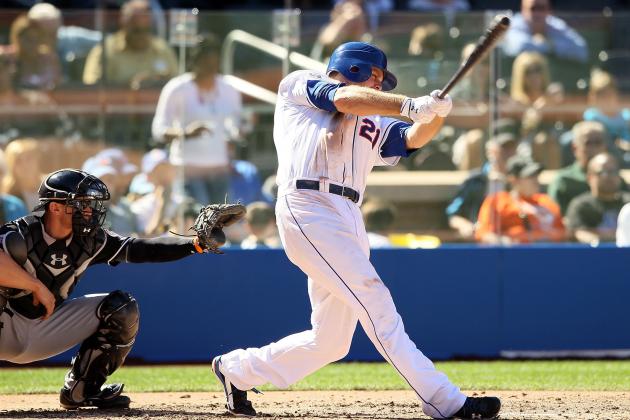 Alex Trautwig/Getty Images

With the dreadful second half of the season that he had in 2012, it's easy to forget that Lucas Duda was one of the main reasons the Mets had an impressive 46-40 record at the All-Star break.
Duda possesses prodigious power with the ability to hit it out of the deepest part of any park.
He may have holes in his swing, but he will be entering his age-27 season, which has been known for breakout seasons for players in the past such as Matt Kemp and Jacoby Ellsbury in 2011.
The two key reasons for those career ascensions are being the player is entering his physical peak and that he has had ample time to adjust to the league.
Duda posted an .850 OPS in 2011 in 300 at bats which provided the front office with hope that he could be teamed up with Ike Davis to form a potent duo in the middle of the lineup.
His demotion to Triple-A in the second half put a damper on his career ceiling, but it would not be unusual for him to post a huge improvement in power numbers in 2013.
The Mets lineup certainly could use it, as it ranked No. 11 in the National League with 139 home runs.
Duda may always be a one-dimensional player, but as long as he can post serious power numbers (30 doubles, 30 home runs, .850+ OPS), he has value to the team.
This will be the year he puts his power to fruition.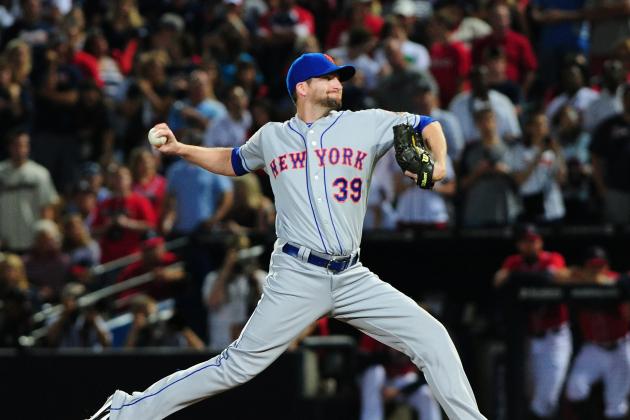 Scott Cunningham/Getty Images

The age-27 rule applies to pitchers as well, and Bobby Parnell added his name to the crop of players who improved their performance greatly at that age.
In 2012 he posted a very solid season, which went widely unnoticed because of the overall struggles of the Mets bullpen as well as his struggles as a closer.
He boosted his ERA+ from 101 in 2011 to 155 in 2012.
Over 68 innings—mostly in high-leverage situations—he posted a 2.49 ERA with a 3.0 K/BB ratio and a 1.24 WHIP.
He will improve on those numbers even more so next season.
While his 6-for-12 save percentage in 2011 possibly exposed his lack of mental toughness, it should be noted that in 2012 he actually had a 1.90 ERA in the ninth inning, by far his lowest of any innings.
This shows that Parnell may have embraced the role for the first time, which could give Terry Collins the inclination to use him as a closer in 2013 should Frank Francisco begin the season poorly.
Parnell has value to the Mets and he will finally gain publicity next season when he dominates the way he should, especially in save situations.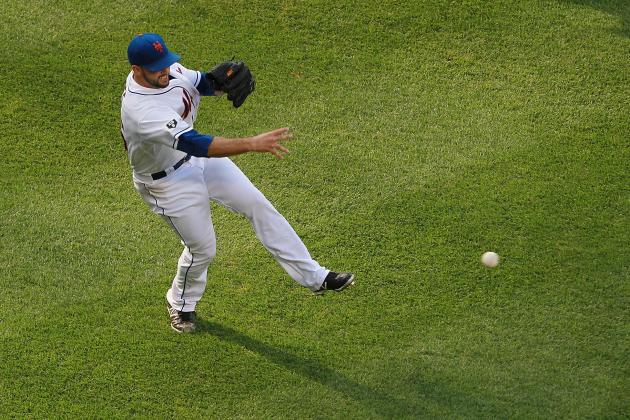 Mike Stobe/Getty Images

One of the reasons the Mets remain an enigma entering the 2013 season is because their one strength—starting pitching—will rely on two players returning from missing a considerable amount of time due to injury.
Dillon Gee had a potentially career-threatening injury, but he has been declared ready to go for 2013.
He is a pitcher that relies on finesse and deception, but he has the command to succeed without an elite arsenal of pitches due to his competitiveness.
His rookie campaign of 2010 came very unexpected, especially considering his poor 1.61 K/BB ratio and 1.38 WHIP.
That would suggest he was the beneficiary of quite a bit of luck.
He was able to lower the walks, increase the strikeout total and WHIP in 2012, but he was very unfortunate as his record dropped to 6-7 despite a respectable 4.10 ERA.
As long as Gee is healthy—and commands his changeup—he has the opportunity to have a big season.
By the way, he will be turning 27 in April.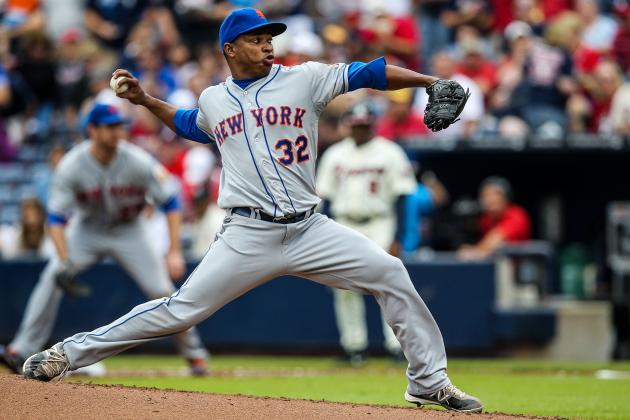 Daniel Shirey/Getty Images

It seems like a long time ago the Mets made the rash—and ultimately disastrous—decision to convert highly-touted 20-year-old prospect Jenrry Mejia into a reliever and begin the 2010 season with him at the big-league level.
Over 39 innings, the results were mixed as he posted a 1.69 WHIP and allowed a walk-off home run to Chris Iannetta.
He eventually injured his elbow, which required Tommy John surgery, and he missed all of 2011 to set back his development.
The 6'0" right-hander made it back to the big leagues at the end of 2012, but struggled mightily with his control and failed to strikeout many batters as his WHIP ballooned to 1.82 and his K/9 was 4.5.
Personally, I find those numbers to be irrelevant, as Mejia was in the process of regaining his command from the surgery and was jerked around a bit between starting and relieving.
For 2013, his role will be determined in spring training. Although he was much more effective as a minor league starter, the greater need in the organization is currently as a reliever.
Regardless, given that he will be nearly a year removed from returning from surgery, he will have a much greater impact on the season.
After all, he was the No. 1-ranked prospect in the organization and only 5-star prospect in 2010 for a reason.
His mid-90s cutters will have the National League in fits.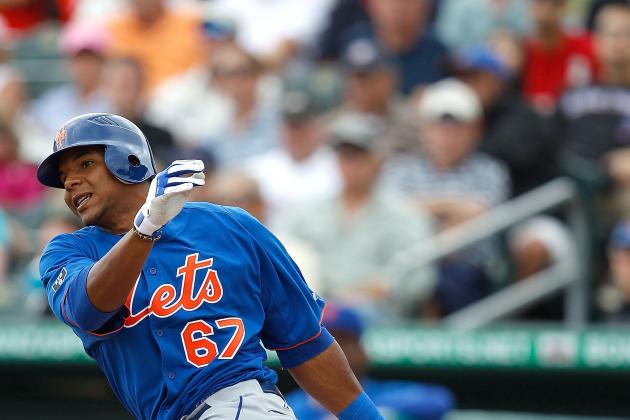 Sarah Glenn/Getty Images

Cesar Puello will be 22 on Opening Day, and he is primed to become the prospect that becomes the hot topic the way Wilmer Flores was in 2012.
The Dominican Republic native missed two months of the 2012 season with a broken bone in his left wrist, which quieted the hype surrounding him, but his talent is undeniable and will put him toward the top of any prospect ranking entering the season.
Puello's skill set has some people dreaming big. Some have even compared him to Carlos Beltran at a similar stage.
The Mets clearly have a dearth of Major League-caliber outfielders and the emergence of Puello would be a critical aspect of developing a core of Major League outfielders.
He has not posted a defining season yet in the minor leagues, but his raw power gives him the opportunity to develop later on.
Even if Puello does not develop into a power hitter, he can at least be a contributor due to his speed and defense.
Look for 2013 to be the year Puello's star shines bright in the organization