Boise State Football: Winners and Losers from the Week 14 Game vs. Nevada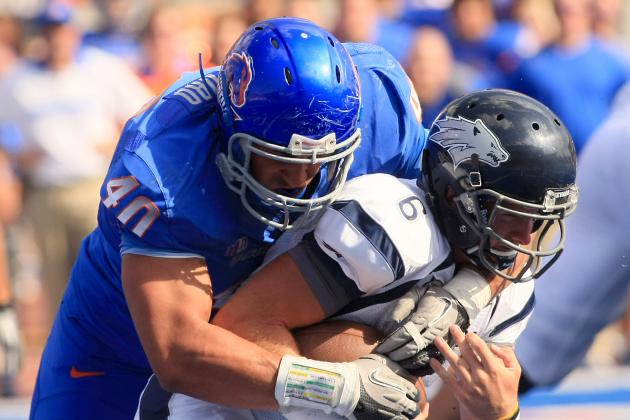 Brian Losness-USA TODAY Sports

Boise State (10-2, 7-1 MWC) traveled to Reno Saturday to take on the Nevada Wolf Pack (7-5, 4-4 MWC). This game, for the Broncos, was for a share of the Mountain West Conference title and for a 10th win on the season.
Boise accomplished both tasks against Nevada, but it wasn't easy. However, what game with the Wolf Pack ever is for the Broncos? Along the way, Boise State played a great game with only a few issues and mistakes. Several players stepped up on the way to the 27-21 victory for Chris Petersen and his team.
Let's look at the winners and losers from this contest and what lessons might have been learned.
Begin Slideshow

»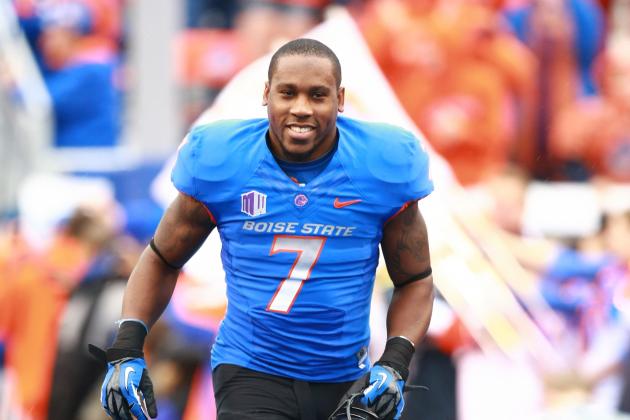 Brian Losness-US PRESSWIRE

D.J. Harper had an outstanding game against the Wolf Pack. He is one of the biggest reasons the Broncos won this game. He would certainly be the player of the game.
Not only did he carry the ball 24 times for 130 yards and a touchdown, but his carries were key. He got yardage when Boise State needed it most.
The other thing Harper did was recover a very tricky onside kick by the Wolf Pack. As soon as he grabbed it, he was hit, but he held on. It was impressive, and it sealed the deal for Boise State.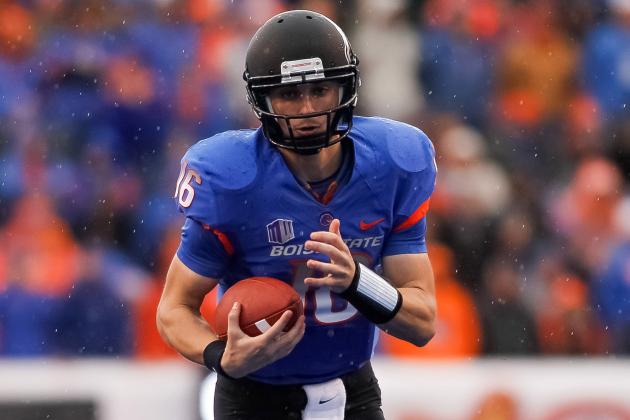 Otto Kitsinger III/Getty Images

Joe Southwick played with the most confidence he has displayed all season long. He was poised, made good decisions and did what needed to be done.
On the day he threw 26 times for 19 completions, 199 yards and two touchdowns. He also had some key runs when he had to scramble. He finished the day with six carries and 25 yards rushing.
It was clear that Southwick has come into his own this season. His confidence and leadership should be very helpful in the Maaco Bowl against Washington.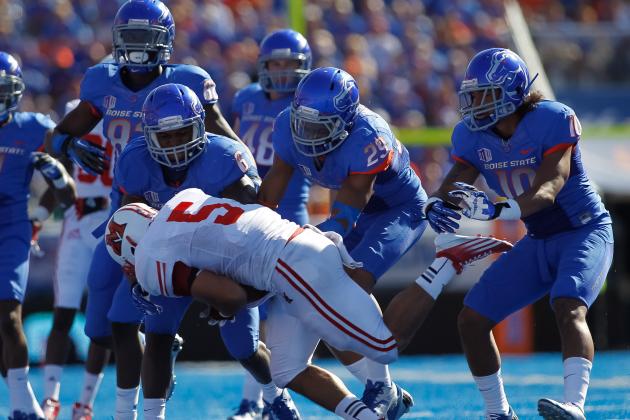 Otto Kitsinger III/Getty Images

The Broncos defense held its seventh opponent of the season to a scoreless first half. It is an incredible stat if you think about it. However, the second half has been a bit nerve racking for Bronco fans.
Boise State was leading 17-0 at halftime, but an early second-half surge brought the Wolf Pack back into the game. Nevada scored late in the game, and it made things interesting.
Boise State's defense still did enough to win however, and if it wasn't for its incredible first-half performance, it might have been a different game.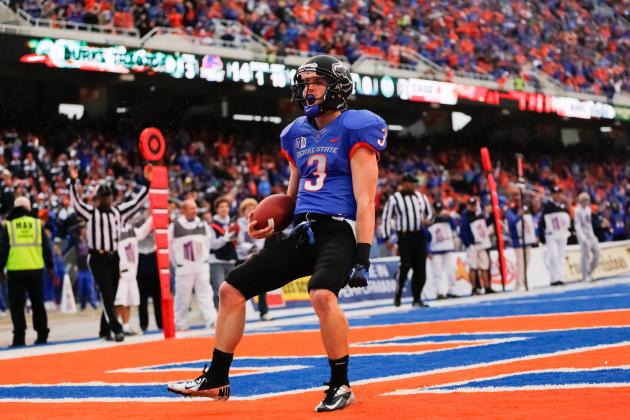 Otto Kitsinger III/Getty Images

Offensive coordinator Robert Prince opened up the play book. There was even a "statue left" moment. It was nice to see the Broncos play to win and let it all hang out.
There was even a down-the-field strike for a touchdown when Joe Southwick hit Matt Miller for a 52-yard score. The offense Saturday looked much like Boise State offenses of the past. The result wasn't the same, but it had a Broncos feel to it.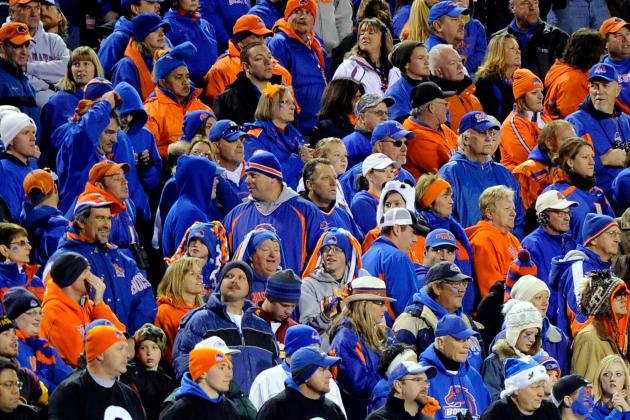 Ethan Miller/Getty Images

Boise State was only allotted something like 1,000 tickets for the game Saturday. However, Bronco fans should be commended for their craftiness in obtaining tickets.
From the look of it, there must have been at least 5,000 Boise State fans at the game in Reno.
This after the 2010 upset when fans from the Gem State weren't treated that well by those from the Silver State.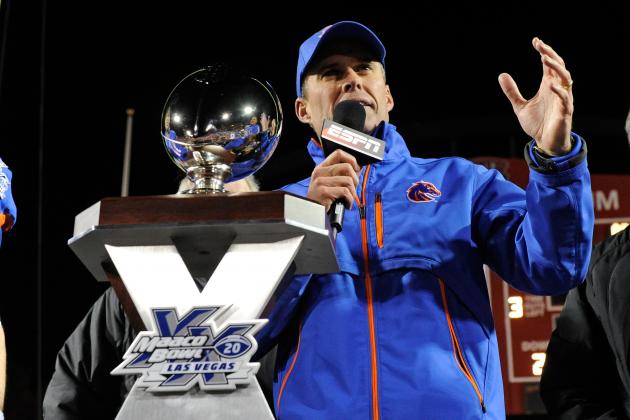 Ethan Miller/Getty Images

Chris Petersen is in his seventh season as the Boise State head coach. After the win on Saturday, he has had at least 10 wins in every one of those years.
It is simply amazing what Chris Petersen and his staff and players have done over the years in Boise.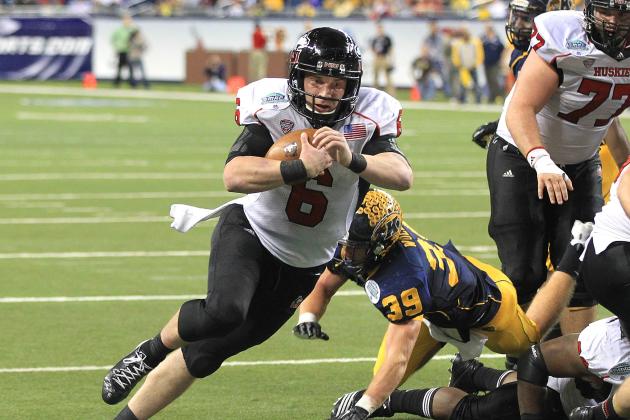 Dave Reginek/Getty Images

When Northern Illinois upset Kent State, it opened a door for the Broncos' BCS hopes. Granted, the door was only opened a mere inch, but it was opened nonetheless.
The Broncos needed to defeat Nevada on Saturday in a big way in hopes that the human voters would elevate them into the BCS. Neither happened.
NIU will be going to the Orange Bowl, but Boise State will be traveling back to Vegas to face Washington in the Maaco Bowl. This will be the third year in a row for Boise State in that same bowl game. It defeated Utah in 2010 and Arizona State in 2011. Both games were never really close.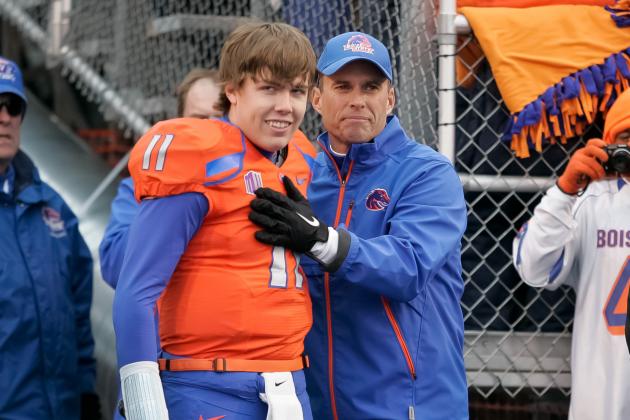 Otto Kitsinger III/Getty Images

As the game against Nevada was heating up, so were the rumors. Every year at the end of the football season, Chris Petersen is rumored for some coaching vacancy. This year is no different.
However, this year, there are people claiming it is a done deal. An unconfirmed, unsubstantiated rumor via Hog Country Online states Petersen will be named the Arkansas head coach tomorrow.
If true, it would certainly be a sad day in Boise. To lose a beloved quarterback one year and a cherished coach the next would be a large burden for Bronco Nation. Of course, the program would survive, but many hearts would be broken.
If the rumors are simply that, then Bronco Nation can celebrate once again that their coach chose to stay put when so many would have left for "greener pastures" long ago.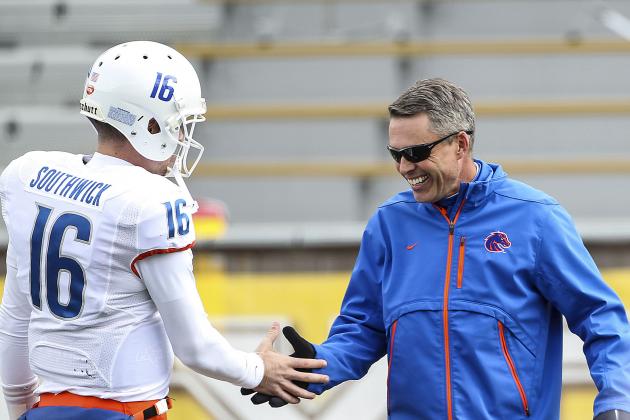 Troy Babbitt-USA TODAY Sports

For those who have been around Boise State football for any length of time they know that Chris Petersen isn't one to get choked up. At least not very often.
However, in the post-game press briefing, Coach Pete did just that. You can hear the audio posted on the Idaho Press-Tribune website. It was clear that winning a share of the Mountain West Conference title was very important to him and his team. But it goes beyond that.
The 2012 season was probably one of the best, if not the best, coaching jobs Petersen has done in his seven seasons at Boise State as its head coach. It was also probably one of the most difficult.
The amount of criticism and second guessing by fans and critics alike was at an all-time high. Petersen alludes to that in his comments on the audio. He goes on to say this:
"It didn't always maybe seem like it to people in the stands, but we were getting better each week and they were working their tail off."
For the record, many did notice it, Coach, and they noticed what an amazing job you, your staff and your players have done day in and day out. It has truly been a remarkable season.
It is easy for a fanbase to get spoiled when the wins come so seemingly easy. But there is nothing easy about what happens at Boise State. The coaches and players are committed to excellence, and they prove it every single day.
The next time a Boise State fan sees a Bronco player or coach, let's say in a supermarket, or anywhere for that matter, they should thank them without giving any advice.
The Broncos are a special story and an amazing program. They also have some of the greatest fans on earth. Even if a handful of fans forget that once in a while.