Chelsea FC: 3 Reasons Rafa Benitez Is Not the Blues' Ticket to More Trophies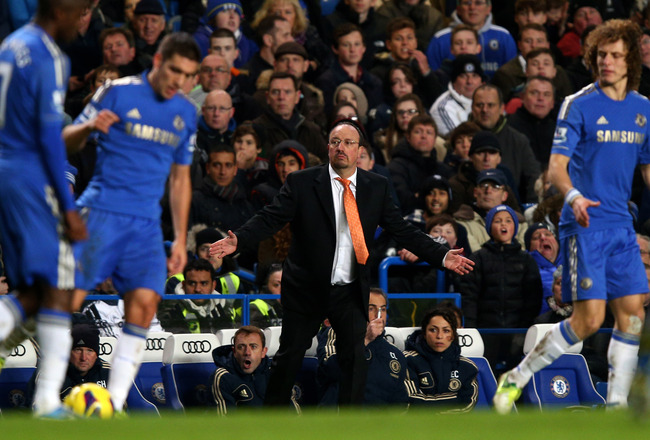 Benitez has failed to put a halt to Chelsea's recent woes.
Clive Rose/Getty Images
Saturday's 3-1 loss to West Ham United extended Chelsea FC's winless streak to seven league games. It has the Blues spiraling towards an epic collapse—one that interim manager Rafa Benitez might not be around for the conclusion of.
It's a marriage between two parties that should have never been brought together in the first place.
If the sacking of Roberto Di Matteo wasn't puzzling enough, owner Roman Abramovich only topped it with the hiring of the former manager of one of Chelsea's most-hated rivals.
As expected, the Blues' faithful were livid.
Signs, posters and Facebook groups alike all protested against Benitez's arrival at Stamford Bridge.
The former Liverpool manager's first three games at the helm have done nothing but fuel the outrage.
Three matches into the Benitez era, and Chelsea have come away with only two points and one goal. After two scoreless draws against Manchester City and Fulham, the Blues conceded two goals four minutes from time to seal a stunning 3-1 loss to the Hammers.
To put it simply: In a span of six days, Benitez has dropped Chelsea from only three points behind league-leading Manchester United to 10 points behind.
It's a trend that will most likely only grow worse in the coming weeks.
Here are three reasons why Benitez is not the man to lead the Blues to glory.
1. The Fans Will Never Get Behind Him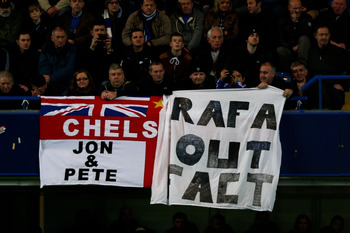 The Chelsea faithful may get their wishes granted sooner rather than later.
Clive Rose/Getty Images
In his six-year tenure with Liverpool, Benitez clashed with the Blues multiple times. He only mustered a 9-12-5 record in 26 matchups with his current employer. The two clubs squared off in the Champions League for five straight years from 2005-09—including three semifinals.
In what is customary between two successful clubs in the midst of a hostile rivalry, the two sides—from the fans to the managers—despised each other.
So it's easy to see why the Chelsea fans haven't been too eager to roll out the welcome mat for Benitez.
The fans' recent chants, posters and profanities displayed at recent games only implies that his pleas have fallen on deaf ears.
But what other reception did you expect for the same man who had his derogatory quote aimed at Chelsea fans made into a plaque that currently hangs at Liverpool's training ground?
2. His Track Record Does Him No Justice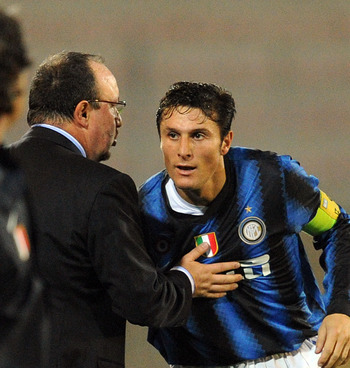 Benitez flopped heavily during his short tenure in Italy.
Giuseppe Bellini/Getty Images
In June of 2010, Benitez replaced Jose Mourinho as the manager of Inter Milan. The Black and Blues were coming off a successful season, winning the Champions League title among other accolades.
Sound familiar?
Benitez only lasted six months at San Siro, amassing a 12-7-6 record in 25 appearances with the club. He only won six matches in 15 Serie A fixtures.
During his tenure in Italy, the Spaniard's training methods came under harsh criticism. Many blamed him for a sling of muscular injuries to several players on the club. There were over 50 separate injuries under Benitez in six months.
His tactical methods also came under fire.
Benitez constantly made changes to the club's game day lineups. He would swap out players, citing a need for rest. It's a move most recently seen when the former Liverpool manager swapped out Juan Mata from Chelsea's fixture against Fulham last week. The move was questioned by many and was criticized heavily.
But the biggest setback Benitez faced with Inter Milan was the alienation of the locker room.
Key players such as Samuel Eto'o, Wesley Snejider and Marco Materazzi all bumped heads with Benitez. The latter was asked to clear his locker of anything related to Inter's successes from the previous season and even from Italy's World Cup victory in 2006. As expected, the move did not sit well with the club.
All of this eventually led to his sacking in December of that same year.
Not even a FIFA Club World Cup triumph could save him.
Next week, Benitez will fly to Japan in an effort to add his second trophy of that sort to his catalog.
But the question is: Will he return to England with his job this time?
3. He May Not Last Long Enough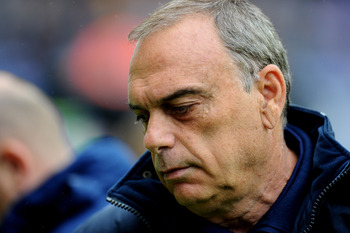 Could Grant be making a return to Stamford Bridge?
Clive Mason/Getty Images
Not even two weeks into his Chelsea managerial career and Benitez is already in fear for his job security.
It's a revelation that comes as a shock to no one.
The West Ham United defeat stretched the Blues' league winless streak to seven games. It's the club's longest such skid in over 18 years.
Furthermore, with a 0-1-2 start, Benitez became the first of nine managers during the Abramovich-era to fail to win any of his first three fixtures.
Talk about making an immediate impact at the club.
If reports from the Daily Mail are to be believed, Abramovich has already seen enough. As a result, he might be looking for a change.
That change would come in the form of Avram Grant.
If you recall, Grant took over at Stamford Bridge following Mourinho's departure back in 2007. He responded by leading Chelsea to both the League Cup final and the Champions League final. After losing both, he was quickly sacked.
Over the years, Grant has remained a good relationship with Abramovich.
For now, the Israeli coach is being sought out for a consultative position with the club. His good standing with Benitez has benefited his chances.
However, one has to wonder: If the Blues continue their dreadful play, will Abramovich be ready to pull the plug again?
All signs point to yes.
Also check out: 5 Cheaper Attacking Alternatives for Chelsea
You can follow Sebastian on Twitter at @SP7988
Keep Reading

Chelsea: Like this team?