Call me a prophet or perhaps just an optimist, because the Minnesota Timberwolves are going to the playoffs. Even if you don't believe me, there's no denying that the Timberwolves have developed a team that fans can truly be confident about.
The names and faces on the roster aren't the same as they were last season, just like the production that we are seeing out of the Wolves is far different from what we've seen over the last few years.
For example, the T-Wolves went 5-20 following Ricky Rubio's torn ACL last season. That time span also included various injuries to Kevin Love and J.J. Barea, but the end result of the 2011-12 season proved just how bad the Wolves truly were without their star players.
The Wolves and newly acquired Andrei Kirilenko kicked off this season with a 7-8 record, which places them fourth in the Northwest division. Oh, and that record was accomplished without Ricky Rubio—and, for the most part, without Kevin Love.
A huge improvement for the Wolves has been defense and overall efficiency. A team led by Rick Adelman is going to be defensive-minded, but the difference between this season and last has been night and day.
Last year, the Timberwolves ended up with the 25th ranked defense, allowing a grand total of 100.1 points per game (PPG) to opposing teams. Those are really, really bad numbers. This season, however, they are currently ranked fifth in the league, allowing just 92.6 PPG. They're also ranked third in the league for fewest personal fouls.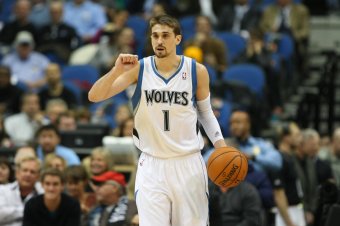 Brace Hemmelgarn-US PRESSWIRE
The improvements are there. The positions have been upgraded with new additions like Kirilenko, Alexey Shved and Dante Cunningham—players who strengthen a team rather than keep it at the same low-performance level.
What is especially different about the Wolves is their ability to stay scrappy. The fact that they have almost maintained a .500 record without Rubio is remarkable, especially when you consider all of the other injuries they've been forced to endure (Brandon Roy, Chase Budinger, Nikola Pekovic, J.J. Barea, Andrei Kirilenko and Malcolm Lee).
That's why the ceiling is so high for the Timberwolves.
With Ricky Rubio starting last season, the Timberwolves had an 18-13 record. Any hope for the playoffs was immediately squelched by the following 5-20 record, but the fact remains that Rubio had a significant impact on the team.
Then you have Kevin Love, rebounder extraordinaire. After missing the first nine games of the 2012-13 season with a broken right hand, Love came back and immediately resumed dominating the boards and putting up points like he never left at all.
Truth be told, though, Love has been just a shadow of what he was last season. He's averaging 21.6 PPG as opposed to the 26 PPG he averaged last season, and his field goal percentage has been at a very shabby 37 percent. Worse yet, he is shooting just 19 percent from behind the arc.
The following chart illustrates the difference between Kevin Love's stats in the 2011-12 and 2012-13 seasons.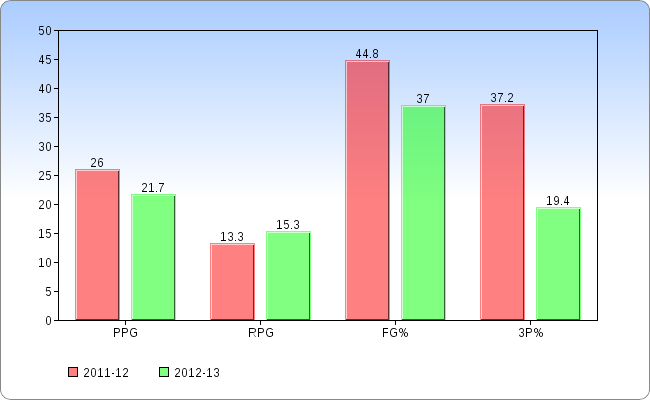 Either this means that the best power forward in the league is regressing, or he's experiencing rust. I tend to believe the latter, especially since Love returned just four weeks after breaking his hand—that's at least two weeks before his expected return date.
Before Love returned, the Wolves were winning largely because of Andrei Kirilenko. If you were curious about where all of the defensive energy has been coming from, you can thank him. After spending a season in Russia, Kirilenko returned to the NBA, where his impact was felt immediately.
In the four games that they've played together this season, Kirilenko and Love only had one game in which they actually clicked—the result being a dominant display against the Sacramento Kings. Love finished with 23 points and 24 rebounds, and Kirilenko finished with 14 points and five assists.
Unfortunately, Kirilenko then missed two consecutive games with back spasms. That duo was dangerous, though, as Kevin Love's physical, offensive minded game was balanced by the defensive energy and unselfish play that Kirilenko brings to the game.
Then you add Ricky Rubio to that mix, and the Wolves become absolutely lethal.
With Kevin Love and Ricky Rubio, the Timberwolves were flashy last season. They weren't overly efficient, but they were making waves in the Western Conference.
Now they have the team around them to be considered a legit threat. Nikola Pekovic has been posting career-high numbers, and the additions of Kirilenko and his former Russian teammate, Alexey Shved, have both proven to be big offseason additions.
It's actually a bit scary to consider just how good the Timberwolves can be, especially with a healthy group. With Ricky Rubio and Kevin Love leading the charge of the revamped, re-energized Minnesota Timberwolves, the playoffs have gone from a wish to reality.