Texas Football: Winners & Losers from the Loss vs. Kansas State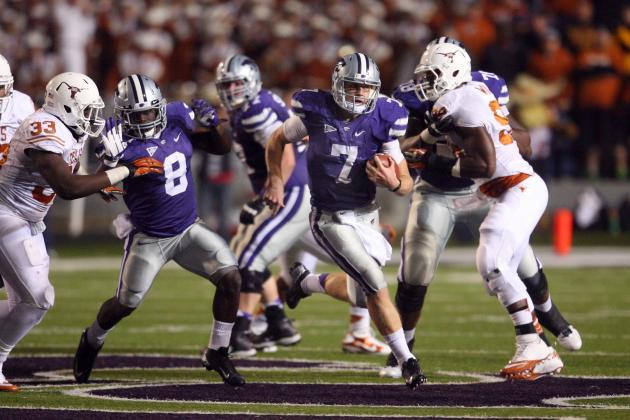 Scott Sewell-US PRESSWIRE

Capping yet another disappointing regular season, the Texas Longhorns dropped their second in a row, falling 42-24 to Bill Snyder and his No. 7 Kansas State Wildcats. This loss, like so many from these past three seasons, was a telling tale of the state of this Texas program.
To their credit, the 'Horns played a very good first half in Manhattan, Kan. that gave them a 10-7 lead to start the second half. But Snyder was able to make the correct adjustments and Heisman-candidate Collin Klein looked every bit the part in dismantling Texas for the final two quarters.
Now the Longhorns find themselves in an unfortunately familiar place. They have no idea who their quarterback will be going forward, they are not going to earn a BCS bid for the third time since going to the national championship game and they are looking at their second-consecutive eight win season.
While there are still some very obvious positives with this team, the loss to the Wildcats makes one wonder exactly how far away this team is from being good again. Here are those positives as well as the areas where Texas comes up short in this look at the game's winners and losers.
Begin Slideshow

»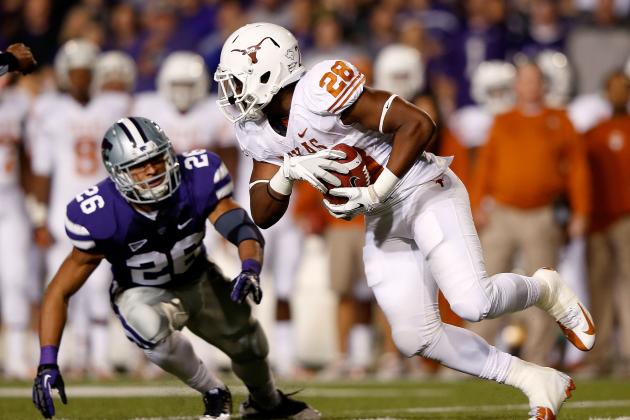 Jamie Squire/Getty Images
Brown was easily Texas' best running back against the Wildcats.
After he missed five consecutive games due to injury, sophomore running back Malcolm Brown returned to regular action and was the best offensive player on the field on Saturday.
Brown did a little bit of everything for the Longhorns. He was not only Texas' most effective and consistent runner, carrying the ball seven times for 40 yards, but he proved incredibly valuable in the passing game. The shifty sophomore also caught six balls for 43 yards and a touchdown.
With the emergence of Johnathan Gray, Joe Bergeron's status as the goal-line back and the plethora of specialty players at the Longhorns' disposal, it looked as though Brown would become the forgotten man. Instead, he was able to show just how valuable he is as an outside runner and a receiver out of the backfield.
Do not be surprised if Brown is the starter for Texas' bowl game, whichever it may be.
Scott Sewell-US PRESSWIRE

One of the biggest losers from this loss is Longhorn head coach Mack Brown, who is in for a long week of criticism after his team fell flat in its regular-season finale.
After his team got drubbed 63-21 by the archrival Sooners, the fans and media were screaming for Brown's head on the chopping block. Then he was able to recover by stringing together four consecutive wins over conference opponents, putting his team in position to play BCS-buster.
But consecutive losses to TCU and Kansas State have wrecked Texas' BCS hopes along with the goodwill Brown had built up with the fanbase. The criticism will be deserved as the loss pushes Brown's record against Kansas State and Bill Snyder to 2-9 and makes his team 11-15 over the past three seasons in Big 12 play.
Brown had no answer for Snyder's halftime adjustments in this game and will likely have to knock off an SEC power like Georgia or LSU to avoid going 8-5 in consecutive seasons. He says this team is getting better, but that record will do him no favors with the fans screaming for a change at the top.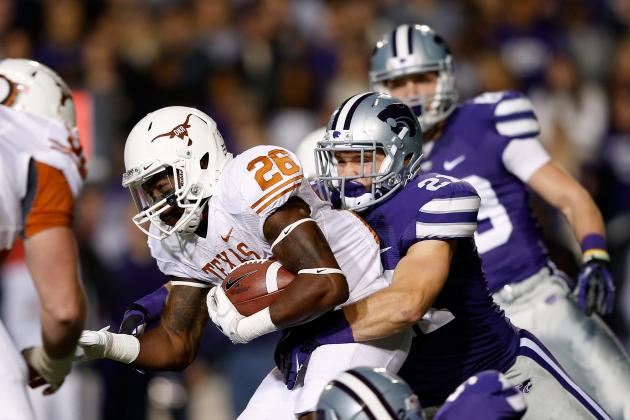 Jamie Squire/Getty Images

The Texas offense certainly struggled at times to put up points on Saturday, but it was of no fault of its speed demons Daje Johnson and D.J. Monroe.
Johnson and Monroe were very under-utilized in the offense's frustrating effort against TCU, combining for only three touches. The coaches must have realized this because both of these guys got the ball often against the Wildcats and knew what to do with it when they got it.
Johnson had one rush for 14 yards and five catches for 85 yards, including a 70-yard reception out of the backfield that should have given Texas its first touchdowns of the game. Monroe was also effective in running the ball once for 46 yards and catching it twice for 10 yards while also handling kickoff duties.
These two are electric when they get the ball in their hands and have done good things all season when given the opportunities. They showed up in a big game for their team and Texas needs to find a way to get them involved in the bowl game.
They are just too fast to be kept on the sideline.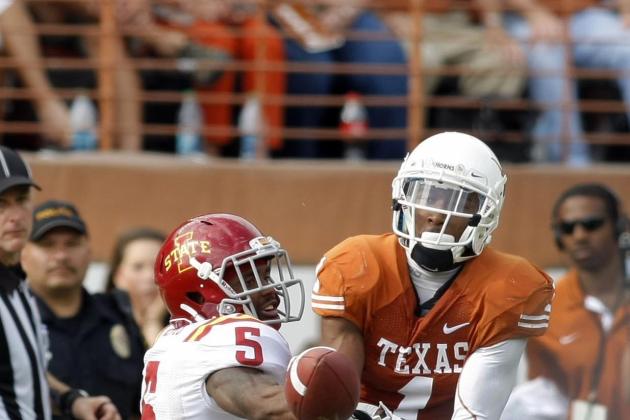 Brett Davis-US PRESSWIRE
Davis has been invisible since his signature performances against Texas Tech and Iowa State.
For the second game in a row and the third big game of the season, junior wideout Mike Davis was almost invisible against the Wildcats.
On the whole, Davis has had a really good season as Texas' top receiver and big-play threat on the outside. But he has shown an alarming tendency to disappear in games where his team has needed him most.
Davis was nowhere to be found in Texas' loss to West Virginia, hauling in only three passes for 20 yards against one of the worst secondaries in the conference. Last week against TCU, Davis had six catches for 54 yards but was far from dangerous on the outside. Now he has done the same thing against Kansas State, finishing with three catches for a measly 18 yards.
This performance is especially frustrating considering how well Davis played against Texas Tech and Iowa State, two of Texas' most impressive victories of the season. In those games, Davis had 11 grabs for 298 yards and three touchdowns. In the losses to TCU and Kansas State, he has nine catches for only 72 yards and has not scored.
Luckily for the passing game, sophomore receiver Jaxon Shipley has played very well over the past three weeks, but Davis has to be better. With an SEC team likely waiting in the bowl game, Texas is going to need him to stretch the field and get this offense scoring points again.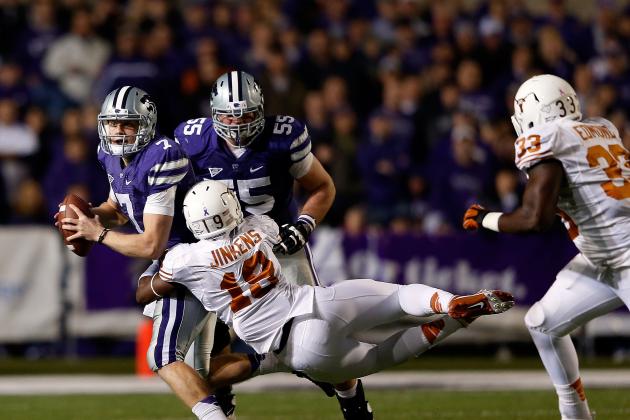 Jamie Squire/Getty Images

One bright spot from this 2012 campaign has been the crop of freshman that have come in to make an immediate impact. Add linebacker Peter Jinkens to that list.
Starting on the weak side for the third straight game, Jinkens played his best game of the year in collecting five tackles, including a big third-down stop in the first quarter. Jinkens also recorded the first sack of his Longhorn career against the Wildcats and brought the kind of passion that this defense has lacked all season.
Jinkens' emotions do sometimes get away from him but you have to love his intensity and the athleticism he brings to the position. Between Jinkens, Steve Edmond and Jordan Hicks, the Longhorns should be set at the linebacker position for next season.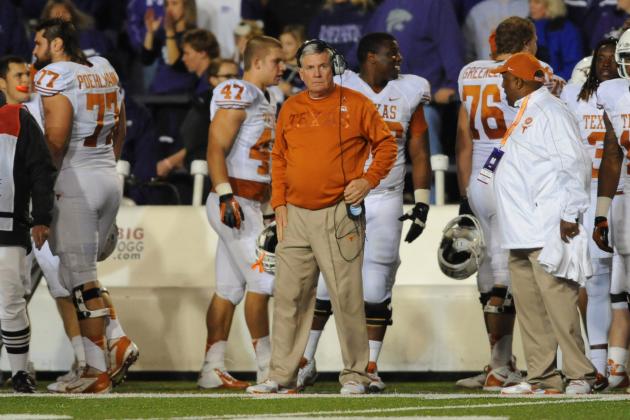 Denny Medley-US PRESSWIRE

Mack Brown will get skewered in the media and the whole team will be mired in the quarterback controversy that is about to ensue. However the real loser in this game is the Texas football program as a whole, which looks now to be heading in the wrong direction.
After their team finished off the Longhorns for the seventh time in nine times, the Kansas State fans began to chant "We Own Texas." That about says it all for the state of Longhorn football in 2012.
This is three straight seasons in which Texas' talent has underachieved in the win column. Not only is it costing the Longhorns recognition as an elite program, but it starting to affect the future.
Texas has already lost out on top 2013 recruit Ricky Seals-Jones, who will probably go to A&M, and lost Marcell Harris this week. Now top 2014 talent Hoza Scott is saying he wants to go to A&M as well. Even current Texas commits like A'Shawn Robinson are shopping their talents to other Division I programs.
Potential recruits hearing fans from a school like Kansas State chant "We Own Texas" is not likely to help hold on to the recruits Texas still has or attract any others.
Texas cannot afford to keep losing games and expect to be considered an elite program by the rest of the country or even the recruits it is trying to bring aboard. You have to earn your stripes every week of every season in college football and Texas is not doing that.
That said, something has to change somewhere within this program before it is hit with another season of mediocrity. If for no other reason than that no opponent should ever be able to say they "own" this program.