Miami Football: 8 Reasons the Canes Will Win 10 Games in 2013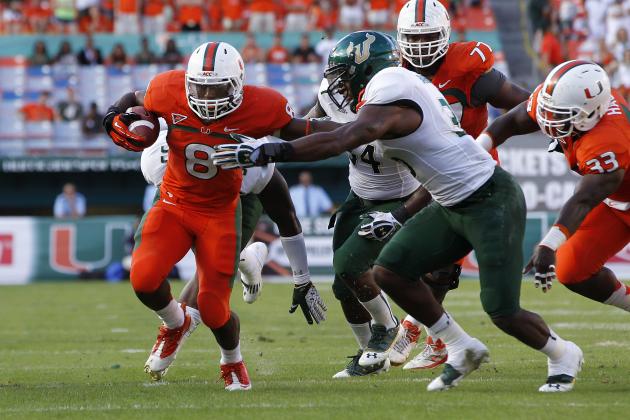 Joel Auerbach/Getty Images

The Miami Hurricanes finished the season at 7-5 (5-3 ACC) while sharing the ACC Coastal Division championship with the Georgia Tech Yellow Jackets.
Next season should be a better one as the Hurricanes are bringing back a plethora of returning players.
If everything falls into place there is no reason why the Hurricanes don't have a shot of winning at least 10 games, something they haven't done since 2003.
Here are eight reasons the Hurricanes finish with 10 wins next season.
Begin Slideshow

»
Joel Auerbach/Getty Images

If there is one thing we all learned this season, it's that Hurricanes quarterback Stephen Morris is the real deal. Morris finished with 3,345 yards passing with 21 touchdowns and just seven interceptions.
He has an extremely strong arm, and as long as he can continue to limit his interceptions, there is no reason why he can't have an even better 2013 season.
Morris is the key to this offense, and if he can stay healthy, Miami has a shot at 10 wins.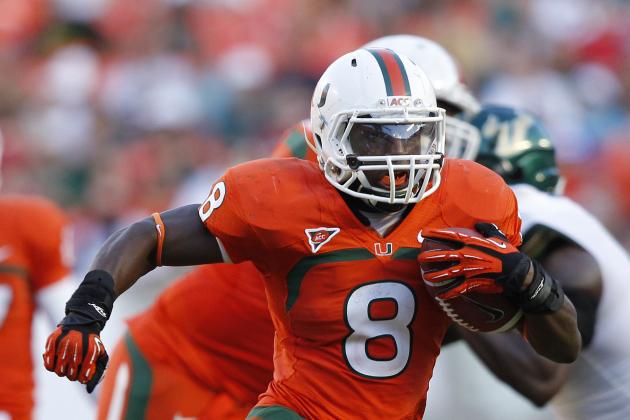 Joel Auerbach/Getty Images

I don't care what anyone says, Duke Johnson is one of the best playmakers in the entire country. What he did his true freshman season is simply amazing.
Duke finished the 2012 season with the second-most all-purpose yards in school history with 2,070. He rushed for a freshman school record 957 yards with 10 touchdowns.
Duke also was one of the best kick returners in the nation, finishing with 33.04 yards per return (third in the country) and two of them going for scores.
He was awarded with the ACC Rookie of the Year and earned a spot on the second-team All-ACC team at running back and special teams.
With starting running back Mike James graduating this year, Duke will be next year's primary back and should even improve on this year's mind-boggling numbers.
If that is even possible.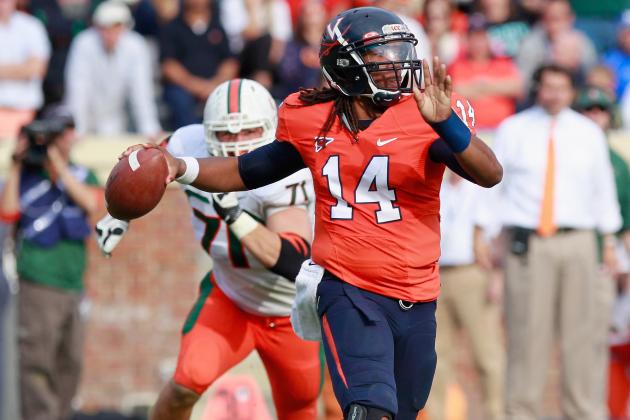 Geoff Burke/Getty Images

The biggest question mark heading into the 2013 season will be just how good has the defense really improved?
This season was a complete disaster as the Hurricanes finished with one of the worst defensive teams in the country—ranked 116th out of 120 in total defense.
With the amount of talent returning and some incoming freshmen who will be contributing, this defense should improve by at least 30-40 spots above this year's ranking.
We should be able to find out early next season if it was defensive coordinator Mark D'Onofrio or the lack of talent and experience that cost the Hurricanes at least three games this year.
Either way, the defense should improve, and with the explosive offense that the Hurricanes have, Miami should be able to hit that 10-win plateau.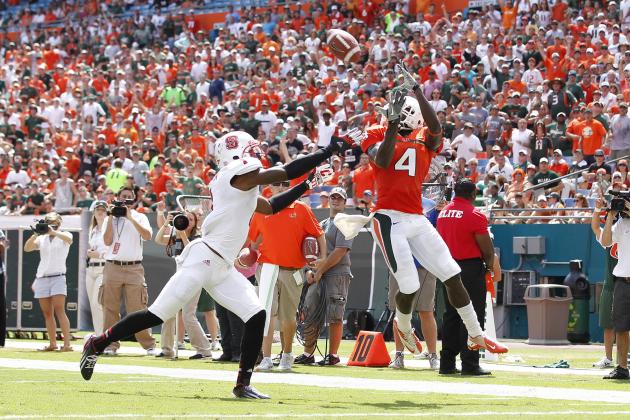 Joel Auerbach/Getty Images

I can't remember the last time that the Miami Hurricanes have been loaded at wide receiver and tight end—there is that much talent coming back next season.
There might even be too many.
The only senior will be Allen Hurns, whose production took the wayside to sophomores Phillip Dorsett and Rashawn Scott.
Herb Waters showed why he could be a force to be reckoned with when he finished his freshman season with 227 yards and two touchdowns on just 10 catches.
Another true freshman that looked great before an ankle injury was Malcolm Lewis. By the time the season starts, Lewis should be ready to make another athletic target for Hurricanes quarterback Stephen Morris.
If those aren't enough, high school phenom Angelo Jean-Louis will finally arrive at Miami after spending a season at a prep school. He was supposed to be the best freshman wide receiver this season but failed to qualify for Miami.
Besides the wide receivers, tight end Clive Walford will be back. Walford turned it on late this year catching seven passes for 234 yards and two touchdowns in the last two games.
This could very well be the best group of receivers the Hurricanes have ever had, which will ultimately turn into more wins.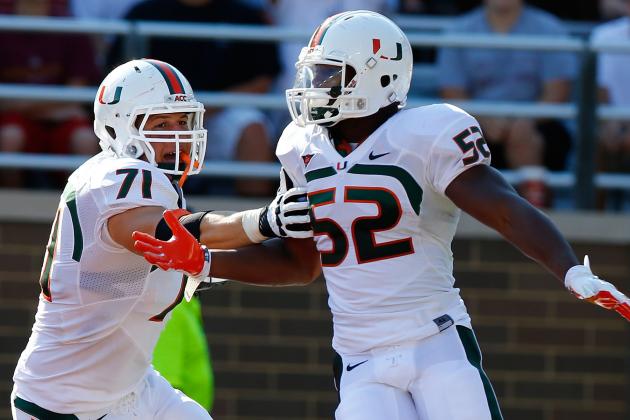 Jared Wickerham/Getty Images

A lot of people believe the reason for such a subpar season was because of youth and inexperience.
The Hurricanes were stacked with youth this season and as long as no one leaves early, the Hurricanes will be returning 20 starters next year. The Hurricanes had only seven seniors on the entire team—most of them not even getting a lot of playing time.
Even next season most of them will be just sophomores and juniors, meaning this team's future could be extremely bright.
The best part of all this is the obvious: Most of them will be coming into next season with a lot of on-field experience—something none of the freshmen had this year.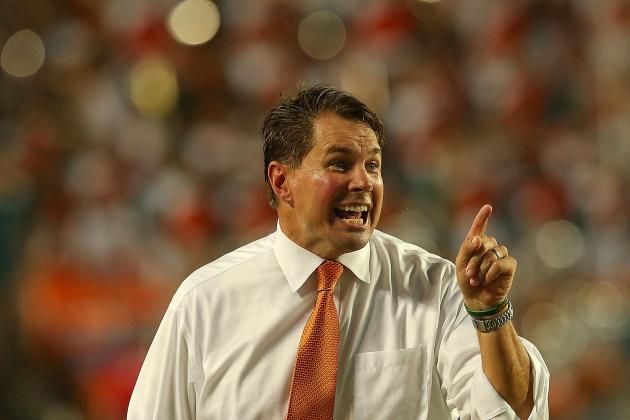 Mike Ehrmann/Getty Images

There has been a grey cloud hanging over the Miami Hurricanes for almost two years now, and with a release of the sanctions from the NCAA, the off-field distractions should finally be off these coaches and players' minds.
Now many people may think that it's just an excuse and it shouldn't bother these players on the field—those people couldn't be more wrong.
These are just kids, and they have a lot on their plate in college. To have to sit and wonder about the future and field questions from the media about possible sanctions has to be completely miserable.
The NCAA should have some results this season, or at least before next season, which will allow all these kids and coaches to finally give 100 percent of their undivided attention to what really matters—winning football games.
Let's be honest—the Hurricanes defensive backfield was less than stellar this season. The freshmen looked lost out there, and the upperclassmen weren't all that good.
That will all change next year with incoming freshmen Artie Burns and Jamal Carter.
Now don't expect these kids to come in and dominate early, but they should no doubt be a huge lift for a struggling unit.
Carter is an extremely gifted safety who can tackle as well as cover with the best of them. With Deon Bush along his side, the Hurricanes could have one of the best set of safeties in the ACC.
Burns is also a terrific athlete but plays cornerback, another position in which the Hurricanes need help at. Burns has tremendous speed and great size (6'1", 190 pounds) but is still a little raw with coverage.
Regardless of being a little raw at cornerback, he is a freak of nature who could ultimately start at some point next season.
These two freshmen will be huge for the Hurricanes depth chart and will make the defensive backs an overall better unit.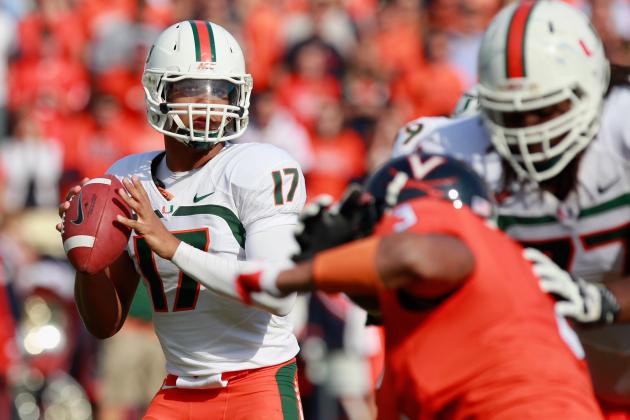 Geoff Burke/Getty Images

The Hurricanes offensive linemen had a pretty solid season this year—especially for a young group of players. As long as no one leaves early, the entire line will be back next season.
That is huge for the Hurricanes because with the amount of talent they have at quarterback, wide receiver, running back and tight end, this could be an extremely high-scoring offense.
It all starts with the line, and this unit could end up being the best in the ACC next season.
If they can all live up to their potential, it may not matter if the defense struggles a little bit next year, because the Hurricanes offense may be able to put up more than 40 points per game.