Texans vs. Titans: Tennessee's Biggest Winners and Losers from NFL Week 13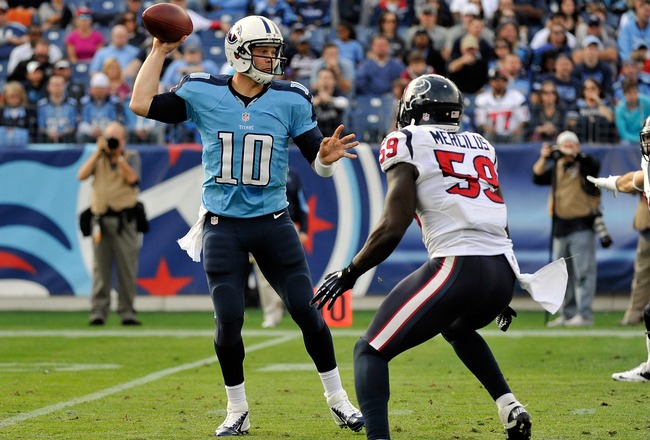 Frederick Breedon/Getty Images
It was an offensive struggle for the Tennessee Titans for much of the game against AFC-leading Houston Texans. That is until the Texans defense seemed to relax late in the game.
You look at the scoreboard and see that it was just a 14-point loss. However, this could've easily been a win for the Titans if not for the same mistakes that continue to plague this team.
The talent gap between these two teams was on full display, but some unlikely winners arose for the Titans as they look to build some momentum for next season.
These winners kept the game from getting out of hand. However, these losers helped keep the Titans from pulling off the upset.
Winner: Brett Kern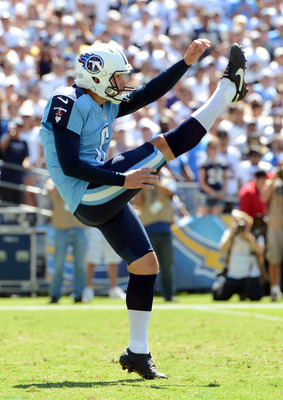 Harry How/Getty Images
It's usually not a good thing when the punter stands out as one of the strong performers for your team, but Brett Kern did a really nice job early in the game.
Kern punted twice out of his own end zone and at least made the Texans go on a couple long scoring drives instead of setting them up in Titans territory.
Not to mention Kern ran a guy out of bounds to keep the Texans from scoring a special teams touchdown. That was a nice punt by Kern that was just poor coverage on the special teams unit.
The score ended up being a lot closer thanks to Kern's strong punting effort in the first half.
Loser: Michael Griffin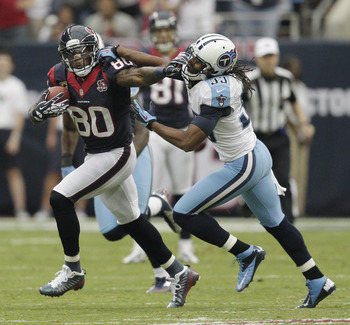 Bob Levey/Getty Images
Michael Griffin has become a mainstay on this list this season, and not for the good reasons.
The first touchdown of the game scored by the Texans was due to Griffin's poor angle that he took at making the tackle on the sideline.
Who knows what would have happened on that drive if Griffin makes the routine tackle that your taught at a young age on how to make.
The Titans' defense actually had a strong performance on the day, and it's very conceivable that the defense could've held the Texans to three points on that drive.
Griffin is supposed to be the anchor of the defense, but he's been anything but that this season.
Winner: Jared Cook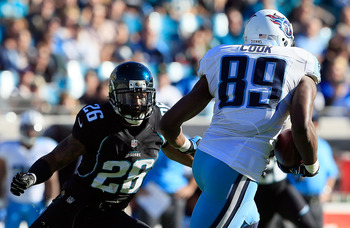 Sam Greenwood/Getty Images
Jared Cook is finally starting to get the opportunities he deserves in the passing game, and he could've had a big game if Jake Locker had better protection from the offensive line.
Even with the horrendous pass protection, Cook still finished with four receptions for 51 yards.
Hopefully the Titans can figure out a way to hold onto Cook and keep him happy the rest of the way. If the Titans fail to hold onto Cook, then he will be another team's treasure in the future.
Cook can come close to a 1,000-yard season if he finishes out the season strong.
Loser: Kevin Matthews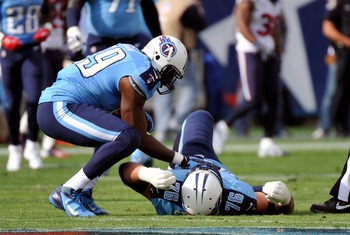 Frederick Breedon/Getty Images
After David Stewart left the game with an injury early on, the Titans' offensive line struggled in pass protection the rest of the day.
In came Kevin Matthews, who did nothing to show that he's ready to be a starter in the NFL. Two critical penalties by Matthews really hurt the Titans' offense, which had very few big plays to begin with.
If Matthews has to be a starter for the rest of the season, then this embattled Titans' offensive line could have serious problems in pass protection like they did against the Texans.
Winner: Tim Shaw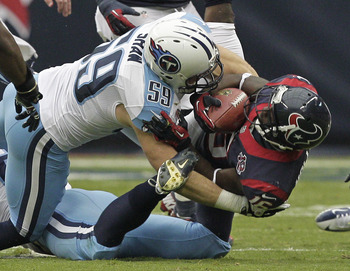 Bob Levey/Getty Images
Tim Shaw started for the injured Colin McCarthy and ended up as the Titans' leading tackler for the game with seven tackles.
That may not seem like an impressive number, but realize that Shaw has largely been a special teams guy for his career.
Shaw played a strong role in limiting Arian Foster to just 38 rushing yards, which is pretty amazing considering how little experience Shaw has outside of special teams.
The fact that he came in and played solid football against a very good offense shows that Shaw has the ability to be a nice veteran presence for this Titans' defense that needs a ton of help.
Loser: Kendall Wright
Frederick Breedon/Getty Images
Kendall Wright may have had some nice numbers, but two critical drops basically extinguished any hopes of a Titans' comeback.
What made the two drops even worse was that they came on back-to-back plays, and on the same exact slant route for that matter.
If Wright can pull in one of those two accurate throws from Jake Locker, then the Titans could've easily cut the Texans' lead to seven points.
Much like Locker is a work in progress, so is Wright. He's had a good rookie season for the most part, but he had some growing pains of his own in this game.
Winner: Jason McCourty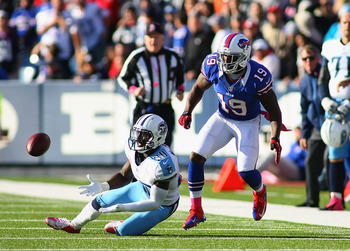 Rick Stewart/Getty Images
It was a pretty solid outing for the Titans; secondary against a potent Texans' air attack, and Jason McCourty played a critical role in keeping this game from getting out of hand.
This game was a good example that the problem isn't necessarily with cornerbacks right now.
McCourty is a guy who has all the tools to be a great cornerback in the NFL, but he needs a defensive coordinator who has a reputation for having strong pass defenses.
The Titans need to hold onto McCourty and make sure they find a better coordinator to maximize the talent that this defense actually has.
McCourty finished with five tackles, including one for a loss. He also had a pass deflection in what was a really tough matchup.
Loser: Mike Munchak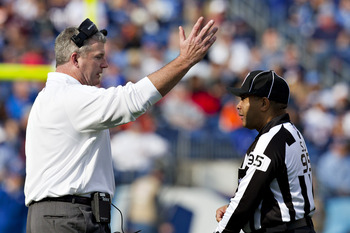 Wesley Hitt/Getty Images
It's becoming more and more conceivable that Mike Munchak will be let go at the end of this season with each ugly loss.
It's not even the fact that they're losing to teams that are simply better than them at this point. It's how they're losing that makes Munchak look so bad.
When Titans owner Bud Adams put the entire organization on notice a few weeks ago, it was unlikely that he was just blowing smoke.
Munchak just doesn't have this team playing with any heart with the exception of a handful of players. Most of the players seem disconnected, and that always has to fall on the head coach.
Unless we start seeing more drive and determination from this team, then Munchak will probably fail to make it past two seasons as the Titans head coach.
Keep Reading

Tennessee Titans: Like this team?