Juventus: Solving the Bianconeri's Striker Conundrum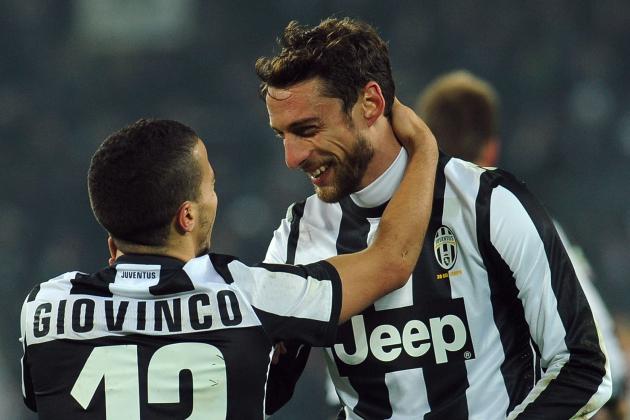 Valerio Pennicino/Getty Images

Much has already been written about Juventus' problems in the attacking front. The Bianconeri have been struggling to find any sort of consistent play at the striker position since Antonio Conte took the reins, and the departure of club legend Alessandro Del Piero certainly didn't help matters.
During the summer transfer window, the team appeared to be desperate to bring in additional forces to help bolster the position. In the end, they had to settle for Arsenal-loanee Nicklas Bendtner and the returning Sebastian Giovinco.
Three months later, the problems haven't gone away. With the January transfer window now fast approaching, it seems like the team is back on the market for another striker.
But given the current economic climate of Italian football, options might be limited. Most top strikers are already cup-bound to their respective teams, making them unavailable to the Bianconeri for use in the UEFA Champions League.
Juventus might not have the best strike force in Europe with regards to talent, but their respective players aren't exactly scrubs, either. Antonio Conte has had difficulties finding the right combination of attackers, and as a result, the team has decided to go with whoever has the hot hand.
In this article, we'll try to make his job a little easier. We'll take a look at what each player brings to the table and determine what the team's ideal combination would be.
All statistics used are courtesy of Whoscored.com.
Enjoy.
Begin Slideshow

»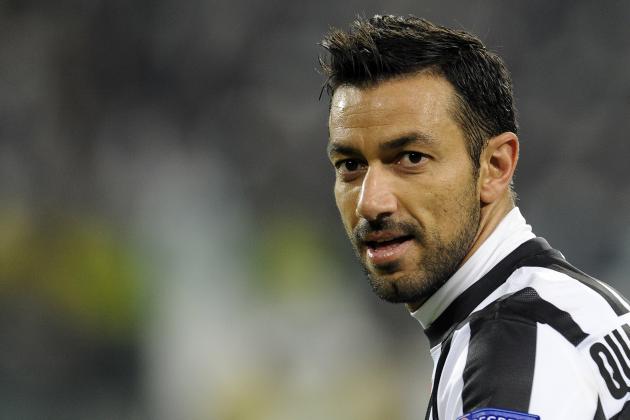 Claudio Villa/Getty Images

Statistics:
Fourteen total games, nine goals, one assist.
Fabio Quagliarella is Juventus' best option when it comes to goalscoring ability.
He's your classic opportunistic poacher who will swerve all over the field attempting to beat the offside trap. He'll shoot at goal every chance he gets and has built his game around being at the right place in the right time.
Quagliarella is more than decent in the air and has a healthy work ethic on the pitch. He's not much of a threat as a dribbler, but can create space for himself to shoot in a confined field of play. He lacks burst and real pace and is not of much use in open space. He can be physical but won't overpower big defenders. Injury problems have held him back.
The former Napoli-man is best used when paired with a mobile striker whose running creates space for Quagliarella to exploit, or with wingers who like to cut inside.
Valerio Pennicino/Getty Images

Statistics:
Twenty total games, seven goals, three assists.
Sebastian Giovinco had a rough start to the season, but he's been coming along nicely in the past six weeks. He's carried over his form and production from Parma, where he spent last season on loan.
Giovinco plays his best football when he's allowed to play out wide. He's a fast, mobile striker with excellent dribbling skills and is a very able crosser. He has good vision in the passing game and stays calm when in front of goal.
His production is not always visible in the statistics, but he's a very useful player. His main job is to create space for his fellow striker and the midfielders. He provides, rather than finishes.
For such a small player, Giovinco commits a lot of fouls and he often lets his emotions get the best of him. He tends to lose focus and tries to force the action when things aren't going his way.
His energy and pace are most visible when he is used as a substitute. As a starter, he can play with the same energy for a full game and take advantage of tired defenses.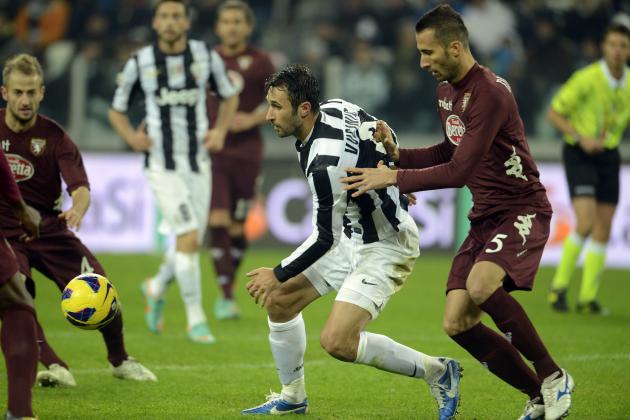 Claudio Villa/Getty Images

Statistics:
Eighteen total games, four goals, three assists.
Mirko Vucinic's role is often misunderstood by fans. He's not someone you count on to score a lot of goals or play quality through balls. Instead, he serves as a link between the midfielders and the main striker.
The Montenegrin is very good at presenting a target to midfielders to pass the ball to near the penalty area and hold on to it for as long as it takes. He plays his best football with his back towards goal or when he's tasked with occupying multiple defenders in an attempt to free up midfielders running towards the box.
Vucinic is not a mobile or nimble player, but he has good technique and vision and knows how to use his body to shield the ball. He's not an expert finisher but scores enough goals to be considered a solid striker. His passing is good, and with his size he presents a nice target on crosses and set pieces.
He sometimes looks like he's clumsy or doesn't play with a lot of effort, but he plays rather stationary for a reason. He's wasted in space and has very little burst. When forced to run, he often finds himself out of position or lost out on the wing.
But his play as a lightning rod and target around the box is very important to the team, as it pulls defenders away from the wings in an attempt to defend the short passes around the penalty area. This creates space for the wingers to fire in crosses.
Valerio Pennicino/Getty Images

Statistics:
Twelve total games, one goal, one assist.
Alessandro Matri hasn't been featured much lately for the Bianconeri, as the coaching staff seems to have lost confidence in him.
Much was expected from the big Italian when he arrived from Cagliari in 2011, but so far he hasn't been able to live up to expectations. But he was the team's leading scorer in the Serie A with 10 goals last season, so it's not like he's been a total bust, either.
Matri is your typical target man. He's tall, strong and knows how to put the ball in the back of the net when he's not struggling with his form or confidence. He's a great threat in the air and is mobile for such a big man.
His main problems are his vision and his ability to pass. He'll often mistime his runs, leading to offside calls, and he lacks the vision to play good passes to his fellow players. Despite his size, he's not very good at holding on to the ball and screening it from defenders, and while he's surprisingly mobile for his size, he's not fast enough to play in space.
Fans are still hoping for Matri to develop into a class striker, but his lack of playing time this season suggests that the coaching staff don't believe it will ever happen.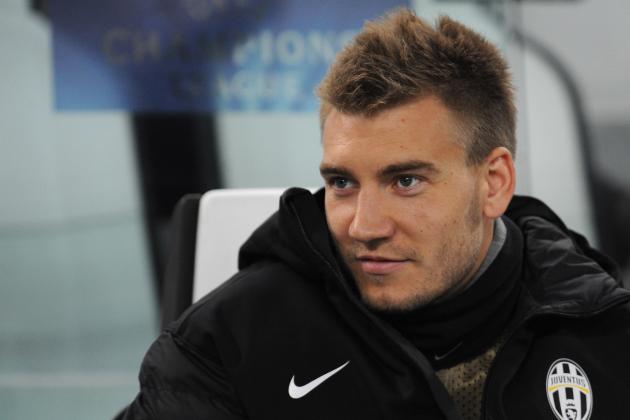 Valerio Pennicino/Getty Images
Just look at that hair
Statistics:
Nine total games, no goals, no assists.
And the award for the least surprising development of the 2012-2013 season goes to: Nicklas Bendtner not solving Juventus' problems up front.
Bendtner's biggest asset is his hair. It's blond, but not too blond, something Juve's other strikers lack.
In all seriousness, Bendtner has been an absolute bust. Maybe it's too early to pull the plug on this experiment, but I doubt he'll still be a part of this team for the 2013-2014 season.
Valerio Pennicino/Getty Images

All of Juventus' strikers bring unique skills to the table. The issue now is how to sort out which combination works best for the team.
Spoiler alert: It's Sebastian Giovinco and Fabio Quagliarella.
Of the five players, only three are actually viable candidates. Bendtner has done absolutely nothing to warrant a spot as a starter, while the coaches simply don't trust Matri. I think Matri should be given an honest chance, but based on the little I've seen this season, I can't possibly put him up as a starter.
So, why Giovinco and Quagliarella?
In recent weeks, Conte has decided to go with a Quagliarella-Vucinic pairing, with disastrous results. Anyone who follows my articles knows how I feel about the combination of these players.
Simply put, they're not compatible. Quagliarella spends too much time running around for Vucinic to have much of an impact on the game. The Italian soaks up too many passes from the midfielders for Vucinic to be effective in his role of target man.
Quagliarella doesn't offer Vucinic much of a target to pass the ball to, because he plays away from the Montenegrin. He's always looking at the space in the back of the defense, which Vucinic can't reach with his back towards goal.
When both players face goal, they each have a tendency to creep inside and not take advantage from the space on the wings. As a result, instead of creating space for each other, they actually get in each other's way.
Vucinic and Giovinco can coexist, but both players are better in the role of provider. When they are on the field at the same time, Juventus don't have someone who specialises in scoring goals.
On the other hand, Giovinco and Quagliarella are a perfect match. Giovinco gets to play around on the wing as much as he wants, creating space for Quagliarella to put himself in one-on-one situations.
The Atomic Ant can take advantage of the fact Quagliarella plays away from him, as this opens up room for Giovinco to dribble inside and either find his partner in front of goal or take a shot himself.
With the mobility that both players bring, it creates lanes for midfielders to run forward and contribute in front of goal. Arturo Vidal and Claudio Marchisio are both very good at scoring, but they need to get the chance to make runs into the box.
This constant movement makes things very hard on defenses and also provides an opportunity for everyone on the field to get involved, including players like Leonardo Bonucci and Andrea Barzagli (who like to contribute to the play on the wings).
It even gives Juventus the room to use Andrea Pirlo and Bonucci's skills when playing the long ball, as both Giovinco and Quagliarella like to make runs behind the defense and try and slip past the offside trap.
To top it all off, it leaves Vucinic as a super-sub, ready to come on when the team is in need of an enforcer near the box. He gets to use his ability to hold on to the ball and provide assists against an already tired defense, which makes up for his lack of pace.
So there you have it: this writer believes Fabio Quagliarella and Sebastian Giovinco form the best pairing up front for the Bianconeri.
Disagree? Make sure to let me know in the comment section.