Alabama vs. Georgia: 5 Crimson Tide Flaws the Bulldogs Exposed for Notre Dame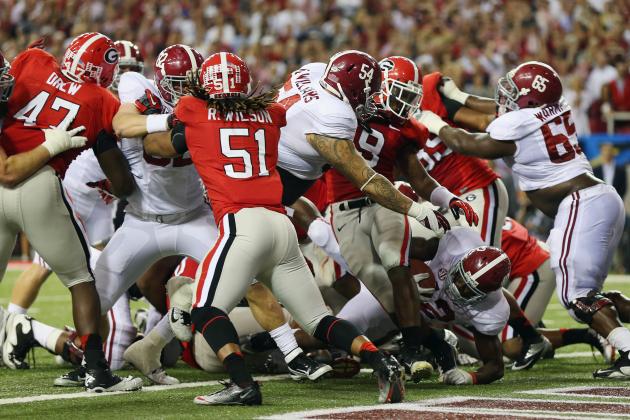 Mike Ehrmann/Getty Images

Alabama and Georgia provided the country with one of the best football games of the season on Saturday when they squared off in the SEC title game in Atlanta.
The Crimson Tide came out on top in a back-and-forth game, solidifying a national title run with a 32-28 fourth-quarter win. While the Tide did escape the game with a win, Georgia exposed Alabama on a number of fronts, giving Notre Dame a de facto study guide heading into the BCS National Championship Game.
The Fighting Irish are very similar to Georgia on defense, but offensively they lack the playmaking ability at quarterback. For the Irish to overcome the weakness at quarterback, they have to pay attention to these five points of exposure that occurred in the SEC title game.
Begin Slideshow

»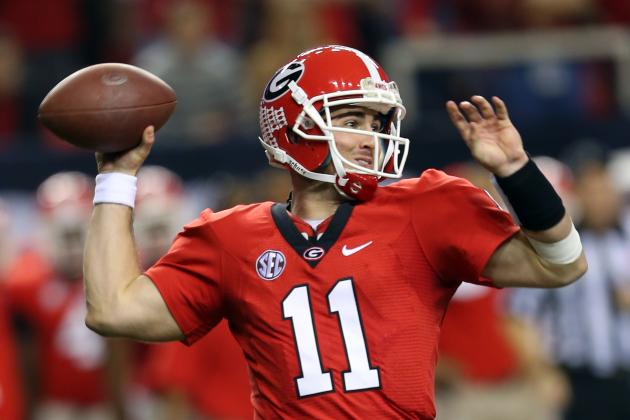 Mike Ehrmann/Getty Images

Aaron Murray finished the SEC title game 18-of-33 for 265 yards and one touchdown. He averaged eight yards per attempt against Alabama, which was nearly two yards less than his season average.
Murray was able to find short completions in front of the Alabama zone and create playmaking opportunities for his receivers. Alabama was not going to allow the deep throw, but they gladly gave up short yardage to the Georgia passing game.
By the end of the game Murray finished with his fourth-highest yardage output of the year and his third-highest amount of passing attempts. Alabama had a strategy to neutralize Murray, but the effort was not enough to stop the Georgia signal-caller.
Alabama may crowd the middle of the defense against Notre Dame early, but if the Irish attempt a few deep throws it will stretch the defense and provide Everett Golson with solid passing lanes.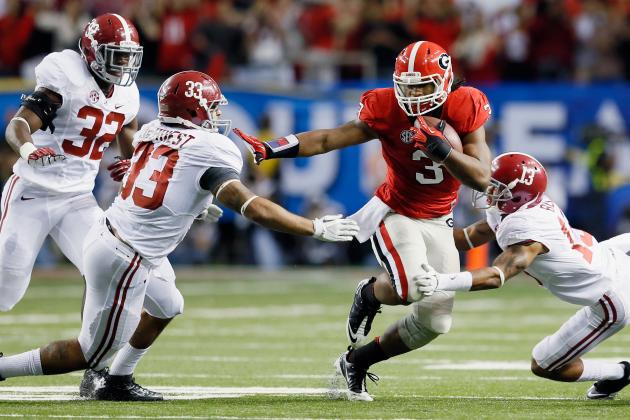 Kevin C. Cox/Getty Images

The Alabama defense is one of the best against the run in the country, but against Georgia they showed a lot of deficiencies.
Georgia forced the Crimson Tide to stretch their defense and it left running lanes for Todd Gurley to shoot through consistently. By then end of the game Gurley had amassed 122 yards on 23 carries and two touchdowns.
There weren't any explosive runs for Gurley—his longest carry was 18 yards—but his consistency is what kept the Tide on their heels.
The Irish will look to use the same strategy against Alabama in January. Notre Dame has three different backs that have contributed consistently this season and they all will get their shot against the Crimson Tide in a few weeks.
If Notre Dame can find one 100-yard rusher in this game, the Irish will walk away with a 12th national title.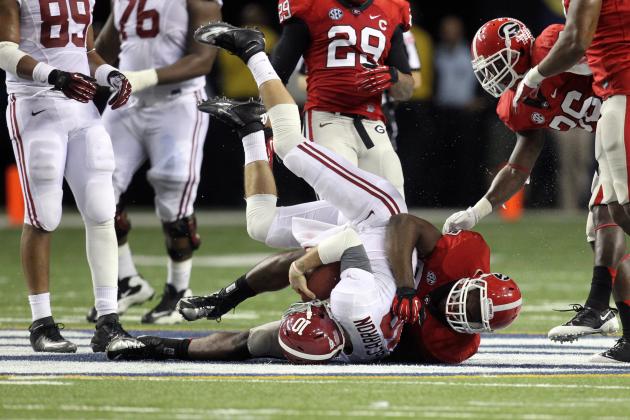 USA TODAY Sports

Alabama is ranked No. 53 in the country in sacks allowed through 13 games this year. Stopping a solid pass rush has not been a strong suit for this Crimson Tide offensive front.
Throughout the game on Saturday, Georgia was able to apply consistent pressure to A.J. McCarron, forcing errant throws and quick releases that resulted in incompletions.
The Bulldogs rarely blitzed in the game as their three- and four-man rushes were able to handle the pass-rush load consistently. Notre Dame runs a similar 3-4 scheme to Georgia and will look to employ the same attack against this Alabama offensive front.
Notre Dame has a big three that compare to Georgia's linebacker and line combination. Manti Te'o, Prince Shembo and Stephon Tuitt have been as good as any three defenders in the country. They will team up to create a lot of issues for the Alabama front in the title game.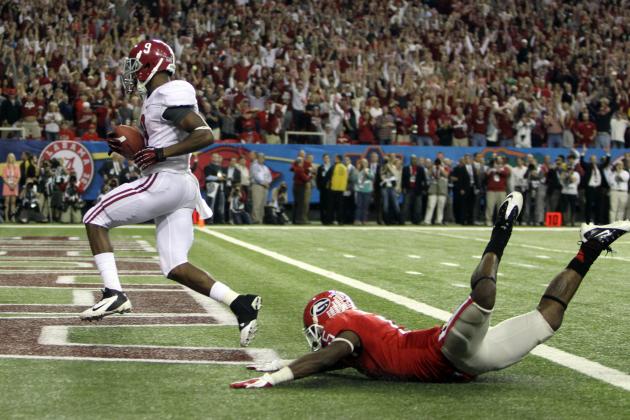 USA TODAY Sports

Amari Cooper has exploded onto the scene for Alabama at receiver, flirting with 1,000 receiving yards this year. When looking at his freshman campaign, Cooper is producing scarily similar numbers to none other than Julio Jones.
In the past four games, Cooper has caught 20 passes for 422 yards and four touchdowns. The play-action pass has become reliant on Cooper and without him Alabama would be struggling offensively.
Cooper was able to beat the Georgia coverage seven times on Saturday, but his most important play of the game came in the fourth quarter when he was able to blaze past the Georgia corner and catch the winning touchdown from 45 yards out.
For Notre Dame to win this game they can't give up big plays. The Irish would be smart to double up on Cooper on every play, no matter how successful the Alabama ground game may be.
The fact that Cooper is the only real deep threat for the Tide will help Notre Dame keep him locked up in this game.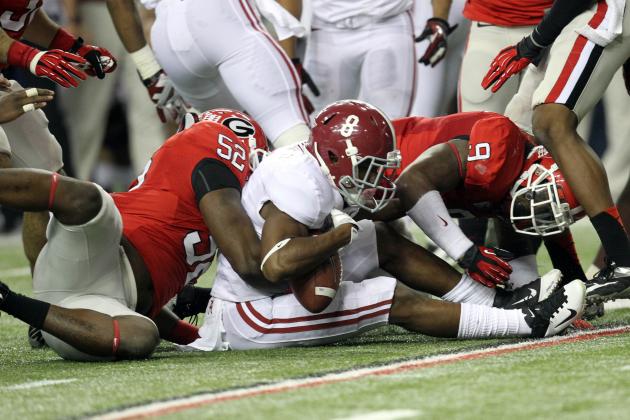 USA TODAY Sports

Here we are three months later and the Irish are indeed in the title game, but that once daunting schedule doesn't look as difficult as it once did.
This is not to take away from what the Irish have accomplished this season—running the table is nearly impossible—but this Notre Dame team has yet to face a team as physical as Alabama will be in the title game.
The Crimson Tide and Bulldogs left everything on the field in Atlanta—that included a lot of blood, sweat, tears and teeth.
Can the Irish start physical and stay physical against this Alabama team?
That's a tough question to answer right now. While it is easy to say yes, getting hit in the mouth on a regular basis changes things. For Notre Dame to win, they have to take a card out of the Georgia playbook and bring painful strikes consistently.
There were a number of personal fouls in the game, but those come with extreme physical play. The Irish have a great shot at a national title, but they have to come out swinging hard and fast to set the tone for the game.