The 10 Biggest Names at the PGA's Q-School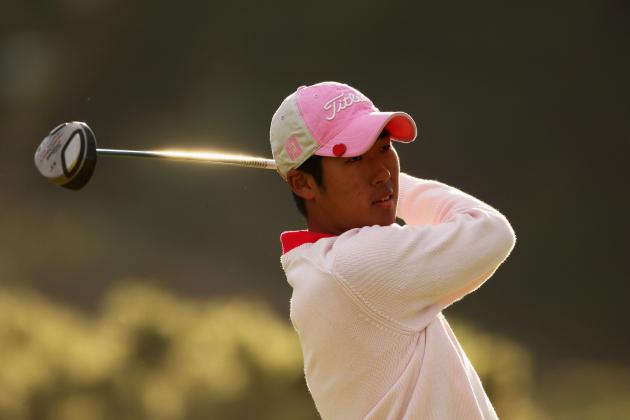 Stuart Franklin/Getty Images
South Korean Dong-hwan Lee shot 64 on Saturday to take the lead after 4 rounds at PGA Q-School
The dream for every golfer is make it to the PGA Tour. Prospective golfers hone their skills on various tours around the world to get the chance to make it to the United States.
The PGA Tour is holding its qualifying tournament this week at PGA West in La Quinta, California.
Only 25 of the 172-man field will earn a precious tour card for the 2013 season.
This will be the last PGA Q-School that will grant direct entrance to the PGA Tour. Beginning next year, players will need to earn their tour cards through membership on the Web.com Tour.
The rewards on the PGA Tour are great. The best courses, complimentary everything and huge sponsorship deals await the few that will make it.
It is an examination, not only of a player's game, but also of his determination, heart and mental toughness. It is one of the most demanding six rounds of golf that any golfer will ever endure.
PGA Q-School completed the fourth of six rounds on Saturday.
The field includes veteran tour players trying to get back to the big stage one more time and young players who may have plenty of talent, but the nerves and pressure of the moment overtake their ability, and they will be forced to put their dreams on hold.
The stories are many. Here are ten of the big names who have gone back to school and are trying to hang on one more year.
Begin Slideshow

»
Streeter Lecka/Getty Images
Steve Flesch has won four events on the PGA Tour
The lefty from Kentucky won the 1997 Nike Tour Championship to earn his PGA Tour card for the 1998 season.
Flesch has entered 438 events and made 287 cuts. He won four PGA Tour titles in his 14-year career and has earned over $18 million in prize money.
He is 45 years old and trying to earn his playing privileges for 2013.
He has split his time over the past few seasons doing commentary work for the Golf Channel.
In the 12 events that he was able to play in 2012, he did not make one cut. So it goes for an aging veteran on the PGA Tour.
His four rounds of 72-73-74-73 have him at four-over par and T-160.
That desk at the Golf Channel might start to look pretty good.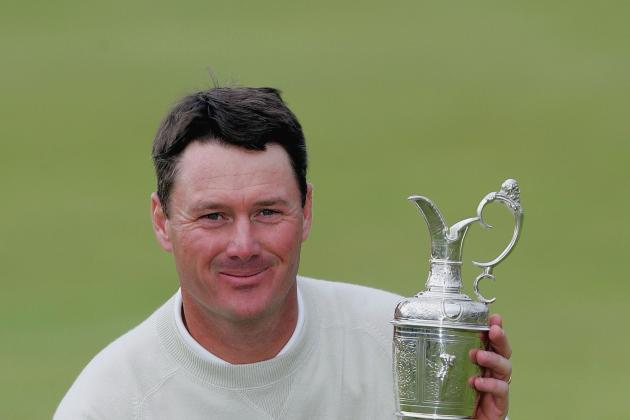 Stuart Franklin/Getty Images
Todd Hamilton holds the Claret Jug as the 2004 Champion Golfer of the Year
Todd Hamilton is the very definition of the journeyman professional. He has entered 223 PGA Tour events, only made 98 cuts and earned nearly $5.5 million over his 25-year career.
He has had to grind out a living with his golf clubs since he turned professional after graduation from the University of Oklahoma.
He played several years on the Japan Golf Tour. He won 11 titles in Japan and earned over ¥631,351,667.
In 2004, Hamilton beat Ernie Els to win the Open Championship at Troon and collect his biggest single paycheck.
He is a former major champion and is forced to toil at the PGA Tour Q-School to have any status for 2013.
With four rounds of 71-75-70-69, he is three under par and T-115. The current top 25 are at 12-under par or better.
Hamilton will need two rounds of 67 or better to even get close to the top 25.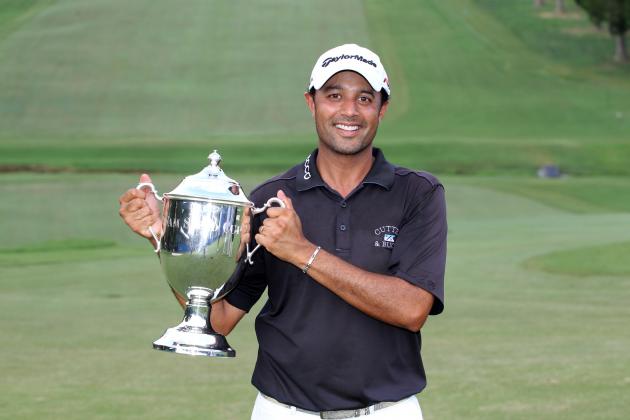 Hunter Martin/Getty Images
Arjun Atway won the 2010 Wyndham Championship
Arjun Atwal has won golf tournaments all over the world. He has seven wins on the Asian Tour, three European Tour wins and one win on the PGA Tour.
Over the past two years, he has played in 56 tour events and made 30 cuts but has only earned a little over $1 million.
He is yet another example of a very good professional player who is finding it nearly impossible to keep a spot on tour.
Atwal has posted four rounds of 74-64-70-76 and is T-109.
He will need two more low rounds in the 60s to move inside the top 25.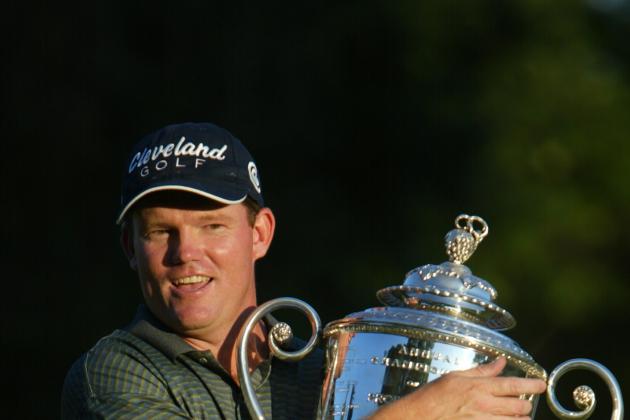 Jamie Squire/Getty Images
Shaun Micheel won the 2003 PGA Championship.
Shaun Micheel is another former major winner who is back in Q-School to earn playing privileges on the PGA Tour.
He has one win on tour, but it was a big one. He won the 2003 PGA Championship at Oak Hill in Rochester, New York.
He also nearly won a second major in 2006 when he battled Tiger Woods for 72 holes at Medinah Country Club in the PGA Championship. Tiger prevailed, and Micheel had to settle for runner-up.
In 18 years on tour, he has made 201 cuts and earned $9 million. He is forced to earn his spot on tour because he only made 12 of 27 cuts in 2011 and six of 12 cuts in 2012.
Major winner or not, that will not keep your spot on the PGA Tour.
His first four rounds at Q-School have him at four-under par and T-109.
It looks like sponsors, exemptions and the Web.com Tour for Micheel in 2013.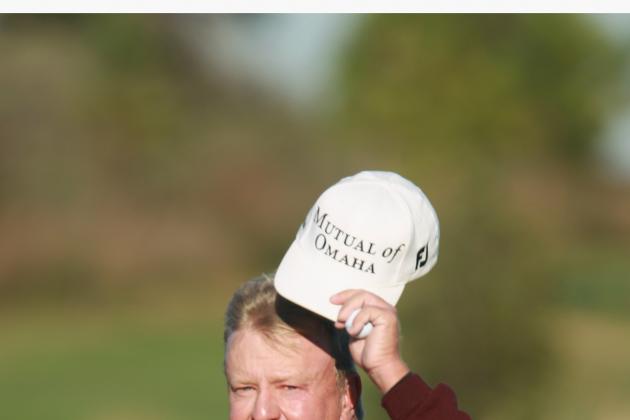 Scott Halleran/Getty Images
Billy Mayfair can still compete at age 46
Billy Mayfair turned professional in 1988. He has five wins on the PGA Tour but has not won since 1998.
He has the distinction of being the only golfer to beat Tiger Woods in a playoff on the PGA Tour when he won 1998 Nissan Open.
Billy had a bout with cancer in 2006 that set him on the bench for a time, but he has been able to rebound and compete at the highest level once again.
He had a decent year in on tour in 2012 with over $600,000 in earnings and finishing 119th on the money list. He is trying to improve his status for 2013.
He is at five-under par and T-97, and he has some catching up to do if he wants to make the top 25.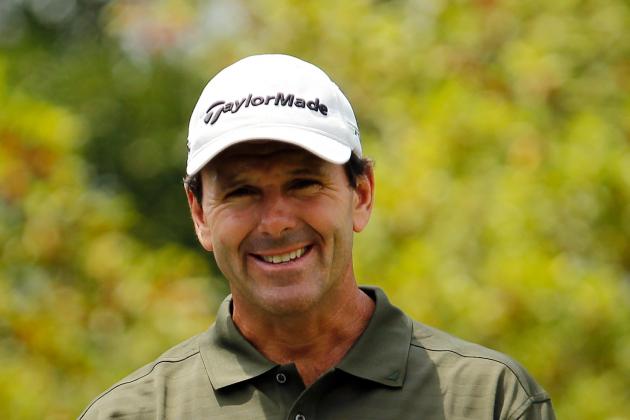 Streeter Lecka/Getty Images
Len Mattiace won twice on the PGA Tour
Len Mattiace is another of the long-time veterans fighting for a job at PGA Q-School.
He won twice in 2002 at the Nissan Open and the FedEx St. Jude Classic.
Mattiace just missed a major when he lost in the playoff to eventual winner Mike Weir in the 2003 Masters. He had shot a final round 64 to get into the playoff with Weir. Mattiace struggled on the first playoff hole, and Weir had only to make bogey to win the Green Jacket.
In addition to his two wins, Mattiace has a total of 23 top-10 finishes and has won nearly $7 million in career earnings.
He is currently at 10-under par and T-38 in Q-School, and he has a very real shot at working his way into the top 25 with two good rounds.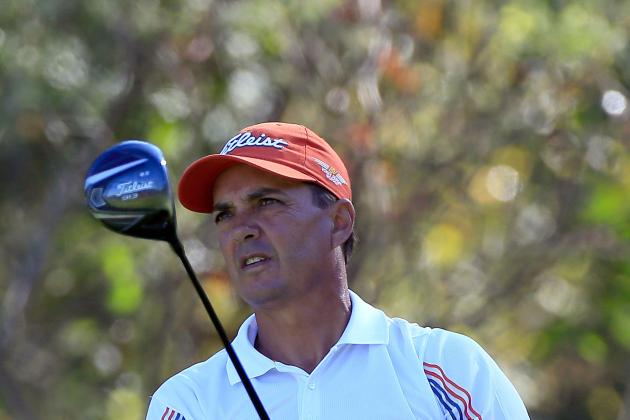 Sam Greenwood/Getty Images
Tom Pernice Jr. has won on the PGA and Champions Tours
Tom Pernice Jr. is 53 years old and turned professional in 1983.
He has two wins on the PGA Tour and also won the 2009 SAS Championship on the Champions Tour.
He has played in 588 events on tour and has made 317 cuts. In addition, he has 47 top 10s and has career earnings of $15 million.
He had two top-10 finishes in 2011 and one in 2012. He finished No. 163 in 2011 and No. 186 in 2012 on the FedEx Cup.
He shot an eight-under par 64 on Saturday to move him inside the number heading into the final two rounds.
Can a 53-year-old still compete with the kids on the PGA Tour?
Tom Pernice thinks so.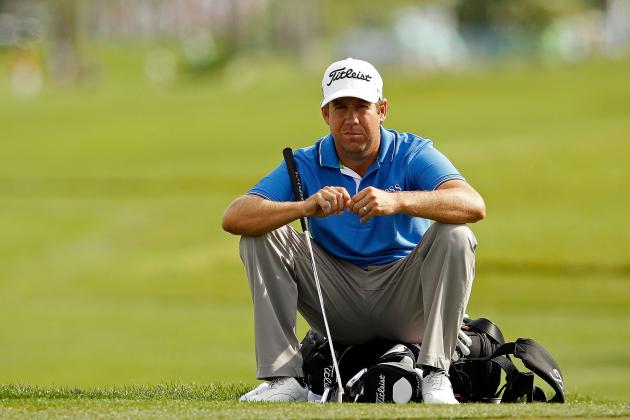 Mike Ehrmann/Getty Images
Erik Compton has had two heart transplants
Perhaps the most unbelievable story in Q-School is Erik Compton.
Diagnosed with a heart defect at age nine, he had his first heart transplant at age 12. In 2008, he was forced to undergo a second heart transplant.
He is unable to practice as much as he would like, and his endurance on hilly, long golf courses is a concern.
Compton earned his card by finishing the 2011 season No. 13 on the Web.com Tour.
In 2012, he missed nine cuts, only had one top 25 and finished No. 137 on the FedEx Cup Ranking.
Every day on the golf course is a bonus for Compton.
At 12-under par through four rounds, he is T-24 and in the hunt to retain his card for next year.
Will he have the endurance to make it through the last three rounds?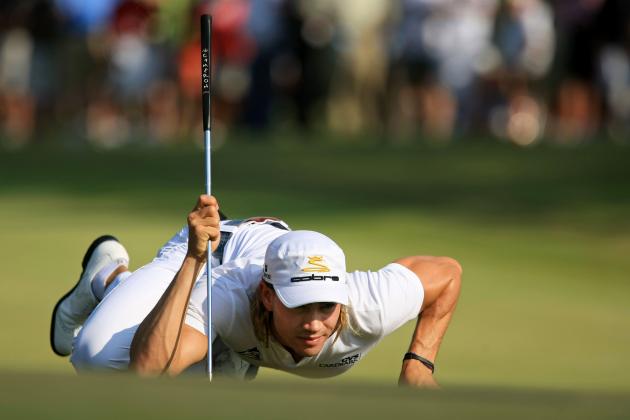 Scott Halleran/Getty Images
Camilo "Spiderman" Villegas is back in Q-School
Camilo Villegas has earned a trip back to PGA Q-School.
In 2011, he had five top-10 finishes in just 10 made cuts. He earned $1.2 million and finished No. 109 in the FedEx Cup Rankings.
2012 was a completely different story, however. He missed nine of 15 cuts, earned $491,000 and finished No. 148 in the FedEx Cup Points.
In 2008, Villegas won two events in the FedEx Cup Playoffs and finished the year with $4.4 million in earnings and No. 42 on the FedEx Cup.
He is one of the flashy young guys on the tour who has a large Latino following. He is best known for his spider-like crouch when reading a putt.
He is a workout fiend, and at only 5'9" and 160 pounds, he averages over 300 yards off the tee.
Villegas is currently at 13-under par in Q-School and is T-20.
Two solid rounds on Sunday and Monday will earn his card for 2013.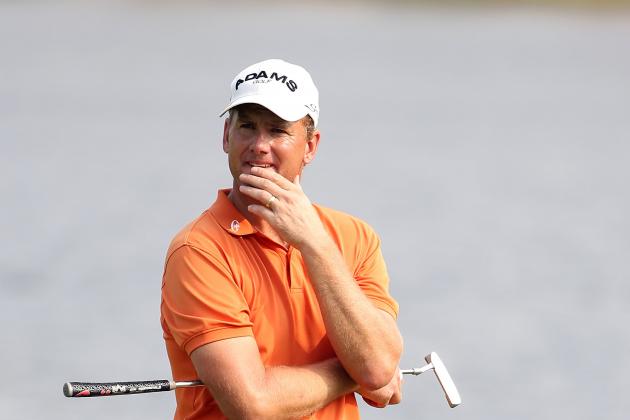 Ross Kinnaird/Getty Images
Robert Karlsson has 11 European Tour wins
Robert Karlsson is trying to stay on the PGA Tour.
He has 11 wins in Europe. He has been on two Ryder Cup and four Seve Trophy teams for the Europeans.
He had a solid year on the PGA Tour in 2011. With three top-10 finishes, he won $1.4 million and finished No. 45 in the FedEx Cup Rankings.
In 2012, he missed six cuts, earned less than $400,000 and finished No. 58 in the FedEx Cup.
He has taken residence in Florida and wants to keep playing in the U.S.
He was in second place at 17-under par after the third round on Friday, but an untidy 75 on Saturday moved him back to 14 under and all the way down to T-17.
The big Swede has his work cut out for him but is still in a good position heading into the final two rounds.