NY Knicks Stock Watch: Rising and Falling Players After the 1st Month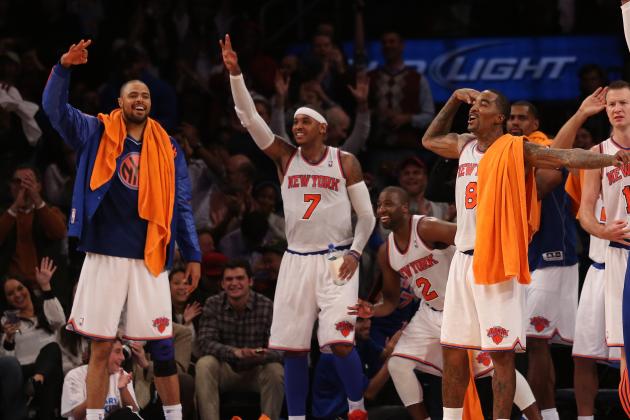 Nick Laham/Getty Images

In the stock exchange, some stocks take a fall, while others rise.
The same could be said about some NBA's player's performances, and in this article we're specifically looking at the New York Knicks.
The Knicks as a whole have improved drastically since last year, but there's certain players that aren't holding their own right now, and they count on the rising stocks to hold it together.
These are some of the rising and falling stocks of the New York Knicks.
Begin Slideshow

»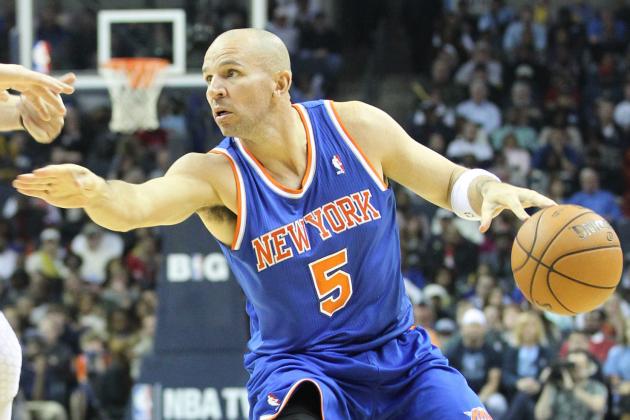 Nelson Chenault-US PRESSWIRE

Is Jason Kidd's nagging back injury a sign of what fans should expect in the near future?
The 39-year-old point guard has missed the Knicks last four game with back spasms, and until he returns, his stock is on the decline.
This season, Kidd has been the veteran guard that New York has desperately lacked in the last several years.
However, this injury is going to take its toll on Kidd and the Knicks simply because it's still early in the season and the truest tests have not been presented yet.
The Knicks have still been playing great basketball without Jason, but the more veteran leadership available to be played, the better.
I expect Kidd's numbers to drop as a result of coach Mike Woodson limiting Kidd's playing time.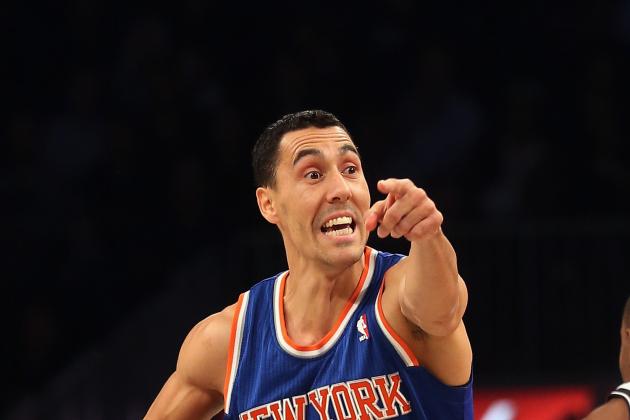 Bruce Bennett/Getty Images

Seeing a spike in minutes because of the Jason Kidd injury, Pablo Prigioni's stock is also rising.
Pablo has been filling in for Kidd, and he's been excelling at the role as the second unit's floor general, but that shouldn't be a surprise to anyone that watched him ball in Argentina.
Bleacher Report's Featured Columnist Ciaran Gowan points out just how much Prigioni has stepped up in Kidd's absence in his most recent article.
Evident from the article, Pablo has stepped up to the occasion of the vacancy at point guard.
This comes at a great time, too, as last night it was revealed that Raymond Felton has a contusion and bad bone bruise.
Pablo has shown that he can hang with the big boys and be just as valuable to the team.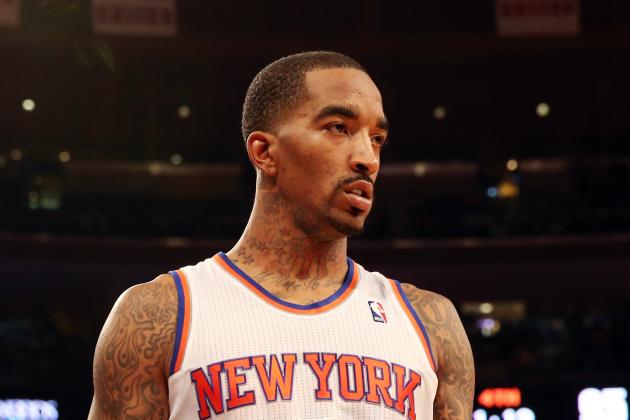 Anthony Gruppuso-US PRESSWIRE

J.R. Smith's stock has plummeted after what appeared to be a promising start.
Smith just hasn't wowed the fans with recent performances.
In three of his last four games, he's only broke double-digit scoring once—uncharacteristic of J.R., especially in the absence of a true No. 2 scorer on the Knicks.
In Sunday's game against the Phoenix Suns, Smith went 1-of-11 and only managed four points. His field-goal percentage was .091.
While J.R.'s never been known as an efficient shooter, these kinds of numbers just aren't acceptable, especially with the Brooklyn Nets on New York's heels.
The shooting guard is going to have to find his groove if New York is going to progress because Smith is a critical part of this team, and if he's playing bad, it reflects upon him and Coach Woodson, who has showed tremendous faith in No. 8.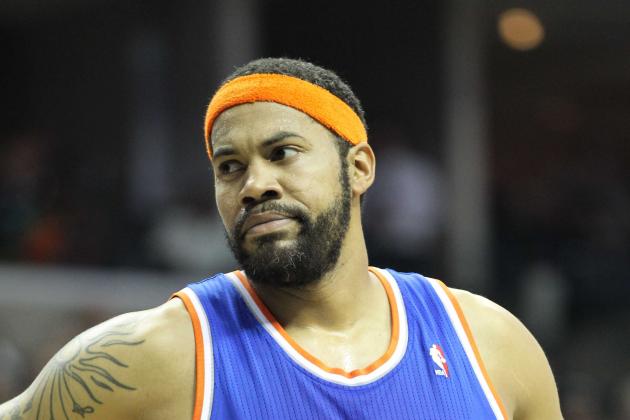 Nelson Chenault-US PRESSWIRE

After what looked like a rejuvenated ballplayer, Rasheed Wallace is seeing his stock numbers take a dive, especially after Sunday's ejection against the Phoenix Suns.
Wallace lacked the self-containment and screamed his infamous, "Ball don't lie." Moments later he was hit with his second technical foul and tossed from the game.
Oh yeah, and that was in just 85 seconds of being on the court.
Sheed has been on the decline performance-wise as well.
After going 3-5 against the Detroit Pistons, Wallace has struggled—in the three games before Sunday's against Phoenix, he was a combined 4-of-14 from the three-point arc, and if that doesn't concern you consider that in the loss to the Brooklyn Nets, he was 2-of-11 from the field.
I'm concerned with Sheed's poor shot selection as of late.
He's just chucking up three-pointers like he's Ray Allen, and it's hurting the team.
If Rasheed doesn't get his act together—performance and attitude—he might hurt the Knicks' chances of winning ballgames.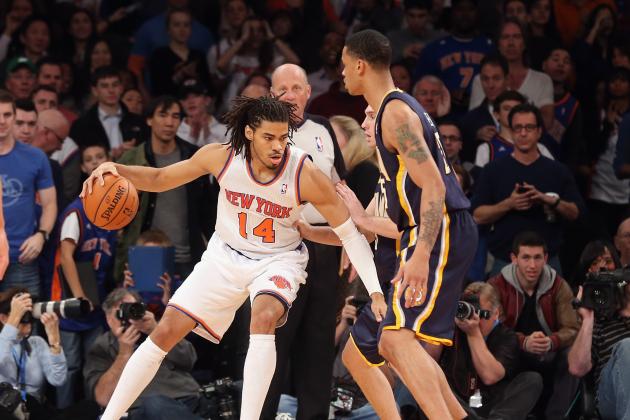 Bruce Bennett/Getty Images

Chris Copeland has seen an increase in playing time lately, and he's been putting on a show—you know the kind that the underdogs put on in boxing.
I think Copeland has the potential to make a difference on this team, especially considering Sheed's slight decline, Kurt Thomas's lack of talent and Coach Woodson's choosing not to play Marcus Camby much.
In the six minutes he's averaging of play time, he's putting up 3.6 points per game and with a 47 percent field-goal percentage.
The kid's displaying occasions of success, but he just needs more time to shine.
His stock is, however, increasing for the simple fact that he's getting more minutes, which shows that Woodson is preparing him for a slightly bigger role than 15th man.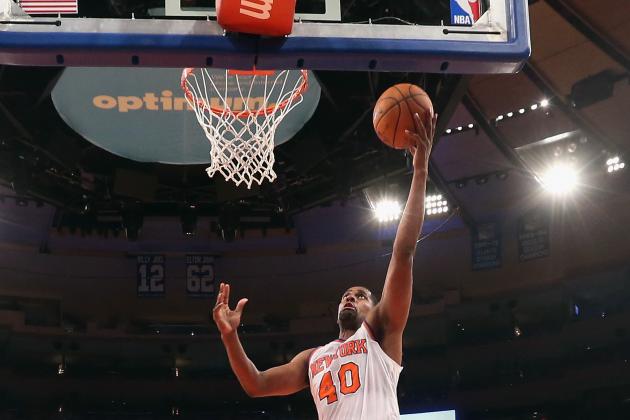 Bruce Bennett/Getty Images

Kurt Thomas wasn't expected to be much of a impact player on this team.
He was just brought in as a part of the Raymond Felton trade, and he'd be a bench filler called upon for limited minutes.
He's played in his minutes all right, but he hasn't been able to nail that sweet jump shot that he's been known to have.
In fact, his offensive game appears to be subpar to the Kurt Thomas we're accustomed to.
If you tuned in to New York's game Sunday against Phoenix, chances are you saw Thomas butcher a layup...with no one near him.
If you can't hit the 15-foot jumper that you're usually so good at, and you can't make a simple layup (that you practice in warm-up drills), then what exactly is your purpose?
This stock isn't just falling, it's plunging to the point of no return—it might be time to call it quits, Mr. Thomas.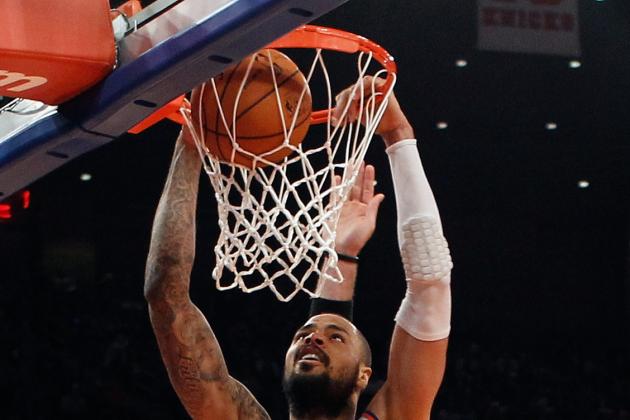 Bruce Bennett/Getty Images

The defensive anchor to this Knicks basketball team has been doing more than blocking shots lately.
Tyson Chandler has been getting it done on the offensive side of the ball, and that's something we're not really accustomed to.
In the loss to the Brooklyn Nets, Tyson exploded for 28 points and 10 rebounds. The next game he went for 17, followed by a 12-point outing against Washington.
Overall, Tyson's almost averaging a double-double—he averages 12.2 points per game and 8.9 rebounds per game in 2012.
With no real No. 2 scorer after Carmelo Anthony, it's important for every member of the team to chip in any way possible, and Chandler's doing just that!
If you missed that game against the Nets, don't worry—I'm sure he's saving a better performance for later on in the season.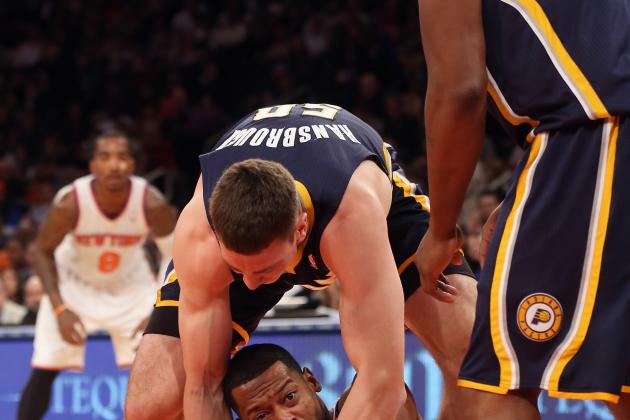 Bruce Bennett/Getty Images

Marcus Camby has been a major disappointment up till this point in the season.
The big man didn't play in Sunday's game because of a sore foot—the second injury of the season for him in 2012.
He hasn't seen much floor time, and the time that he has seen he hasn't impacted the team much.
He's averaging less than a point per game and 2.5 rebounds a game.
This can't be a player worth $13.2 million over three years, can it?
When the Knicks first announced they had signed Marcus, I was ecstatic because he filled the void New York had last year in the playoffs—a bona fide backup center to fill in when Tyson Chandler was off the court.
Now, I'm a tad bit upset that he hasn't lived up to the hype, and age can't be an excuse because Jason Kidd has been one of the most entertaining and energetic players to watch thus far.
The fans of New York are not known to keep opinions to themselves, so if Camby doesn't do something productive for this team, expect him to be the recipient of a heavy dose of criticism.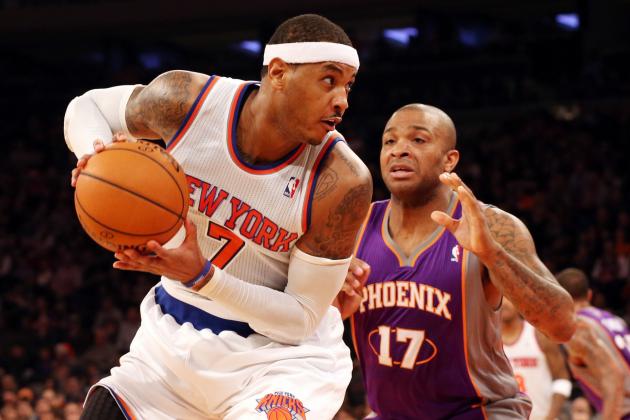 Anthony Gruppuso-US PRESSWIRE

Carmelo Anthony has been playing with a chip on his shoulder, and he's been silencing everyone that said he'd never win with New York.
Carmelo has been named NBA Player of the Week a few times already, and he's probably not done impressing just yet.
He's averaging 26.6 points per game and 6.9 rebounds per game—both higher than his career averages.
We all knew the kind of offensive player Anthony was, but the shocker is Melo on the defensive side of the ball.
He's hustling on just about every play, and on a few occasions he's risked his body by jumping near outbounds and into the seats.
Carmelo Anthony is not only looking like the player New York had hoped for in that February 2011 trade, but he's appearing to be a complete player—something we haven't really been able to say about the five-time All-Star.
Because of this, Anthony's stock is on the incline, and he might reach his peak as he leads New York to a championship.