NY Rangers: 5 Players You Need to Know from the Connecticut Whale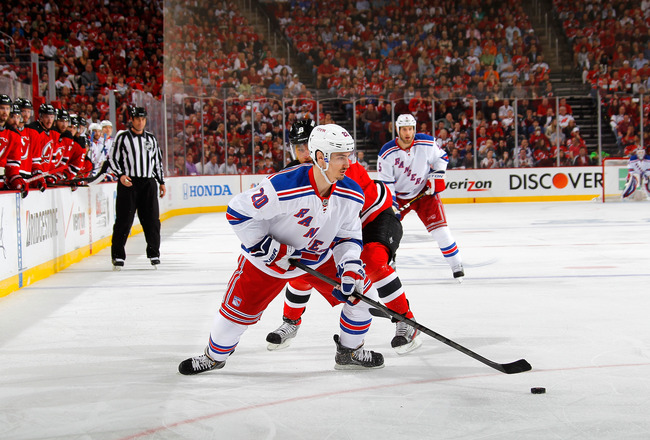 Bruce Bennett/Getty Images
While the NHL is trying to figure out when it will resume playing, the AHL is alive and buzzing. Many fans are turning to their team's minor league affiliate for hockey action.
This is no different for fans of the New York Rangers. The Connecticut Whale have some good, young talent, some of whom will be wearing Ranger blue in the years to come.
Which players should you keep your eye on, and which players do you need to know about?
Read on to find out.
Chris Kreider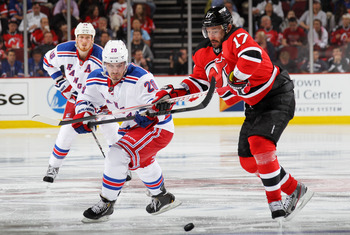 Bruce Bennett/Getty Images
Chris Kreider is the Rangers star prospect. After a dazzling introduction to the NHL during the playoffs, Kreider is now playing with the Whale during the lockout. How's he doing?
Not terrible but certainly not setting the world on fire. Through 17 games, Kreider has four goals and six assists. To put it in context, Kreider had seven points in 18 playoff games.
Now, if Kreider had seven points in 18 playoff games, in some of the most hard-fought, intense hockey in the world, then it would be logical to think that Kreider would dominate the AHL—so why isn't he?
Well it's tough to say, but the main thing is to not panic. It's been 17 games and he has more points in that span than he did during the playoffs. In addition, the AHL is a much improved league from last season, with plenty of marquee names biding their time during the lockout.
Furthermore, teams are going to focus all their energy on defending him. While that was the case at Boston College, the players in the AHL are much better than they were in college. So Kreider has to adjust to that, and it's something he didn't face during the playoffs.
If Kreider hits a slump and doesn't hit double digits in goals through the course of the season, then it might be time to panic.
But for now, let's all take a deep breath. Kreider's playoff performance is a much better indication of his skills than 17 games in the minors.
Read Alex Davidow's column for a more in-depth look into Kreider's performance with the Whale. Not to get you in a even more panicky state, but Kreider did get hurt in Sunday's game:
Just told that Chris Kreider, who left last night's AHL Whale game with an upper-body injury, has a sprained neck, not deemed serious.
— Steve Zipay (@stevezipay) December 3, 2012
At least it's not serious. Essentially, I believe that Kreider will break out soon and in a big way. He's a star in the making.
Kyle Jean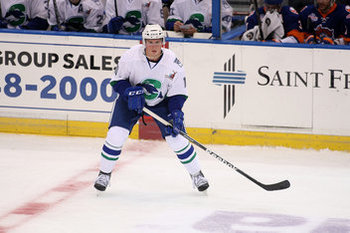 Source: Blueshirtbanter.com
Kyle Jean is a big center who has put up points this season. Through 18 games, Jean has five goals and eight assists.
The 6'4" center is playing in his first pro season after spending time at Lake Superior State. He's strong on the puck but has more speed than his size would suggest.
He was undrafted out of college and never put up big numbers in college. But it is possible he's a late bloomer—his performance so far would certainly suggest that. Additionally, the AHL has more talent this year due to the lockout, so his performance is even more impressive.
Jean has the potential to be a player in the Artem Anisimov mold—big, strong, with speed who can play solidly on both ends of the ice. He has third-line ability, as well as to become a good penalty killer.
Jean probably has more development to do, so don't look for him in a Rangers uniform this season. However, assuming this isn't just a fluke year, Jean could find himself competing for time as a bottom-six forward in the years to come.
Logan Pyett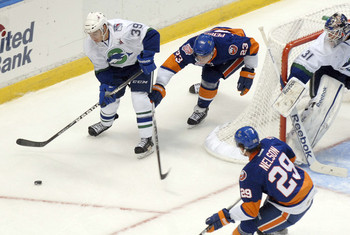 Richard Messina/Hartford Courant
Logan Pyett has consistently put up good numbers in the minors, and this year is no different. Through 18 games, he's scored two goals and added nine assists from the blueline.
Pyett has always had an ability to put up points. Last season, playing with the Red Wings' minor league affiliate, he had 25 assists. In juniors, he had as many as 48 assists.
Pyett is 24 years old and was a seventh-round pick of the Red Wings in 2006. He's 5'11" and only 177 pounds. The odds are against him becoming a star.
But he has shown ability to set teammates up, and that is something that shouldn't go unnoticed. A player that he is comparable to is Marc-Andre Bergeron. Pyett's minor league numbers are similar to Bergeron's. Bergeron has carved out a niche as a power-play specialist, who is not going to play good defense. But he can lead the rush, make great passes and be an excellent addition to any power play.
Pyett might be an option if the power play struggles with the big club, as a seventh defenseman who can also play forward and provide points on the power play.
Matt Gilroy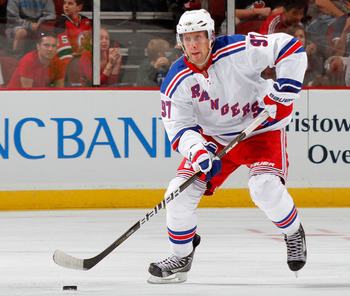 Paul Bereswill/Getty Images
Matt Gilroy never developed into the player the Rangers thought they were getting when they signed the Hobey Baker winner out of college.
After stints with the Tampa Bay Lightning and Ottawa Senators, Gilroy has found his way back into the organization with the Connecticut Whale.
Through 17 games, Gilroy has put up six goals and six assists, while playing solid defense.
It remains to be seen if the Rangers have him in their long-term plans. But Gilroy has matured as a player and provides an offensive threat from the blueline. He can also play the point on the power play.
Gilroy would compete with Steve Eminger and Stu Bickel for the sixth defenseman spot. Gilroy could provide tough competition. If he doesn't make the team, he would be the first injury call-up.
He is playing solidly in Connecticut and the odds are good that he could continue that play into the NHL.
Ryan Bourque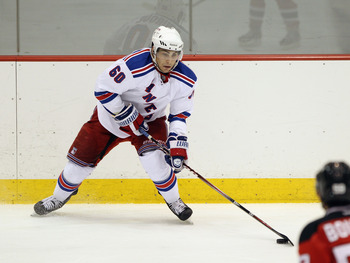 Bruce Bennett/Getty Images
Ryan Bourque is the son of hockey Hall-of-Famer Ray Bourque and is off to a nice start in Connecticut. Through 14 games, Bourque has four goals and four assists.
Last year was his first professional season, and he had up-and-downs, scoring six goals and adding eight assists in 69 games.
Bourque is small, at only 5'9" but is fast and energetic. He had a good training camp last year and has an outside shot to make the roster.
If anything, he's a candidate for a mid-season injury call-up and could be a regular by 2013.
Keep Reading

New York Rangers: Like this team?