Arsenal vs. Swansea: 6 Things We Learned from Swans' Stunning 2-0 Win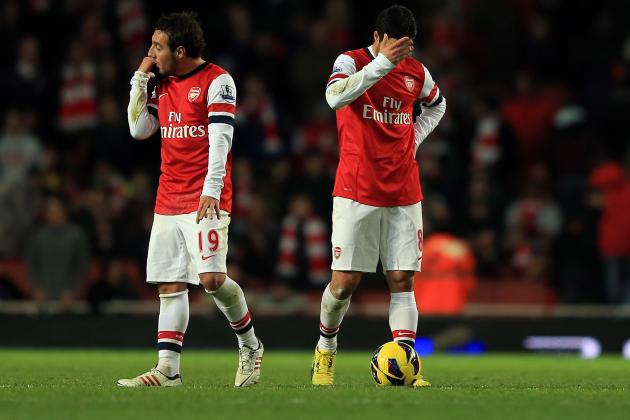 Richard Heathcote/Getty Images

In front of their own fans, Arsenal lost a humiliating match to Swansea that sends them down to 10th place in the Premier League.
Swansea started much brighter than Arsenal. The Gunners struggled to keep up with their efficient passing attack and fluid movement, giving all the best chances of the first half to the Swans.
After both teams came out for the second period, Arsenal started out much better and more threateningly. A period of sustained possession led to the Gunners' best spell of the match, during which decent chances came more frequently than any other.
In the end, though, Swansea were clearly the better team, and the result reflected that. The two Arsenal mistakes that led to the humiliating 2-0 scoreline provided for a just result.
The way to make the best of a result like this is to learn something from it. Let's look at six things we learned from this defeat.
Begin Slideshow

»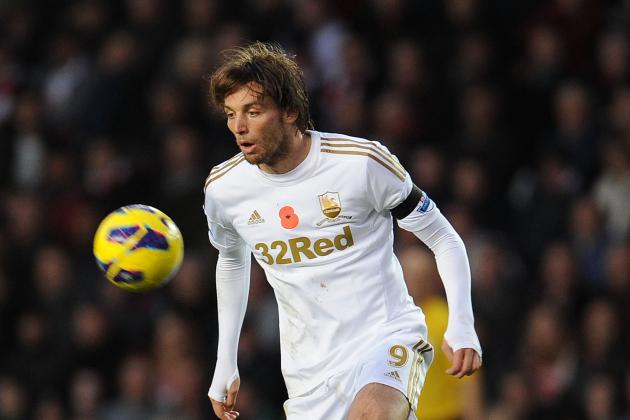 Tom Dulat/Getty Images

As one writer said in his pre-match notes, Michu was a player for Arsenal to watch out for. His physically dominating performances throughout the season produced eight goals before his trip to North London.
He leaves with 10.
A huge part of Swansea's pressing game all day, Michu worked extremely hard and was threatening throughout. He had already earned commendation for a top-class performance when he won and then sealed the game.
Outstanding instincts and movement allowed him to latch onto Luke Moore's through-ball and then pounce when Carl Jenkinson turned the ball over. And each time he finished with the clinical calmness that Arsenal lacked all game.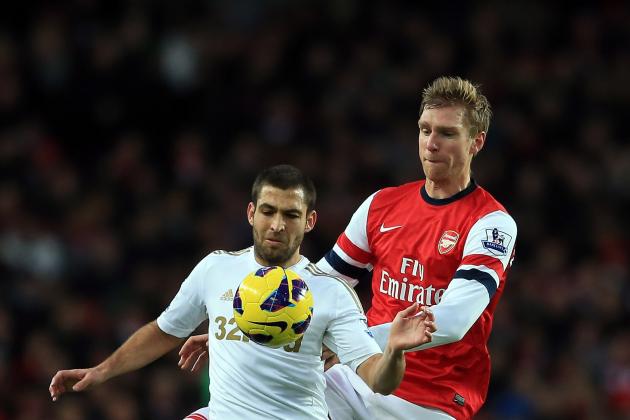 Richard Heathcote/Getty Images

When Arsene Wenger sends his team out on the pitch, he expects quick passing, fluid movement and the work ethic to press the ball in all areas of the pitch.
Just as they had in January, the last time these two teams had met, Swansea showed that they can play that sort of football better than the team coached by the man who preaches it.
Amazingly and disappointingly, Arsenal looked much more like the sides they criticize than the one they hope to be. Plodding, unimaginative, inefficient and slow, their passes never produced a genuinely threatening goal-scoring chance.
Swansea, meanwhile, worked hard all game and zipped their way around and through the Gunners.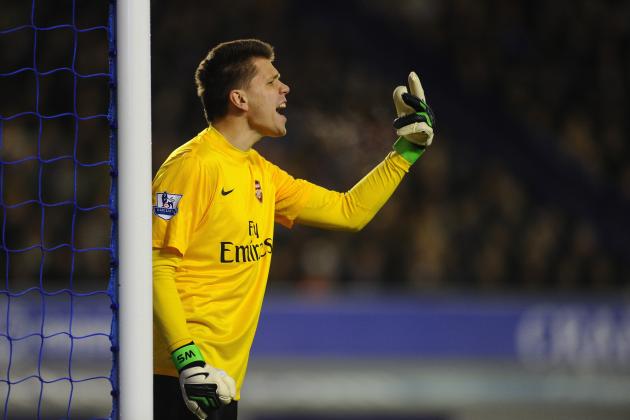 Laurence Griffiths/Getty Images

A 2-0 scoreline is embarrassing enough, but things could have been a whole lot worse for Arsenal if Wojciech Szczesny didn't have a fantastic day.
Repeatedly, he denied Swansea when they easily could have scored.
An early double-save of Angel Rangel's two stinging shots comes to mind, as do numerous stinging stops throughout the match. Szczesny was a dominating force, except for two moments in which he was rather helpless.
If not for Szczesny's authoritative display between the posts, Arsenal could easily have conceded a few more goals than they did.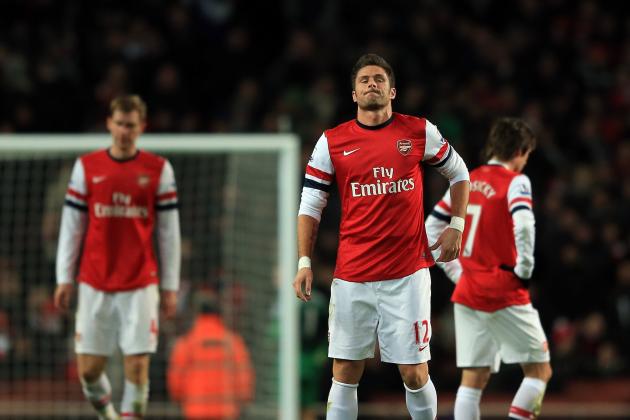 Richard Heathcote/Getty Images

There is no way to know for sure—even Arsene Wenger can't be 100 percent certain—but it certainly seems as if fatigue played a major role in Arsenal's capitulation.
With all the obvious quality in the team that Wenger played, there can hardly be any other reason for such a tepid performance.
The players have gone through a hellish stretch of games recently, with one high-intensity fixture coming right after another. If there was some depth in the team that allowed Wenger to rotate, that would greatly help the team's top players.
But, alas, the squad is thin and Wenger has had to play his best players in every single match. And it showed.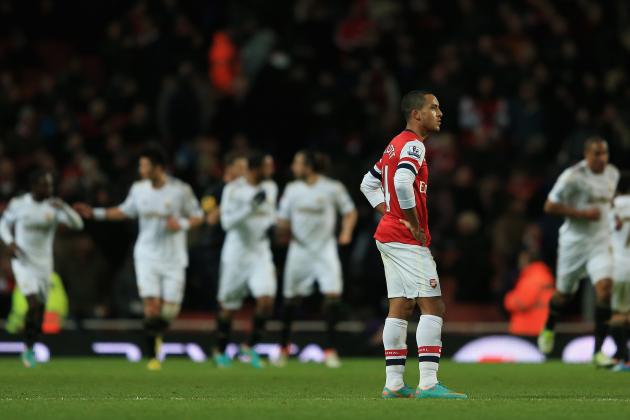 Richard Heathcote/Getty Images

Perhaps the most humiliating result of Arsenal's defeat to Swansea is that the Gunners have sunk below the teams they love to criticize.
The Emirates Stadium hosts a 10th-place club at the moment. There's no way around that; the points are the points.
That means that Arsenal is below such swashbuckling sides as West Ham and Stoke City.
In December.
It's nearly impossible at this point to convince the footballing world and, indeed, the club's own fans that Arsenal is the big club that they claim to be. Unless Arsene Wenger's talk of talent and potential is backed up with any results, Arsenal is nothing more than a mid-table team.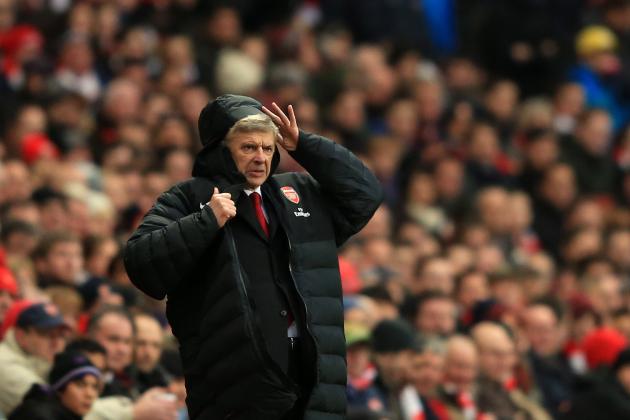 Richard Heathcote/Getty Images

Of all the things we learned from Swansea's victory, this is the most worrying.
Arsenal's players were visibly fatigued throughout the match, but they could have played with more vigor if they truly believed in their cause or how they were fighting.
We know this because the team was slightly less tepid to start the second half, playing much more directly and energetically. But, eventually, they lapsed into their prior malaise.
In modern sports, with all the money that flows from every direction, it is extremely important to have players committed to their manager.
Arsenal certainly has the quality to play better than they are. When they have clicked this season—against Tottenham, for instance—the results have been lovely to watch.
But the stale style that Wenger has trumpeted for years has repeatedly failed to produce results. That, understandably, is beginning to wear on the players. When they begin lose faith, it is difficult for fans not to.