MLB's Legion of Doom: Cooperstown Should Accept Clemens, Bonds and Sosa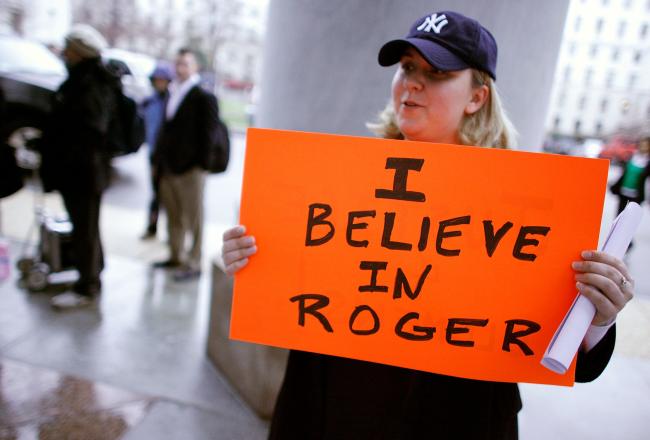 Chip Somodevilla/Getty Images
I am huge fan of the Legion of Doom.
The guys that never stopped, with the sordid ideals to steal, ravage and destroy in the name of power. Bizarro and Lex Luther haunted the dreams of Superman and his Hall of Heroes in my favorite childhood cartoon.
Each week, Aquaman and Wonder Woman would triumph, but that never stopped the anti-heroes from coming back. It was their fierce determination to be the masters of their own fate and achieve ultimate dominance.
Major League Baseball will soon have to create their own Legion of Doom Hall.
Will steroids keep Sosa, Clemens and Bonds out of Baseball's Hall of Fame? This year will see some of the best baseball players being rejected from Cooperstown, and that is a travesty of justice.
It is a foregone conclusion that come January, The Hall of Fame will become more inaccurate in recording our pastime and farther removed from being the inclusive and true representation of the game when these three are denied entrance.
When I went to visit the bucolic setting of the Hall of Fame, I was amazed to see how many records Pete Rose still held after 20 years of retirement.
I still clamor that Pete Rose should be part of the game's history, regardless of the shame associated with his name. He was the face of baseball and the iconic image of a man who never grew up so that he could live and play his dream.
In rejecting a player of his caliber, the Hall of Fame seemed petty and incomplete during my visit.
In the era of steroids, the time has come for the Hall of Fame to decide if they are baseball's history keepers or revisionists.
We cannot deny the Hall of Fame presence to Barry Bonds. He was the most feared hitter in baseball for ten years. He was intentionally walked at every opportunity and yet still managed to hit 50 home runs or more a year.
In the same vein, Roger Clemens was the most feared strikeout pitcher who performed his best in the most pressure packed games. He dominated the strike zone in a way that even Nolan Ryan could not.
These two players deserve to be in the Hall of Fame, regardless of their alleged drug use. They represent a chapter of baseball that must be told, even if it is not to celebrate their accomplishments. I want my kids to know these two players from my youth like my Dad told me stories of Bob Gibson, Don Drysdale and Richie Ashburn.
If they leave Clemens and Bonds out, the Hall of Fame becomes a Disney retelling of a men's game that has as many glorious moments as it does pain, shame, and frustration. We will never be able to face the steroid era of baseball unless we are able to face its realities and the players.
The year of the Sammy Sosa and Mark McGwire home run contest was the greatest year for baseball excitement in my life.
The story needs to be told. Just like the storied careers of Barry Bonds and Roger Clemens. No amount of fake justice and bitter resentment should change the history, as the Hall of Fame tries to whiteout the unsavory parts of the game.
If they do, then I will be the first in line for the new Baseball Museum featuring the Legion of Doom, players who stopped at nothing to reach the zeniths of their talent and success in the game.
I guess I still do have a soft spot for the bad guys.
This article is
What is the duplicate article?
Why is this article offensive?
Where is this article plagiarized from?
Why is this article poorly edited?