One Bold Prediction for Each of the Toronto Blue Jays' Superstars in 2013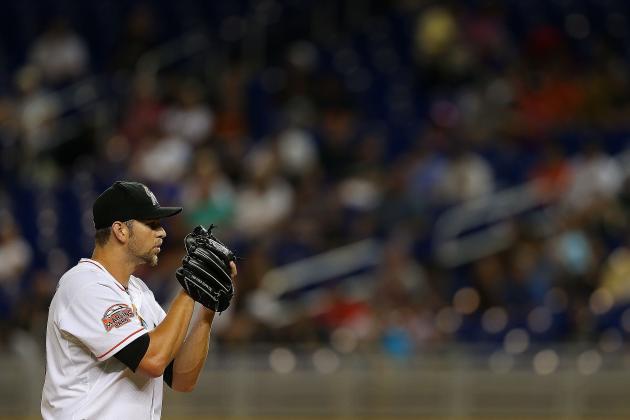 It's a fun time to be a Toronto Blue Jays fan.
For the first time in over a decade, the franchise seems to be willing to take some chances, spend some money, and compete with the blue-chippers of the American League. Within the span of a few weeks, GM Alex Anthopoulos has satisfied their need at starting pitcher, left-field, and shored up their bullpen.
And all of a sudden, they're the most talked-about team in MLB.
That's what making a historic 12-player, superstar trade will do for a franchise. After owning the Twitter-sphere by making that massive deal with the Marlins, the Jays have dominated headlines, signing Melky Cabrera, and then adding John Gibbons as a sub-plot to the John Farrell saga.
Adding Josh Johnson, Mark Buehrle and Jose Reyes significantly increased the superstar quotient of the Blue Jays roster. Those three players combined with Jose Bautista, Edwin Encarnacion and Brandon Morrow make writing an article about the Jays' superstars a much longer read.
Here are some predictions for how the Jays superstars, new and old, will perform in 2013.
Begin Slideshow

»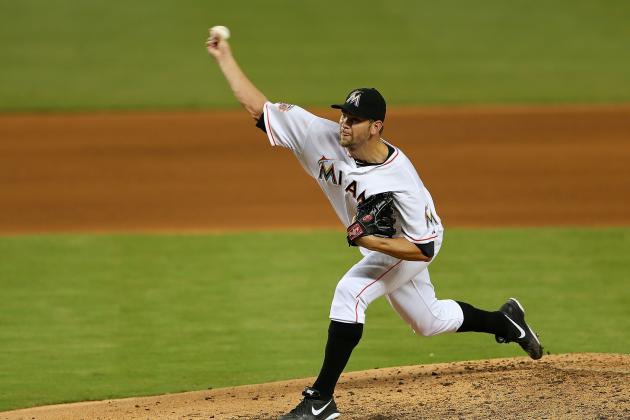 Mike Ehrmann/Getty Images

What Anthopoulos has done to improve the Jays' starting pitching is the most exciting part of the 2012 off-season so far.
While last season began with the Jays having only four real, full-time starters and ended with a bloated disabled list and several Tommy John surgeries, Toronto now has a few legitimate Cy Young prospects.
Going into 2012, Brandon Morrow and Ricky Romero were contenders for the award but are in a slightly lesser tier than the Justin Verlanders and David Prices of the world. Morrow pitched beautifully at times but lost several starts due to a strained oblique while Romero had one of the more disappointing, confusing seasons from a Jays pitcher in recent memory.
Morrow still has the potential to win the Cy Young but Josh Johnson seems like the more likely candidate from the Blue Jays rotation.
Johnson had a less-than-encouraging 2012 as he won only eight of 31 starts and saw his ERA grow from a 2.98 career mark to a 3.81. Most of this decline in performance can be attributed to Johnson's rise in walk rate and also a slight bump in batting-average-on-balls-in-play.
There are few in baseball who deny Johnson's talent. He has ace material and has shown in several years with Miami/Florida, that he can carry a staff.
The biggest argument against Johnson's potential to win the 2013 AL Cy Young is that he's moving from the NL East to the AL East. Detractors will be quick to point out that Johnson will have to throw against teams like the Yankees, Red Sox, Tigers, and Angels much more often.
However, in 17 inter-league starts, Johnson has an 8-3 record and a 2.95 ERA with a complete game. It seems he's quite comfortable pitching against the American League, and the AL East in particular. In 12 AL East starts, Johnson has lost just once.
Any ideas that Johnson will struggle under the pressure of the AL East seems unlikely. It's simply a matter of him making the most of his talent.
He'll certainly have more than the 2.9 run support per 9 innings he received in 2012.
Predicted Stat-Line: 32 GP, 19-6, 3.29 ERA, 207 IP
Greg Fiume/Getty Images

Jose Bautista's 2012 did a very good job of representing the entire Blue Jays franchise.
There were moments of brilliance, moments of struggle, and inevitably, both Bautista and the Jays were done in by injury. After winning the AL's Player of the Month award in June, Bautista went down with "wrist inflammation" on July 17th and was officially shut down for wrist surgery on August 28th.
Early in 2012, many observers noticed Bautista's struggles with his swing and plate approach but his numbers from June and July were right around where they should be: .271 average, 15 HR, 33 RBI, .398 OBP and a 1.048 OPS.
While Bautista has the talent to be the player he was in 2011, it's unreasonable to expect a .300/45/140 line from him. He'll recover from his wrist surgery, hit for power as he always does, but post around a .275 average.
If Bautista can post strong power numbers with an OBP hovering around .400, then there's no reason to think he won't be the most valuable hitter in the Jays lineup. He'll have plenty more opportunities to generate runs. He has Jose Reyes and Melky Cabrera hitting in front of him and Edwin Encarnacion hitting behind him, creating easily the most supportive group of batters he's ever had.
Expect Bautista to be somewhere near the top of the Majors in home runs, RBI, and OPS. He's got too much talent and too much talent around him.
Projected Stat-Line: 152 GP, .271 AVG / 41 HR / 133 RBI / .996 OPS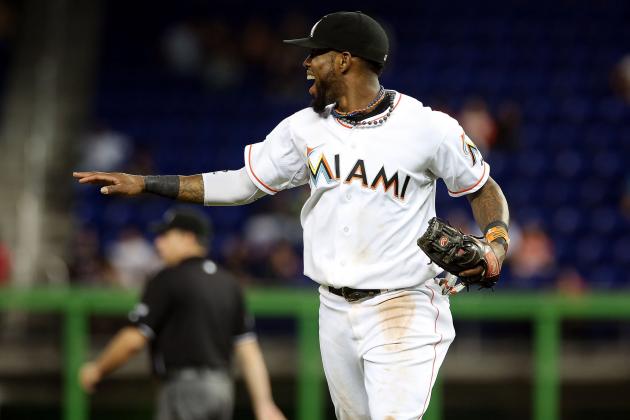 Marc Serota/Getty Images

It's hard to gauge how Jays fans expect their new starting shortstop, Jose Reyes, to perform in 2013.
There are some who point to his status as one of the best all-around players in the game in the mid-2000s and expect him to lead the Jays offense. There are others who are more reasonable in their expectations.
Reyes had a phenomenal 2011 which allowed him to leverage his numbers into a six-year, $106 million contract from Miami. He had a solid 2012 campaign but came nowhere close to repeating the .337 average and .384 OBP from the year before.
If Jays fans expect Reyes to be the player he was from 2005 to 2007 when he stole 202 bases in three seasons, they will be underwhelmed.
However, that's not to say Reyes won't be productive. The only reason "underwhelming" seems like the appropriate word to describe this writer's expectations of Reyes is that he'll simply be an above-average run-producer rather than a superstar.
Let's compare Reyes' career numbers with Yunel Escobar's, whom Jays fans will likely forget very quickly.
Reyes Career Slash-Line: .291/.342/.440
Escobar Career Slash-Line: .282/.353/.390
Clearly the two players are at least somewhat comparable. While Reyes is a much better base-stealer and power hitter, Escobar has a slightly higher career OBP. Jays fans should expect an upgrade at shortstop, but not a hugely significant one.
Predicted Stat-Line: .285 AVG / .350 OBP / 43 SB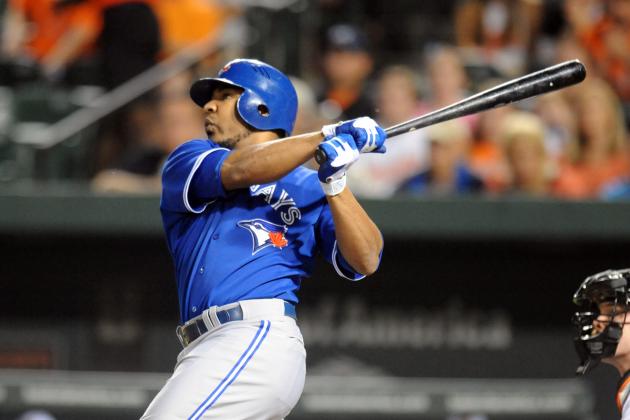 Mitchell Layton/Getty Images

If this article was written before last season, most would laugh in considering Edwin Encarnacion a "superstar".
While Encarnacion had put together two fairly productive seasons in 2010 and 2011, 2012 was a coming-out party almost equivalent to Jose Bautista's 2010 season. Encarnacion's career-high in home runs almost doubled from 26 to 42, and the veteran infielder posted career highs in every important offensive category.
So Encarnacion had a phenomenal season last year. But what Jays fans really want to know is will it happen again? Is EE the real deal?
First, let's assume the Jays lineup will be much improved over last season. Adding Reyes, Cabrera, and a healthy Bautista will provide Encarnacion with both protection and run-producing opportunities. Also, with Bautista hitting either in front or behind Encarnacion, one would expect his already strong walk rate to increase.
Quite simply, Encarnacion will have more chances to hit better pitches with more men on base. He puts the ball in play almost 70% of the time, so it's just a matter of math to realize Encarnacion's potential in 2013.
But perhaps the most telling stat regarding Encarnacion's 2012 season is the fact that he set all these career-highs with a significant drop in his batting-average-on-balls-in-play. If you trust statistical trends, then its very reasonable to expect Edwin Encarnacion to increase his .280 batting average and improve on his impressive 2012.
Projected Stat-Line: .292 AVG / 44 HR / 125 RBI / 1.025 OPS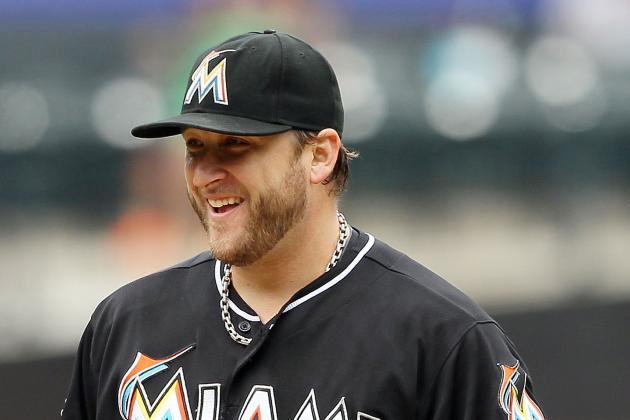 Alex Trautwig/Getty Images

In a search for "picture of consistency", somehow Mark Buehrle came up.
Avoiding cliches, a look at Buehrle's career numbers shows a remarkable dependability. In 12 full seasons as a Major League starting pitcher, Buehrle has thrown a staggering 2627.2 innings. In an era of Tommy John's, tendinitis, rotator cuffs, and every other shoulder or elbow injury known to man, Buehrle has been untouched.
For whatever reason, he's been able to start over 30 games in every year of his career. It's actually quite unbelievable that Buehrle hasn't received more credit for being so consistent. Those types of numbers simply don't happen anymore.
Yes, despite his spectacular years in 2004 and 2005, Buerhle hasn't exactly been an "ace", posting above average ERAs and WHIPs.
But Jays fans, and any baseball fan for that matter, will take a consistent above-average starter. That's why Buehrle cashed in last off-season, and that's why he should be considered as one of the best pitchers of the last decade.
Projected Stat-Line: 209.2 IP / 16-10 / 3.76 ERA