Steelers vs. Ravens: 10 Keys to the Game for Pittsburgh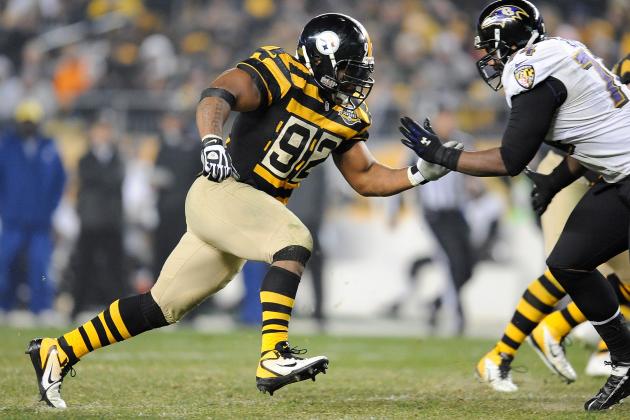 The Pittsburgh Steelers (6-5) will head to Baltimore to face the Ravens (9-2) in a contest that will decide if the Steelers have any remaining chance to win the AFC North. A victory pulls them closer to their archrivals. A loss would seal their fate as, at best, a wild-card entry.
Here are 10 keys to the game for a Pittsburgh victory.
Begin Slideshow

»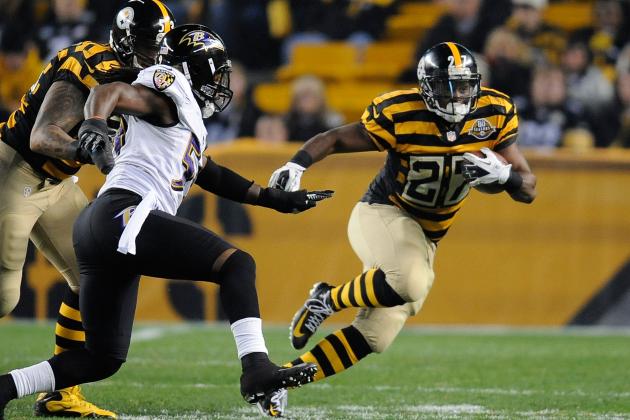 Early this week, Mike Tomlin named Jonathan Dwyer the starting running back for Pittsburgh. This was a long-overdue step for the team. Rashard Mendenhall was not getting the job done. Dwyer has been the best back overall this season.
For Mike Tomlin, however, the job will be to stick with his starter regardless of how the game unfolds. In Cleveland last week, the Steelers rotated their running backs continuously because it seemed none of them could hold on to the football in the chilly atmosphere.
That simply cannot happen again. It robbed the Steelers of any chance of getting into an offensive groove. As a result, the team committed eight turnovers and fell apart offensively.
Regardless of who is under center this week, that person needs to be handing the ball to Dwyer on 80 percent or more of the team's running plays.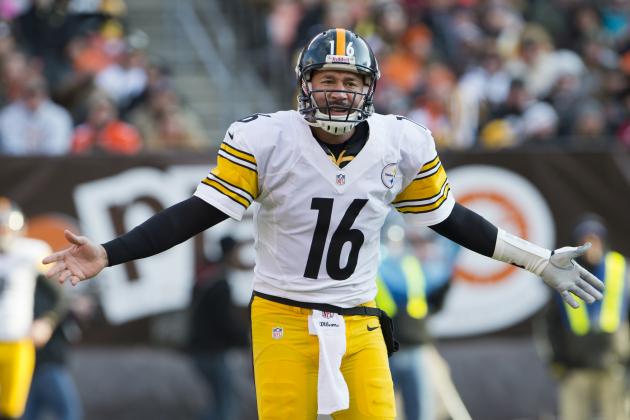 This goes without saying. The Pittsburgh Steelers have the worst turnover margin (-10) of any team with a winning record. That's not a recipe for a trip to the playoffs.
It is a recipe for finishing 7-9 or 8-8, instead of 11-5 or 10-6.
Last week's eight turnovers, the most by an NFL team since 2001, were a mirage. That won't happen again this week. But two weeks ago against the Ravens, a Byron Leftwich interception killed off a promising drive for Pittsburgh early in the second half. A field goal or touchdown on that drive changes the entire complexion of a tight contest.
Pittsburgh needed it to win. A single turnover doomed them.
This time around, the Steelers will need to protect the football. Charlie Batch, who is expected to start at least one more game, can't throw three interceptions. The running backs can't fumble away five balls.
To be perfectly clear, even one or two turnovers will be unacceptable in a game that will have points at a premium, and be close all the way through.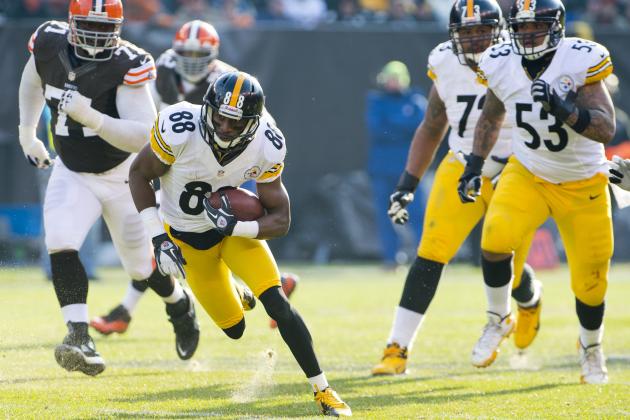 Ben Roethlisberger's injury inaugurated an unbelievable era of ineptitude for this offense. In the last two games, the Pittsburgh offense has gone from being a winning unit to the reason for two consecutive losses.
The Steelers had gone 46 games without losing consecutive contests.
Part of the problem lies with Todd Haley's play-calling. It has been terrible. Against the Kansas City Chiefs just after Roethlisberger's exit, he went with an ultra-conservative running offense that hardly ever passed the football. The Steelers barely squeaked by a team with only one victory.
The following week, Haley's offense became schizophrenic with some deep pass attempts, a lot of running and no real identity or rhythm. The Steelers were stagnant at best and lost a close game.
In Cleveland, the Steelers seemed to be attempting to revert back to what they'd done with Roethlisberger. Haley called more short and medium passes, and mixed in the run and play action. The quarterback couldn't get it done and turnovers doomed them. They lost a stunner.
It's time for Haley to get creative. Regardless of quarterback, the Baltimore Ravens have a good handle on what Pittsburgh likes to do with the football. Give them something unexpected like a reverse with a pass by a receiver, and they will be caught completely off guard.
Or how about the long-lost flea flicker? Certainly one of the running backs is adept enough to toss the ball back to the quarterback and allow him to hit a wide-open Antonio Brown, Plaxico Burress or Emmanuel Sanders deep down the field.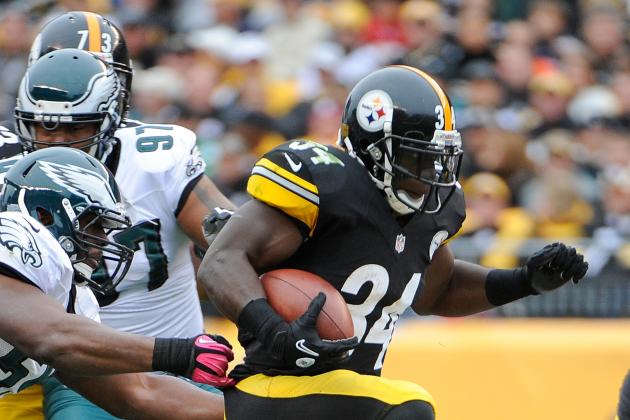 It is not a big secret that the Baltimore Ravens have a ton of problems stopping an opponent's rushing attack. The Steelers failed to fully exploit this in their first game. They absolutely must do so this time.
Pittsburgh has four healthy running backs. All of them have different abilities.
I did like how Todd Haley called for a deep pass attempt to open the game two weeks back. It backed off the Ravens defense and opened up the running lanes. Had the pass been completed, the Steelers would have scored quickly. Instead, they were able to get a great drive together. The end result was unchanged.
While Charlie Batch doesn't have the strongest arm, the Steelers must once again open with a pass play. A play-action fake moving to a medium-deep pass to the returning Antonio Brown is the perfect recipe. Complete or not, it will keep the Ravens from committing everything to the run defense.
After that, a strong dose of bulldozer Jonathan Dwyer will start to wear them down and bring them back up. Another play-action pass will loosen them up. Then the recipe is simply to continue to pattern with variations to keep the Ravens off balance.
A strong rushing attack will tire out the defense and give the Ravens offense fewer opportunities to score. With points at a premium, that will be the crucial factor in this game.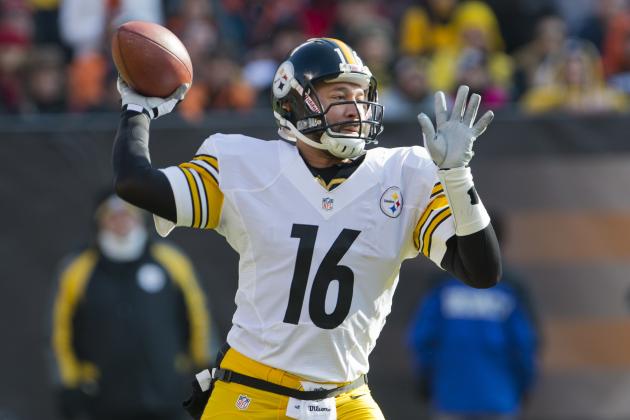 While sticking with the starting running back is essential in this game, sticking with the starting quarterback is not. If Charlie Batch has another performance like he had against the Cleveland Browns, Mike Tomlin must make the switch to Brian Hoyer, Ben Roethlisberger or Byron Leftwich.
The next man up will depend on who is healthy enough to take the pounding. Roethlisberger, even if healthy enough to play, should be no more than the third quarterback. There is no reason to rush him into action against a team that is adept at leaving quarterbacks sprawled on the grass.
Brian Hoyer is still new and only in his second full week, but he has enough experience and savvy to go in and do no worse than what Batch showed in Cleveland. He's slightly more mobile than Batch as well. That could be crucial against a fierce pass rush.
Charlie Batch is a Pittsburgh fan favorite, but the Steelers have stuck with him far too long. Now is not the time for nostalgia. It is the time for victory. Whatever is needed to achieve that is what must be done.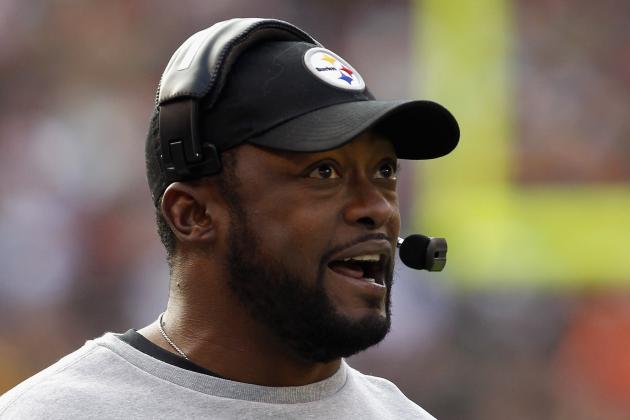 A major failure in the first contest between these two teams was the failure of Mike Tomlin to effectively manage the game. This breaks down into two major categories.
First, Tomlin failed to remove the obviously injured Byron Leftwich even as him arm strength and accuracy decreased to the point that he was completely ineffective. There was no clear reason for this course of action. Charlie Batch was healthy on the sideline and has the experience to lead this team.
Second, Tomlin's timeout usage was poor in both halves. He used two timeouts in non-critical situations that left Pittsburgh without the ability to stop the clock in late-half situations. This was especially problematic at the conclusion of the game, where the Steelers needed a long drive and couldn't engineer it because they weren't able to handle the clock.
In this game, Mike Tomlin cannot have the breakdowns that snatched a defeat from the jaws of certain victory. Doing that will only weaken the Steelers' playoff chances and put him even more squarely on the hot seat with fans.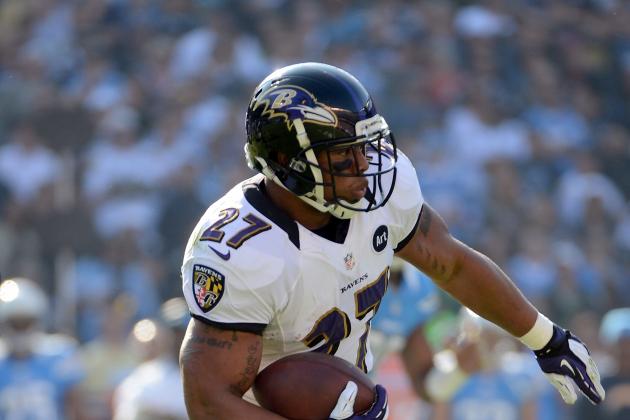 If there was ever a lesson learned the hard way, it is that failing to stop Ray Rice will cause your defeat. This was learned with excruciating pain by the San Diego Chargers last week when they failed to stop Rice from converting a fourth down with 29 yards to go.
The Pittsburgh Steelers have learned this lesson before, and given that they shut down Rice completely in their first contest this year, have learned it well.
It must happen again this time. Pittsburgh has drastically improved its run defense in recent weeks because of tweaks by coordinator Dick LeBeau that put a higher emphasis on keeping the middle clogged. Rice was unable to burst into a hole two weeks ago. Now the challenge is to hold him up one more time.
Losing containment on Rice will cost Pittsburgh the game. The Ravens are nearly impossible to beat at home, and when Rice is going strong. A weak performance by Rice, and the Steelers are solidly in the game.
If Pittsburgh replicates its defensive effort from two weeks ago, they will be victorious in this game.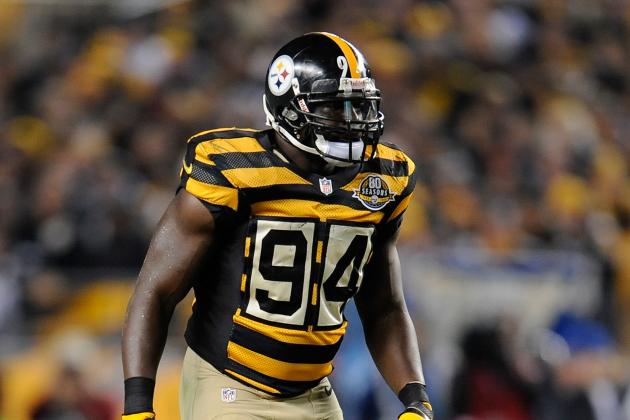 Last week, Pittsburgh's offense was the unit that created turnover after turnover until they'd completely taken themselves out of the game.
This week, the defense needs to step up and create all of the turnovers.
Lawrence Timmons' interception return for a touchdown was the lone highlight in a game that was the most poorly played in many years for the Steelers.
This week, the Steelers need to force Joe Flacco into the same kinds of errors that helped up the Cleveland offense last week, and the Ravens two weeks ago.
Flacco was largely ineffective against Pittsburgh in its Sunday night game, and another such performance will give the Steelers the opening they need.
Pittsburgh has not been adept at forcing the turnovers this season, but lately things have picked up to some extent. This game and the style in which these matchups unfold, dictates that the defense that can put points on the board or assist the offense in doing so will be the one that wins.
For Pittsburgh's defense, it's time to take the game to yet another level.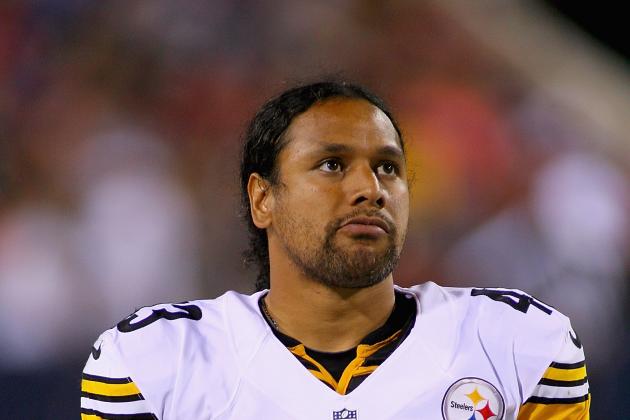 Both Troy Polamalu and Antonio Brown are expected back for this game. There could be no better boost for this team than getting two of its biggest stars back on the field. If Ben Roethlisberger can go as well, it would be the perfect situation.
The Steelers must take advantage of these returns. Brown brings speed and sure hands back to an offense that has seen nothing but drops from Mike Wallace. Teaming him with Emmanuel Sanders and Plaxico Burress will make the Steelers a more dangerous offense to defend.
Polamalu's long-awaited return to the ranks will help the defense in that it will give them the ability to mix up the blitz packages and looks Joe Flacco gets, even more than they were able to do in the first game two weeks ago. Flacco looked confused then.
Polamalu has also been a personal nightmare for Flacco over the years. You can be sure that Flacco is not excited to hear about his return.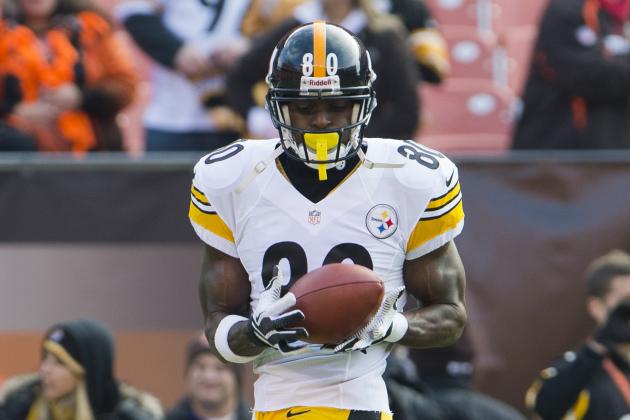 Last week was difficult for returning wide receiver Plaxico Burress. He hadn't played since last season and was learning a brand new offense. This week, he will be more comfortable, but still not completely ready. Nevertheless, the Steelers need to get him in the game.
Burress possesses the size that the Steelers lack at receiver. He will be able to use that height in red-zone situations, particularly with the fade route, to get over and past opposing corners.
Baltimore has not been particularly adept at stopping anyone, and they are hurting at the cornerback position. Throwing Burress out there with the Steelers' stable of fast receivers will make them impossible to defend, and give Pittsburgh its best chance for scoring points.
This should be something even Charlie Batch can succeed at. While he can't have the same accuracy problems as last week, those are not the norm for him in his career. Expect Batch to be more on-target with his throws.