Alabama Football: 5 Keys to the Game vs. Georgia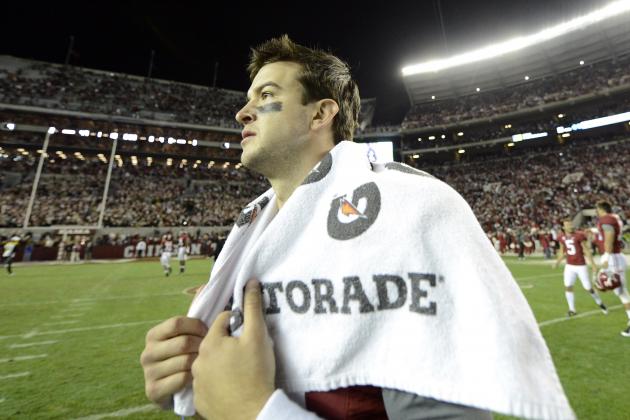 What is going to happen in Atlanta this Saturday will be the culmination of every drop of sweat, every bloodied elbow and every tear shed since spring practice for the Alabama Crimson Tide.
The SEC championship game matches Alabama with the Georgia Bulldogs, who are riding a hot streak into the postseason and have their eyes set on their first national title in over 30 years.
In what will surely be a blood bath of epic and historic proportions, the stakes are clear.
The winner will be crowned champion of the SEC and earn a trip to compete in the BCS title game against top-ranked Notre Dame. The loser will likely be left out of any BCS bowl and fall immediately into obscurity with everyone else who didn't make the cut.
Both teams know that they are extremely fortunate to be in this position and aim to take advantage of their second chance to etch their names into the record books.
For Alabama, the favorite, there are five keys to this game that could tip the scales in its favor. If the Tide come through with any three of them, a trip to Miami will likely be their reward.
Begin Slideshow

»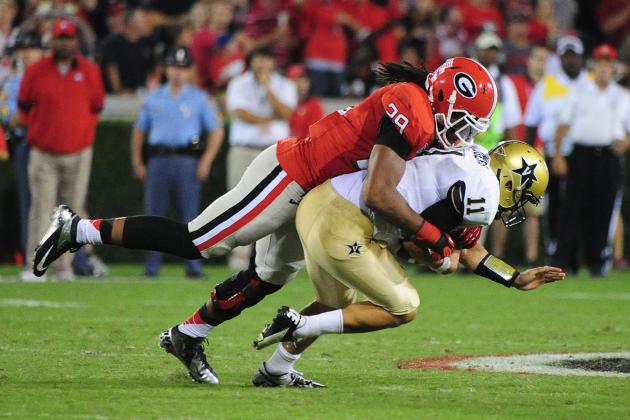 Georgia linebacker Jarvis Jones is a flat-out beast. The man with 71 tackles on the season, 19 of them for loss of yards, and 10.5 sacks will be all over the field come Saturday. He has forced six fumbles and hurried the quarterback 17 times. He is the heart and soul of the Bulldog defense.
Alabama must find a way to take him out of the game. Jones is best suited as a pass-rusher. On passing downs he will be headed straight for AJ McCarron.
Whether Alabama chooses to let him through and throw over him with various screens or uses quick passes to the opposite side of the field, getting the ball past Jones will be essential for the Tide to be successful.
He will most definitely be double-teamed whenever possible, but playmakers like Jones will find a way to get around that. McCarron will have to know where he is at all times.
In the ground game, it might be a decent idea to run right at him. Instead of avoiding him and allowing his speed to chase Eddie Lacy and T.J. Yeldon down from behind, going straight at him with a pair of linemen may be more effective.
If there is a way to frustrate and wear down Jones, Nick Saban and defensive coordinator Kirby Smart will be trying it. One good look at the film of Jones' effort in the Dawgs win over Florida will clearly show how devastating he can be.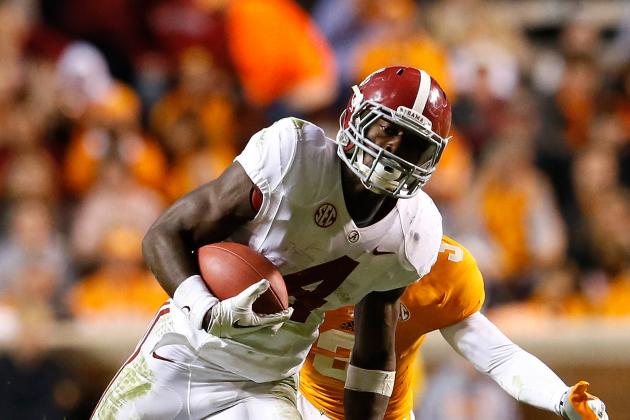 In last January's BCS title game against LSU, the whole world knew Alabama was going to try an run the ball. They didn't.
The Tide threw the ball more often than they ran it. McCarron used screens, roll outs, play-action fakes, one-step drops and pretty much everything possible against the Tigers, allowing the short passing game to become somewhat of a substitute for the running game.
LSU never did overcome this unexpected twist in the Alabama game plan.
Against Auburn last week, the Tide went with a no-huddle approach for much of the first half. Auburn never saw that coming, either, and the result was a 42-0 halftime lead for Alabama.
The no-huddle bit may have just been put in place to serve as a distraction for Mark Richt and Georgia. Then again, Saban may figure if it's good enough to beat his Tide (Cam Newton, Johnny Manziel, etc.) then it may just be worth a try.
It will be important on Saturday for Alabama to mix it up so often and unconventionally that Georgia is left off balanced at all times. This will cause personnel problems, confusion and eventually allow Alabama to find obvious mismatches that it can exploit.
One thing is for sure, if Alabama is predictable, the Georgia defense is good enough to shut it down.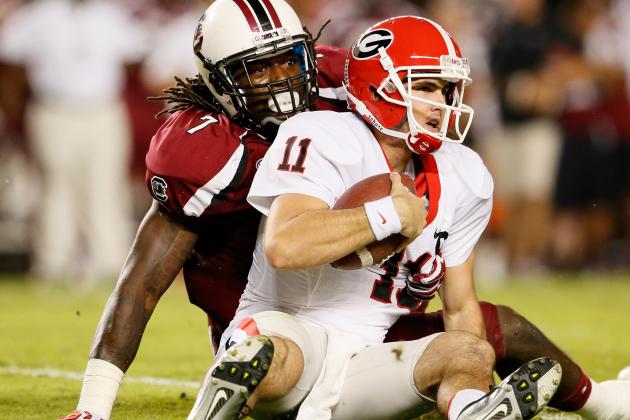 In his career, Aaron Murray is just 1-4 against Top 10 teams. In those games, he has completed just 46 percent of his passes and has thrown as many interceptions as touchdowns (seven each).
Murray can be rattled. But in order for this to happen, Alabama needs to minimize the Georgia ground attack of Todd Gurley and Keith Marshall.
Doing this will force long-yardage situations on third down, and Alabama can use multiple disguises to get to Murray and hurry him.
Murray is not a runner, and if Alabama can get into the pocket, he will either go down or force passes. This is where Alabama can take advantage of him and create chaos. Chaos equals turnovers.
Murray and the Dawgs can and will throw the ball downfield with regularity if given the time to do so. Alabama must get to Murray quickly and prevent him from feeling comfortable.
The Tide defense ranks fifth nationally in opponents' quarterback rating and has 26 sacks on the year.. Keeping Murray on his back will obviously keep him from finding his groove.
If they hit him early, history has proven that Murray will fold.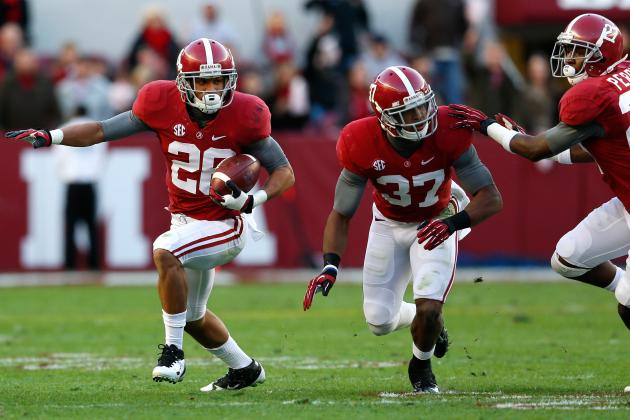 Alabama came into the season knowing that the weakness of the defense was in the secondary. To the delight of most, the backfield was impressive in shutting down the likes of Michigan's Denard Robinson and Tennessee's Tyler Bray.
The Tide ran into trouble, however, with LSU quarterback Zach Mettenberger, who had a career day and carved up the Alabama defense for most of the night.
Alabama is going to have to get its confidence back when defending the pass, and doing so against a talent like Murray will not be an easy task.
The veterans like Robert Lester and Dee Milliner must show the leadership that Saban commands of them and work with youngsters like Deion Belue and John Fulton to make sure that they are confident in knowing their assignments.
Any breakdowns in assignment will be taken advantage of, and with an offense as explosive as Georgia has, it won't take but one or two missteps for Alabama to find itself in a deep hole.
Doing this will be mush easier, of course, if the Tide can pressure Murray as mentioned earlier.
If Alabama can hold Georgia under 24 points, it will win this game. For this to happen, the secondary must be in the right places all night and an interception or two wouldn't hurt.
If they can make a big play for every big play they give up, it will be a win for the Tide.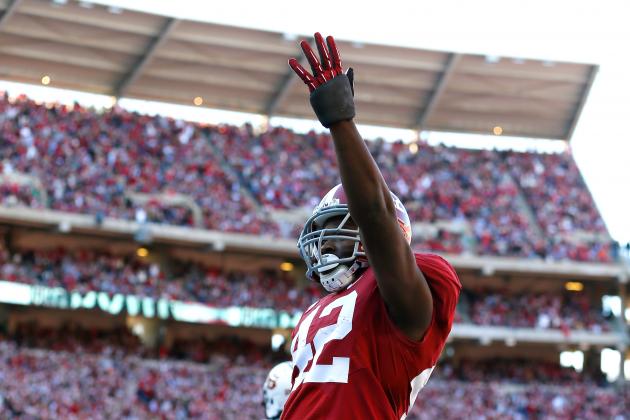 It rarely gets mentioned, but Alabama ranks 15th in the nation in scoring offense and, in fact, has scored more than Georgia this season. The Tide offense is so balanced that the difference in rushing and passing yards is just 56 total yards.
Georgia does not respect the Alabama defense.
The Dawgs defense comes into this game on a euphoric high. In its last five games, Georgia has allowed just 43 points.
The Bulldogs will begin this game by coming at McCarron with everything they have to offer.
If Alabama can move the ball effectively, both on the ground and through the air, it will force Georgia to reassess its game plan and prevent it from stacking the box.
The Bulldogs know that without wideout Kenny Bell Alabama's passing options are limited. The Tide can combat this by using its running backs, Lacy and Yeldon, as well as tight end Michael Williams early.
Doing this should spread the defense out a little and enable the deeper threats in Amari Cooper and Kevin Norwood to make waves as the game evolves.
On the ground, both Lacy and Yeldon are averaging over six yards per carry. If they can manage to pick up just two-thirds of that Saturday, the Alabama offense should be able to move the ball effectively and put up the 24 points that I believe it must score in order to win the game.