Kwadwo Asamoah: Why the Best Is Yet to Come for the Juventus Star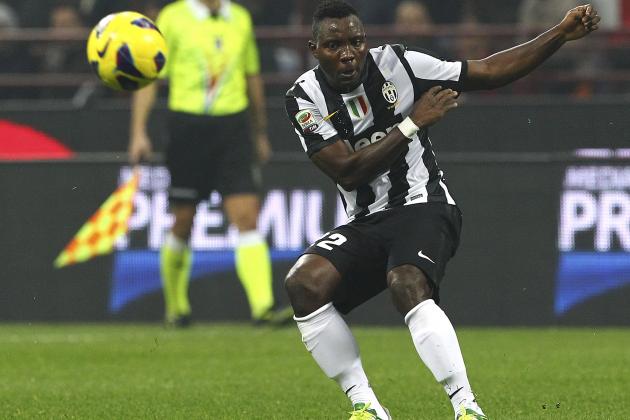 You can't teach kicking a ball with such style
When Juventus acquired Kwadwo Asamoah from Udinese during the past summer transfer window, it raised a few eyebrows around Italy.
The Ghanaian had put together an amazing season for the Zebrette, playing as a central midfielder, but it came as a bit of a surprise that a team like Juventus would go out of their way to grab him.
After all, the team already boasted the likes of Andrea Pirlo, Arturo Vidal, Claudio Marchisio and Paul Pogba, all of whom seemed like they'd be ahead of Asamoah when it came to securing a starting position in the midfield triangle.
But Antonio Conte had other plans for Asamoah, and if his first four months in Turin are any indication, the move for the former Udinese man might prove to be his most brilliant yet.
Asamoah has been lights out for the Bianconeri, playing on the left wing in Juve's famed 3-5-2 system. In this article, we'll take a look back at his days at Udinese, analyse his current situation in Turin and explain why he will be a superstar very soon.
Enjoy.
Begin Slideshow

»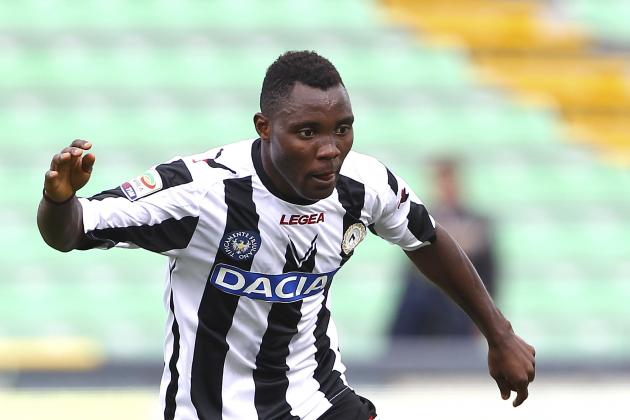 Conte already knew he looked good in white and black.
What was it exactly that Antonio Conte saw that made him think Asamoah would make a great winger?
The Ghanaian arrived in Udine as a talented youngster and saw more action than analysts had expected during his first season, but it wasn't until the 2010-2011 season that he really established himself as the top man in Udinese's midfield.
He never put up gaudy statistics: His highest marks being five assists during said season and three goals in his last year for the Zebrette.
His strong play showed when you put on the tape. Asamoah was a tireless worker that would hassle opponents for the full 90 minutes and would never back down from a challenge. His passing looked crisp and he seemed to always be involved, never losing the ball out of his sights.
But the most impressive component of his game was his incredible athleticism.
Simply put, Asamoah could run. He'd run left to right, up and down, and then he'd run some more. He looked faster than anyone else on the field and he seemed to have an engine in his legs that would never give out.
His power and stamina complemented his speed perfectly, and the combination of these elements made for an astonishing physical specimen.
Asamoah was a tenacious, physical midfielder that played with a lot of heart, but he definitely wasn't a superstar.
The potential was there, and everyone could see it, but he looked like he was more of a project than a player that could come in and immediately contribute for a team that went undefeated during the 2011-2012 season.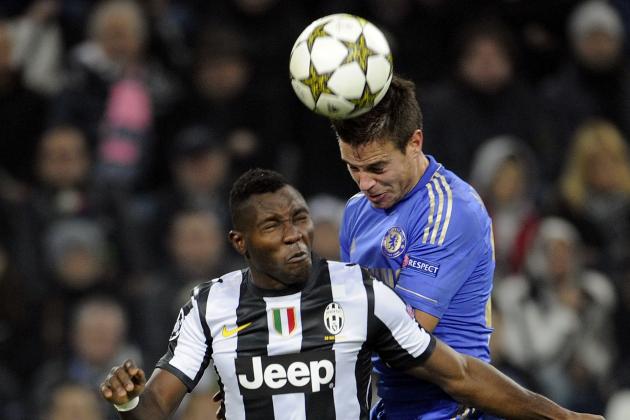 Someone should tell him you can't see the ball with your eyes closed
Juventus bought Asamoah and his Udinese teammate Mauricio Isla during the summer of 2012 for a reported 18 million euro.
Isla was expected to become the team's starting right winger, or at least push current starter Stephan Lichtsteiner for playing time. The jury is still out for the Chilean, but so far he's looked solid if unspectacular for the Bianconeri.
Asamoah's role, according to the press, was to provide depth for Pirlo, Marchisio and Vidal in midfield in hopes that he could be developed into an eventual starter. This made sense, with the increased workload Juventus were about to face.
Juve won their title the previous season without the added games in the UEFA Champions League, and their core of quality midfielders looked thin. Paul Pogba was a much-hyped signing, but he wasn't expected to have much of an impact during his first season.
Luca Marrone had seen most of his minutes as a centre back, and since depth in that area was also thin (this was before Lucio was signed) it made sense to move Marrone to CB full time and have Asamoah as depth and insurance should something happen to the MVP midfield.
Not so fast, my friend.
Antonio Conte didn't spend 18 million euro on a project and a guy that could maybe push a starter for some minutes. He had a vision for Asamoah.
He'd seen his athleticism, his incredible engine and his defensive efforts. Compared to Paolo De Ceglie, who had started on the left wing during the previous season, Asamoah was a freight train that could terrorise wing backs on the offensive end and had enough defensive qualities and heart to take them on defensively.
The result? In 15 starts, Asamoah has scored three goals, handed out five assists and has a pass success percentage of 88.8 (stats courtesy of Whoscored.com.)
Finding a comparison for Asamoah in his current role is difficult, but when pushed to do so, I like to compare him to a slightly-less effective Gareth Bale on amphetamines. He plays with that same tenacity and overpowers opponents in a similar way.
But while Gareth Bale has been plying his trade for years, Asamoah has been playing on Juve's left wing for less than half a season. And that brings us to our next slide: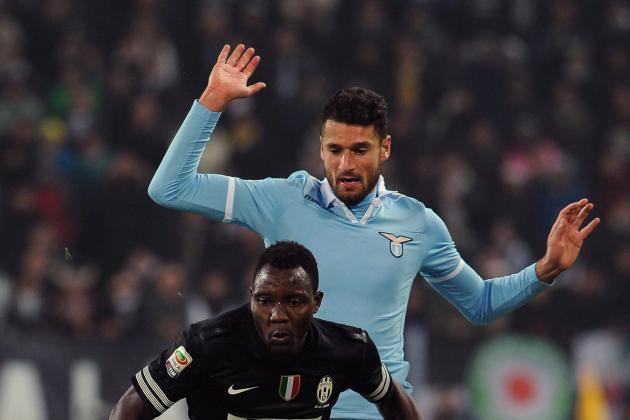 Get used to more of this
Asamoah has been one of Juve's main contributors so far this season, and people outside of Italy are starting to notice.
What's amazing is that he's dominating the opposition from a position that is unfamiliar to him, and with the limited skill set that inexperience brings.
Yes, you read that right. At this moment, Asamoah has a limited skill set. And he still made César Azpilicueta look bad.
The Ghanaian has a couple of noticeable flaws in his game, and it were these flaws that kept him off my list of top midfield performers in Italy this season.
For one, he doesn't have a right foot.
Not literally, obviously. But he favours his left foot to the extreme, and because of that, he'll always try and use his speed to pass defenders on the outside. If his action is sniffed out, he'll turn around and pass the ball back to the defenders standing behind him.
He's also very uncomfortable penetrating the box from the wing. He panics if he can't find a target to pass the ball to immediately and will often just shoot the ball in front of the goal in the hope that someone puts it in the back of the net.
Asamoah will avoid cutting inside because he simply doesn't know what to do with the ball. This again has to do with him not using his right foot, but also with his lack of understanding of his new position.
But here's the scary part: these flaws will disappear.
The more time he spends playing out on the left wing, the more comfortable Asamoah will become with his new position.
I've seen him use his right foot; it's fine. All he needs is the confidence to cut to his right, and he'll immediately become a far more dangerous player.
Right now, he's one-dimensional. A one-trick pony, albeit with a very good trick.
But the guy is only 23, and he's spent the better part of his life in the centre of the pitch. He's not changing the way he plays: he'll always be a physical freak of nature with a lot of character and an engine that never runs out.
He's changing the way he approaches the game. He's learning what's expected from him as a winger, and how to deal with situations he has never experienced before.
Antonio Conte has proven during his short reign at Juventus that he knows how to fit players into positions that best suit their skills, and that he can work with players to enhance their game.
He did it with Arturo Vidal, who has bloomed into one of the finest box-to-box midfielders in the world. He did it with Claudio Marchisio, who has finally reached the potential everyone knew he had.
And you can be sure he's doing the same thing with Asamoah.
There's too much raw talent and physical prowess for Asamoah to fail. He's already embarrassing defenders, even with his limited experience as a winger in the 3-5-2.
More minutes at the position and the influence of Antonio Conte will only help his progress. There's no reason not to believe he could be better than Bale in two or three years.
Asamoah is the real deal, and he'll be an integral part of the Bianconeri for a long, long time.