The 5 Most Underrated Fighters to Appear on the Ultimate Fighter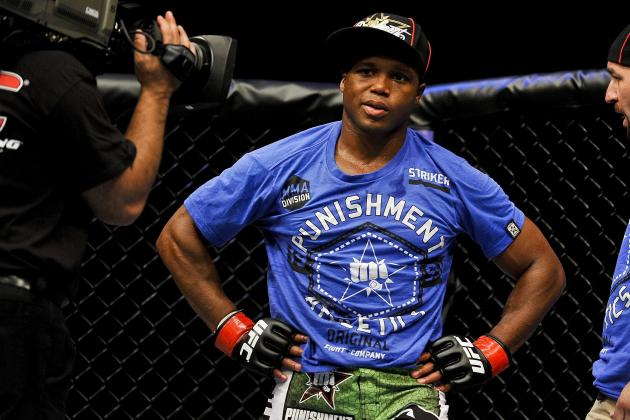 The Ultimate Fighter series has produced a lot of well-know, highly regarded fighters. It's even seen a few champions pass through, guys such as Forrest Griffin, Rashad Evans and Matt Serra.
It has also seen its fair share of fighters who were unable to propel their career to a new level.
And then there is another entirely different class that the reality show has produced—guys who were unable to make the most of their time in the house, but have quietly established themselves as solid mixed martial artists since.
Here, we will take a look at five such fighters.
Note that I've avoided well recognized fighters like Melvin Guillard, as well as guys who have peaked and since dropped off, like Marcus Davis.
Instead, I've gone with a crop that drew minimal expectations on the show, and have since demonstrated their improvement to little fanfare.
Feel free to add any names you consider glaring omissions in the comments section.
Begin Slideshow

»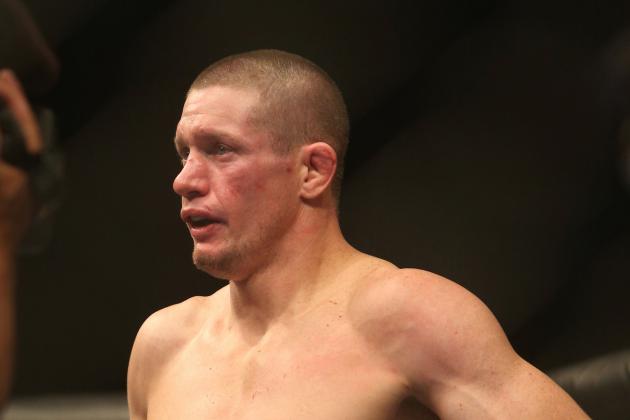 Baczynski actually lost to Court McGee during the tryout round of The Ultimate Fighter season 11, but made it into the house to replace an injured cast member. Unfortunately, Baczynski lost via disqualification to Brad Tavares in the tournament's quarter-final round.
A rematch was made between he and Tavares for the show's finale, but Baczynski once against failed to solve the Hawaiian. This time the loss resulted in his release from the UFC.
Since then, Baczynski has been on a tear. After being cut by the UFC he dropped to welterweight and was able to parlay a pair of knockouts into a second stint with the organization.
Making the most of his second life in the UFC, Baczynski has amassed a 4-0 record, scoring three stoppages.
Baczynski's next test will come against Mike Pierce at UFC on FX 6, this December 14.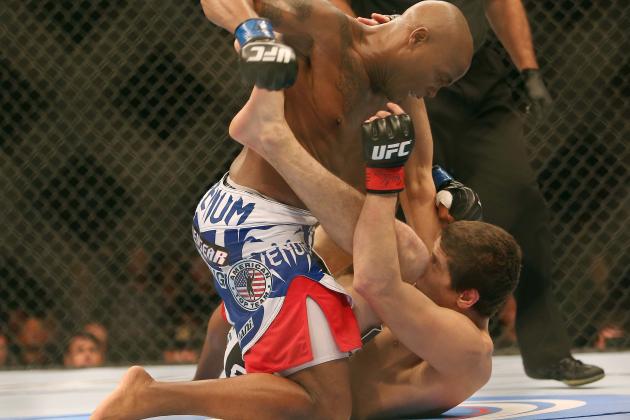 Brimage doesn't have the highest ceiling in the world, but he's asserted himself as a legitimate UFC featherweight.
That's not bad for someone who was best known for farting on camera during The Ultimate Fighter: Team Bisping vs. team Miller, before getting dominated in the tournament's opening round.
Though Brimage had done little on the show to suggest he could succeed on the big stage, he surprised with a win during the show's finale, earning himself some tenure with the UFC.
His next task entailed welcoming Maximo Blanco to the promotion, and Brimage spoiled the arrival by eeking out a split decision win.
Brimage once again failed to embrace his role as steppingstone when he spoiled Jim Hettes's coming out party at UFC 152.
It's doubtful you'll see Brimage challenge for a title anytime soon, but he's certainly exceeded the low expectations he garnered on The Ultimate Fighter. He is definitely deserving of more recognition than he's garnered to date.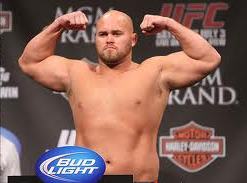 Photo by mmaweekly.com
After suffering a knockout loss to Brendan Schaub during the heavyweight edition of The Ultimate Fighter, Madsen secured himself a place on the UFC roster by decisioning castmate Justin Wren during the show's finale.
Afterwards, he went on to earn unanimous decision nods over Mostapha Al-Turk and Karlos Vemola, before stopping Gilbery Yvel in the first round at UFC 121,
Though not too many people were taking notice, Madsen seemed to be on a steady climb up the heavyweight ladder. Unfortunately, his momentum was derailed by Mike Russow in March 2011, when doctors decided that a cut above Madsen's eye was legitimate cause for calling the match.
Though it was his first UFC (and professional) loss and it came from a cut in a very even fight, the UFC saw fit to release Madsen.
Madsen has not fought since parting with the promotion, and has been all but forgotten by MMA fans.
That turn of events is most unfortunate for the powerful wrestler who was oh-so-close to carving out a niche for himself in the UFC's heavyweight division.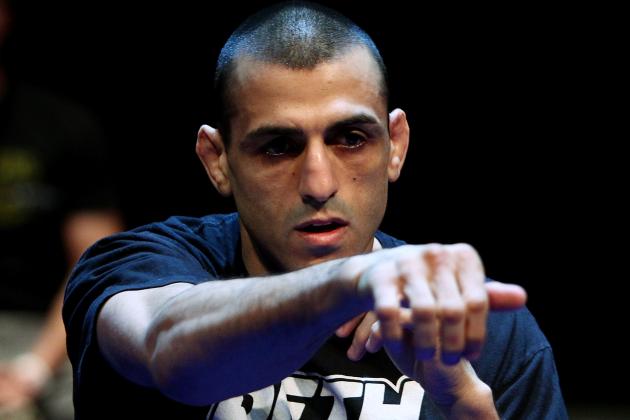 Given that Sotiropoulos was nearly a title contender back in 2010, adding him to this list might be a bit of a cop-out.
Be that as it may, back-to-back losses have made him an almost forgotten in-Octagon commodity.
I specify, "in-Octagon" because coaching the The Ultimate Fighter has kept him in the spotlight a little bit, at least in his native Australia and the country's current MMA rival, the United Kingdom.
Still, Sotiropoulos deserves to be considered more than a fighter who tricked fans into believing he had real talent. Because he does have real talent.
He's 6-2 in the UFC with wins over Joe Stevenson, Kurt Pellegrino and Joe Lauzon, and his only two losses have come against extremely dynamic competitors—Dennis Siver and Rafael dos Anjos.
So question this inclusion if you must, but I'm sticking to my guns here—Sotiropoulos is better than most fans currently perceive him to be.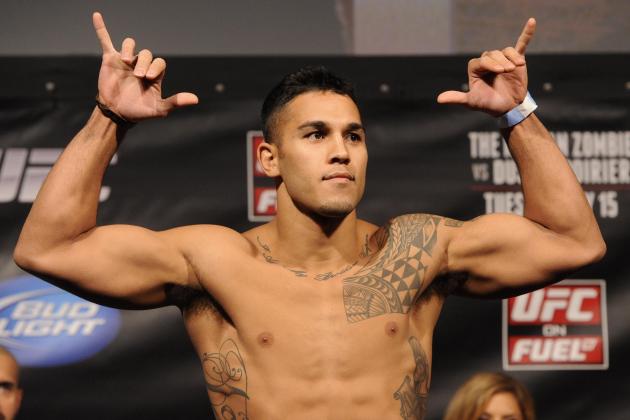 Almost never mentioned as a middleweight prospect, Tavares has amassed a 4-1 UFC record since participating on The Ultimate Fighter, most recently taking out the highly regarded Tom Watson in the Brit's promotional debut.
Not bad for a kid who is still just 24 years old, huh?
The Hawaiian has shown steady improvement since exiting The Ultimate Fighter and seems poised to make waves at 185-pounds.
Only, few people really recognize that.
Sure, Tavares is a name most die-hard MMA fans know, but not one they associate with the type of skill and potential he wields. He's already accomplished a fair bit in the UFC, and he's really only begun.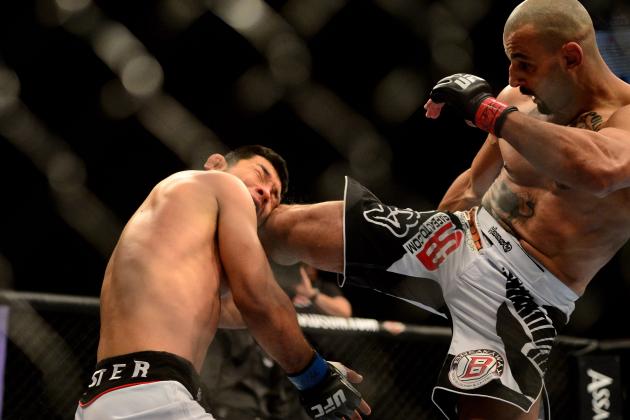 I only included fighters that actually made it into the The Ultimate Fighter house for this list. But, there are a few diamonds in the rough that lost in the qualifying round.
A few that come to mind are:
Ryan Jimmo
At 17-1 it's a bit of a surprise Jimmo failed to qualify in his attempt to become an Ultimate Fighter cast member.
He didn't allow the disappointment to slow his career down too much though, having recently debuted in the UFC to the tune of a 0:07 knockout over Anthony Perosh.
Che Mills
Not the most well-rounded guy, but an absolute killer on the feet. Mills has posted a 2-1 UFC record to date, his only loss being that to Rory MacDonald at UFC 145.
And even though he lost to "Ares," Mills looked very sharp on his feet.
Constantinos Philippou
How's this for irony: Philippou failed to make The Ultimate Fighter: Team Liddell vs. Team Ortiz installment of the TUF series, but later handed the tournament's winner, Court McGee, his first UFC loss.
OK, that's not really that ironic, but it does speak to how much Philippou has improved since failing to land a spot on the reality series.
Philippou will have the chance to vault himself into contention when he battles Tim Boetsch at UFC 155 this December 29.