Nebraska Football: 5 Keys to the Game vs. Wisconsin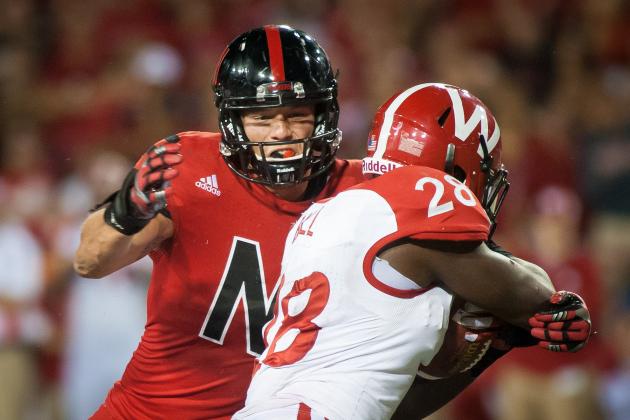 Nebraska will face Wisconsin in the B1G Championship on Saturday. This will be the third conference title game in four years for Nebraska, although the first in NU's new B1G home. Wisconsin is the two-time defending B1G champion, having won the inaugural contest in a rematch against Michigan State last year.
NU has not won a conference championship since 1999, and has not been to a BCS bowl since the 2001 national title game. Here are the five keys for Nebraska to get over that hurdle and put a new number up on the West Stadium sign.
Begin Slideshow

»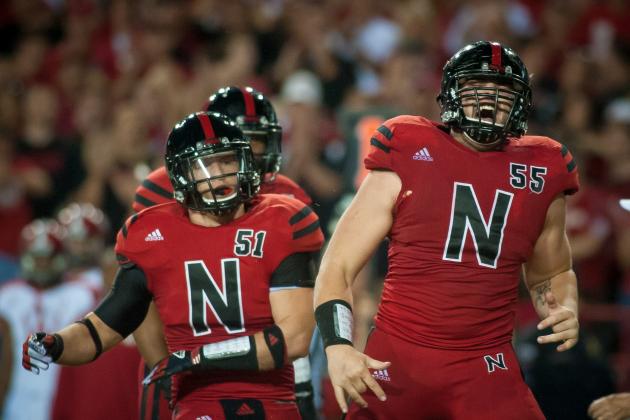 Since Nebraska beat Wisconsin 30-27 in Lincoln on Sept. 29, the Badgers have done a much better job running the ball. I'm not above cribbing a stat from my last article (again, courtesy of cfbstats.com) to demonstrate Wisconsin's rushing renewal.
| | | | | | |
| --- | --- | --- | --- | --- | --- |
| | Attempts | Yards Rush | Avg/Rush | Attempts/G | Yards Rush/G |
| Aug/Sep | 196 | 628 | 3.20 | 39.20 | 125.60 |
| October | 181 | 996 | 5.50 | 45.25 | 249.00 |
| November | 163 | 928 | 5.69 | 54.33 | 309.33 |
According to ESPN.com, defensive tackle Baker Steinkuhler is out for the B1G title game. Steinkuhler leads all interior defensive linemen for Nebraska in tackles with 47. His absence means Nebraska will be relying on guys like Chase Rome, Thaddeus Randle, defensive ends Cameron Meredith and Jason Ankrah moved inside, and little-used redshirt freshman Jason Williams to fill Steinkuhler's shoes.
Did I mention that Wisconsin has re-discovered a downhill, power running attack?
To finally win a conference championship and return to a BCS bowl, Nebraska's biggest challenge will be to stop Wisconsin's rushing attack without Steinkuhler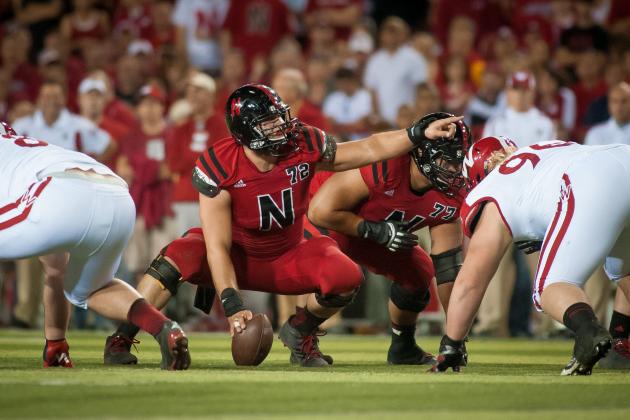 Baker Steinkuhler wasn't the only injury Nebraska suffered in the Heroes Game against Iowa. Starting center Justin Jackson will, according to ESPN.com, also miss out on the B1G title game. Against Iowa, sophomore Mark Pelini took over for the injured Jackson, leaving Cole Pensick at guard. According to Omaha.com, Nebraska will likely rotate Pelini and Pensick at center against Wisconsin.
Breaking in one new center for a conference championship game is scary enough. Breaking in two centers who have not started a game all season is downright frightening. Add in to the mix the fact that Nebraska has asked its centers to pull in helping to establish an outside running game, and it makes Jackson's injury all the more worrisome.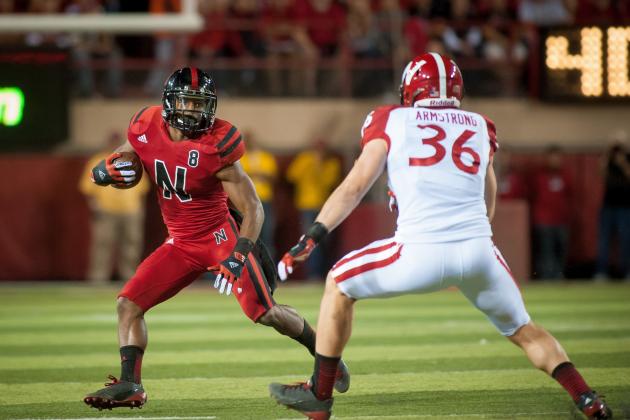 Against Iowa, the Children of the Corn had a horrible sense of déjà vu when Ameer Abdullah muffed a first-half punt, handing the Hawkeyes great field position and putting the Blackshirts back on the field. Just like Nebraska did in the first half against Northwestern. Twice.
Obviously, turnovers on punts are a problem in and of themselves. But when Nebraska is gun-shy to field a punt, its opponent is more likely to get a higher net punting yardage and make Nebraska's offense go farther to score.
And field position has been an issue for Nebraska. Thanks to FBSDriveStats.com, we know the average starting field position for each team. Wisconsin has averaged starting on its own 33.5 yard spot, the best in the B1G. Nebraska, on the other hand, has averaged starting on its own 29.8 yard spot, seventh in the B1G.
(Notice I said the 33.5 and 29.8 yard spot, not yard line. Obviously, there is no 33.5 yard line, just space between the 33-yard line and the 34-yard line. It's a huge pet peeve of mine when people say things like that. Just like when a referee says the ball will be placed on the one-foot line. There is no one-foot line! Stop saying there is!)
If Nebraska can get something out of its punt return game, or at least cleanly field fair catches, then the resulting improvement in field position should help NU against the Badgers on Saturday.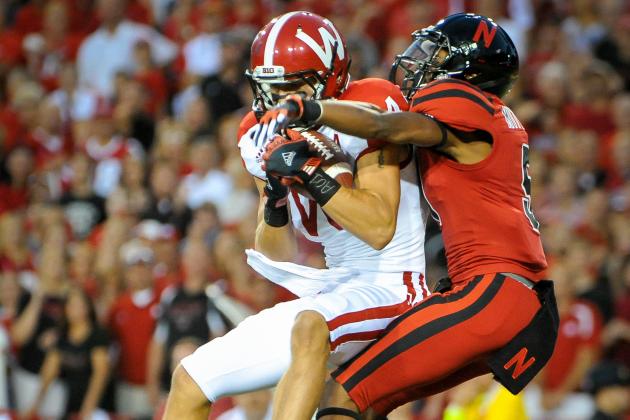 Baker Steinkuhler's injury means that Nebraska will have to put even more effort into stopping Wisconsin's stout rushing attack. This means, likely, that NU will be using linebackers and safeties in run support. By doing so, however, Nebraska becomes more vulnerable to a play-action pass attack.
The Badgers are on their third quarterback, senior Curt Phillips. While Phillips isn't the kind of deep threat that injured Joel Stave would be, Phillips has been effective. He has thrown for 386 yards and four touchdowns, compared to one interception, although with a meager 52.6 completion percentage.
Still, Wisconsin has some dangerous receiving targets in Jared Abbrederis and Jacob Pedersen. If Nebraska over-commits to the run, play action could be a very effective weapon against the Blackshirts.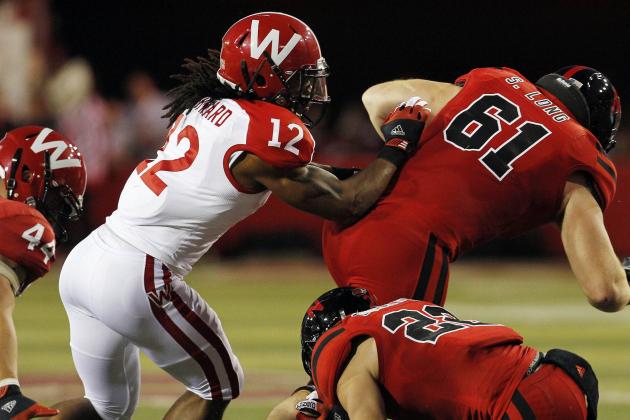 This one isn't news for Nebraska fans, but it will still be important. Nebraska is ranked 102nd nationally with a negative-eight turnover margin. Wisconsin is ranked 59th nationally with a plus-one turnover margin.
At this point, it's probably too much to ask for Nebraska to go through a game without a turnover or three. It would be helpful for Nebraska, particularly since 14 of Wisconsin's 27 points against Nebraska in Lincoln came on short fields after turnovers.
But the evidence suggests a turnover-free game from Nebraska is unlikely. So the onus will fall on the Blackshirts to get takeaways from Wisconsin to balance things out and balance out the short-field scoring.
(Author's note: Yes, I did intentionally pick images from the alternate uniform game between Nebraska and Wisconsin. And yes, I did it intentionally because I thought the alternates were awesome. I've gotten quite a bit of feedback from readers who do not share my assessment of awesomeness for the new threads, and I respect that. Sorry, you're stuck with it for at least one more slideshow!)
If you'd like to contact Patrick to schedule an interview, provide feedback or get advice on which type of chocolate goes best with fresh fruit (spoiler alert: dark), send an e-mail to patrickrunge@gmail.com.
Or, you could always...Follow @patrickrunge.