5 Things We've Learned About Golden State Warriors in the Early 2012-13 Season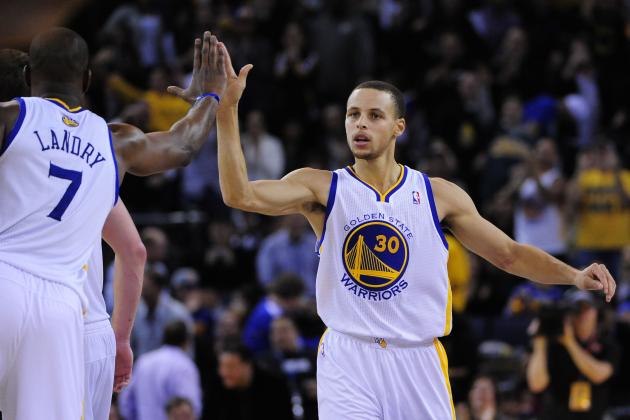 We've learned a lot from the Golden State Warriors in the early part of the 2012-13 season, but not all of it has been expected.
The Warriors have used the early part of the 2012-13 season to defy predictions in a variety of ways. In some cases, their unexpected performance has been a positive. For example, every Warriors fan has been pleasantly surprised by the team's newfound ability to rebound.
At the same time, it was expected that the Dubs would rate among the league leaders in scoring. On the contrary, their offensive performance has been shockingly poor.
Finally, in a weird way, even the most foreseeable things (Andrew Bogut's slow recovery from injury) have taken totally unanticipated turns. We learned on Nov. 29 that Bogut actually underwent microfracture surgery on his ankle in April, which, according to the Warriors' center, set his recovery timetable back by several months.
Nonetheless, the Warriors presently sit in playoff position, despite a fairly difficult opening schedule that features a hefty portion of road games.
With all of the unexpected twists and turns this season, it's hard to really get a handle on what kind of team the Warriors actually are. It's too hard to guess whether Bogut's now "indefinite" absence will drag on for months, and it's difficult to say whether the Warriors will continue to embrace their defensive identity as their offense sorts itself out.
Uncertainty abounds, but there have still been a few valuable things we've learned from the Warriors in the early part of the 2012-13 season.
*All stats accurate through games played Nov. 28
Begin Slideshow

»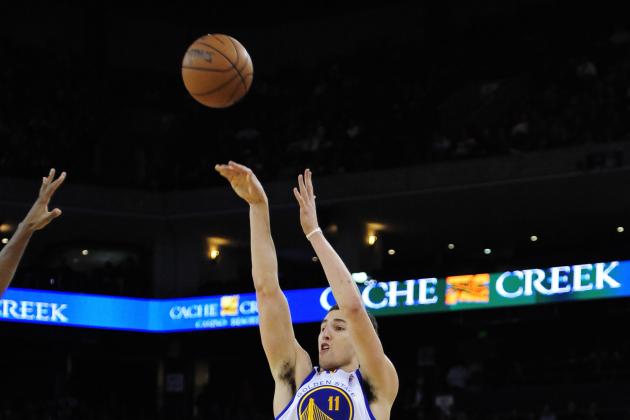 The Warriors were supposed to be a team built on perimeter shooting. With Stephen Curry and Klay Thompson figuring to be the NBA's best shooting backcourt, most people thought the only issue was going to be finding a way to get both players enough looks.
Instead, neither Curry nor Thompson has shot the ball with anything approaching the efficiency they'd shown in the past. Thompson, in particular, suffered through the worst shooting slump of his brief career, as he failed to hit half of his shots in any of the Warriors' first 11 games.
He appears to be pulling out of his shooting lull as he further distances himself from the mental collapse that cost the Warriors a game against the Denver Nuggets on Nov. 10, but for the season, he's still shooting just 37 percent from the field.
Curry's overall numbers have been better than Thompson's, but they're still nowhere near his career averages (from an efficiency standpoint). Curry is making just 41 percent of his field-goal tries, including just 38 percent from three. Obviously, most players would be ecstatic to have Curry's three-point percentage, but for a guy who has hit from distance at a career rate of 43 percent, his shooting has been a little disappointing.
The upshot of all this is that there's a harsh truth to be learned about offenses predicated on jump shots: Sometimes, those jumpers just aren't going to fall.
The Dubs have struggled mightily to figure out how to get their backcourt going, and there have been recent signs of life. But no matter how hot Curry and Thompson are capable of getting in any given contest, there are still going to be nights when the Warriors simply won't be able to score.
Such is the fate of a team built around the outside shot.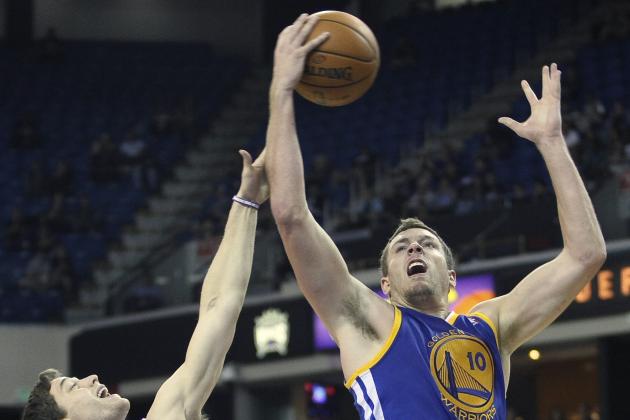 Let's try to figure this out.
The Warriors finished last in the NBA in rebound rate in each of the three seasons leading up to this one. Over the summer, the Dubs added Carl Landry, three rookies and Jarrett Jack. Other than that, the core of the roster has remained relatively unchanged (We're not counting Andrew Bogut, who has played only four games).
Landry has never been more than a league-average rebounder at his position, and other than Draymond Green (who plays about 11 minutes per game), none of the Warriors' three rookies are in the top 15 in rebound rate at their positions.
So how is it that the Warriors currently rank fourth in the NBA in rebound rate?
The answer, apparently, is that rebounding really is all about effort.
In watching the Warriors play, there's an obvious focus on clearing the glass, which is definitely new this season. Instead of sprinting out, the guards are hanging in to snare long rebounds. Players are blocking out more fundamentally, and everyone is fighting for those critical 50/50 balls.
There's no scheme for improved rebounding, though. The Warriors' massive improvement on the boards really has to do with an increased emphasis on every player taking responsibility for his share of boards.
As a result, David Lee's rebounds-per-game average is back over 10 for the first time in two years, and Klay Thompson has added about one more board per game than he grabbed last season. Heck, even Andris Biedrins, who hardly plays at all, has rebounded at a far better rate (Insider required) than he did a year ago.
There's no doubt that the Warriors' coaching staff has impressed the importance of a collective rebounding effort upon the roster. Apparently, all it took was a little renewed focus, and a lot of effort to turn the Warriors into a rebounding machine.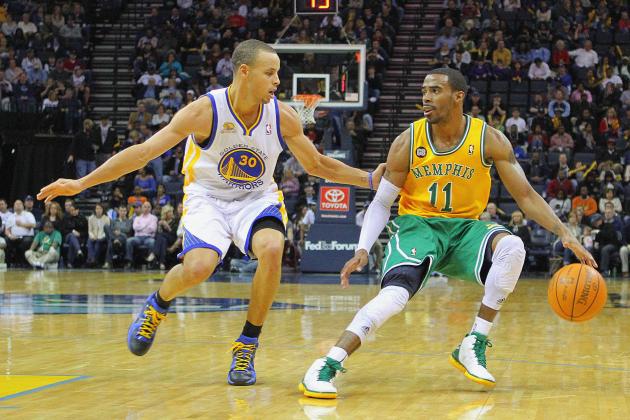 Although the Warriors' defensive numbers haven't made nearly as big a leap as their rebounding rates, the improvement on defense has been even more notable. That's because, unlike the effort-fueled rebounding jump, this change is clearly one that has taken place because of a new coaching philosophy.
Zach Lowe expertly dissects precisely what the Warriors are doing on defense that has them among the league's top 15 in defensive efficiency at Grantland.com. His analysis is spot-on, so we'll leave the intricate details in his capable hands.
But in a general—and very important—sense, the key changes in the Warriors' defensive strategy are obvious from watching the games.
First of all, the Warriors have completely changed how they handle pick-and-rolls. Instead of letting the big man get sucked out to 30 feet away from the basket, Mark Jackson (or assistant Mike Malone, depending on who you really think is behind the change), has the guard simply forcing the ball-handler toward the area of the floor where they're going to do the least damage. Usually, that's either toward the baseline or toward the ball-handler's weak hand.
That results in a more compacted interior defense—because the big isn't showing all the way out to half court anymore—and fewer easy buckets. Last year, opposing guards would just blow by the Warriors' big man after he showed, essentially creating four-on-three situations in the paint. Obviously, that wasn't an effective strategy.
The improved scheme is yielding results, which, in turn, has the Warriors' players gaining confidence and playing harder. In that way, the success of the tactic has actually led to increased effort.
Talk about a win-win.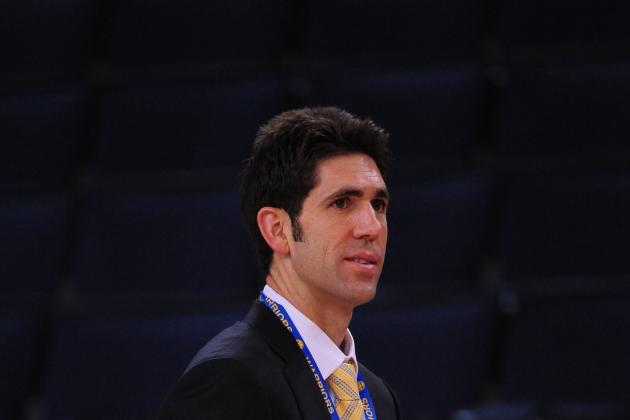 One of the most obvious things the Warriors' early 2012-13 success has taught us is that GM Bob Myers is the NBA's best young executive.
Myers, 37, has started his GM career off with a series of impressive moves. After taking over as the Warriors' top personnel man last April, Myers knocked all three draft picks out of the park. No. 7 pick Harrison Barnes looks like a dark horse Rookie of the Year candidate, center Festus Ezeli has proved to be a viable backup center and Draymond Green has fought his way into the rotation as the 35th-overall pick.
All three have been integral parts of the Warriors' strong start.
In addition to his draft coup, Myers also inked Carl Landry on the cheap and dealt for Jarrett Jack. Both guys have been on the floor in crunch time all year long.
For Myers, it's been one smooth decision after another. But as we'll see in the next slide, he may be in for a little turbulence.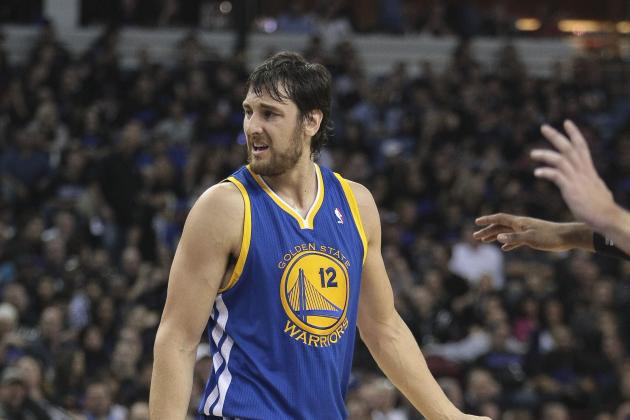 You remember hearing your parents tell you honesty was always the best policy, right? Well, apparently the Warriors brass never listened to that advice.
As we alluded to earlier, news broke Nov. 29 that Andrew Bogut's "minor" ankle surgery last April was actually anything but. It turns out he had microfracture surgery on the ankle.
The Warriors knew this but decided to keep everyone in the dark...until Bogut spilled the beans in a press conference.
Look, it's easy to understand why the Warriors kept the severity of Bogut's surgery under wraps; many fans had been skeptical of the trade that brought Bogut to Golden State from the start. If everyone knew just how serious the procedure on Bogut's ankle really was, it would have dampened the enthusiasm leading up to the Warriors' season opener. It was a strategic public relations decision, designed to buy a little short-term fan satisfaction.
But the Warriors are going to pay for it with a much longer period of mistrust.
Now that the truth is out, the Warriors' front office is at risk of losing the trust of its supporters. How can fans take anything Myers—or anyone else at Warriors' headquarters—says seriously? Skepticism is going to run rampant.
Going forward, the Warriors are going to have to fight an uphill credibility battle with their fans. Fortunately, news of the cover-up hit when the Warriors were winning games, which tempers some of the dissatisfaction that would have otherwise been much more severe.
In this case, the Warriors' young season didn't really teach us anything—it just reinforced what our parents always said about lying.