10 Former UFC Fighters with Best Chance of an Octagon Return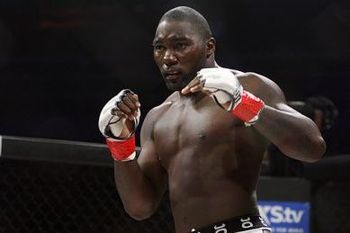 Photo: njuice
Fool me once, shame on you. Fool me twice, shame on me.
Typically, when the UFC releases a fighter, they have either been unsuccessful or are being disciplined.
Some fighters (like Paul Daley) have done things so extreme that they will never be invited back to the company, although most are given words of encouragement from Joe Silva that express what they should work on to get back into the UFC.
The fighters with the best chance of making a return are typically based on two desired qualities: name value and the ability to contribute to the current landscape of MMA.
Some fighters rely on one or the other, while the lucky few possess both.
Putting together wins outside of the company is a great way to get offered a way back in, although some guys just happen to be in the right place at the right time.
Here is a look at ten former UFC fighters who have the best chance of an Octagon return.
Nate Marquardt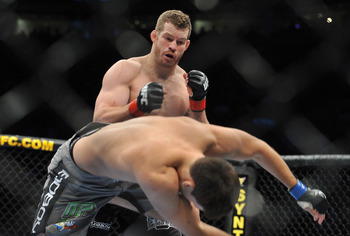 Nate Marquardt was once a bright spot in the UFC's middleweight division.
He headlined Fight Night events and even challenged Anderson Silva for the championship.
However, when Marquardt used testosterone replacement therapy before a bout, and his levels did not come down to the acceptable range in time, he was quickly released from the promotion.
You won't find many welterweights on this list, as it is an absolutely stacked division for the UFC, and star power is at an all-time high.
But with Marquardt's drop in weight, and climb to the top of the Strikeforce organization, it's a safe bet that he will come back to the UFC once Strikeforce folds in January.
Eliot Marshall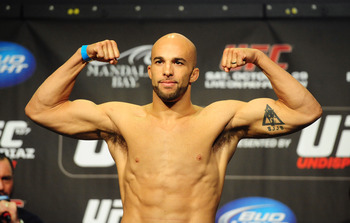 While light heavyweight Eliot Marshall doesn't have a lot of name recognition, nor has he been winning a lot of fights since his UFC release last year, he does have the benefit of being in the UFC's good graces.
As an assistant coach to Shane Carwin, Marshall's presence has been felt on this season of The Ultimate Fighter.
In previous years, coaching assistants have been given another shot in the Octagon, whether it was deserved or not (see Pete Sell).
Marshall has had two stints inside the Octagon, carrying a cumulative record of 3-3 with the organization.
He holds a notable victory over streaky jiu-jitsu specialist Vinny Magalhaes.
Thales Leites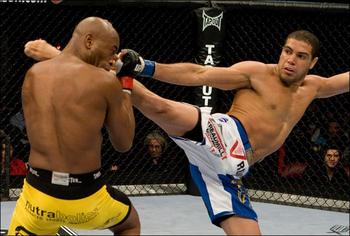 Photo: Fightmagazine
While Thales Leites has the dubious honor of giving Anderson Silva the first boring fight of his UFC career, his level of talent is absolutely undeniable.
Leites was released from the UFC after a (bogus) split-decision loss to Alessio Sakara at UFC 101.
Since that time, he has mostly been fighting notables like Dean Lister and Jeremy Horn, and putting together a 6-1 record in the process.
If that's not impressive enough, he avenged the sole loss during that time earlier this year when he choked out Matt Horwich.
With a shortage of middleweight talent, injecting someone like Leites back into the mix could make for some interesting matchups.
Is his jiu-jitsu better than that of Rousimar Palhares or Jake Shields? I don't know, but I'd love to find out.
Tyson Griffin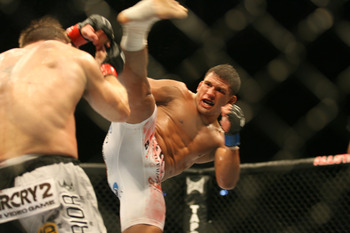 Tyson Griffin was once considered to be one of the brightest stars in the UFC's lightweight division.
At one point, he was 7-2 inside the Octagon and had collected five Fight of the Night awards.
Unfortunately, he had trouble with Evan Dunham and Takanori Gomi before losing a farcical decision to Nik Lentz.
Even though the latest loss was considered to be nothing more than poor judging, the trio of failures hurt his status in the organization.
Griffin is too good to float around on the independent circuit. His style is what the UFC fans are looking for, and to allow that talent to be wasted against regional talent is a crime.
Bring him back, Dana!
Anthony Johnson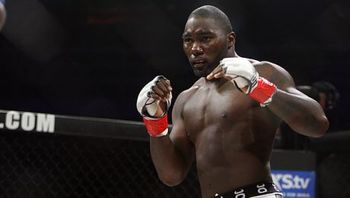 Photo njuice.com
The stubbornness of Johnson to accept his physical girth led to several cases of missing weight, and the habitual offense is what led to his release in January of this year.
Now that he has made the permanent move to light heavyweight, the UFC should not have concerns about the issue any longer.
Since making the change, Johnson is 3-0, and all victories have come by way of knockout or TKO.
Johnson is a star with tremendous knockout power. Considering that the light heavyweight division is being cleaned out in rapid fashion, injecting a familiar face into the scene would spice things up and lead to intriguing matchups.
Jeff Curran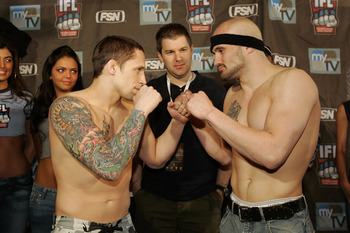 Formed WEC title contender Jeff Curran has been through the ringer as of late.
Following a pair of losses, he was released by the UFC in May 2012.
Prior to his release, Curran had taken to Twitter and requested the opportunity to cut weight and start a career in the flyweight division.
At that point, I had assumed his job was safe, as the UFC's roster at 125 pounds is slim pickings (no pun intended).
The divisional depth is still a major issue, so it wouldn't take long for Curran to get back on the UFC's radar if he could put together some regional victories.
He was scheduled to fight for the XFO organization back in August, but was forced to withdrawal from the fight due to injury.
Andrei Arlovski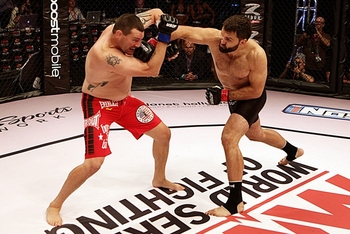 Photo: fcfighter
If you had told me on Valentines Day of last year that I would one day be writing about Andrei Arlovski and a potential comeback to the UFC, I would have laughed in your face.
At that point in time, "The Pitbull" had dropped four consecutive bouts, and three of which came by brutal knockout.
The stoppages were so ugly and consistent that respected Johnny "Fight Doc" Benjamin made the statement that Arlovski should never be medically cleared to fight again.
Since that time, a transformation has occurred, and the former champion from Belarus has been on a paper route of sorts in his last four fights. But instead of delivering papers, he is delivering knockouts.
The heavyweight division is one of the most exciting in all of MMA, and a star like Arlovski doesn't have many options.
The UFC is likely uninterested in allowing the upstart WSOF to have any big name talent, so the company will attempt to scoop up Andrei when the chance arrives.
Robbie Lawler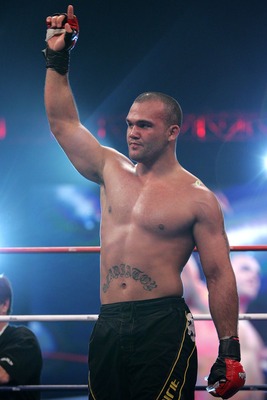 Robbie Lawler may not have had the best record in Strikeforce, but he is a power puncher who has name value and a desire to keep fights standing.
Add in his personal connection with UFC Hall of Famer Matt Hughes, and you've got the recipe for a UFC contract once Strikeforce folds in January.
It's not that Lawler is a bad fighter, because he isn't.
The losses that sit on his record have come against the cream of the crop in Strikeforce. Every single fighter to best him has either been a world champion or title challenger, and that says something.
"Ruthless" will not be a world beater by any stretch of the imagination, but at 30 years old, he has much more to give to the sport, including fun fights against the likes of Patrick Cote, Tom Lawlor or Chris Leben.
Josh Thomson
Let's be honest, the Strikeforce brand does not have a lot of top talent left.
However, that doesn't mean that some bright stars aren't shining.
Josh Thomson had a three-fight stint with the UFC back in 2004, which included an impressive victory over title challenger Hermes Franca.
After electing to take his talents to PRIDE, Thomson found a home with Strikeforce, and would fight for the lightweight belt at the promotion's inaugural event.
After putting on a wicked trilogy of bouts with champion Gilbert Melendez, Thomson has proven that the reigning champion isn't the organization's only lightweight who can put on a high-level show.
Despite the UFC's lightweight division being stacked, expect Thomson to be offered a contract.
Josh Barnett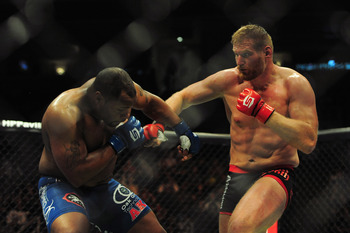 Josh Barnett is a three-time drug cheat.
Let me rephrase that—Josh Barnett is a habitual drug cheat who has officially been caught three times.
That being said, "The War Master" has eaten every punishment that has been thrown at him, and continued to perform like a world-class athlete.
Barnett has a big-time personality cut straight from the fabric of pro wrestling legend.
As one of the most well-spoken athletes in any sport, his charm and charisma supplement his incredible trash talk and stellar ground game.
With one final fight on his Strikeforce contract, Barnett can bring himself back into the fold if he is both successful and impressive in his performance.
Keep Reading