WWE Raw: Buy or Sell for the Dec. 3 Show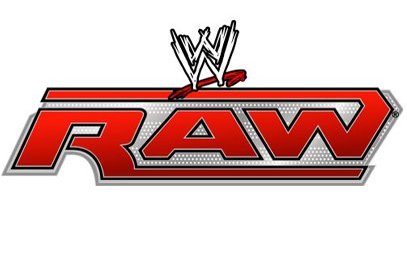 courtesy of wwe.com
Welcome to this week's edition of Raw: Buy or Sell.
Every Tuesday, I'll examine the hottest angles from the latest episode of WWE Monday Night Raw, and tell you whether I'm on board with what WWE is doing (buy) or if I didn't like what I saw (sell).
Some angles and matches won't be covered, as some things on every show don't really warrant a comment. I'll try to stick to the parts of the broadcast that truly matter to WWE fans.
Feel free to comment on what you'd buy or sell from the latest episode of Raw. Tell me if you agree with my choices, or if you think I'm off the mark.
Begin Slideshow

»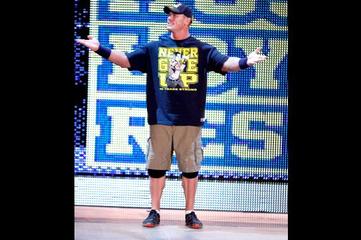 courtesy of wwe.com
I'm selling John Cena in his most recent "What, me worry?" persona. The first view of Cena on last night's show was a backstage shot with Sheamus (another guy who gets a bit too far into the silly area at times) talking about "a citation for a giraffe."
It's bad to make the viewers feel like they missed the joke. Especially if the joke isn't particularly funny to begin with.
Cena's frivolous attitude makes everything he does seem less important. It also makes his opponents or teammates seem less important as well.
Sheamus was getting ready to get into the ring with The Big Show, the guy he'll be taking on for the World Heavyweight Championship at TLC. He should be intense and focused.
Instead, he's involved in a sketch with Cena, where the big joke is that when Sheamus gets overexcited, his accent makes him hard to understand. To steal a line from Miz, "Really?"
Cena wasn't even serious on his way out to the ring. He had to stop and joke with the cameraman on his way to the ring. Cena seems like a bored kid lately, just doing what he has to do to entertain himself. Maybe even he's tired of his act.
Silly Cena diminishes the impact of everything he comes into contact with. A definite sell.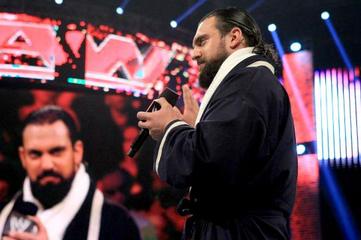 courtesy of wwe.com
While I find Cena's comedy ultimately sell-able, I'm getting a kick out of Damien Sandow's recent "Arthurian quest for a protege."
Sandow reminds me of a cross between Lanny "The Genius" Poffo, Matt Striker back in his "I'm Your Teacher" days, and Mr. Perfect, Curt Hennig. Since two of those acts were pretty lame, you wouldn't think this combo platter would work. For me it does.
It's an utterly predictable scenario. Sandow asks an "audience member" three questions in order to see if the person is worthy of becoming his apprentice. The first two questions are ridiculously simple, the third virtually impossible. Somehow, even though I know what's coming, I find the bit entertaining. '
I do have a minor issue here. Sandow was on Main Event a week ago, wrestling with John Cena, and giving a good performance. On Smackdown, he wrestled Tyson Kidd. Kidd is a fine worker, but there's definitely a come down from the Cena match.
On Raw last night, Sandow wrestled Santino Marella. The quality of Sandow's competition is waning match-by-match. Hopefully, a showdown with Hornswoggle isn't on the horizon.
I'm buying the comedy act. I'm selling the fact that Sandow is losing ground in the ring. If he's left with nothing but the comedy act, he'll eventually become, well, Santino Marella.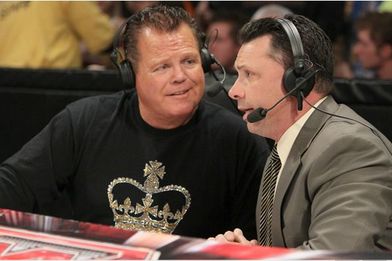 courtesy of wwe.com
I realize that since Raw went to three hours and WWE added Main Event to Wednesday night's TV lineup, there's a lot of TV time to fill. There's got to be a better way than this.
Viewers of Main Event and SmackDown can expect to see anywhere from 10-12 minutes of "Raw Rebound," "Slam of the Week," and various other recap segments from Monday night's show. While, as someone who watches all three shows, I get bored with it from time to time, I can understand why WWE does these recaps.
What I cannot understand, and thus have to sell, is the nearly instantaneous recaps of recent events on Raw. Last night, Michael Cole and Jerry Lawler were recapping CM Punk's verbal showdown with The Miz less than 30 minutes after it happened.
Now, I understand that audiences change over periodically, and I also understand that Raw's target demographic is a population segment not necessarily known for its attention span.
This is ridiculous. My 10-year-old son even commented, "We just saw that." If a grade-schooler can remember the angle, the audience should be able to as well.
Recap all you want. Just give the audience an hour first.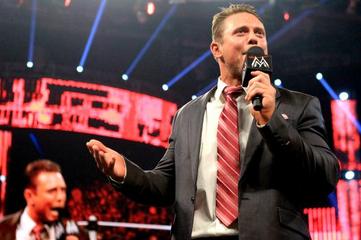 courtesy of wwe.com
I'm buying Mike "The Miz" Mizanin in his new babyface persona.
I've become a fan of Miz over time, and enjoyed his heel antics as much as anyone. That said, I'm enjoying his babyface turn even more.
Miz has managed to go from hated to beloved by the crowd without losing any of his arrogance or attitude. That's some deft mic work by a guy who is clearly one of the best talkers in the WWE.
Miz's segment with CM Punk to set up the show's closing angle was great. He admitted to his previous heel tendencies, and pointed out the issues with Punk's title reign. (Though, admittedly, he stumbled over a word here and there. It's asterisk, Miz.)
He asked the question that the audience was wondering about (is Punk aligned with The Shield), and demanded an answer. It was a good showing.
Punk is known as the best mic worker in the business, and Miz held his own in the confrontation. That's a great sign of what could be on the horizon for The Awesome One. A feud with Punk would put Miz right back at the top of the card.
One question comes to mind, however. Why would Vince and WWE let Miz continue to have episodes of Miz TV on Raw and Smackdown? Just about every time he tries to do the show, someone comes down and destroys the set. It must cost a fortune in rented furniture.
While I probably have to sell Miz, the journalist, I'm buying Miz, the good guy.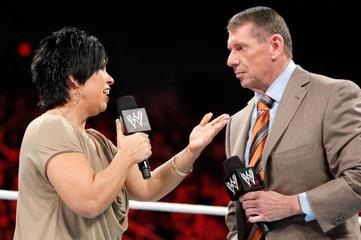 courtesy of wwe.com
At first, when Cole and Lawler teased an appearance by Vince McMahon for later in the show, I was excited. Usually, when McMahon shows up, something important happens, and newsworthy TV is good TV.
I was disappointed by the outcome of the appearance, however. First of all, Vince didn't really need to be on scene to accomplish what was accomplished. He bullied Vickie into making a match between John Cena and Dolph Ziggler for Dolph's Money in the Bank briefcase for the TLC PPV.
The match itself wasn't a newsworthy announcement. It was almost a foregone conclusion that those two would be locking horns at TLC. Vickie could have made that announcement herself. The match stipulation is a whole other problem, which I'll address in a bit.
Vince then led Vickie through a conversation that ended with Paul Heyman having to face Ryback at next week's Raw if CM Punk was caught being dishonest during his lie detector test on Miz TV. This was also bad for business. No one wants to see that match, and it was unlikely that events were going to lead to it.
This segment should have come with a spoiler alert. Punk would either be proven truthful, or he'd somehow avoid the test altogether. It's okay to tease possible outcomes of a future segment. It's not good to pre-ordain them.
I'm selling this for another reason. Vickie, while still a heel for the most part, has been making a few logical decisions as Raw's Managing Supervisor. She favored heels where she could, but made the right matches where she had to. Having Vince come in and steamroll her made no sense, and definitely made her seem less authoritative.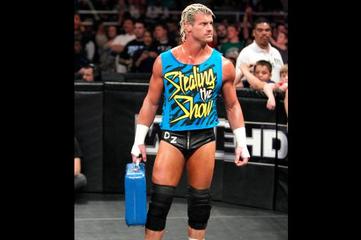 courtesy of wwe.com
As a result of Vince's in-ring meeting with Vickie, Dolph Ziggler now has to put his Money in the Bank briefcase on the line against John Cena at the TLC PPV in a ladder match.
This is my biggest sell of the night. There are so many things wrong with this idea that it's hard to think of them all.
First of all, Cena had his own MITB briefcase, cashed it in against Punk, and lost. Why should he have a second chance?
Ziggler's choice not to cash in his briefcase was a good aspect of his character. It was hard to tell if he was being cowardly or simply being crafty and waiting for the perfect opportunity.
Now, he has to fight just to keep the briefcase, and TLC is one more event where he probably can't cash it in, even if he wants to. (Assuming the World Heavyweight Championship match between Big Show and Sheamus happens before Ziggler matches up with Cena at TLC.)
I suppose he could try to cash the briefcase in before facing Cena, but that would truly cement him as a cowardly heel.
Another flaw in this plan is that Ziggler has already put his briefcase on the line and managed to retain it in a match with Chris Jericho. It's bad enough that the MITB winner is forced to put the briefcase at risk, but to have to do it more than once takes some of the gravitas away from winning it in the first place.
The winners of the MITB briefcases should be guaranteed a chance to cash them in. That's the whole point of the Money in the Bank pay-per-view.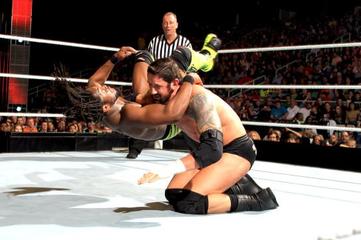 courtesy of wwe.com
Vince McMahon made Vickie Guerrero look weak during their segment on Raw. Teddy Long made Booker T look good, even without Booker there. (Admittedly, sometimes that's the best way to make Booker look good.)
Long interrupted what was going to be a tag match between US Champion Antonio Cesaro (with Wade Barrett) and Intercontinental Champ Kofi Kingston (with R-Truth), to announce that the match would instead be a Fatal Four-Way match.
While Long didn't specifically mention Booker, you can assume, since he's Booker's assistant, that he had the blessing of the SmackDown General Manager to make this change. Long then said the WWE Universe would decide which title, the IC or US belt, would be on the line in the match.
It turned out to be the US title on the line, not that it really mattered. Kingston and Cesaro are booked for the big match on Main Event Wednesday, so it was evident that both would still have their belts when that show airs. What was good about this is that it changed the dynamic of the match.
WWE has too many of these "mixed bag" tag team matches in which no one really stands to gain anything. For instance, Dolph Ziggler teaming with the Big Show earlier in the evening didn't make any sense. Ziggler stood to gain nothing by winning a meaningless tag match against Cena and Sheamus.
What would really have benefited the Show Off is to have Big Show get injured or disabled during the match. Then Ziggler could have cashed in his briefcase...you get the picture. Putting a title on the line for the four men in this match made more sense than having them tag together for no reason.
I'm buying the logic of this booking, though the outcome was pretty predictable.
courtesy of wwe.com
My biggest buy(s) from last night's Raw go to The Shield and Ryback.
WWE is doing a good job of establishing Dean Ambrose, Seth Rollins and Roman Reigns as a legitimate force. The three were up in a sky box to start the show, and merely grinned at Kane when he stood in the ring and called them out.
Then, they stalked Kane and Daniel Bryan, working their way slowly down from the box to the event floor during Team Hell No's match with the Primetime Players. While everyone knew an attack was coming, the slow approach built tension and made the attack more effective.
Later in the show, The Shield attacked Randy Orton for no apparent reason. This attack was possibly even more effective than the first, since it was unexpected. Orton had just defeated Brad Maddox when the trio came out and powerbombed him. While there is some reason to suspect that Ambrose and Co. have an association with Maddox, they didn't rescue him from Orton.
Then, the three men in black made another semi-predictable attack, trashing the Miz TV set before CM Punk could answer a question about whether he worked with the Shield and Maddox. They powerbombed Miz and brawled again with Bryan and Kane until Ryback's music hit.
This was my second big buy of the night. Ryback is being treated like an attraction by WWE. His first appearance of the night was in the last segment of the show. He didn't end up being powerbombed for the third week in a row.
Instead, he tossed Ambrose into the crowd, chased him into the stands, and let Kane and Bryan deal with the other two Shield members. Then, he came back to the ring and destroyed Punk with a ladder before powerbombing him through a table.
Saving Ryback for the end of the show makes him seem like a big deal. Allowing him to get some revenge on the Shield without dominating all three members keeps both he and the faction looking strong.
Allowing Ryback to dominate Punk at the end of the segment makes him look like a beast as the buildup to TLC continues. If WWE was smart, they'd have Vickie ban Ryback from the building on next week's Raw...ust to keep him dominant.
That's this week's Buy or Sell. Did I miss anything? Is there something you totally disagree with? Feel free to make your feelings known and do your own buy or sell in the comments section.
See you next week.