Ohio State vs. Duke: Winning Report Card Grades for the Blue Devils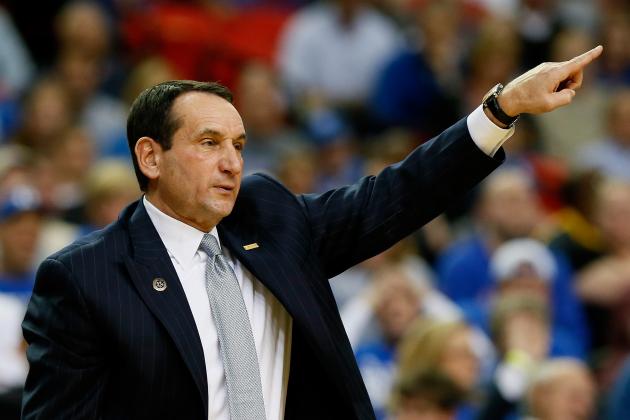 For the Duke Blue Devils, revenge was served.
Approximately a year after getting roughed up by the Ohio State Buckeyes in Columbus, Mike Krzyzewski's team bounced back from a lackluster first half to score a big 73-68 win over the Buckeyes at Cameron Indoor Stadium.
With Duke's gritty ACC/Big Ten Challenge win, the Blue Devils have now beaten three of last year's Final Four teams (Ohio State, Kentucky and Louisville) so far this season.
With another big nonconference home win in the books, it's report card time.
Here's a look at the notable grades the Dukies scored in their big win over the Buckeyes.
Begin Slideshow

»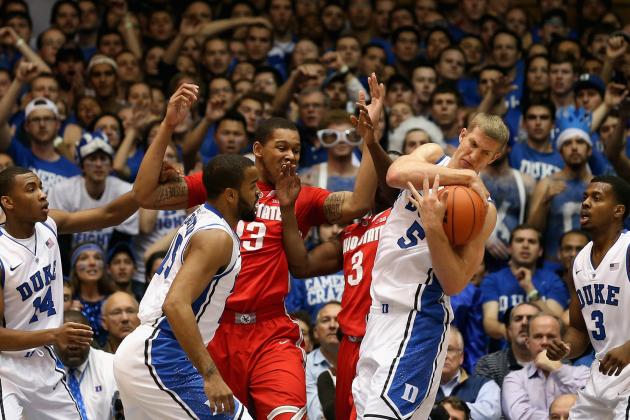 The only reason Duke didn't score an F for their first-half effort against Ohio State was because they miraculously went to the locker room only down 31-23.
The Blue Devils struggled to match Ohio State's physicality and tenacity in the first half. In no place was this more evident than on the offensive boards.
The Buckeyes pulled down 11 first-half offensive rebounds, compared to Duke's lowly two. Amir Williams in particular hurt Duke, as he had four offensive boards himself. On top of that, Coach K's team went the last 10 minutes of the half without hitting a shot from the field.
The only ones who were productive offensively were seniors Mason Plumlee and Ryan Kelly. They combined for 17 points to keep Duke in the game.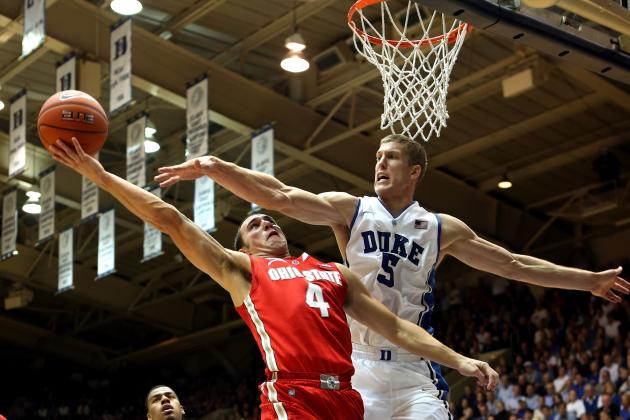 The Blue Devils haven't even gotten close to ACC play yet, and we're already running out of accolades for stud senior forward Mason Plumlee.
The bottom line is that he and Indiana's Cody Zeller are the two most dominant players in college basketball right now. All Plumlee did against Ohio State's stout frontcourt was put up 21 points and a career-high-matching 17 rebounds. He also had a ridiculous alley-oop dunk early in the second half, when he skied high to grab a Quinn Cook pass with one hand and slam it home in one continuous motion.
And just for good measure, Plumlee continues to hit his free throws at an 80 percent clip. Not too bad for a guy who had a career free-throw percentage under 60 coming into this season.
Duke's going to go as far as the senior beast will take them. If Plumlee keeps putting up monster numbers against elite competition like he did against Ohio State, the Blue Devils are going very far in March and April.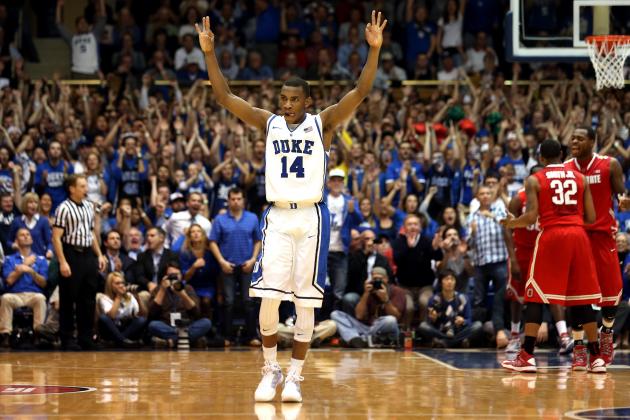 It was nice of Rasheed Sulaimon to show up in the second half for Duke against Ohio State.
The super-talented freshman guard was shut out of the scoring column in the first half. But that totally changed after halftime, as Sulaimon scored all of his 17 points in the game's final 20 minutes.
Sulaimon not only hit some big three-pointers, but he attacked the basket aggressively and played inspired defense on the other end. The Buckeyes struggled with Sulaimon's athleticism in the second half, and his impact performance was arguably the difference in the Duke victory.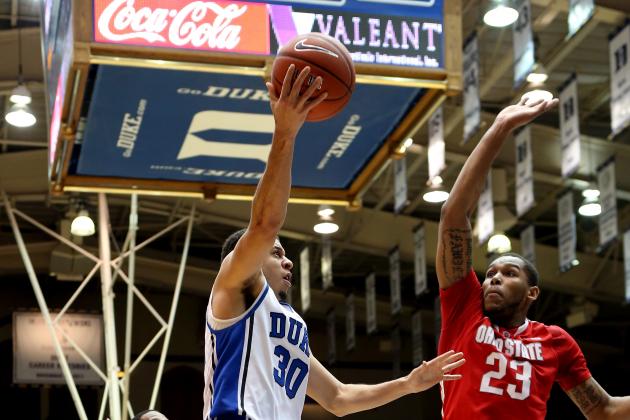 Seth Curry didn't play very well against Ohio State.
However, the senior guard gets a pass here. Curry missed the majority of the second half after appearing to tweak his leg injury.
Even before the injury, though, Curry was on his way to scoring an F. He struggled offensively, finishing with four points on just 1-of-6 shooting.
Unfortunately, Curry's serious leg injury hindered him from making a bigger impact, forcing an incomplete grade here. Duke fans are hoping the gutsy Curry can play through the pain as the season wears on.
Don't forget about Ryan Kelly's big contributions for Duke against Ohio State.
The senior forward finished with 15 points despite playing the majority of the game with foul trouble. Kelly hit consecutive three-pointers that allowed Duke to tie the game at 53 in the second half. He's becoming the player that many Duke fans were expecting when he was highly recruited out of high school four years ago.
Kelly has to be accounted for on the outside, as he has a deadly stroke from long range. And he has coupled that outside game with a more aggressive mindset overall.
Kelly drove to the basket several times and boxed out on his rebounding assignments more often than not against the Buckeyes. This was the case, even though Kelly played a large chunk of the second half with four fouls.