Manchester City Transfer Rumours: Should Roberto Mancini Sell Mario Balotelli?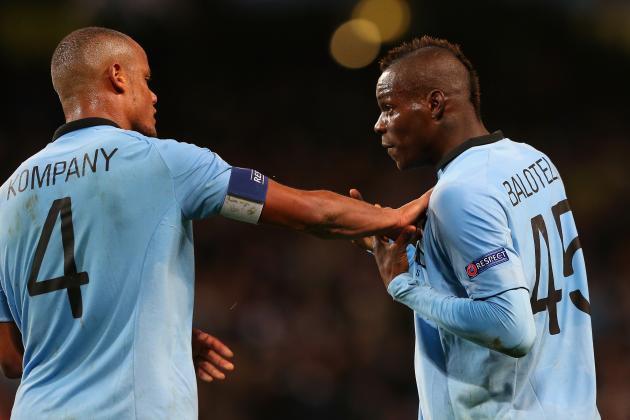 Mario Balotelli finally scored his first Premier League goal of the season on Wednesday after netting against Wigan Athletic.
City manager Roberto Mancini opined on Balotelli's performance (via BBC Sport):
I am happy for him because he has scored his first goal of the season, and it was an important goal. He scored one important goal but he can continue to improve. For me, he did not play well. He did not play like I know he can.
Mancini has ruled out selling Balotelli, but should City part ways with Super Mario?
Begin Slideshow

»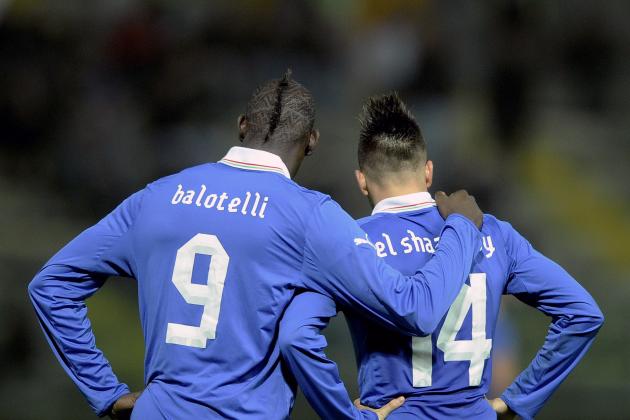 To quote Mario Balotelli (from Tuttosport via The Guardian): "There's only one that is a little stronger than me—Messi. All the others are behind me."
For Balotelli to live up to his own lofty standards, he'll have to sign for a big club.
Let's assume he returns to Italy.
You can rule out Juventus—that leaves us with his former club, Inter Milan, and his favourite club, AC Milan.
Nerazzurri president Massimo Moratti told Gazzetta dello Sport (via ESPN FC): "I really don't think that Balotelli will be coming back to Inter."
Milan CEO Adriano Galliani is always looking out for Bosman players or bargain signings.
With that being said, Balotelli's contract with Manchester City ends in the summer of 2015.
Balotelli will only don Milan's red and black shirt if City are willing to accept a derisive transfer fee.
You shouldn't expect Galliani to make a serious move for Balotelli until 2014. Obviously, this is under the assumption that Mario doesn't inexplicably extend his stay at Eastlands.
It's not all doom and gloom in the red half of Milan, though. The club do have two world-class Italian youngsters in Stephan El Shaarawy and Mattia De Sciglio.
Adding Balotelli seems to be the right decision on paper, but what if M'Baye Niang breaks out and becomes a star in the next two years?
Signing Balotelli wouldn't make sense.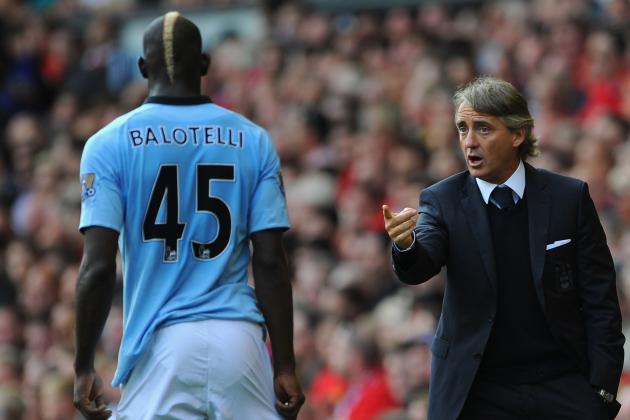 Mario Balotelli isolates himself on the field and expects his teammates to pass him the ball all the time. When he doesn't have the ball, Roberto Mancini is effectively playing with one less outfielder.
Balotelli has the vision and technique to thread through balls, but he is so selfish. He's only registered one assist in his last 51 Premier League games.
| | | | | |
| --- | --- | --- | --- | --- |
| League Only | Games | Goals | Shots Per Goal | Assists |
| Balotelli (10-11) | 17 | 6 | 7.8 | - |
| Edin Džeko (10-11) | 15 | 2 | 16.5 | 2 |
| Balotelli (11-12) | 23 | 13 | 6.3 | 1 |
| Džeko (11-12) | 30 | 14 | 6.6 | 3 |
| Balotelli (12-13) | 11 | 1 | 31 | - |
| Džeko (12-13) | 11 | 6 | 4.3 | 1 |
| | | | | |
| Balotelli (CT*) | 51 | 20 | 8 | 1 |
| Džeko (CT*) | 56 | 22 | 6.9 | 6 |
CT* = cumulative total
After the Carlos Tévez debacle, Roberto Mancini's words are worthless when he attempts to knock some sense into Balotelli.
Džeko, who was a world-class forward at Wolfsburg, feels slighted that he doesn't start every game under Mancini.
Both forwards are unhappy, and Mancini needs to pick one and stick with that player. The current method of chopping and changing will ensure the departures of both Balotelli and Džeko.
This situation is a snapshot of Mancini's indecisiveness, which is partly the reason for successive UEFA Champions League failures with one of the most expensively assembled teams in football history.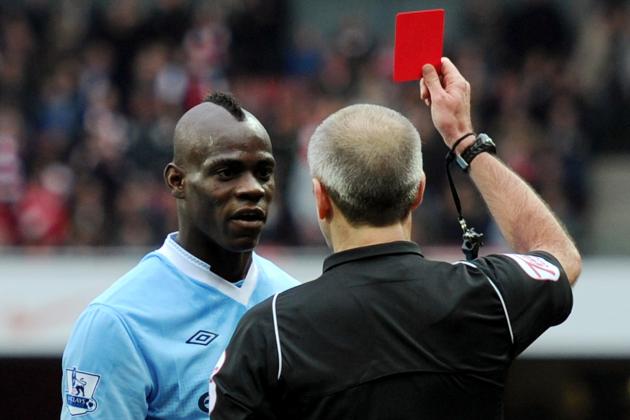 Manchester City sporting director Brian Marwood's comments implied that Mario Balotelli disregarded the club's values (from the Sunday Mirror via ESPN FC):
In the main, we have a fantastic group of players here. I look at [Pablo] Zabaleta, I look at Kompany, I look at Joe Hart, Gareth Barry and Joleon Lescott.

I think—and we all know who we are talking about [Balotelli]—that you will get people within the system who do not show the right values and the right behaviour.
Balotelli stomped on Scott Parker's head, attempted to break Alex Song's leg and kung-fu kicked Goran Popov.
Some of the fouls Balotelli commits are so daft. Since he's such a bad tackler, why doesn't he just jockey? It's a much smarter option than mindlessly tripping up an opposing player.
Balotelli will be more of a loss to the tabloids than City because they already have his replacement in John Guidetti.
Espanyol Scouting Report for Nerazzurri Loanee Samuele Longo
Statistics courtesy of WhoScored.com
Follow @allanjiangLIVE

Connect with +allanjiang