4 Players Dallas Cowboys Could Take in the 1st Round of 2013 NFL Draft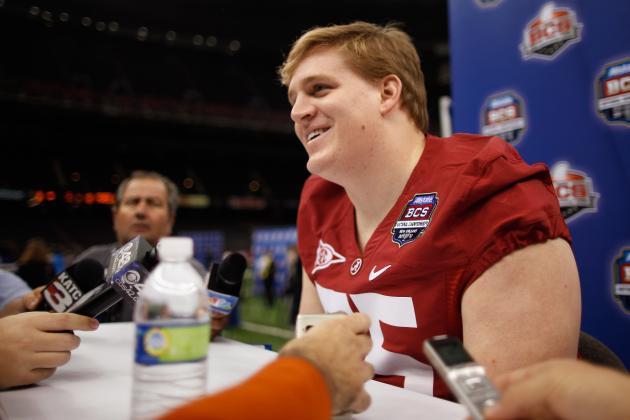 There is nothing wrong with planning for the future. But when we're already looking forward to the draft and there are five games left to play, it's usually an indication that something has gone terribly wrong.
That's the situation for our 5-6 Dallas Cowboys, or what's left of them anyway.
Injuries have decimated this team into a nearly unrecognizable state. Week 12 saw players like Cole Beasley and Lance Dunbar and Dwayne Harris playing full-time roles. If you didn't have a calendar you might have mistaken it for a preseason game.
Even if DeMarco Murray is finally finding his way back to the practice field for the first time since early October, the loss of Bruce Carter, who was playing admirably in the place of Sean Lee, may be the final nail.
I'm sure there are those of you who believe had the Cowboys been healthy, they'd be contenders. Allow me to be the voice of reason.
Sure, they've been very unfortunate with a rash of injuries that started with Jason Witten early in the season, continued with Murray and ended with several star defensive players. But it's impossible to ignore that the offense has been unreliable. Tony Romo has been inconsistent. Dez Bryant didn't show up until a few weeks ago, just in time for Miles Austin to get banged up.
Leadership, turnovers, game management and special teams, not just injuries, played a big role in another disappointing season.
Of course, the season isn't over. They could still run the table, finish 10-6 and earn a playoff spot. But it's highly unlikely with a game against the New Orleans Saints in Week 16 and another date with a team that laid 28 points on them in one quarter on Thanksgiving Day.
Nope. This team isn't going to the playoffs. It's time to focus on the future. It's time to reboot and do what's necessary so that at this time next year, we're not waving the white flag.
And that future starts with the first round of the 2013 draft. Here are four players the Cowboys should target.
Begin Slideshow

»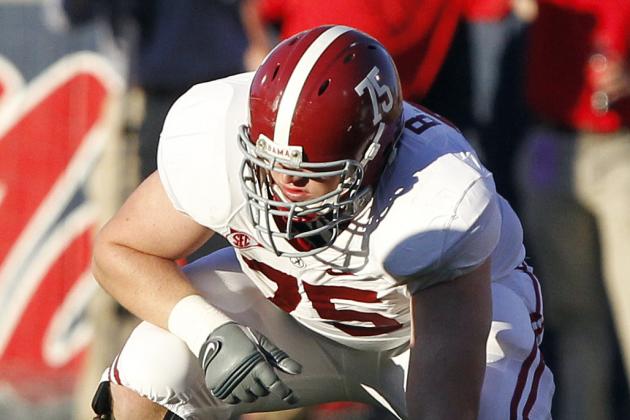 There's no question that the Cowboys' biggest weakness is their offensive line. Left tackle pending, they need help at every position in their front five, specifically center.
Barrett Jones is on his way to winning a second straight Outland Trophy for best offensive lineman in college football. Standing 6'4" and weighing 305 lbs, he definitely has the size. He also has the strength to keep a clean pocket for Romo and the discipline to prevent five-yard penalties—something that has been a major problem for the Cowboys.
What makes him especially valuable is his ability to play multiple positions. Though he would most likely be drafted to play center considering the success he's had this year since moving to that position, he also represents a great option at guard. That kind of versatility is coveted in the NFL where injuries are so prevalent.
Jones should be the Cowboys' first overall draft pick if his name is still on the board when they are on the clock.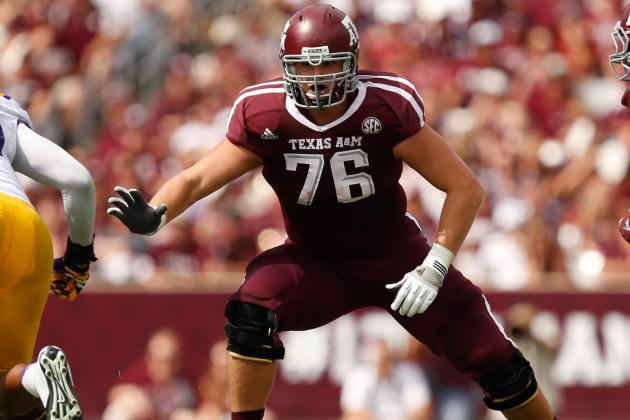 This would be more of a miracle pick. While I firmly believe that Jones should be the Cowboys' first overall selection, if Luke Joeckel somehow drops to them, it would be very hard to pass.
That's not going to happen as the Philadelphia Eagles, who are in just as bad or worse shape than the Cowboys, will most likely draft him early.
But it's okay to dream (as long as your team doesn't become sarcastically synonymous with that word). The drawback is that Joeckel is primarily a left tackle, and we all believe that Tyron Smith, despite having a tough year, has a bright future. Converting Joeckel to right tackle could prove to be a costly experiment (see Doug Free, 2011). The idea would be to move Smith over to right and plug in Joeckel at his native position.
The main theme here, if you haven't guessed it already, is that Doug Free isn't going to work out. And as long as he is on the field, the right side of the offensive line is going have a major liability (an expensive liability). Either moving Smith over or plugging in Joeckel could fix things immediately.
No matter what, the Cowboys need to find a permanent replacement for Free.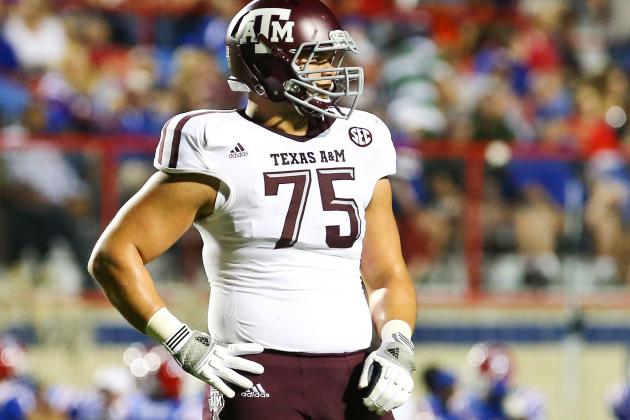 If I haven't hammered the point home yet that the Cowboys need to draft offensive linemen, allow me one last opportunity.
We've already determined that Jake Matthews' teammate, Joeckel, will most likely not be available. We've also determined that Doug Free needs to be replaced. Matthews makes for a good solution.
He has the strength and the arm length to drive back defensive ends and create space for the running game. In fact, run blocking is his most notable asset. Conversely, running the ball is something the Cowboys have struggled with.
The addition of Matthews would not only help keep Romo upright, his speed and size gives him the ability to get down the field and put a hit on a linebacker. This is especially effective on screen plays, were the Cowboys to ever get to that part of their playbook, but that's an entirely different discussion.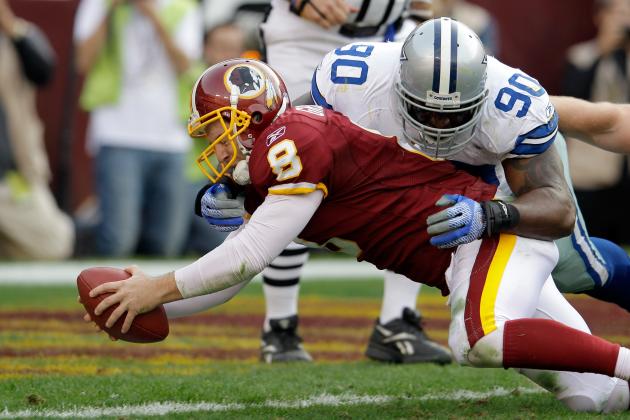 Switching to the other side of the ball but staying on the line, we find ourselves faced with the same issue: controlling the line of scrimmage.
In this situation, we're obviously focusing on getting pressure up front. Doing so with a 3-4 base defense is very difficult without a great nose tackle.
At 6'3" and 358 lbs, John Jenkins definitely provides the size required of two-gap defensive tackles. He also has the strength to push back linemen and collapse the pocket. Without question, he is the prototypical nose tackle every 3-4 coach envies.
This issue is not that the Cowboys are lacking a good nose tackle. In fact, I would argue that Jay Ratliff is an excellent nose tackle. The problem is that he doesn't necessary have the size, and it's evident that he won't hold up for 16 games lined up directly over the center.
Drafting a monster like Jenkins would provide Rob Ryan the opportunity to slide Ratliff over to defensive end in a 5-technique alignment, or even better, a 3-technique.
The common rebuttal to this is that it's not Ratliff's size that's the problem, but the quality of players he has playing beside him. The theory is that he wouldn't see as many double-teams if he had bigger and stronger two-gap defensive ends.
Furthermore, lining him up as a 5-technique would force him into more athletic double-teams, thereby rendering his speed useless. But if the Cowboys had a nose tackle the size of Jenkins, they'd be able to create enough pressure on one side of the line and possibly create one-on-one situations for Ratliff.
One way or other, a player like Jenkins adds a lot of size and a little bit of depth. The importance of which cannot be overstated.