Ranking the 10 Golfers Who Will Suffer Most from Ban Anchoring Putters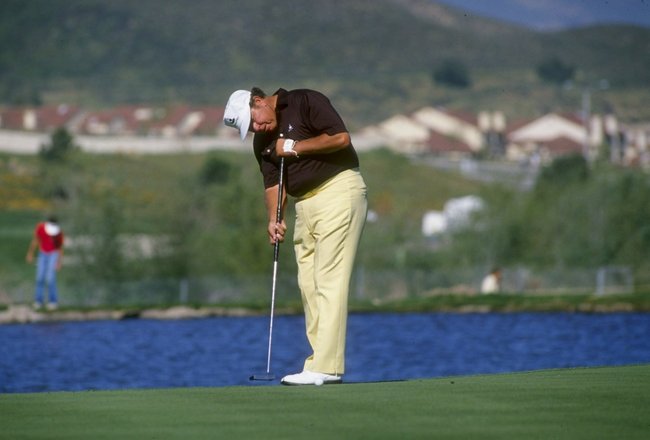 The long putter helped Orville Moody win the U.S.Senior Open in 1989.

For many people, change is a very difficult thing to adjust to, and professional athletes might be worse at adapting to change than anyone else.
If Rule 14-1b is enacted and becomes law as of Jan. 1, 2016, it will be illegal to anchor a putter to any part of your body.
There will be some golfers on the PGA Tour who could be affected quite adversely by this rule.
Keep in mind that they won't have to make the change until 2016 and no one knows exactly where their games will be in four years.
Here are 10 players I think will be affected most.
Adam Scott
Adam Scott is congratulated by caddie Stevie Williams.
If there's a poster child for what the long putter can do for a player, Adam Scott is it.
Even with a Players Championship on his resume, Scott's career had hit something of a plateau.
He was a good player but was rarely a factor in the majors.
He went to anchoring his long putter since the beginning of 2011 and has finished in the top 15 in six of the last eight majors, including a pair of runner-ups.
Keegan Bradley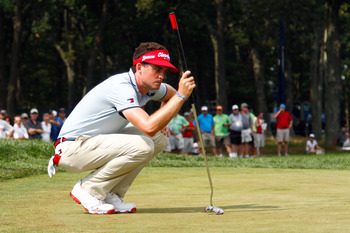 Keegan Bradley has a unique and successful style on the greens.
Keegan Bradley used his long putter for 2.5 years before becoming the first player to win a major championship, the 2011 PGA Championship.
Whether it was the long putter or just the fact that Bradley was getting the idea of how to win on the PGA Tour, he's had two very good years.
He won the World Golf Championships-Bridgestone Invitational when Jim Furyk collapsed.
He made putts from everywhere in the Ryder Cup, too.
Webb Simpson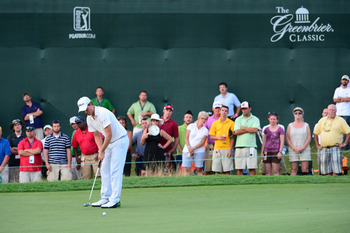 Webb Simpson became the first U.S. Open champion to win with a long putter.
Webb Simpson is one of the players golf's rule-makers referred to, without naming him, when they expressed concerned about more and more younger golfers going to the long putter early in their careers.
He started playing with the long putter in his freshman year at Wake Forest.
When he won the U.S. Open in June at Olympic Club, the eyes of golf's hierarchy were opened wide to another major champion wielding a non-traditional putter.
Carl Pettersson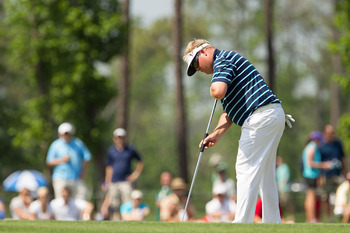 Carl Pettersson knows no other way to putt.
Carl Pettersson last used a traditional putter in his sophomore year of college, approximately 15 years ago.
He's won five times on the PGA Tour and has had a nice career, earning over $19 million.
He's known nothing else on the greens, estimating he's spent 10-15,000 hours practicing with the club. He was asked a year ago if he'd be able to adapt should the long putter be banned.
"Would I adapt? Well, I'd have to," Pettersson said, via Michael Whitmer of The Boston Globe. "I've got a high school diploma. What else am I going to do?"
Ernie Els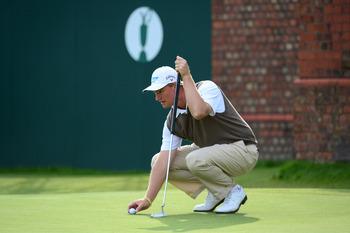 Ernie Els doesn't necessarily like the long putter, but he won an Open Championship with it.
Ernie Els won three major championships putting with a traditional putter.
He made the switch to the belly putter late in 2011 and won the Open Championship in July with the help of an Adam Scott collapse late in the final round.
He's long been a critic of the non-traditional putters, but when questioned about the switch, he said (via Doug Ferguson, Associated Press, PGA.com), "As long as it's legal, I'll keep cheating like the rest of them."
Bill Haas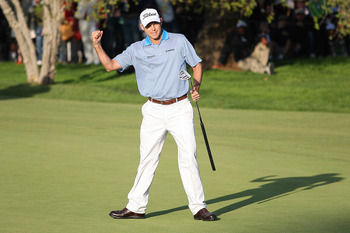 Bill Haas hit the jackpot at the end of 2011 with a long putter.
Bill Haas won the FedEx Cup and Tour Championship on the same weekend in 2011 and he did so using a long putter.
He hadn't used it long before that and had an OK 2012, posting one win.
He's one of the group of players who were good enough to play on the PGA Tour but were desperately seeking some help on the greens.
Tim Clark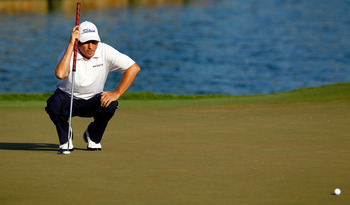 Tim Clark says the long putter has helped physical problems with his hands.
Tim Clark has suffered with a variety of physical ailments over the years, but he won the 2010 Players Championship with a long putter.
He credited the long putter for the victory because of a physical condition that made it difficult for him to put his hands properly on a conventional putter.
Fred Couples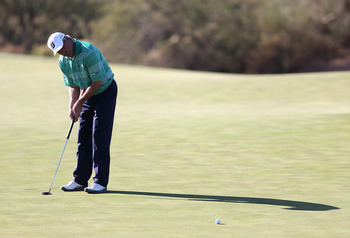 Fred Couples won't play much without his belly putter.
If a bad back that's haunted him for much of his career can be used as a reason to allow somebody to use one, Fred Couples should continue to use that belly putter.
Couples can't practice with a traditional putter and is challenged to bend over to get his ball out of the cup even on some of his good days.
The belly putter is definitely a last-resort decision for Couples.
Couples doesn't play all that much because of his back, and the ban will no doubt cut his playing appearances even further.
Trevor Immelman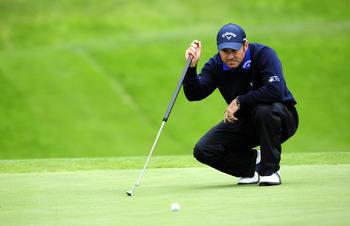 Trevor Immelman knows the value of both kinds of putters.
Trevor Immelman won the 2004 Deutsche Bank-SAP Open with a long putter but went back to conventional again until 2011 when he went non-traditional.
Since Immelman's victory in the 2008 Masters, it's been tough for him with a wrist injury and a game that disappeared.
He seems to be on the comeback with the long putter.
Martin Laird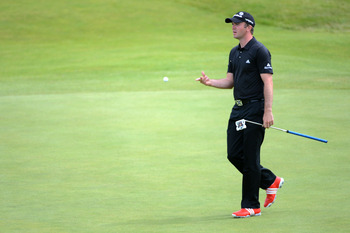 Martin Laird's career has been resurrected by the long putter.
Martin Laird used a long putter for a while in 2006 but got to the point on near-desperation with his putting back and went back to a belly putter.
How did that work for him?
He won the Arnold Palmer Invitational at Bay Hill in March and got to as high as No. 36 in the World Golf Rankings.
Keep Reading