Red Sox Trade Rumors: 6 Reasons Why Joe Mauer Is a Perfect Fit for Boston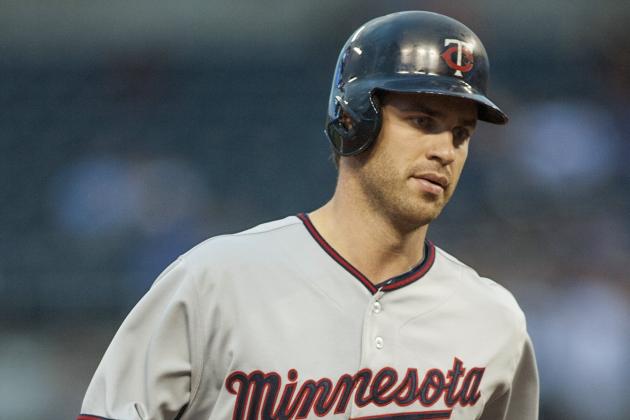 Bringing Joe Mauer to Boston would be a dream scenario for the Red Sox.
Red Sox fans have been on the edge of their seats since GM Ben Cherington announced on WEEI that he intends to have a significant payroll in 2013. Although ESPNBoston.com speculated that the team could spend upwards of $100 million this offseason, some of that money may be used to pay players acquired by trade instead of free agency, and Minnesota Twins catcher Joe Mauer is perhaps the biggest name on the Red Sox wish list.
The Boston Globe's Nick Cafardo recently wrote that the Red Sox should pursue Mauer. He noted that if Mauer hadn't signed his current eight-year contract with the Twins that, "Boston would have been a likely destination for him in free agency. He lives in Fort Myers, Florida, and has always been enamored with the Red Sox."
Mauer was mentioned by ESPNBoston.com's Gordon Edes as the player the Red Sox should pursue during the upcoming winter meetings to become their new first baseman. Edes mused, "How plausible is this scenario? It has been discussed, at least internally." It will be interesting to see if the team takes his suggestion to heart.
Although MLB.com's Peter Gammons tweeted that the Twins have resisted numerous overtures from the Red Sox for Mauer in recent months, you can never count Boston out when it comes to making big and unexpected moves. Mauer would be a terrific acquisition.
Following are the six reasons why Joe Mauer is a perfect fit for the Red Sox and Fenway Park.
Begin Slideshow

»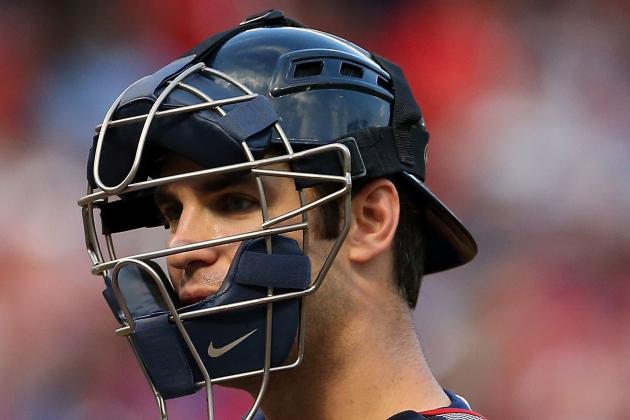 Mauer has a lot of money left on his contract, but the Red Sox can afford it.
Mauer will turn 30 years old shortly after the start of the 2013 season. He still has six years and $138 million remaining on the eight-year extension he signed with the Twins prior to the 2011 season. Despite the expense, Boston would be able to take on his contract without much difficulty.
Furthermore, in their blockbuster trade with the Los Angeles Dodgers this past August, the Red Sox jettisoned over $250 million in payroll over the next decade or so. While they may want to distance themselves from their free-spending ways of the past, acquiring the highly-paid Mauer isn't necessarily a bad business move.
Mauer is a rare talent who would help fill a number of voids in Boston. He is the kind of player who has traditionally thrived with the Red Sox, making the assumption of his contract a potential risk worth taking.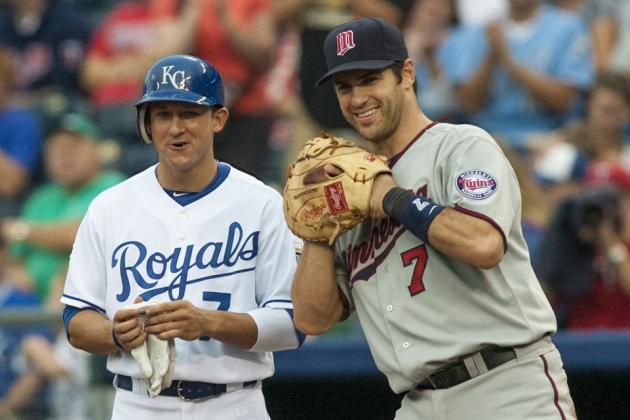 Boston would encourage Mauer's transition to first base.
Mauer has been a catcher for his entire career, which is the most physically demanding position on the baseball diamond. While he has been vocal about wanting to continue catching, doing so could shorten his career, and he has already experienced injuries.
With Justin Morneau experiencing his own health issues, Mauer saw extended playing time at first base last season. According to the Star Tribune's Amelia Rayno, Mauer was open to the temporary experiment and told reporters that, "It'll be something different, but I'm looking forward to playing."
The Red Sox could offer Mauer a chance to do a little bit of everything. They currently have a huge hole at first base, but they could also use his impact bat behind the plate and could even use him as a DH on occasion.
Allowing Mauer to play multiple positions could help extend his career and give the Red Sox greater roster flexibility. Since he is one of the best team players in baseball, it's almost a certainty that he would do whatever was in the best interest of his team.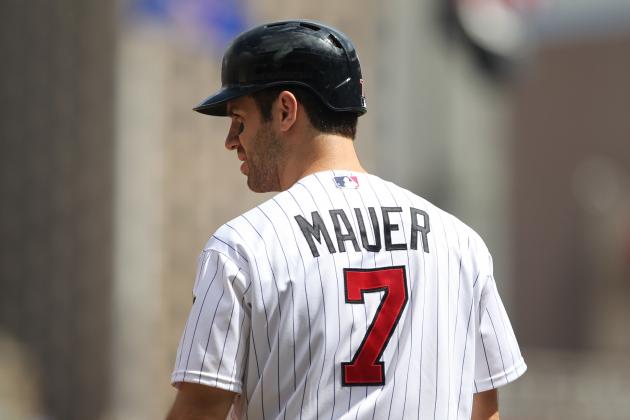 Mauer jerseys would fly off the shelves in Boston.
Last year, Mauer scored a national ad campaign with Proctor & Gamble's sub-company, Head & Shoulders. Such deals are rare for athletes who play in smaller markets like Minnesota.
Coming to Boston would elevate Mauer to a much larger stage and present him with more opportunities to expand his brand. The Red Sox are aligned with a number of large companies, including Dunkin' Donuts, Coca-Cola and Verizon Wireless. A good looking and popular athlete like Mauer would assuredly be viewed as a desirable spokesman.
The Red Sox would also be able to potentially cash in on Mauer's popularity. Simply having his name to affix to various memorabilia like t-shirts and jerseys would be a money-making proposition.
As recently as 2010, Mauer ranked behind only Yankees shortstop Derek Jeter for the top-selling MLB jersey. Joining a team like Boston would only increase his national appeal.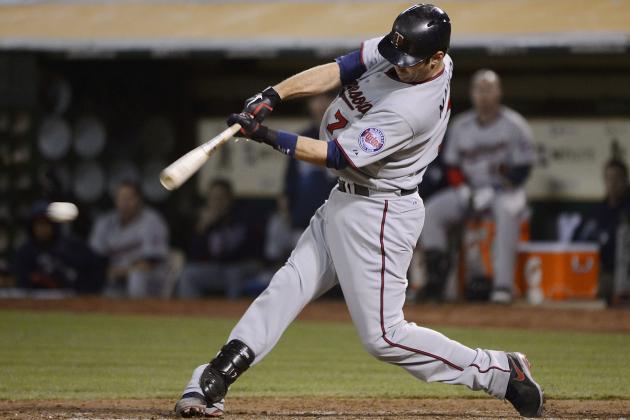 Mauer's sweet swing would look great in Fenway.
Mauer has hit .323 during his nine-year career, and has captured three AL batting titles along the way. He would fit well with any lineup, but would be an especially great fit with Boston.
Mauer's .405 career OBP is already 45th in MLB history. If the Red Sox were to slip him into the third spot in their lineup, they would have the potential to produce runs at an alarming rate.
Mauer would be sandwiched between Dustin Pedroia, who has a .303 career batting average, and David Ortiz, who has averaged .290/34/108 in his 10 seasons with Boston. This would immediately make them the best 2-3-4 hitters of any lineup in baseball.
Having lefties Mauer and Ortiz hitting back-to-back would not be a problem. Mauer has a .295 career batting average against left-handed pitchers, while Ortiz has hit .326 against southpaws during the past two seasons.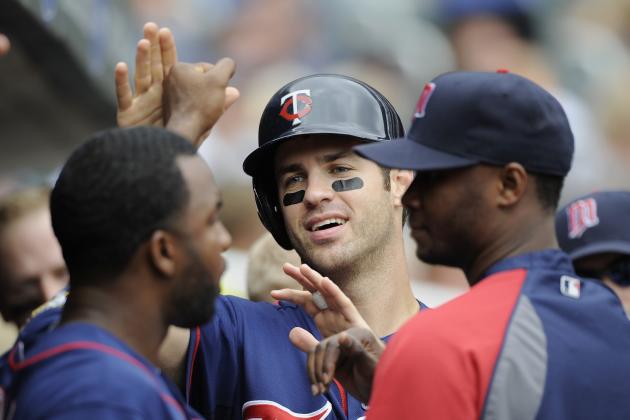 Mauer feasts on the AL East.
The AL East is annually considered to be one of the toughest divisions in baseball, and the Red Sox play 72 regular season divisional games every season. So the ability to perform well against these teams is a must for any member of the team.
Fortunately, this is something that Mauer has excelled at throughout his career.
In 169 total games against non-Red Sox AL East teams, Mauer has produced a combined .319 batting average with 13 home runs and 92 RBI. These numbers are made even more impressive when considering they came from the catcher's position.
Having already proven that he can hang against the primary opponents of the Red Sox, having him in Boston could be a major factor for the team in returning to their winning ways.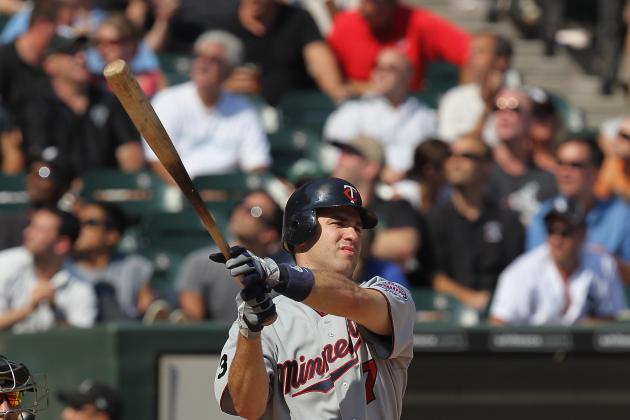 Mauer is a beast when the game is on the line.
Mauer isn't just a great hitter. He has shown an uncanny ability to produce when it matters most.
Mauer has a .343 career batting average when hitting with men in scoring position. That mark is raised to .355 when there are runners in scoring position and two outs.
From the sixth inning on, Mauer has a career OPS of .875, indicating his status as a dangerous weapon when games get down to the nitty-gritty.
The Red Sox struggled mightily in clutch situations in 2012. As a team, they hit just .236 with runners in scoring position and two outs. After the sixth inning, they mustered only a feeble .252 average, compared to their .265 mark in earlier innings.
Adding Mauer to their lineup would only make the Red Sox more dangerous and give them a terrific weapon late in games that could help them gain or preserve more wins.
Statistics via BaseballReference