UCLA Football: Keys to the Game vs. Stanford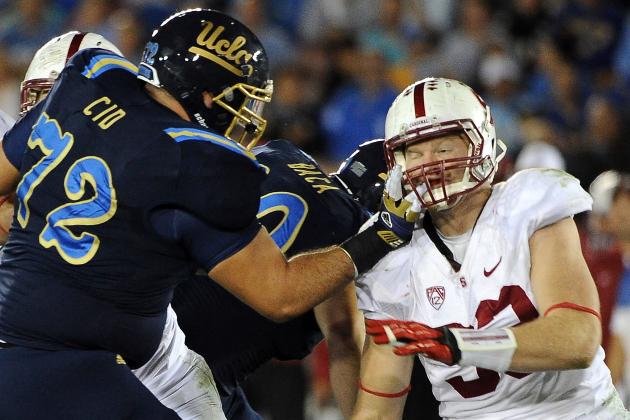 Jayne Kamin-Oncea-US PRESSWIRE
The UCLA OL has to give Hundley time to throw
The UCLA Bruins and Stanford Cardinal will face off this Friday in the Pac-12 Championship Game. The winner of this contest will gain a berth to the Rose Bowl.
For Stanford, a win will demonstrate not only that Stanford is a premier program in the college football world, but it also validates head coach David Shaw and his ability to run the program in the wake of Jim Harbaugh leaving for the NFL. A victory will signify consecutive years where the Cardinal will have participated in BCS bowl games.
Regardless of the outcome of this game, this year has been considered a massive achievement for Jim Mora. The team is one win away from a 10-win season and one win away from the first Rose Bowl appearance for the Bruins since 1998.
Let's take a look at the keys to the game for the Bruins in order to defeat the Cardinal.
*The game will be played on Friday in Palo Alto, CA. It will be televised on FOX, and can be seen at 5 p.m. PT.
Begin Slideshow

»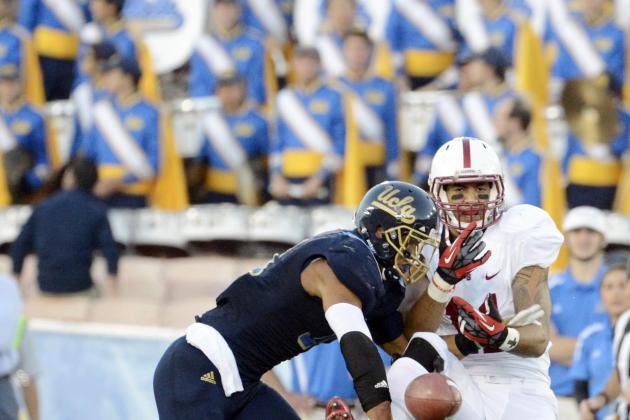 Richard Mackson-US PRESSWIRE
Barr was called for a pass interference penalty on the play above
Penalties have been one aspect plaguing Mora's team all season long. UCLA is the most penalized team in the nation—averaging over 10 penalties per contest.
Last Saturday in the loss to Stanford, UCLA was assessed 12 penalties for 135 yards. A majority of those flubs came during inopportune times—usually on a third-down attempt by Stanford, or in the form of a miscue that crippled a promising UCLA drive.
Anthony Barr was flagged for pass interference when trying to defend Stanford tight end Zach Ertz in coverage. Defensive end Cassius Marsh was flagged for a rather inauspicious hands to the face penalty (when he was clearly being held by a Cardinal offensive lineman). Both those untimely calls led to Cardinal points.
Twelve penalties will not cut it in this game—especially on the road against a team the caliber of Stanford. Somehow, the Bruins have to clean it up and play with more discipline if they are to have a chance in this game.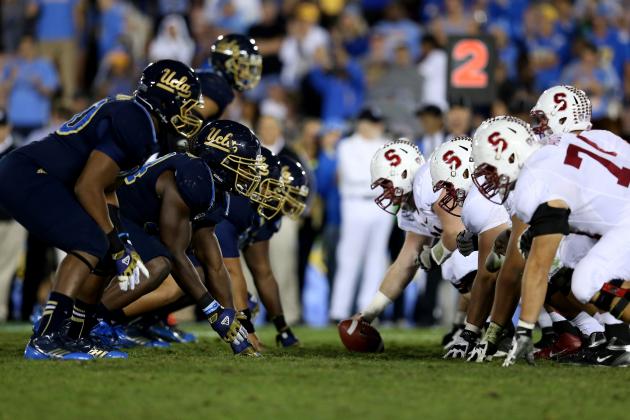 Stephen Dunn/Getty Images
The game will be won in the trenches
UCLA ran for 73 yards this past Saturday—a paltry number compared to the 221 yards that Stanford rushed for against the Bruins. Johnathan Franklin only had 65 yards on the ground, while UCLA quarterback Brett Hundley was sacked seven times on the day.
Suffice it to say, Stanford dominated up front on both sides of the ball.
The rushing yardage disparity clearly illustrates that Franklin had minimal holes to run through and that Hundley had little time in the pocket to throw the ball.
In order to alleviate pressure by the Cardinal's defensive front, the Bruins may need to get a little creative with Hundley in the run game. Some possible means of gaining yardage could come via roll outs and on the zone read.
UCLA didn't attempt any zone read plays in the first game, and that very well could have been by design. UCLA already punched their ticket to the title game, so it didn't make much sense to reveal all of their proverbial cards from a strategic standpoint.
Regardless, both Hundley and Franklin have to be the focal point of the offense. Franklin needs to be productive from the start, and it's imperative that the Bruins protect Hundley from the likes of Henry Anderson, Chase Thomas, Terrence Stephens, Ben Gardner and Shayne Skov.
With heavy rain expected Friday, the game could very well rest with each team's success in the run game.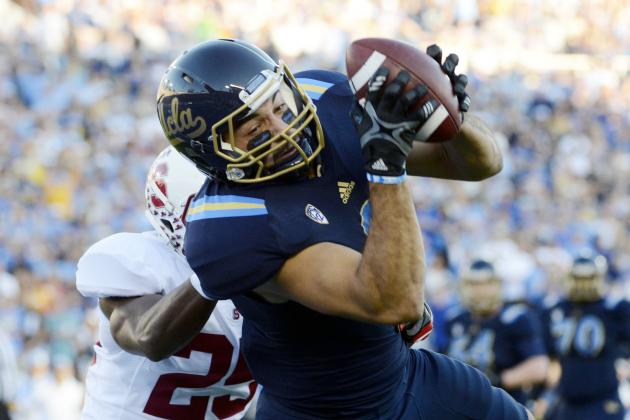 Richard Mackson-US PRESSWIRE
Fauria leads UCLA in TD grabs
The biggest mismatch that UCLA holds over Stanford comes in the form of their tight end Joseph Fauria.
The 6'8" receiver leads the Bruins in touchdown grabs on the season with 11 and is second on the team in both catches (39) and receiving yards (544). With Fauria's size, there's not one defender on the Cardinal roster that can truly defend him.
UCLA likes to employ Fauria in the red zone (and for good reason, considering his height). However, he needs to be targeted more on dig routes, crossing routes and on patterns that will exploit the seams of the field.
Last week, he had only four catches for 66 yards. It would behoove UCLA greatly if Fauria was targeted at minimum 10 times. The Bruins stand a better chance at knocking off the Cardinal if Fauria is involved early and often.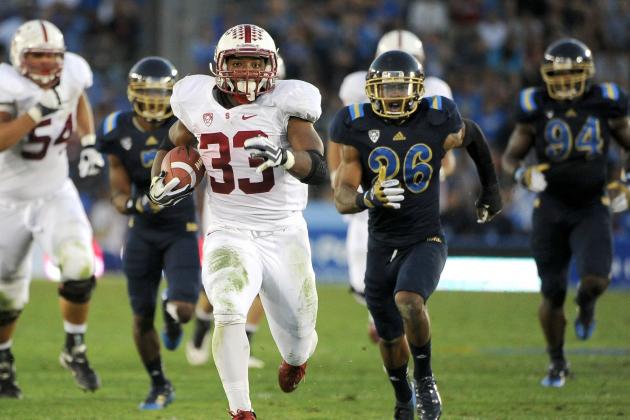 Jayne Kamin-Oncea-US PRESSWIRE
Taylor on a long touchdown run
UCLA actually did a fairly decent job last week against Stepfan Taylor. Looking at the box score, Taylor did have 142 yards on 20 carries, but those numbers are a bit misleading.
A majority of Taylor's yards came on two long runs—which included a 49-yard scamper for a touchdown. The Bruins did do a nice job at plugging the gaps and forcing Taylor to cut back, rather than to run downhill.
It's absolutely paramount that UCLA not only tackles well, but also stays contained on the line and avoids losing gap integrity. Much of Stanford's success came on jumbo packages, where the Cardinal had as many as three extra linemen in for a said formation.
Mora and defensive coordinator Lou Spanos have to come up with a game plan that not only accounts for the heavy run formations, but also is able to defend play action.
The Cardinal love to roll out their QB Kevin Hogan on plays that look designed for the run. Ertz is often found on crossing routes out of these formations, and versatile fullback Ryan Hewitt is usually targeted in the flat.
With inclement weather on the horizon, it's even more incumbent upon the Bruins to be able to contain the run and make Hogan beat them with his arm.