Acquiring Zack Greinke Will Make Dodgers World Series Favorites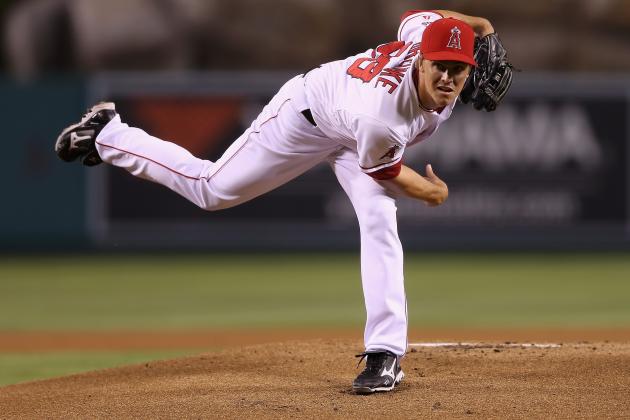 Jeff Gross/Getty Images
Zack Greinke would put the Dodgers over the top in their quest to reach the World Series for the first time since 1988.
The Los Angeles Dodgers worked feverishly during the 2012 season to quickly turn the team into an instant World Series contender. While the Dodgers came up short in 2012, signing free-agent starter Zack Greinke would complete L.A.'s transformation into championship favorites.

Los Angeles made a number of midseason trades to upgrade the talent on its roster. A pair of blockbuster trades made former All-Stars Hanley Ramirez, Adrian Gonzalez, Josh Beckett and Carl Crawford members of the Dodgers organization, all within a month's time.

But the additions of Ramirez, Gonzalez and Beckett weren't enough to help Los Angeles overcome a series of devastating injuries to key players. Crawford never had the chance to help after Tommy John surgery on his left elbow ended his season in mid-July.

Matt Kemp, Chad Billingsley, Ted Lilly and Kenley Jansen all spent significant time on the disabled list as the Dodgers finished eight games behind the San Francisco Giants in the National League West standings. Insult was added to injury (literally) when the Giants won their second World Series title in the last three seasons.

The new players now have a full offseason to get acclimated to their new surroundings, and all the injured Dodgers are expected to be completely healthy early in the season. That alone will improve a team that had the major league's best record through mid-June.

Los Angeles has a potent lineup and a deep bullpen, but the starting rotation still faces questions heading into the season. Signing Greinke would immediately turn a potential liability into an area of strength.

Here are five reasons why the addition of Greinke will make the Los Angeles Dodgers favorites to reach the 2013 World Series.
Begin Slideshow

»
Stephen Dunn/Getty Images
Dodgers ace Clayton Kershaw would welcome a reliable No. 2 starter behind him in L.A.'s rotation.
Which MLB team has two Cy Young Award winners younger than 30 anchoring its rotation? No such team currently exist, but the Dodgers are likely to be the first.

Tuesday's report from CBSSports.com's Danny Knobler indicated that the Los Angeles Angels are unlikely to keep Greinke. This is consistent with last week's news that the Dodgers have emerged as the favorites to sign the 2009 AL Cy Young Award winner.

Teaming Greinke with 2011 NL Cy Young Award winner Clayton Kershaw would arguably give Los Angeles the best front end of the rotation in MLB. Fans in Detroit, Philadelphia, Washington and San Francisco would take exception to this, but Greinke's and Kershaw's credentials speak for themselves.

Aside from their youth and Cy Young credentials, Greinke, 29, and Kershaw, 24, both have career ERAs below 3.80, have at least three seasons of 200-plus strikeouts and have each pitched at least 200 innings in a season on four separate occasions.

No other pair of teammates — including Roy Halladay and Cliff Lee of the Phillies — can match those career statistics.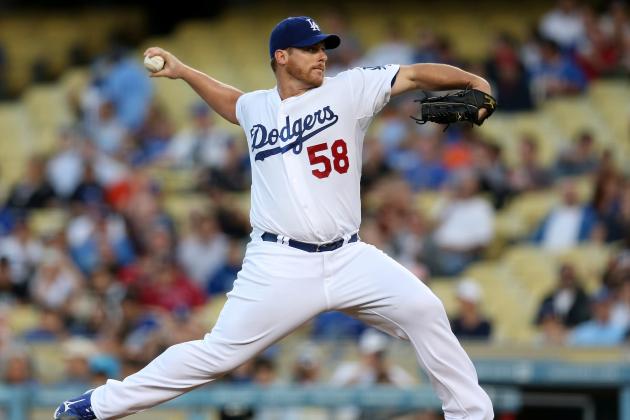 Stephen Dunn/Getty Images
Zack Greinke's presence in the rotation would take a lot of pressure off of Chad Billingsley as he works to build on an encouraging 2012 season.
Although the Dodgers currently have six starting pitchers under contract for 2013, it's hard to know what to expect from anyone beyond Kershaw.

Chad Billingsley was L.A.'s best pitcher during a six-game winning streak from late July through late August, but he left his August 24 start with elbow inflammation that ended his season and nearly required Tommy John surgery to repair.

Billingsley should be able to avoid surgery using an aggressive rehab program that will have him ready to go at the beginning of spring training, but he has teased Dodgers fans with a hot streak before so who knows what to make of last year's performance?

Josh Beckett was impressive in his seven starts with the Dodgers, posting a 2.93 ERA and 1.33 WHIP while striking out 38 batters over 43 innings pitched. However, Beckett's injuries and inconsistency over the past five years make him a wild card.

Los Angeles got surprisingly strong seasons from Chris Capuano and Aaron Harang. Still, Capuano faded badly down the stretch after an All-Star-caliber first half and Harang's days as a front-of-the-rotation starter are well behind him.

Ted Lilly missed the rest of the season after inflammation in his pitching shoulder knocked him out of a May 23 start. He'll be 37 in January, and there's no guarantee that Lilly would be back in the rotation, even if he is completely healthy come Opening Day.

With Greinke as the No. 2 starter, Billingsley and Beckett now look pretty good as the Dodgers' No. 3 and No. 4 starters. Capuano, as a reliable lefty, now fits perfectly in the back of the rotation.

With 2012 emergency starter Stephen Fife still on the roster, Los Angeles would have the flexibility to use Lilly and/or Harang out of the bullpen, or trade one of the two. Without Greinke in the rotation, the Dodgers lose that flexibility and are forced to lean heavily on a few older and tattered arms.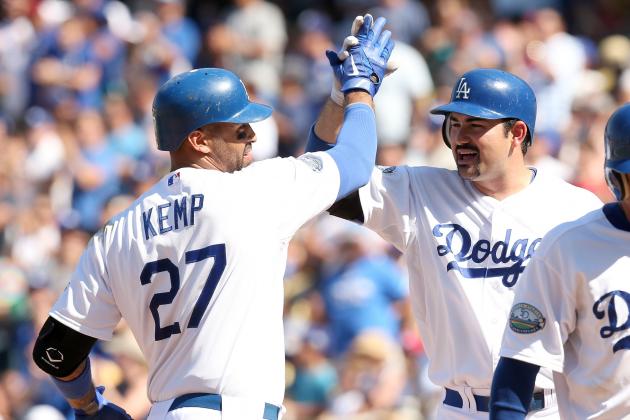 Stephen Dunn/Getty Images
Matt Kemp and Adrian Gonzalez will be all smiles next season knowing the Dodgers have a pair of staff aces at the front of rotation.
Starting pitchers have a tendency to press if they don't think they'll get much run support from the lineup. Batters, likewise, try to do too much at the plate when they feel pressure to put a bunch of runs on the board.

Greinke would give the Dodgers a second starter capable of winning a 1-0 game on any given night. That knowledge can release a lot of pressure in the clubhouse and in the manager's office, making everyone's job a little bit easier.

For instance, the Giants had a dominant run through the postseason, despite hitting a major league-worst 103 home runs during the 2012 regular season. But San Francisco rarely needed to win slug fests with Matt Cain, Madison Bumgarner, Ryan Vogelsong and a resurgent Barry Zito taking the mound every night.

Although the Dodgers offense is expected to be more potent with Ramirez, Gonzalez and Crawford in the lineup for a full season, they were MLB's second-worst power hitting team with 116 home runs. Signing Greinke is a way of protecting the investment that Los Angeles has already made in its offense.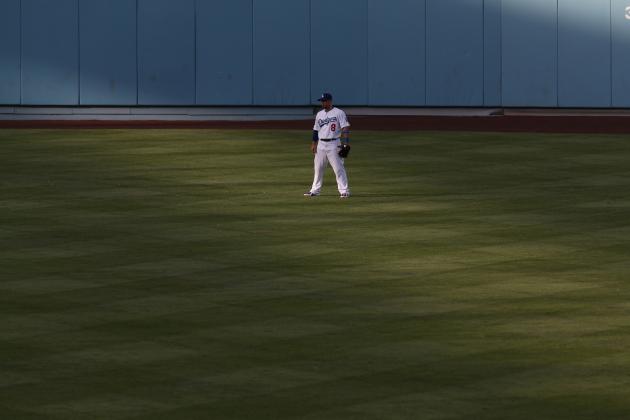 Stephen Dunn/Getty Images
Zack Greinke should thrive in a pitchers park with Gold Glove winners all over the diamond.
Dodger Stadium ranks 25th among 30 major league stadiums in Park Factor, making it the sixth most pitcher-friendly park in MLB. Zack Greinke would continue to thrive in such a friendly home environment, especially after pitching in Angel Stadium of Anaheim which ranks 27th in Park Factor.

The Dodgers have three former Gold Glove winners in the outfield in Crawford, Kemp and Ethier. First baseman Adrian Gonzalez is a three-time Gold Glove award winner as well, so Los Angeles has elite defenders at several positions, 3B/SS Hanley Ramirez notwithstanding.

San Francisco has built a model for success largely dependent on great pitching and solid defense. Playing in a home stadium (AT&T Park) that is second only to Seattle's Safeco Field in Park Factor forces the Giants' hands a bit, but the blueprint clearly works.

It may hurt for Dodgers fans to read this, but it wouldn't hurt to take a page out of the Giants' playbook.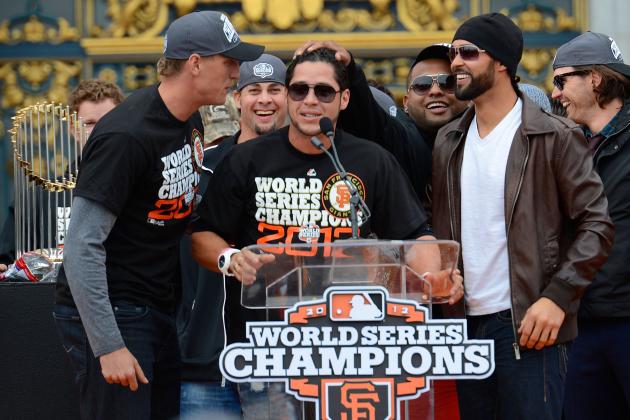 Thearon W. Henderson/Getty Images
Dodgers fans should imagine Matt Kemp, Clayton Kershaw and Andre Ethier on the podium next November.
Unlike many Dodgers fans, I don't hate the Giants. In fact, I actually admire the way they've quietly gone about building MLB's most successful franchise less than five years after Barry Bonds retired.

That doesn't mean I enjoy singing their praises either, but if Los Angeles wants to hoist its first World Series trophy since 1988, it would be best to follow the blueprint set out by our rivals to the North.

The Giants rode excellent starting pitching to a four-game sweep of the Detroit Tigers in the World Series, capping off a seven-game winning streak to close out the 2012 postseason. Zack Greinke would give the Dodgers a similar look, providing a second starter that can shut down opposing bats when the stakes are highest.

San Francisco doesn't have the payroll flexibility that Los Angeles now has, but they play in the same division in a similarly pitcher-friendly home stadium, so it's foolish to think that what's worked for the Giants can't be duplicated by the Dodgers.

Many of MLB's most successful franchises in 2012 — including the Giants, Washington Nationals, Atlanta Braves, Tampa Bay Rays and Baltimore Orioles — have primarily been built using home-grown talent. The Dodgers are also trying to rededicate themselves to player development, but the pressure to win now requires pursuing All-Star talent like Greinke.

The Giants will return the core of a team that is built to contend for championships for the foreseeable future. It won't be easy for the Dodgers to supplant them as NL West champions, but the addition of Zack Greinke will put Los Angeles in pole position heading into the 2013 season.