5 Reasons Derrick Rose Shouldn't Sit out the Entire Season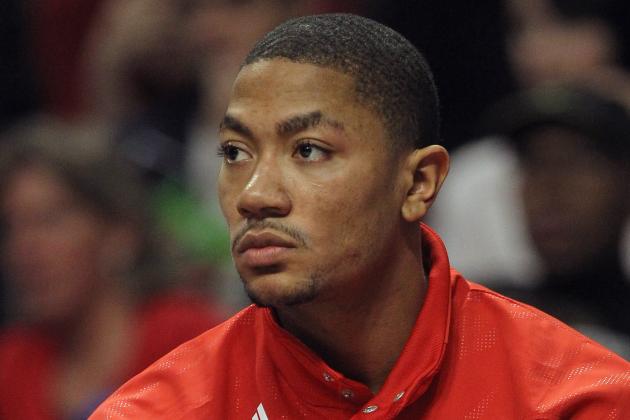 Jonathan Daniel/Getty Images

Derrick Rose has a conundrum on his hands. When doctors medically clear him to resume his career, should he rush back and play for the Chicago Bulls? After all, he did suffer from a torn ACL (via ESPNChicago.com), an injury that can possibly affect how he plays the game of basketball.
The Bulls, in a season filled with little expectations, have struggled without their superstar and former NBA MVP. They have had games that would make one suggest they can compete against the league's better teams. Then there are those games where you scratch your head and wonder if they will miss the playoffs after reaching the postseason four consecutive years.
This is all happening while Rose has been rehabbing.
Derrick Rose is the Bulls' best player.
When a team's best player is saddled with a potential career-altering injury, it changes how that team operates. As of now, the Bulls have operated as a team that is just trying to stay above .500 until Rose returns.
Whether Rose plays again or not is not the question. The question is, when does he play again?
Here are some reasons why Rose should or should not sit out the entire season.
Begin Slideshow

»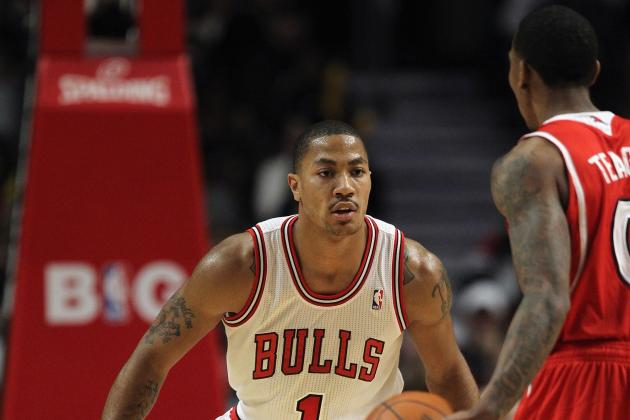 Jonathan Daniel/Getty Images

The early stages of the NBA season has been a rollercoaster ride for the Bulls. With just a month into the year, the Bulls have established themselves as a middle-of-the-road team. Nothing stands out about them in terms of their style of play.
They used to hang their hat on defense. The defensive effort has been there this season, but their execution needs work.
Their rotations are a mess.
Opposing guards have attacked the Bulls at will by using their speed to get easy shots and create scoring chances for their teammates. Their constant penetration in the lane has exposed the Bulls defensively. With a healthy Rose on the floor, the Bulls had a guard with the quickness to match the other team's guard stride for stride.
The Bulls need Rose on the defensive end. That alone is reason for him to suit up this season.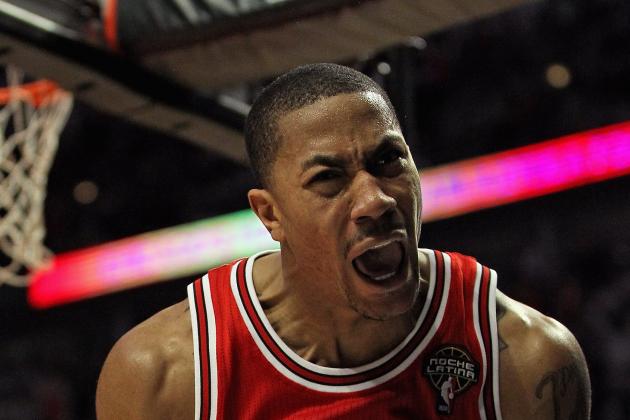 Jonathan Daniel/Getty Images

Rose is the Bulls' emotional leader.
Before the injury, he was the only player on the team with a killer instinct. When Rose made a big shot, the spirit of the team was lifted. If he made a key steal, his teammates were energized, instantaneously.
They were always inspired by his level of play.
Rose was also growing as the vocal leader of the team, never allowing anyone to play half-heartedly. If a player misread a pass, Rose would let them know. If a player took a bad shot, Rose offered his stare. He was becoming stern as a leader should be, but he was congratulatory as well. He was the first player to high-five his teammates when they did something good.
With Rose on the basketball court, the Bulls are complete as a team. He was their primary weapon emotionally and the Bulls have not learned how to play without him.
Their struggles without Rose appear mental. They have been lost without him.
Maybe he can help them find their way.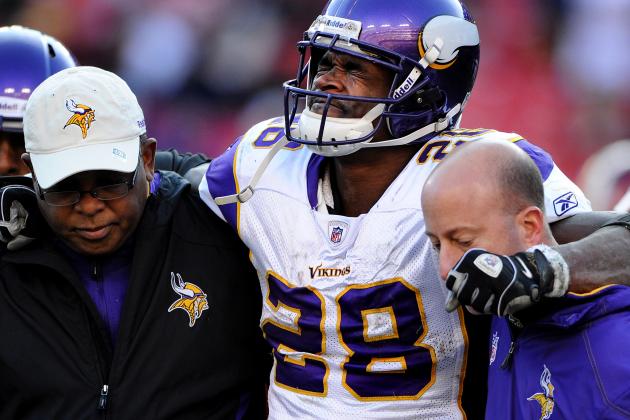 Patrick Smith/Getty Images

Rose should heed the advice (via NFL.com) of Minnesota Vikings' RB Adrian Peterson and not be hesitant in testing out his ligaments. He (Rose) has to gain trust in his knees.
Peterson is not a stranger to the injury. He tore (via ESPN.com) his ACL on December 24th, in a game versus the Washington Redskins.
Adrian Peterson offers insight (via chicagotribune.com) on how he approached his rehab of a torn ACL.
I felt I could get back and be as aggressive and even more aggressive as the season continued to roll after the surgery. That was my mindset. There were times when I kind of went away from those thoughts. But ultimately, through that battle I was able to stay positive and keep my mind on track.
Peterson never allowed the injury to get the best him. He attacked his rehab with such fervor that he was ready for full contact midway through Vikings' training camp (via cbssports.com) in August. Not only has Peterson returned to the football field, he is leading the NFL in rushing with 1,236 yards on the ground.
Derrick Rose can learn from someone (Peterson) who relates to the rigors of rehab.
Rose must trust his knees. To do that, he must follow the path laid out for him by AP.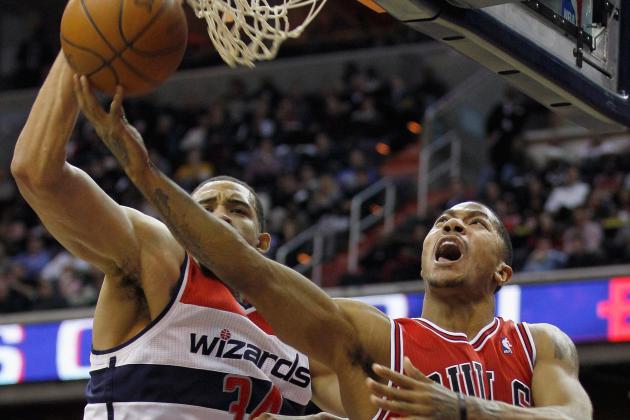 Rob Carr/Getty Images

Rose must return to the scene of the injury and play again.
While rehabbing an injury, the recovery period is as much a mental grind as it is a physical one.
Case in point, anyone who has ever been in a car accident must get behind the wheel of a car again. They do it to face their fears. After reaching their destination, they began believing in themselves. It gives them a sense of accomplishment and they become better for it.
For Rose, it is getting over the fear of tearing his ACL once more. And the only way to do that is by stepping out on the basketball court. When he does, he must be willing to take the ball into the lane for a layup and absorb contact. Getting up after being knocked down would do wonders for his confidence.
He cannot achieve this in rehab. Rehab will only clear the physical hurdles, not the mental ones. Reassurance that he can continue to be the player he was prior to the injury will only come once he rejoins the fray.
The real test is out there on the basketball court.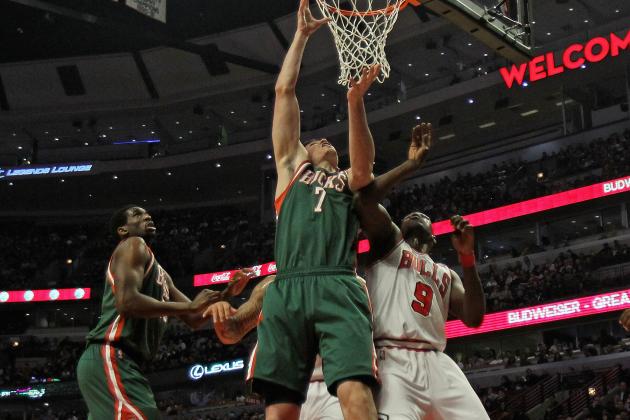 Jonathan Daniel/Getty Images

Despite hovering around .500 for much of the season, the Bulls are in a winnable NBA Central Division.
At 7-5, the Milwaukee Bucks are the only team with a winning record in the division. The Indiana Pacers will be without (via usatoday.com) Danny Granger for three months due to an injection in his knee. The Cleveland Cavaliers are without (via ESPN.com) Kyrie Irving (fractured finger) and the Detroit Pistons are too young.
Including the injuries, neither team in the NBA Central has what it takes to separate themselves from the pack. That can work in the Bulls' favor.
If the Bulls can remain at or near the top of their division until after the NBA All-Star break, they will have a realistic chance of getting a top four seed in the Eastern Conference.
If this scenario comes to fruition, would Rose play if he has been cleared?
Rose at 80 percent is better than anyone in the Central Division. He would be the equivalent of a "blockbuster trade acquisition" for a team that could use a shot in the arm.
This is just another tantalizing reason why Derrick Rose should not sit out the entire season.