As the Ohio State Buckeyes went charging toward the middle of the field to throw Gatorade on head coach Urban Meyer, they finished their 2012 season as only one other team had: undefeated.
In just one season, all the promise that came with Meyer's hiring had come true. The team went from a sad-sack 6-7 squad all the way to the pinnacle of college football.
One problem: A bowl ban leaves Ohio State ineligible to compete in Saturday's Big Ten championship game or play to play for the national championship in January.
For all intents and purposes, the bowl ban has done the seemingly impossible: rendered an undefeated season completely meaningless in the long scheme of the program.
That's not to downgrade the actual accomplishment of finishing the year 12-0. The Buckeyes' run was strong, included some scintillating last-minute comebacks and (at times) defied logic.
This Ohio State season is actually strikingly similar to the nation's other undefeated squad, the No. 1 Notre Dame Fighting Irish.
But where the Irish get to prove their worth on a nationally televised stage, the Buckeyes players get to sit at home and simulate what could have been on NCAA Football 13.
So, other than having an undefeated season in the school record books, what does this 2012 season mean?
It means the Buckeyes became the first team since the 1993 Auburn Tigers to finish a regular season undefeated and not play in a bowl game. Other than that, it doesn't mean all that much.
Is Ohio State going to get more recruits because it won 12 straight games against mediocre opponents? Of course not. The Buckeyes already get top-flight recruits and Meyer's presence alone would have kept the program relevant almost no matter the outcome this season.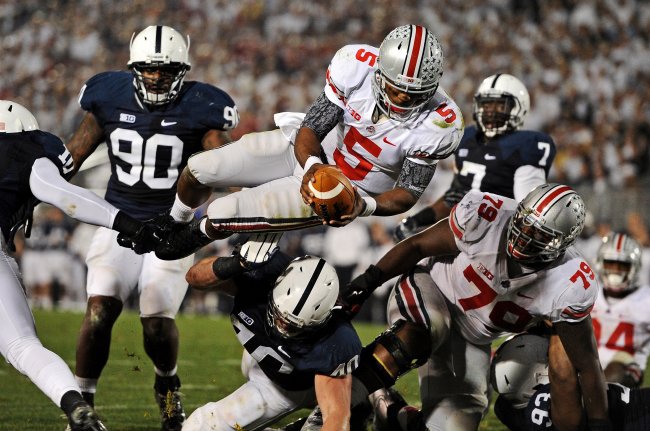 Patrick Smith/Getty Images
Sure, you can talk about how Braxton Miller's ascent to national prominence happened this season. But his season wouldn't have had any lesser significance had the Buckeyes went 11-1, 10-2 or 9-3.
You could even argue that the bowl ban kept Miller out of serious Heisman contention.
We're obviously throwing fairness out the window here. The fact that this Ohio State team is not playing in Saturday's Big Ten championship game for a chance for a national championship game berth is completely unfair. Anyone with a modicum of intelligence knows that.
In fact, it's rather asinine and speaks to the growing list of flaws within the NCAA's punishment system. How a group of young men can be punished for the transgressions of their predecessors associated with the program defies all logical comprehension.
You could say it's like a family forcing the youngest child to wait until he/she is 17 years old to get a driver's licence because the oldest crashed at age 16. That is until you realize the seniors will never get a chance to "drive" because their eligibility at the wheel has expired.
Nonetheless, the school is also at fault for its hollow undefeated campaign. Had the Buckeyes declined their Gator Bowl invite and delayed gratification last season, the school may well have been eligible in 2012.
All told, it's an overwrought point that won't change anything. The Ohio State season happened, it was great while it lasted, but won't bring anything except empty "what if?" questions.
Is it fair? Not one bit. But it's the unfortunate truth for the 2012 Buckeyes.